These are the top remote companies offering remote jobs in Michigan, USA.
Sometimes, the companies offering remote jobs in Michigan, USA do not publicly advertise all the remote job roles that they are hiring for.
So, if you don't see your preferred role listed with the remote companies, you can email the company and ask if they are also hiring remotely in your preferred department.
[ Note: Some of these companies keep changing the links to their career page. As of now, all links are working correctly. If you encounter a 404 error, kindly let me know in the comments and I'll update them ASAP. Thanks! ]
Disclosure: Please note that some of the links below are affiliate links and at no additional cost to you, I'll earn a commission. Know that I only recommend products and services I've personally used and stand behind.
Prefer watching a video instead?
Remote Jobs Michigan, USA Video:
1. Flagstar Bank
Flagstar Bank's office in Michigan is located in Troy.
Flagstar Bank offers exceptional full-service banking and lending expertise with a distinctive, personal focus. Chartered in 1987 as a federal savings bank, today Flagstar has assets of $25.5 billion, is the sixth-largest bank mortgage originator nationally.
The company provides a full complement of products and services for consumers and businesses like checking & savings accounts, home financing, mortgage loans, refinancing, credit cards, auto loans, and more.
Flagstar bank is a past winner of the Diversity & Inclusion Award from the Bank Securities & Insurance Association and has been repeatedly named a Fannie Mae Servicer and Total Achievement and Rewards (STAR) Performer.
Flagstar Bank usually hires in the following roles remotely: Complaint Resolution Business Analyst, Loan Transfer Servicing Lead, Quantitative Financial Analyst, Foreclosure Specialist, Senior Quality Control Auditor, Loss Mitigation SPOC, Senior Paralegal, Portfolio Manager – Business Banking, Escrow Operations Team Lead, Internal Audit IT Manager, Salesforce Certified Administrator, Data Engineer, API Developer, etc.
Flagstar Bank offers medical, dental, and vision coverage along with a 401(k) plan with a partial match of up to 6% of eligible compensation contributed. You'll also receive company-paid life insurance, flexible spending accounts, and health savings accounts with company contributions.
The company also provides paid time off (including one community involvement day and one wellness day), short-term/long-term disability insurance, paid holidays (including bank holidays), and an Employee banking program with discounts on products and services.
Furthermore, employees receive gym membership discounts, access to Employee assistance programs, opportunities for bank career advancement, and 50% off net tuition costs for newly enrolled students at Cleary University for undergraduate and graduate degrees.
Check out their career page for more information.
Flagstar Bank's contact: +1 248-312-2000 / Employment@flagstar.com
2. General Motors
General Motors' office in Michigan is located in Detroit.
General Motors is an automobile company that designs, builds and sells cars, trucks, crossovers, and automobile parts. The company offers vehicle protection, parts, accessories, maintenance, satellite radio, and automotive financing services.
The company operates through the following segments: GM North America, GM International, Cruise, and GM Financial. General Motors sells vehicles under the Chevrolet, Cadillac, Baojun, Buick, GMC, Holden, Jiefang, Wuling, Maven, and OnStar brands.
General Motors is recognized as one of Achievers 50 Most Engaged Workplaces in North America, 2021. The company has also been recognized as a top 50 STEM workplace for indigenous professionals by the American Indian Science and Engineering Society (AISES), 2021.
General Motors has also been recognized as one of the Top Companies to Work for in the United States by LinkedIn, 2021, and one of the World's Most Ethical Companies by the Ethisphere Institute, 2021.
General Motors usually hire in the following roles remotely: Mobile Developer (iOS, Android, React Native), Product Designer – CX Design, Talent Acquisition Partner, Content Strategist, Artificial Intelligence/Machine Learning Scientist, Assistant Regional Manager, Program Manager, Scrum Master, SDV Security Engineer, Systems Operations Engineer, Software Integration Engineering, Data Analyst, Wireless Network Engineer, etc.
General Motors offers healthcare including a triple tax-advantaged health savings account and wellness incentive, as well as dental, vision, and life insurance plans to cover you and your family.
Employees receive paid time off including vacation days generally ranging from 3 weeks to up to 6 weeks, 16 annual paid holidays, and 6-8 weeks of parental leave for mothers, fathers, and adoptive parents.
You'll also receive tuition assistance and student loan refinancing along with discounts on GM vehicles for you, your family, and your friends.
The company also provides disability benefits, adoption assistance, Family Care Assistance Plan that provides backup child/elder care, as well as matching contributions to a 401K savings plan to help you save for retirement.
Check out their career page for more information.
General Motors' contact: +1 313-556-5000 / Careers.Accommodations@GM.com
3. Momentive
Momentive's office in Michigan is located in Waterford.
Momentive, formerly SurveyMonkey, is a leader in agile experience management, delivering powerful, purpose-built solutions that bring together the best parts of humanity and technology to redefine AI.
More than 20 million active users rely on Momentive to fuel market insights, brand insights, employee experience, customer experience, and product experience. Ultimately, the company's vision is to raise the bar for human experiences by amplifying individual voices.
Momentive is featured as a Glassdoor 2021 Best Place to Work and National Capital Region's Top Employer in Canada (2021).
In 2020, Momentive was recognized as a top place to work by Glassdoor Best Places to Work, Fortune Best Places to Work in the Bay Area, Parity.org's Best Companies for Women to Advance, and National Capital Region's Top Employers in Canada.
Momentive has consistently been recognized by Great Place to Work and Fortune as a top workplace since 2018, and we have also won numerous awards as a leader in global survey software, including being named among the G2 Best Software Companies, CNBC's Disruptor 50, and the Forbes Cloud 100.
Momentive usually hires in the following roles remotely: Sales & Strategy Execution Specialist, Senior Analytics Developer, Staff Network Engineer, Recruiter – Sales, Software Engineer, Product Designer – Design Systems, Staff Systems Engineer – Cloud Engineering, Senior Business Systems Analyst, Senior Privacy Counsel, Compensation Manager, Senior Manager – Data Engineering, Senior Copywriter, Data Engineer, etc.
Momentive offers multiple choices for medical, dental, and vision plans. The company also provides commuter benefits, financial coaching, legal counsel, retirement plans with company matching, and an ESPP.
You'll receive 16 weeks of paid parental leave, fertility care benefits, adoption assistance, and the resources you need to focus on family.
After the completion of each 4 years with Momentive, employees are eligible for 4 additional weeks of paid time off to celebrate, rest, recharge, travel, volunteer, invest in your development, and enjoy other activities.
Additionally, Momentive provides global mental health resources available to all, including on-demand programs for mental health and wellbeing, a wellbeing stipend, and on-site gyms.
Check out their career page for more information.
Momentive's contact: support@surveymonkey.com
4. Ally
Ally's office in Michigan is located in Detroit.
Ally is a customer-centric, leading digital financial services company with passionate customer service and innovative financial solutions.
The company provides financial services including car finance, online banking via a direct bank, corporate lending, vehicle insurance, mortgage loans, and an electronic trading platform to trade financial assets.
Ally has been the recipient of numerous awards and accolades, including being named the "Great Place to Work®" by Trust Index™ Survey 2021.
The company has also been recognized by Forbes as one of "The Best Employers for Diversity 2021" and by the Human Rights Campaign as one of the "Best Places to Work for LGBTQ Equality 2021."
Ally usually hires in the following roles remotely: Senior Email Developer, Director of Risk, Workforce Analytics Consulting Manager, Cyber Security Engineer, Product Development Analyst, Data Systems Engineer, Data Analytics Manager, Senior Insider Threat Analyst, IT Business Analyst, Senior Software Engineer, Sales Enablement Senior Specialist, Senior UI Developer, Principal Cloud Engineer, SAP Engineer, etc.
Ally offers flexible health and insurance options including dental and vision, pre-tax Health Savings Account with employer contributions, and a total well-being program that helps you and your family stay on track physically, socially, emotionally, and financially.
Employees receive tuition reimbursement up to $10,000 per year, $100 per month in student loan assistance, as well a $100 per month contribution to the 529 Education Savings Plan.
The company also provides adoption, surrogacy, and fertility support up to $35,000 as well as 12 weeks of paid parental leave & 2 weeks of paid caregiver leave, backup child and adult/elder daycare program, and childcare discounts.
In addition, you'll get 11 paid holidays, 20 paid time off days, 8 hours of yearly volunteer time off, 2x salary life insurance, up to $1,500 HSA, and the potential to earn $500 in WellBeing Rewards.
Check out their career page for more information.
Ally's contact: +1 877-247-2559 / work@ally.com
5. WorkForce Software
WorkForce Software's office in Michigan is located in Livonia.
WorkForce Software is a global provider of workforce management solutions with integrated employee experience capabilities.
The company is helping some of the world's most innovative organizations optimize their workforce, protect against compliance risks, and increase employee engagement to unlock new potential for resiliency and optimal performance.
Products of the WorkForce Software technology suite allow businesses to digitize attendance and time procedures, enhance employee scheduling, simplify management of absences, and obtain strategic business insights.
WorkForce Software was ranked #67 out of 70,000 companies in 2021 for the Best Company Culture award on Comparably. The company was also included in the Best Company Compensation 2021 rankings and was honored for Best Company Work-Life Balance, 2021.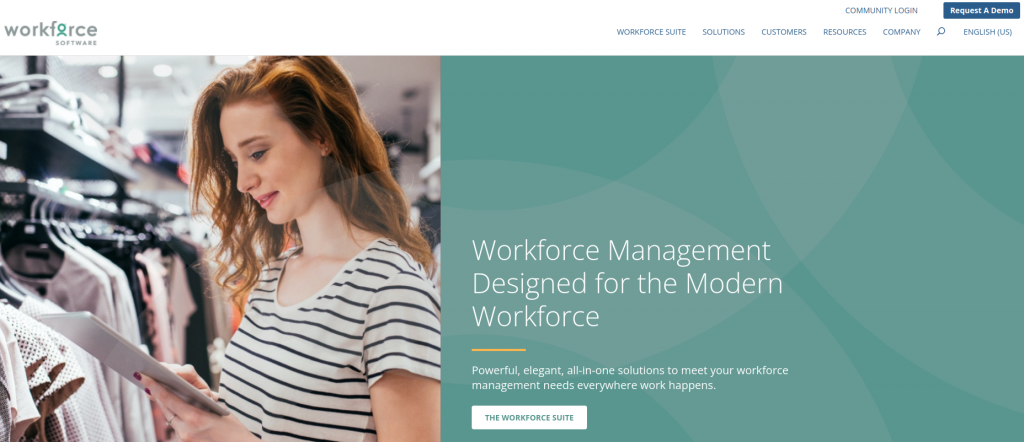 WorkForce Software usually hires in the following roles remotely: Application Support Analyst, Software Report Developer, VP – Global Customer Support, Cloud Services Engineer, Integration Consultant, Senior Functional Consultant, Senior Integration Architect, Senior Project Manager, Technical Consultant, Cloud DevOps Engineer, Enterprise Account Executive, Sales Application Consultant, UX Developer, etc.
WorkForce Software provides unlimited PTO, flexible hours, a 401k plan with company match, paid parental leave, health & wellness/gym reimbursement, access to community outreach programs & charitable support, as well as career training to support your professional development.
You'll also receive a comprehensive health benefits package, performance bonus, company paid LinkedIn Learning subscription, and access to diversity, equity, and inclusion initiatives including committees such as Women for Inclusion, Racial Equality/Discrimination, Mental & Physical Ability, WorkForce Pride Network, Global Perspectives, Band of Veterans, etc.
Check out their career page for more information.
Workforce Software's contact: +1 833-987-3831 / careers@workforcesoftware.com
6. Plex
Plex's office in Michigan is located in Troy.
Plex delivers a smart manufacturing platform that empowers the world's leading innovators to make awesome products.
Plex gives process and discrete manufacturers the ability to connect, automate, track and analyze every aspect of their business—from the shop floor to the top floor —to drive business transformation.
The Plex Smart Manufacturing Platform includes MES, ERP, supply chain planning, Industrial IoT, and analytics to connect people, systems, machines, and supply chains, enabling them to lead with precision, efficiency, and agility in an ever-changing market.
Plex has won the Best and Brightest Award for workplace excellence by MichBusiness for 12 consecutive years. The company has also received the IDC 2021 SaaS CSAT Customer Satisfaction Award for ERP.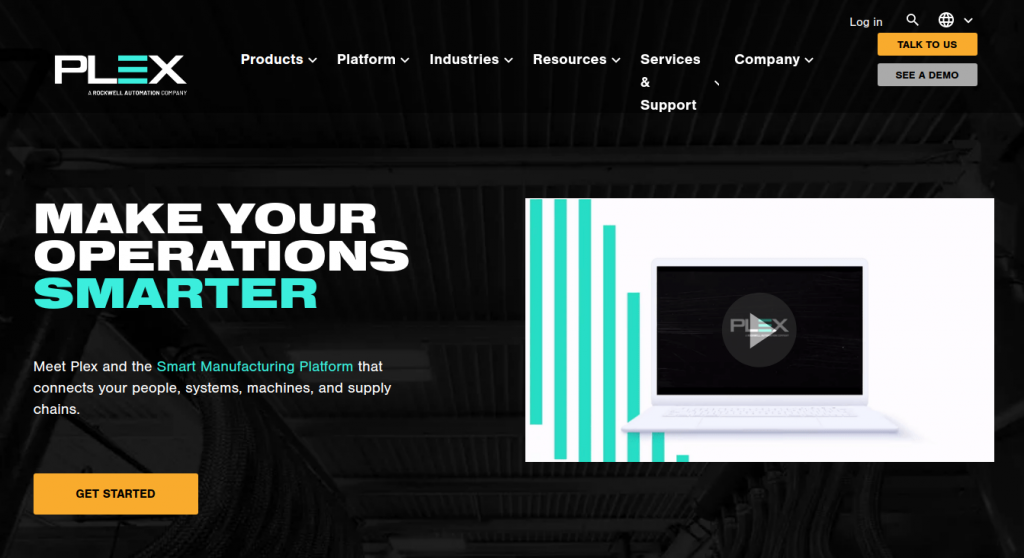 Plex usually hires in the following roles remotely: Accounting Solution Consultant, Associate Engagement Manager, Delivery Consultant, Director – Product Management, Director – User Experience Research and Design, MarTech Specialist, Product Manager, Senior Delivery Consultant, Senior Salesforce Architect, Software Sales Executive, Solution Consultant, Senior Customer Success Manager, Technical Support Representative, etc.
Plex offers benefits from Day 1 of your joining, career growth and professional development opportunities, tuition reimbursement, unlimited paid time off, sustainable work-life balance, maternity & paternity leaves, along with discounted Plex gear and other cool stuff.
Employees also receive Annual Live Well reimbursement for their family that can be applied to a variety of fitness and wellness activities, including health club dues, challenge/obstacle courses, race fees, yoga, swim clubs, personal training sessions, and therapeutic massages.
The company provides 401(k) plans: pre-tax and/or Roth and catch-up contributions (50 years of age or older) in addition to company-matching contributions and does immediate vesting upon your joining.
Check out their career page for more information.
Plex's contact: +1 888-454-7539 / +1 855-753-9800
7. Rocket Mortgage
Rocket Mortgage's office in Michigan is located in Detroit.
Rocket Mortgage is a financial services company and one of the largest retail home-mortgage lenders in the United States. The company provides a homebuying experience that's custom-designed for each client.
The company generates loan production from web centers located in Detroit, Cleveland, and Phoenix and operates a centralized loan processing facility in Detroit.
Rocket Mortgage ranked highest in the country for customer satisfaction for primary mortgage origination by J.D. Power for 11 consecutive years, 2010 – 2020, and also ranked highest in the country for customer satisfaction among all mortgage servicers seven consecutive years, 2014 – 2020.
The company was also named to FORTUNE magazine's "100 Best Companies to Work For" list in 2019 and has been included in the magazine's top 1/3rd of companies named to the list for the past 17 consecutive years.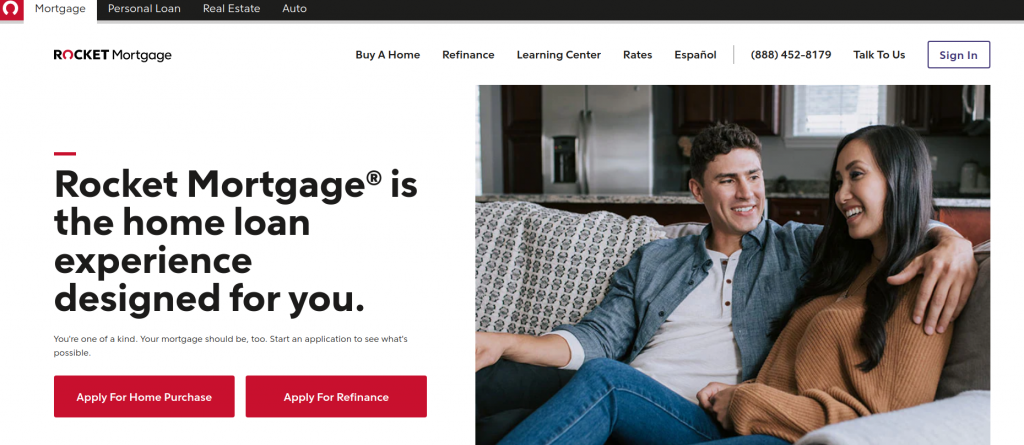 Rocket Mortgage usually hires in the following roles remotely: .NET Software Developer, Client Communication Specialist, Senior Product Manager, Engineering Team Leader, Loan Officer, Javascript Engineer, Experience Designer, Senior UX Engineer, UX Writer, UX Content Strategist, Information Security Engineer, Analytics Director, Senior Mobile Engineer, Market Intelligence Research Analyst, Senior Machine Learning Engineer, Client Success Manager, etc.
Rocket Mortgage offers multiple medical, dental, and vision insurance plans for you and your family to choose from. You get ancillary benefits in case of an accident, critical illness, or hospitalization.
The company also provides basic life insurance, short & long-term disability insurance, as well as accidental death & dismemberment insurance.
You can bank up to 4 weeks of paid time off in your first year, in addition to 7 paid company holidays. Employees also receive special pricing for just about anything – travel, electronics, cars, groceries, etc.
Additionally, Rocket Mortgage offers flexible spending accounts, pet insurance, a 401(k) plan with company match, paid parental leave, adoption & foster assistance, and tuition reimbursement for programs and certifications.
Check out their career page for more information.
Rocket Mortgage's contact: Jobs@MyRocketCareer.com / Help@QuickenLoans.com
8. Vericast
Vericast's office in Michigan is located in Livonia.
Vericast is a premier marketing solutions company that accelerates profitable revenue growth for the 70,000 businesses it serves directly by influencing consumer purchasing and transaction behavior at scale while engaging with over 120 million households daily.
The company offers advertising, marketing, transaction solutions, customer data, cross-channel campaign management, and intelligent media delivery services.
Vericast has received multiple notable industry awards for its Valassis line of business for its best-in-class technologies, innovative media, robust intelligence, and helping marketers deploy more holistic omnichannel marketing campaigns.
Ilumis, Vericast's proprietary marketing platform, has received a Gold Stevie® Award (Marketing/Public Relations Solution category) in The 19th Annual American Business Awards®.
Vericast usually hires in the following roles remotely: Brand Marketing Manager, Senior Sales Executive, Account Executive Digital Sales, Staff Software Engineer, Data Scientist, Director of Engineering, AWS DevOps Engineer, Principal Database Engineer, Technical Product Manager, Influencer & Social Strategist, Senior Financial Analyst, Workflow Integration Analyst, Tableau Architect, Client Strategy Manager, etc.
Vericast offers a variety of options for medical, dental, and vision insurance plans along with health savings accounts & flexible spending accounts. The company also provides a 401K plan with a company match and long-term incentive plan benefits.
Employees receive flexible work hours as well as paid time off, holidays, and parental leave. In addition, the company will provide tuition assistance and opportunities for you to expand your skills and evolve professionally.
Check out their career page for more information.
Vericast's contact: +1 616-541-3145 / talentacquisition@vericast.com
9. Altair
Altair's office in Michigan is located in Troy.
Altair is a global technology company that provides software and cloud solutions in the areas of data analytics, product development, and high-performance computing (HPC).
The high-end software offered by Altair targets the aerospace, government, automotive, defense, and consumer sectors, and the company is expanding into the life sciences, energy, and financial services.
The company's mission is to explore and unleash the limitless potential of the curious and creative mind by transforming product and business decision-making through simulation, data analytics, and optimization solutions.
Altair has been featured on Newsweek's 2021 Most Loved Workplaces list and has ranked 35th among the top 100 companies measured by employee happiness and satisfaction at work.
Altair usually hires in the following roles remotely: Business Development Representative, Full Stack Developer, Functional Integration Engineer, Infotainment Design Release Engineer, iOS Mobile App Developer, NVH Dynamic Solver Developer, Product Manager, Technical Support Engineer, Software Engineer, Senior Digital Product Designer, Senior Application Engineer, Regulations and Government Relations Engineer, etc.
Altair offers a total rewards package that includes salary, time-off, holidays, insurance, retirement, and employee stock purchase program. The company provides access to the latest training, tools, and technology to aid your career development.
The company also offers a variety of wellness initiatives that help keep us moving forward, such as onsite and virtual health visits, yoga, pilates, stretching, and others.
In addition, you'll receive access to an employee stock purchase program, charitable matching program, paid holidays, unlimited vacation, unlimited sick days, a 401(k) plan with matching contributions, employee discounts, and free training on all Altair products.
Check out their career page for more information.
Altair's contact: +1 248.614.2425 / hwsupport@altair.com
10. Olark
Olark's office in Michigan is located in Ann Arbor.
Olark is a cloud-based live chat solution that enables businesses to interact with customers through their websites.
Key features of Olark include automated messages, team management, real-time reporting, searchable transcripts, and more. The software also offers targeted chat, chat monitoring, and analytics within a suite.
Olark also provides users with data and metrics on chat volume and agent activity, as well as detailed transcripts of every conversation that takes place.
As a standalone platform, Olark makes it easy to integrate with other CRM platforms to store customer data and make future interactions more customized.
In 2016, Olark won a When Work Works Award for creating a safe workplace and providing a benefits package that enables our employees to maintain an even work/life balance. The company was also named a 2017 Gold Stevie Award winner.
Olark usually hires in the following roles remotely: Solutions Architect/Sales Engineer, HR Generalist, Customer Success Manager, Demand Generation Marketing Lead, Senior Software Engineer, Product Manager, Marketing Visual Designer, Director of Marketing, Site Reliability Engineer, Full Stack Developer, Backend Python Engineer, Senior UX Engineer, Partner Marketing Manager, etc.
Olark offers medical, dental, and vision benefits along with flexible paid time off and a $1000 vacation bonus every year.
You'll also receive paid company holidays, 12 weeks of paid parental leave including adoption, professional development budget, monthly phone & internet stipend, coworking space stipend, as well as charitable donation matching.
Check out their career page for more information.
Olark's contact: support@olark.com
Final Thoughts On Remote Jobs In Michigan
I hope this list of companies with remote jobs in Michigan, USA helps you land your next remote job.
Do you want access to 30,000+ more remote and flexible jobs? Click here.
I believe during remote interviews, we struggle more in answering the behavior questions properly and showcasing our soft skills. Candidates usually overlook this but preparing for behavioral rounds is very crucial.
You'll find a lot of YouTube videos on this topic. I would also recommend this course by Bob Firestone that has over 177 example answers that work for competency-based, KSA, situational, structured, and behavioral interviews.
Make sure you send a cover letter along with your resume when applying for remote jobs. Simply sending a CV and hoping to get a call back is really not a great way to show the company that you are interested in their job.
You can download the resume and cover letter templates that helped me get my first remote job by going HERE.
And never forget to use the free Chrome plugin, Grammarly, while writing your resumes, emails, and cover letters. This would highlight any silly grammatical mistakes and save you from possible embarrassment as a job seeker.
Have you joined as a remote employee for any of the listed companies? How was your experience? Do let us know in the comments.
If you find this article helpful, kindly share it with your friends. You may also Pin the above image on your Pinterest account. Thanks!
---
Did you enjoy this article?
---
Abhigyan Mahanta
Hi! I'm Abhigyan, a passionate remote web developer and writer with a love for all things digital. My journey as a remote worker has led me to explore the dynamic landscape of remote companies. Through my writing, I share insights and tips on how remote teams can thrive and stay connected, drawing from my own experiences and industry best practices. Additionally, I'm a dedicated advocate for those venturing into the world of affiliate marketing. I specialize in creating beginner-friendly guides and helping newbie affiliates navigate this exciting online realm.
---
If you're a teacher searching for remote English tutor jobs, then you would certainly benefit…