If you're looking for remote translation jobs, then you've landed on the right page.
It may surprise you to know that bilingual skills are very sought after by a lot of companies. According to a report by the New American Economy, the demand for bilingual employees has increased by 50% in the last five years.
Translator jobs also come in various forms, as some companies are looking for people who can translate documents, while others require speaking roles for customer service, tutoring, etc.
In order to apply for these jobs, usually, you would need a college degree or a special certification for the language pair you are targeting.
So if you are a beginner, it is a good idea to gain some experience with small entry-level jobs. You can also try for an internship by contacting the companies.
If you are looking for certifications, you might want to check out the American Translator's Association.
Here are the top companies that recruit translators and interpreters to work from home. I hope you can find your perfect remote translating job at one of these companies.
( Note: Some of these companies keep changing the links to their career page. As of now, all links are working correctly. If you encounter a 404 error, kindly let me know in the comments and I'll update them ASAP. Thanks! )
Disclosure: Please note that some of the links below are affiliate links and at no additional cost to you, I'll earn a commission. Know that I only recommend products and services I've personally used and stand behind.
1. AirBNB
AirBNB provides remote translating jobs for multiple languages from time to time.
Typically, those jobs are part of the customer service department.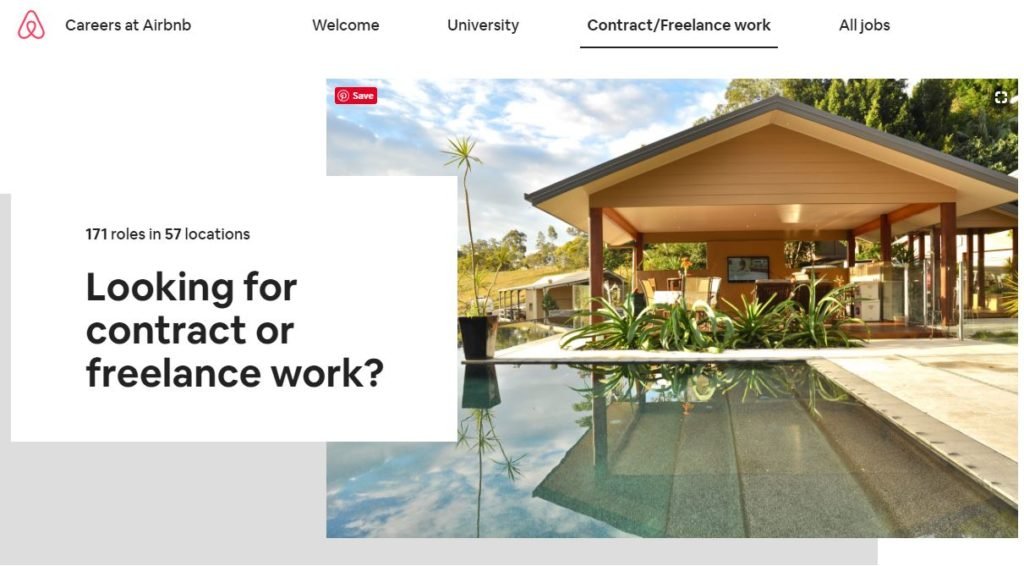 A full-time AirBNB position comes with a full benefits package that includes paid time off, medical benefits and more.
Check out their career page.
2. American Journal Experts
This organization employs independent contractors as translators for a variety of language pairs.
You are expected to have technical experience in certain academic areas and be fluent in the applied languages, both written and verbal.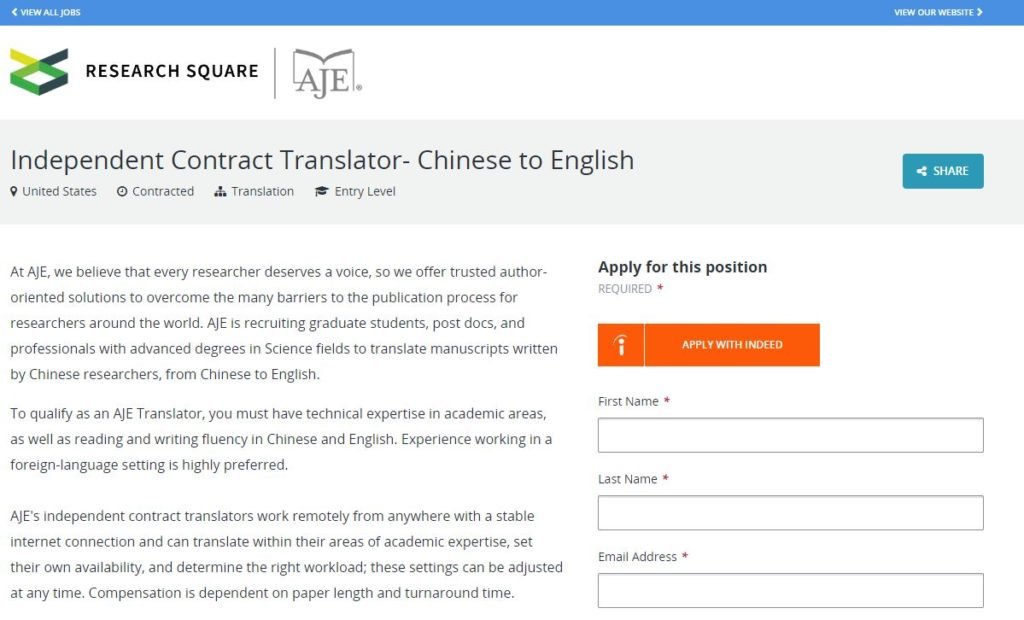 As an AJE translator, you will be translating manuscripts that are written in the languages in which you have expertise.
Compensation is dependent on the manuscript length, and how quickly you submit it in while preserving accuracy.
Visit the AJE career page.
3. Andovar
Andovar also hires independent editors and translators for both full-time and part-time positions.
The qualifications for this job are few, but before you can start any work, you must be able to pass an ability test. It does not mention any specific degree or qualification, however.
You also need to have some relevant experience for its clients in some of the specialization areas of the business.
When you're filling up your online application, you can choose these areas.
You can apply for these positions by visiting their career page.
4. Appen
Appen is probably best known for its evaluator search engine and job ad rater jobs.
Nevertheless, the firm is also searching for professional translators for different languages.
You can work up to 30 hours per week and a minimum of 20 hours, but that depends on the project.
Also, you need to pass a fluency test in the languages for which you apply.
The rate per hour of projects is different for different countries. For tier-1 countries like the USA and UK, the rate is 7-10 $ per hour.
For tier-2 countries like India, the rate usually is 3 – 3.5 $ per hour.
You can apply for these roles by creating an account on Appen and then apply for the translation projects once you get accepted.
5. Certified Languages
Certified Languages mainly hire in the fields of Telephone Interpreting, Video Interpretation, Document Translation, and Language Assessments.
To join the Certified Languages interpreter team, you must live in the United States and speak fluent English and at least one other language.
Certification is not a requirement, but the company does state that it prioritizes independent contractors applications that do have one of the site's mentioned certifications.
You need to upload your CV on their career page in order to apply for these roles.
6. Crunchyroll
Crunchyroll is a worldwide organization that focuses on providing Japanese-influenced anime and entertainment across multiple platforms.
They hire remote translators mainly on English-Japanese language pairs.
If you have experience working as a subtitler, then you will have an edge over other candidates.
As Crunchyroll manages a portfolio of over 20,000 videos and 10,000 hours of anime, live-action, manga, and Korean drama titles, there is a lot of opportunities working for this company.
Go here to see their current openings.
7. Cyracom
Cyracom is looking for remote telephone interpreters who can fluently speak two languages or more.
Your work might have some variation each day, as you will be contracted to work with a variety of projects and clients.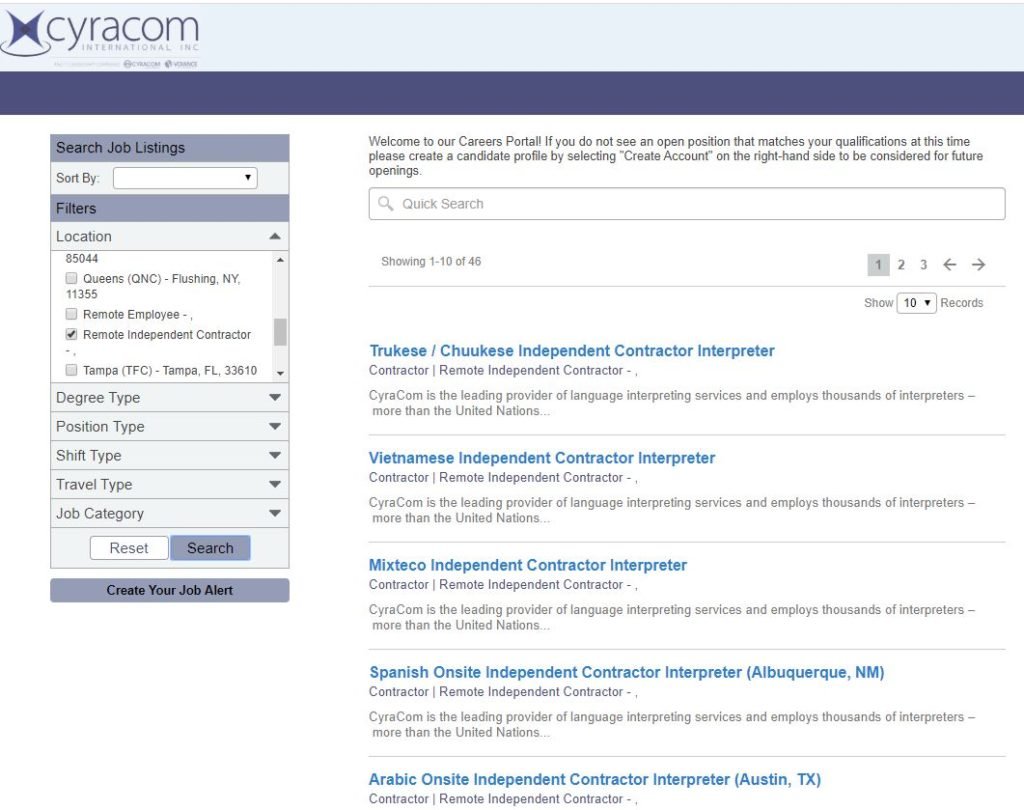 Cyracom offers paid training to help you hone your skills further and provide high accuracy results for your clients.
You will also get benefits like insurance coverage and overtime pay etc.
Visit Cyracom career page.
8. Gengo
For professional translators, Gengo is much like a freelance marketplace.
As a Gengo interpreter, you can sign up and choose the projects you want to be working on when you have availability.
Here, your primary language and your known languages have the greatest impact on your pay, as more in-demand languages often have more projects available.
You can also measure your expected monthly average pay using the online calculator on their website.
Go to Gengo career page.
9. Interpbridge
Interpbridge is the translation site for Lionbridge which helps clients with translating services over the internet.
This organization provides telephonic interpretation services to a variety of government agencies, hospitals and health care systems, pharmaceutical companies, financial organizations, and other entities.
If you already have a Lionbridge account, you can use it for the sign-up process.
If not, fill in the short application form. You will need to take a short skill test to prove your language skills.
Visit Interpbridge career page.
10. Interpreters and Translators, Inc.
The team of Interpreters and Translators, Inc. is looking for remote, experienced candidates that can join them.
They recruit in various departments like In-Person Interpreting, Over the Phone Interpreting, Video Remote Interpreting, Conference Interpreting, and American Sign Language.
They hire both professional as well as entry-level interpreters.
You can join them by clicking on the button 'Get Started' by visiting this page.
11. iTutor
iTutor is an online tutoring program that hires remote classroom translators to teach live language classes.
The company is hiring tutors who are fluent in English and another language and are valid citizens of the United States.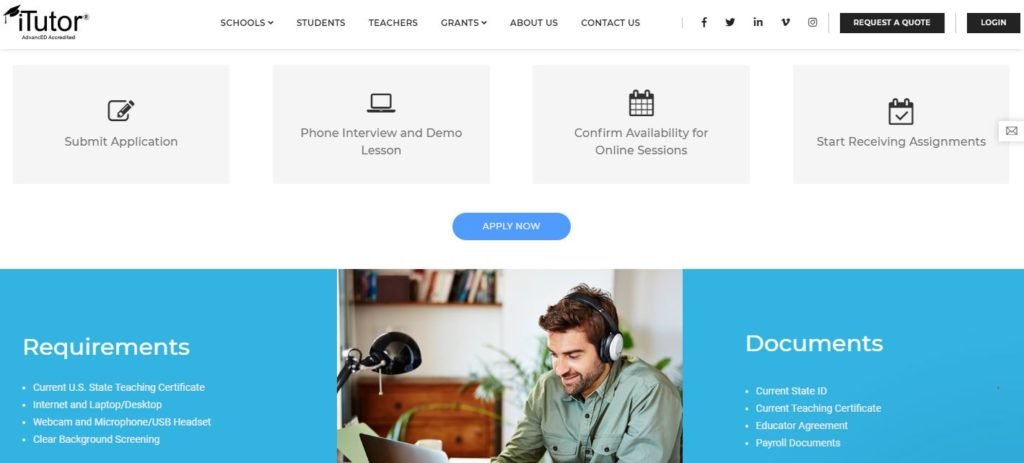 You need to pass a phone interview and provide a demo lesson during the hiring process.
You must also be at least 18 years old and possess a certificate from high school or GED. A college degree is not required but you have a higher chance of getting hired if you have one.
Visit the iTutor career page.
12. Language Line
You will be employed as a call center operator and use your language skills to make calls for the clients of Language Line who need to make calls in another language.
These jobs are open to several countries, including the United States, the United Kingdom, and Canada.
The pay is based on your performance and on the project.
Check out their career page.
13. Language Scientific
The company offers remote translation jobs including both entry-level and senior roles.
They also frequently hire medical interpreters, so if you have any prior medical experience, you can apply for the post of medical translators.
The pay will be dependent on the project and the work involved will vary based on the client's requirements.
Language Scientific offers various benefits including disability insurance, paid holidays, and more.
Check out their current job openings.
14. Language Service Associates
Language Service Associates frequently hire qualified linguists.
You can choose from a variety of jobs, such as interpreting sign language or translation services by phone.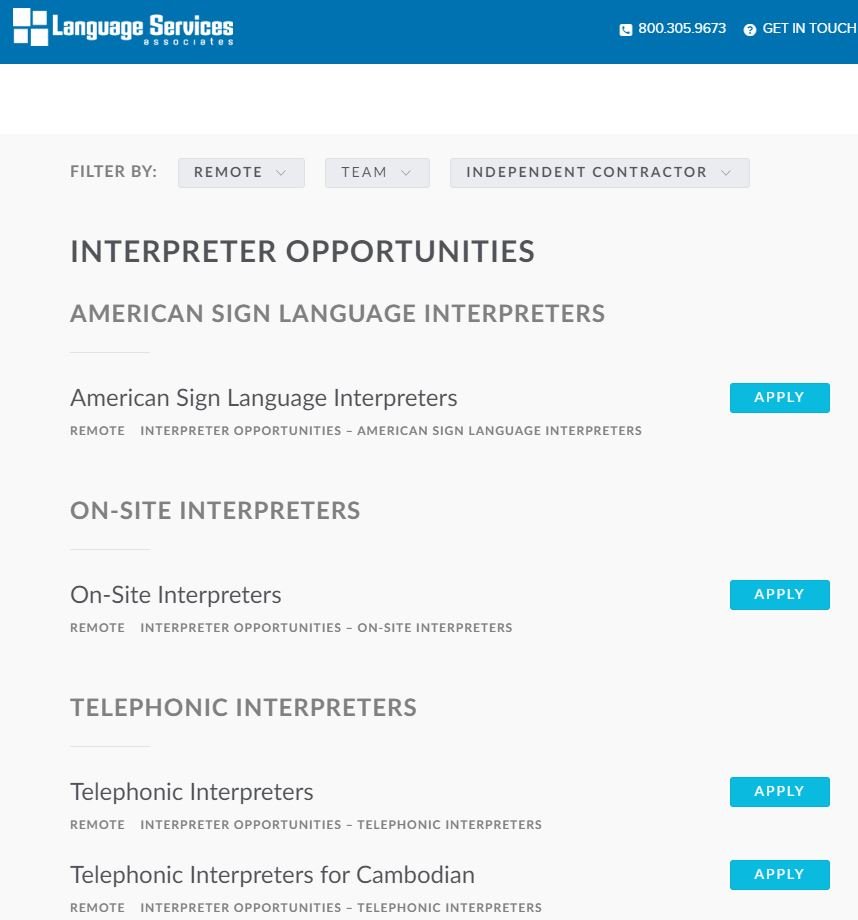 On their career page, set the "City" to "Remote" option, and you'll get the list of remote interpreters and translators hiring positions.
Visit the Language Service Associates' career page.
15. Multilingual Connections
Multilingual Connections provides clients with different language services like transcription, translation, multimedia, and more.
The company works with over 75 languages so you'll have a fair chance to find a place here irrespective of the languages you're fluent in.
You need to fill up their online application form in order to apply as a freelancer.
If you have experience with CAT tools, then it can add to your advantage when you apply.
Visit Multilingual Connections' career page.
16. MultiLingual Solutions
For this career path, MultiLingual Solutions has both full-time and freelance opportunities.
You can search the database on Careers to find the right job for you.
To narrow down your options, using keywords such as "translator" or "interpreter"
The company's freelance opportunities are on-call, meaning that you will be contacted when there is some work available.
Visit their career page.
17. Pacific Interpretation
Pacific Interpretation is searching for remote workers in multiple languages to provide over-the-phone services to clients.
Their parent site is actually LanguageLine Solutions, so you can find jobs for both on its Careers page.
Go to the Pacific Interpretation career page.
18. ProZ
ProZ is a website for professional translators.
Others will post work they need in a different language, such as text, medical records, blog posts, or email.
You can search the listings to find one-time jobs or full-time freelance employment.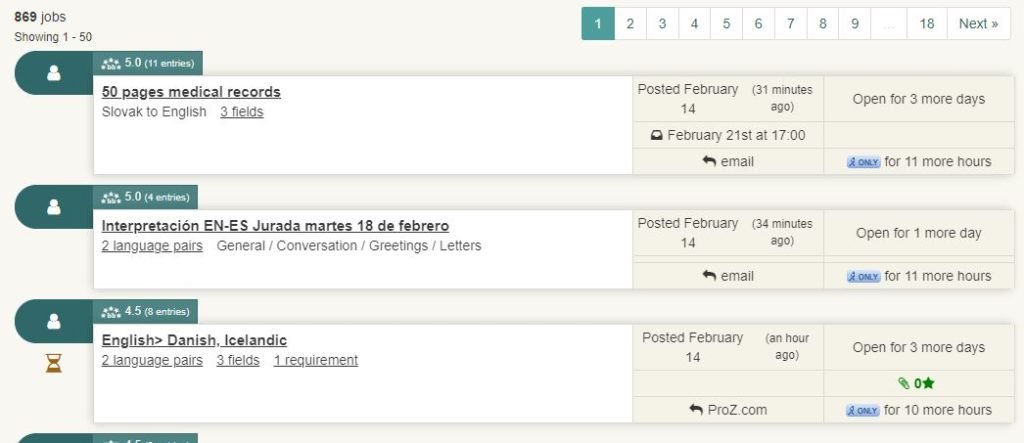 However, there is a cost of membership that varies according to your country.
View ProZ job listings.
19. Responsive Translation Services
Responsive Translation Services hires translators and project managers in freelance positions.
You will need to submit a resume and cover letter on their recruitment page.
Jobs may not be available all the time, but your application stays in their database so that hiring managers can choose from the pool of applicants.
Visit their career page to see the current openings.
20. Rev
Rev is best known for its transcription services but it also provides services for interpretation and translation.
You can work on your own time simply by logging into your dashboard and selecting a project that suits your skills best.
However, their response time to your application is a bit slow compared to other companies. But some of my friends got in with 12-14 days.
Rev pays out weekly through PayPal. You can get paid around 5 cents to 7 cents per word.
Fill their translator application form here.
21. Stratus Video
Stratus Video provides comprehensive language services, including easy connections to local, on-site interpreters; over-the-phone interpretation (OPI); and video remote interpretation (VRI).
They mainly hire remote translators in the US and Mexico regions.
You need to have a High School diploma / GED and have strong verbal communication skills in both the source and target language.
Visit the Stratus Video career page.
22. TranslatorsBase
TranslatorsBase is like a freelancer.com website made for freelance translators and agencies.
As a freelancer, you need to bid on the available projects. Even though registration is free, there is a membership fee of $99 per year for freelancers to take full advantage of the additional benefits.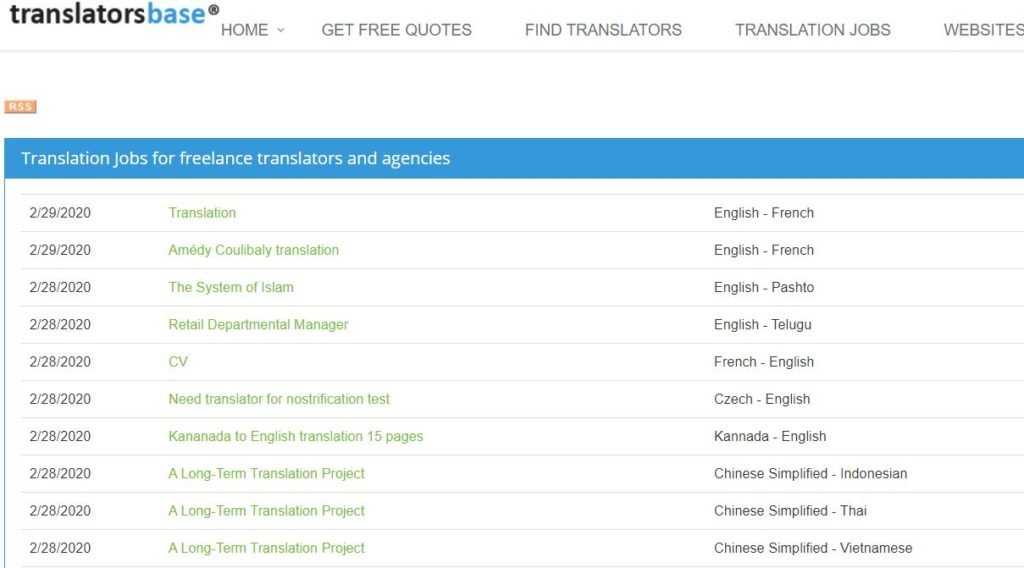 However, they have a lot of projects to choose from and you can increase your resume ranking by translating words and phrases for free.
Visit their available projects page.
23. Transparent Language
Transparent Language offers remote contract jobs to translators.
You need to have at least one or two years of relevant experience and native or near-native fluency in the applied language pair.
The company works in several different language pairs.
Fill up their application form here.
24. Transperfect
Transperfect hires experienced candidates for most of the remote jobs.
Even if you have no previous working experience, you can apply as a freelancer. Be as thorough as possible with your application so that your profile will show for relevant opportunities as needed.
They hire freelancers via GATEWAY.
Click here to apply as a freelancer or see job openings.
25. Unbabel
Unbabel is an artificial-intelligence translation software that uses qualified individuals to refine the translations that the system provides.
Prior working experience is not required but you do need to pass their tests.
You can also work on your smartphone or tablet by downloading their official app.
The app will send you a notification as soon as there's work for you on the platform.
Unbabel starts you with a base rate but as your skills and success improve, you will move up the ladder to higher rates.
You will receive payment weekly via PayPal or Payoneer.
26. Verbal Ink
Verbal Ink is a division of Ubiqus company, which is one of the top companies offering remote transcription work.
This company is looking for specialists in remote translation to fulfill the jobs that customers are putting.
In order to apply as a translator, you need to send your CV and cover letter to the email address listed on the site.
It has been mentioned that without a cover letter, the resumes of the candidates won't be considered.
Check out their career page.
27. Verbalizeit
Verbalizeit provides diverse language services to companies around the world.
You'll need to pass their test to prove your skills to become a translator with the Verbalizeit organization.
Once you get approved, you can sign in to work whenever you are free.
To start working, just pick up any available open task that you desire.
They pay via PayPal twice a month.
27. Verilogue
This organization focuses on translating and interpreting for the healthcare industry.
They are always interested in professionals or recent graduates with linguistics expertise for remote work.
If you are interested in a role then you need to send your resume and cover letter to the email address mentioned on their career page.
28. USA TRANSLATIONS
USA TRANSLATIONS is a division of WORDEXPRESS Corporation and they hire translators and interpreters as independent contractors.
They are currently looking for professional interpreters for legal interpretations (courtroom work) and for simultaneous interpretations (e.g. presentations, conferences, congresses, conventions).
To apply, you need to email your resume to associates@usatranslations.com.
Visit their career page.
29. World Lingo
You'll need at least five years of experience to work as a freelancer with World Lingo.
You must also hold a relevant degree from a college or university and have at least two years of continuous translation experience in your area of specialty.
You can fill out their freelance application form by clicking here.
Final Thoughts On Home Based Translation Jobs
I hope this list will help you land a remote translation job.
Do you want access to 30,000+ more remote and flexible jobs? Click here.
I believe during remote interviews, we struggle more in answering the behavior questions properly and showcasing our soft skills. Candidates usually overlook this but preparing for behavioral rounds is very crucial.
You'll find a lot of Youtube videos on this topic. I would also recommend this course by Bob Firestone that has over 177 example answers that work for competency-based, KSA, situational, structured, and behavioral interviews.
Make sure you send a cover letter along with your resume when applying for remote jobs. Simply sending a CV and hoping to get a call back is really not a great way to show the company that you are interested in their job.
You can download the resume and cover letter templates that helped me get my first remote job by going HERE.
And never forget to use the free Chrome plugin, Grammarly, while writing your resumes, emails, and cover letters. This would highlight any silly grammatical mistakes and save you from possible embarrassment as a job seeker.
Have you joined as a remote employee for any translator company? How was your experience? Please let us know in the comments.
If you find this article helpful, kindly share it with your friends. You may also Pin the above image on your Pinterest account. Thanks!
---
These are the top remote companies offering remote jobs in Canada. Sometimes, the companies offering…