These are the top remote companies offering remote jobs in Connecticut, USA.
Sometimes, the companies offering remote jobs in Connecticut, USA do not publicly advertise all the remote job roles that they are hiring for.
So, if you don't see your preferred role listed with the remote companies, you can email the company and ask if they are also hiring remotely in your preferred department.
[ Note: Some of these companies keep changing the links to their career page. As of now, all links are working correctly. If you encounter a 404 error, kindly let me know in the comments and I'll update them ASAP. Thanks! ]
Disclosure: Please note that some of the links below are affiliate links and at no additional cost to you, I'll earn a commission. Know that I only recommend products and services I've personally used and stand behind.
Prefer watching a video instead?
Remote Jobs Connecticut, USA Video:
1. The Hartford
The Hartford's office in Connecticut is located in Hartford.
The Hartford is a leader in property and casualty insurance, group benefits, and mutual funds. With more than 200 years of expertise, the company is widely recognized for its service excellence, sustainability practices, trust, and integrity.
The Hartford has been named among the region's Top Employers by Top Workplaces and one of the World's Most Ethical Companies by the Ethisphere Institute for 13 years in a row.
The company has been included in the list of Best Places to Work in Connecticut by the Best Companies Group. The Hartford is also involved in a variety of philanthropic endeavors, including being the Official Disability Sponsor of the U.S. Paralympics.
The Hartford usually hires in the following roles remotely: Senior Scrum Master, Workforce Planning Consultant, IT Engineering Director, Software Engineering Manager, Data Engineer, Guidewire Developer, Cloud DataOps Engineer, Front-End Engineer, Staff Software Engineer, Full Stack .NET Developer, Process Optimization Consultant, Consultant HR Data & Analytics, Senior Analyst IT Security & Compliance, etc.
The Hartford offers multiple medical plan options with 100% preventive care covered with no deductible, dental coverage options, voluntary group vision plan, voluntary critical illness insurance, and voluntary accident insurance.
The company provides paid time off (PTO) with at least 19 days to start, paid holidays, family medical leave, parental leave, adoption program, tuition reimbursement, weight management programs, sleep improvement program, fitness reimbursement, auto insurance discounts, and flexible work schedules.
You'll also receive a 401(k) plan with a company contribution, employee stock purchase plan, basic life insurance, accidental death & dismemberment insurance, free financial counseling through Ayco, short-term & long-term disability insurance, health savings accounts, and flexible spending accounts.
Check out their career page for more information.
The Hartford's contact: +1 888-539-7596 / hrtechsupport@thehartford.com
2. CareCentrix
CareCentrix's office in Connecticut is located in Hartford.
CareCentrix is the nation's recognized leader in home health benefit management solutions, focused on effectively coordinating high-quality, compassionate care in the lowest cost, most appropriate setting.
The company also produces podcasts, whitepapers, and webinars to empower patients, families, and industry professionals with resources and information related to care innovation, health insurance, home healthcare, and technology.
Carecentrix has been named a recipient of the annual Cigna Well-Being Award for demonstrating a strong commitment to improving the health and well-being of its employees through a workplace wellness program.
In addition, The Hartford Courant recognized CareCentrix with the publication's 2021 Top Workplaces award, which CareCentrix also received in 2020.
CareCentrix usually hires in the following roles remotely: Client Account & Performance Director, Senior AWS Cloud DevOps Engineer, Senior Technical Delivery Manager, Recruiting Associate, Clinical Reviewer – Commercial/Core, PAC Nurse, Actuarial Analyst, Business Partner – Human Resources, Director – Market Engagement, Patient Services Coordinator, Senior Network Engineer, Senior Hadoop-Cloudera Administrator, Solution Architect, etc.
CareCentrix offers medical, dental, and vision insurance along with HSA employer contributions and dependent care FSA with employer match.
You'll also receive generous PTO, a 401K savings plan with company match, paid parental leave, free on-demand virtual fitness training, life insurance, and disability insurance.
CareCentrix supports your professional growth by providing tuition reimbursement, professional skills training, internal advancement, and mentorship program.
Additionally, the company offers personal/sick time off, PTO benefit donations, extended bereavement benefits, profit sharing & company bonus incentives, and Pay/Active, which allows access to your income between paychecks.
Check out their career page for more information.
CareCentrix's contact: +1 800-808-1902 / generalinfo@carecentrix.com
3. HPOne
HPOne's office in Connecticut is located in Trumbull.
HPOne is a sales and marketing organization that operates across multiple segments of the Medicare and health insurance marketplaces.
The company's mission is to help people find the right health insurance for customers across the country and match each person with the optimal plan, with a focus on the long term, to support better health and deliver peace of mind.
HPOne has been named in the list of Great Places to Work by Connecticut magazine and has been chosen as a 2022 Top Workplaces USA by Energage, LLC.
HPOne usually hires in the following roles remotely: Medicare Sales Consultant, Onboarding Coordinator, Sales Representative, Controller, Project Manager, Associate Operations Analyst, Associate Account Manager, Associate Account Manager, Software Engineer, Financial Planning & Analysis Manager, Sales Supervisor, Director of Paid Search, Senior Financial Analyst, Workday HRIS Analyst, etc.
HPOne offers a rewarding compensation structure consisting of base salary plus uncapped commission potentials and bonuses, along with full benefits including health, dental, 401K, paid holidays, and vacation.
The company claims that 2/3 of its Leadership team has been promoted from within, and thus provides incredible growth opportunities for its employees.
To support your professional development, HPOne offers top-notch training to keep you educated, informed, and up to date with industry trends. You'll also receive regular one-on-one coaching and mentoring from managers to improve your craft.
Furthermore, the company provides performance and service rewards ranging from gift cards & Fitbits to smart TVs, bikes, and even all-expense-paid trips.
Check out their career page for more information.
HPOne's contact: +1 855-350-5287 / info@hpone.com
4. Xerox
Xerox's office in Connecticut is located in Norwalk.
Xerox is an American corporation that sells print and digital document products and services in more than 160 countries.
Xerox manufactures a wide range of document management products and solutions, such as black-and-white printers, photocopiers, multifunction systems, scanners, and workflow solutions.
Buyers Lab has awarded Xerox the 2021-2022 PaceSetter Award for its hybrid workplace initiatives. The company was also named as a 2021 Top Employer in the Greater Toronto area.
Xerox usually hires in the following roles remotely: Inside Sales Representative, Business Development Manager, Demand Generation Manager, Front End Software Developer, Global Solutions Engineer, Head of Total Rewards, IT Client Experience Manager, IT Technical Support Specialist, Mobile Software Engineering Lead, Principal Security Architect, Project Manager, Senior Accountant, Software Development Consulting Manager, etc.
Xerox has a dedicated virtual office program for home-based employment opportunities. The company offers profit sharing, stock bonuses, paid holidays, health, dental, and vision insurance, retirement savings plans, employee assistance programs, and resources for childcare & eldercare.
You'll also receive group life insurance, short-term disability insurance for accidents or illness, long-term disability insurance, and death benefits, which cover certain causes of death.
Check out their career page for more information.
Xerox's contact: +1 800-275-9376 / +1 800-835-6100
5. SponsorUnited
SponsorUnited's office in Connecticut is located in Stamford.
SponsorUnited is one of the fastest-growing sports & entertainment technology platforms in the world, connecting the partnership ecosystem by providing the most comprehensive and relevant marketing and sales data available anywhere.
The company provides access to previously inaccessible sports & entertainment sponsorships and media to help properties, brands, and agencies most effectively and efficiently partner.
The SponsorUnited platform has been rapidly adopted by the largest and smallest entities in the world, including 96% of the major pro sports teams, global brands, agencies, media companies, colleges, and vendors.
SponsorUnited has been awarded the 2021 Blue Hen 17&43 Award by the University of Delaware in the category of fastest-growing company.
SponsorUnited usually hires in the following roles remotely: Back-End Engineer, Front-End Engineer, Full Stack Engineer, Marketing Automation Manager, Partnerships, Product Manager, Communications Manager, Database Marketing Specialist, Lead Generation Specialist, Senior Marketing Manager, etc.
SponsorUnited is a virtual, distributed company from its inception and offers comprehensive health & wellness programs, retirement savings plans, development & learning opportunities, social events, and flexible work schedules.
You'll also receive unlimited paid vacation days, a 401(k) plan, flexible parental leave, and stock options.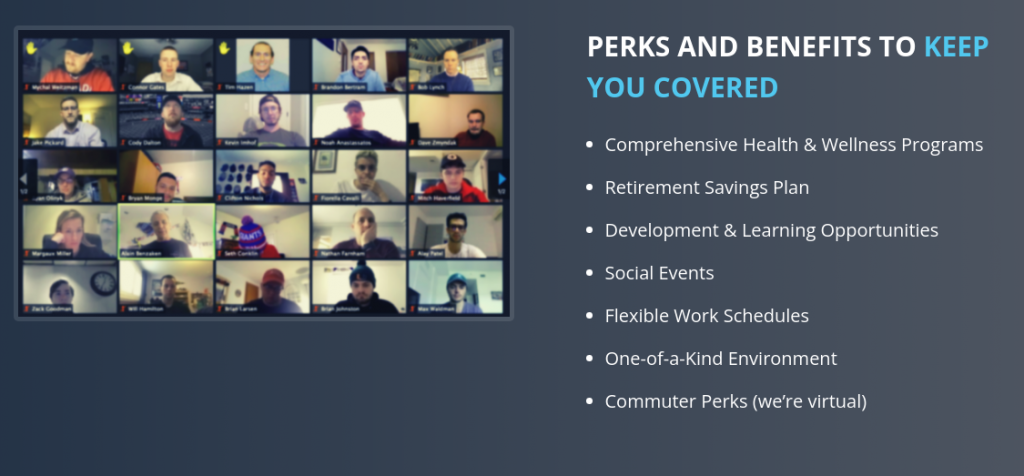 Check out their career page for more information.
SponsorUnited's contact: info@sponsorunited.com
6. Finalsite
Finalsite's office in Connecticut is located in Stamford.
Finalsite is an education software provider that offers a SaaS-based, customized web platform to independent and public schools, colleges, and organizations seeking to centralize and enhance their online learning and communications offerings.
The company's marketing and communications platform and consulting services transform how schools engage with community members, recruit students and staff, and fundraise; while managing the complex requirements around data privacy, accessibility, hosting, and security.
Finalsite's products and services include award-winning website designs, a robust content management system, innovative inbound marketing tools, data integration, training, support, and marketing consulting.
Used by over 7,000 schools and with a 96% retention rate year-over-year, Finalsite is the choice of more than 700 NAIS member schools and hundreds of public school districts in the U.S., and international schools and universities in 115 countries around the world.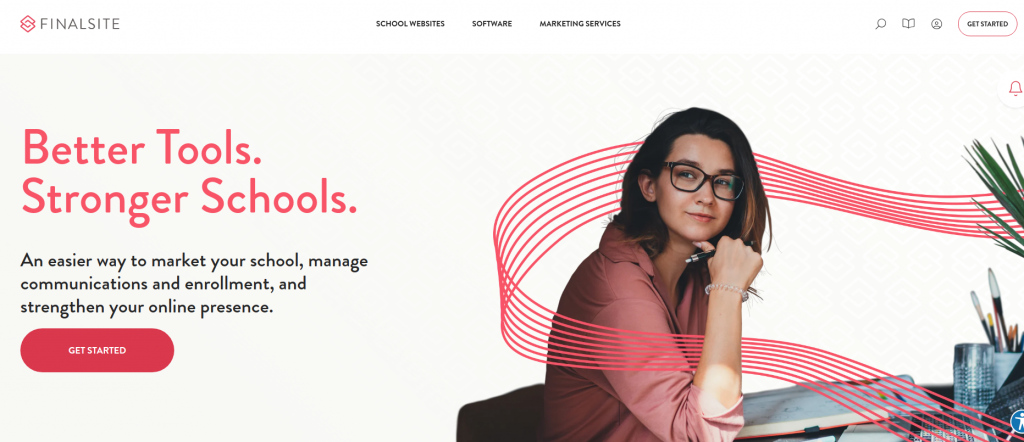 Finalsite usually hires in the following roles remotely: Front-End Web Developer, Deployment Specialist, Quality Assurance Analyst, Senior Software Engineer, Director of Demand Generation, HR Generalist – Talent Acquisition, Product Migration Manager, Director of Business Development, Client Support Specialist, Integration Deployment Engineer, Content Design Specialist, Web Designer, etc.
Finalsite offers a great remote work culture along with several benefits like health, vision, and dental insurance as well as paid parental leave, 20 days paid time off and paid holidays.
The company also provides a 401k plan with a company match of 50% on up to 6%, gym membership discounts, and an employee wellness program. Additionally, Finalsite offers a full expense paid work abroad program in Costa Rica.
Check out their career page for more information.
Finalsite's contact: +1 800-592-2469 / enquiries@finalsite.com
7. HealthPrize Technologies
HealthPrize Technologies' office in Connecticut is located in Norwalk.
Life science companies worldwide use HealthPrize's technology to develop digital patient experiences that enhance revenue by improving adherence, increasing health literacy, and providing brand differentiation.
The company is a pioneer in using behavioral economics, gamification, and consumer marketing to motivate patients and improve their adherence to prescribed treatments.
HealthPrize Technologies has received the 2018 Technology Leadership Award from business consultancy Frost & Sullivan for its industry-leading digital medication adherence and patient-engagement technology platform.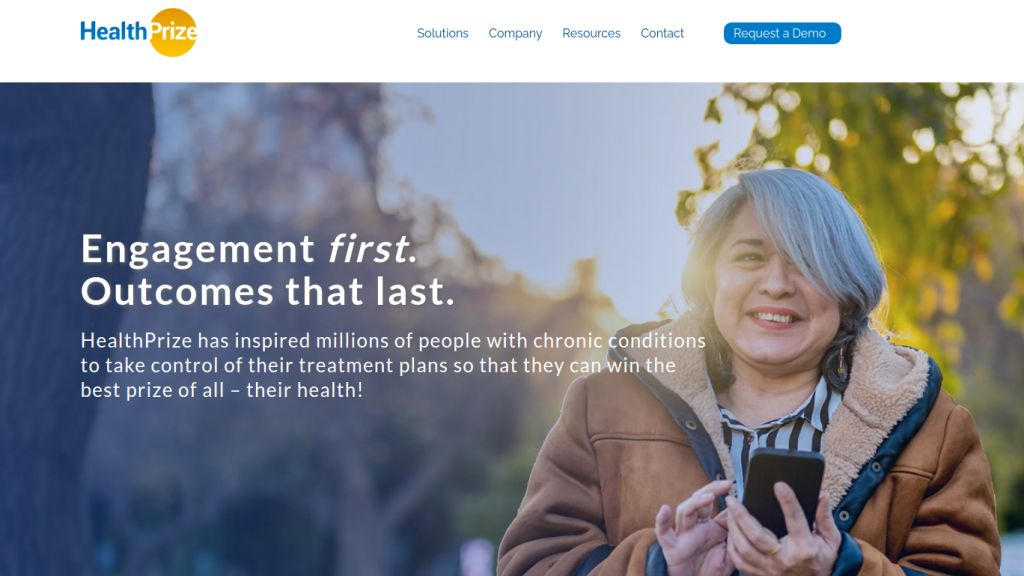 HealthPrize Technologies usually hire in the following roles remotely: Frontend Engineer, Backend Engineer, Senior Platform Engineer, DevOps Engineer, Production UI Designer, Lead Site Reliability Engineer, Medical Project Writer – Editor, etc.
HealthPrize Technologies is a remote-first company and has embraced the remote working model even before the pandemic. Employees receive unlimited paid time off, flexible work schedules, and generous paid parental leave.
The company also provides multiple robust options for medical, dental, and vision benefits in which the company covers up to 90% for most plans, including family plans. With no micro-management, HealthPrize's employees enjoy a greater work/life balance.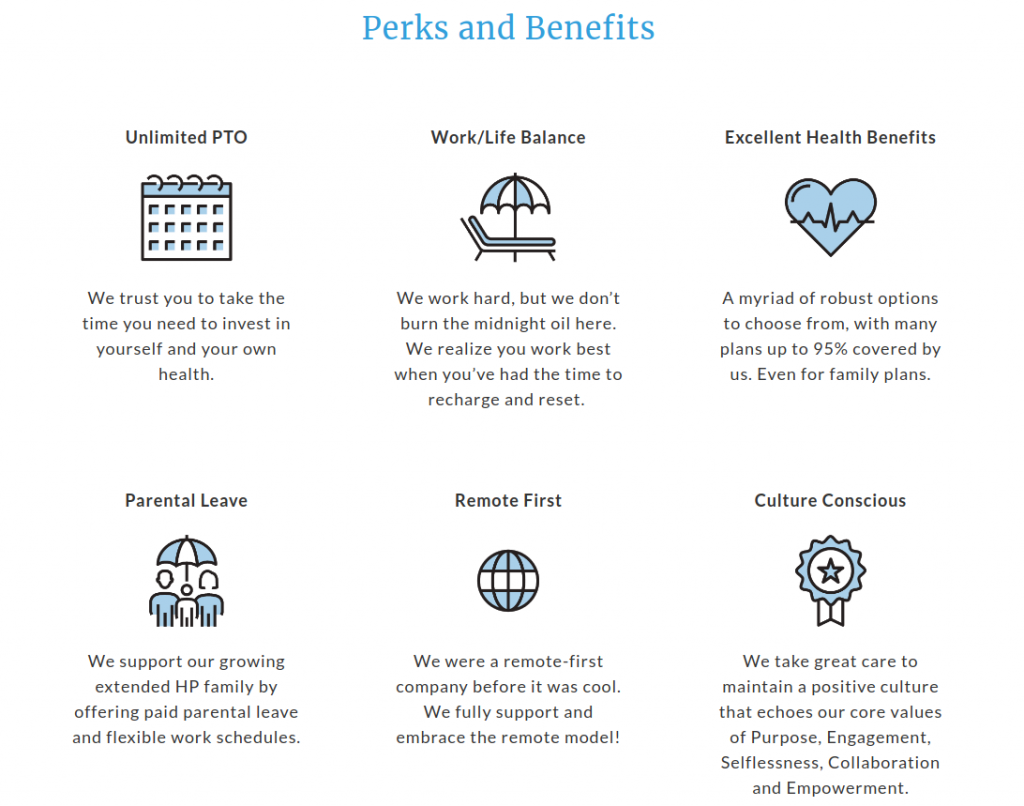 Check out their career page for more information.
HealthPrize Technologies' contact: +1 203-957-3400 / support@healthprize.com
8. Datto
Datto's office in Connecticut is located in Norwalk.
Datto provides backup, recovery, and business continuity solutions to managed service providers worldwide.
Datto offers its solutions for data on-premises in a physical or virtual server, or in the cloud via SaaS applications. It serves small businesses to enterprises in the United States, Canada, and the United Kingdom.
The company offers Unified Continuity, Networking, and Business Management solutions and has created a unique ecosystem of MSP partners. These partners provide Datto solutions to over one million businesses across the globe.
Datto has won numerous awards for its product excellence, superior technical support, rapid growth, and fostering an outstanding workplace and has won the Top Work Places award multiple times in the past.
Datto usually hires in the following roles remotely: ERP QA Engineer, Data Engineering Manager, Cyber Risk Analyst, Senior Security Engineer, Staff Engineer- Salesforce, Senior Frontend Javascript Developer, Staff Site Reliability Engineer, Staff DevOps Engineer, Channel Sales Manager, Corporate Paralegal, Senior Sales Operations Analyst, Data Engineer, Product Manager, Cyber Threat Intelligence Manager, etc.
Datto offers a comprehensive healthcare package in which Datto pays 100% of your health insurance premium, 4 weeks paid vacation, unlimited PTO, flexible working schedules, 16 weeks of parental leave, and a 401k plan with company match.
To support your professional growth, Datto also provides education reimbursement and access to more than 5,000 courses via LinkedIn Learning.
In addition, the company offers long-term disability insurance, profit sharing, AD&D insurance, employee assistance program, access to Headspace App, and charity match program.
Check out their career page for more information.
Datto's contact: +1 888-995-1431 / contact@datto.com
9. Tomo
Tomo's office in Connecticut is located in Stamford.
Tomo Networks is a fintech startup that improves the homebuying experience by pairing a smarter and faster mortgage process with the best real estate agents to eliminate complexity, reduce cost, and put buyers in the best position to close.
Tomo Networks was created by Greg Schwartz and Carey Armstrong in October 2020 and has since announced $70 million in seed funding – the largest ever for a startup in the real estate space.
The company's proprietary technology offers a customized experience that includes pre-approvals within hours and guarantees an on-time closing – features that will significantly accelerate the purchase process, putting buyers in a much stronger, and more certain, position.
Tomo usually hires in the following roles remotely: Principal Software Engineer – Back End, Senior Site Reliability Engineer, Front End Software Engineer, Senior QA Analyst, Senior Growth Marketing Manager, Head of Talent Acquisition, Senior Product Manager, Software Engineering Manager, Mortgage Loan Processor, etc.
Tomo offers comprehensive medical, dental, and vision plans for you and your dependents with some plans covered 100% by the company.
In addition to paid parental leave and generous paid time off, you'll also receive stock equity, AD&D insurance, life insurance, flexible spending accounts (FSA), paid holidays, and a 401k retirement plan with a company match.
Check out their career page for more information.
Tomo's contact: +1 833-505-1705 / mortgageteam@hellotomo.com
10. FactSet
FactSet's office in Connecticut is located in Norwalk.
FactSet consolidates all the tools you need to monitor global markets, public and private companies, and equity and fixed income portfolios in a single intuitive interface.
The company provides investment professionals the edge to outperform with informed insights, workflow solutions across the portfolio lifecycle, and industry-leading support from dedicated specialists.
FactSet's solutions are designed to fit seamlessly into the workflow of financial professionals, with a wide selection of customizable reports and charts that are relevant to a number of job functions.
FactSet has won the Best Companies to Work For award by Fortune multiple times for its focus on career development and providing employees with a variety of opportunities and experiences to learn.
FactSet usually hires in the following roles remotely: DevOps Engineer, Data Platform PostgreSQL DBA Engineer, Banking Industry Product Manager, Lead Software Engineer (.NET, C#, Web frameworks, AWS, Python, Cloud Platform), Lead Linux Platform Engineer, Machine Learning Engineer, Senior Accountant, Senior Digital Specialist, Financial Data Manager, Product Analytics Manager, Senior UX Designer, etc.
FactSet offers a competitive package offering generous paid time off for personal, vacation, parental, and medical leave. The company provides comprehensive health coverage for employees and their families, at little or no cost to employees.
You'll also receive certification reimbursement for eligible expenses related to the CFA, IPM, CAIA, and FRM exams, as well as discounted services at gyms and wellness facilities.
If you're required to work in a hybrid model, the company will provide commuter benefits and free working lunch in the office Monday through Thursday.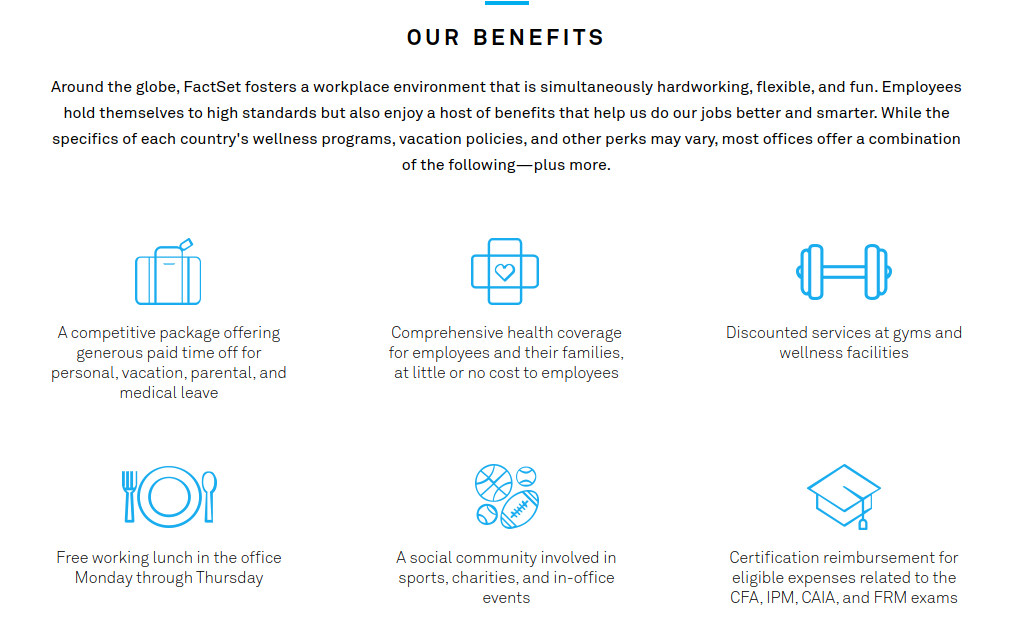 Check out their career page for more information.
FactSet's contact: +1 877-3228738 / support@factset.com
Final Thoughts On Remote Jobs In Connecticut
I hope this list of companies with remote jobs in Connecticut, USA helps you land your next remote job.
Do you want access to 30,000+ more remote and flexible jobs? Click here.
I believe during remote interviews, we struggle more in answering the behavior questions properly and showcasing our soft skills. Candidates usually overlook this but preparing for behavioral rounds is very crucial.
You'll find a lot of Youtube videos on this topic. I would also recommend this course by Bob Firestone which has over 177 example answers that work for competency-based, KSA, situational, structured, and behavioral interviews.
Make sure you send a cover letter along with your resume when applying for remote jobs. Simply sending a CV and hoping to get a call back is really not a great way to show the company that you are interested in their job.
You can download the resume and cover letter templates that helped me get my first remote job by going HERE.
And never forget to use the free Chrome plugin, Grammarly, while writing your resumes, emails, and cover letters. This would highlight any silly grammatical mistakes and save you from possible embarrassment as a job seeker.
Have you joined as a remote employee for any of the listed companies? How was your experience? Do let us know in the comments.
If you find this article helpful, kindly share it with your friends. You may also Pin the above image on your Pinterest account. Thanks!
---
Did you enjoy this article?
---
Abhigyan Mahanta
Hi! I'm Abhigyan, a passionate remote web developer and writer with a love for all things digital. My journey as a remote worker has led me to explore the dynamic landscape of remote companies. Through my writing, I share insights and tips on how remote teams can thrive and stay connected, drawing from my own experiences and industry best practices. Additionally, I'm a dedicated advocate for those venturing into the world of affiliate marketing. I specialize in creating beginner-friendly guides and helping newbie affiliates navigate this exciting online realm.
---
If you're a teacher searching for remote English tutor jobs, then you would certainly benefit…