These are the top remote companies offering remote jobs in Tennessee, USA.
Sometimes, the companies offering remote jobs in Tennessee, USA do not publicly advertise all the remote job roles that they are hiring for.
So, if you don't see your preferred role listed with the remote companies, you can email the company and ask if they are also hiring remotely in your preferred department.
[ Note: Some of these companies keep changing the links to their career page. As of now, all links are working correctly. If you encounter a 404 error, kindly let me know in the comments and I'll update them ASAP. Thanks! ]
Disclosure: Please note that some of the links below are affiliate links and at no additional cost to you, I'll earn a commission. Know that I only recommend products and services I've personally used and stand behind.
Prefer watching a video instead?
Remote Jobs Tennessee, USA Video:
1. Change Healthcare
Change Healthcare's office in Tennessee is located in Nashville.
Change Healthcare is a leading healthcare technology company focused on insights, innovation, and accelerating the transformation of the U.S. healthcare system through the power of the Change Healthcare Platform.
The company provides data and analytics-driven solutions to improve clinical, financial, administrative, and patient-engagement outcomes in the U.S. healthcare system.
Change Healthcare has been recognized by KLAS in the 2022 Best in KLAS awards. The company's Healthcare Consulting Services division was named Best in KLAS for Payer IT Consulting Services for the third time in four years.
Change Healthcare usually hires in the following roles remotely: Patient Benefit Advocate, Product Support Representative, Project Manager, Quality Assurance Representative, Senior Data Analyst, Staff Software Engineer, Software Development Engineer in Test, Human Resources Director, Senior Sales Executive, Treasury Analyst, Data Mining Analyst, Full-Stack Software Engineer, Revenue Accountant, etc.
Change Healthcare offers a plethora of benefits that include 401(k) savings plan, deferred compensation plan, adoption assistance, tax-free health savings and flexible spending accounts, life insurance, educational assistance, and short term & long-term disability insurance.
The company also provides access to employee assistance program (EAP), flexible work arrangements, paid parental leave, paid time off and holidays, legal assistance, pet insurance, home and auto insurance, identity theft protection, accident insurance, critical Illness, and hospital indemnity.
In addition, Change Healthcare offers volunteer days, employee donations, company-supported community service, corporate contributions, prescription drug coverage, multiple medical, dental and vision plans to choose from.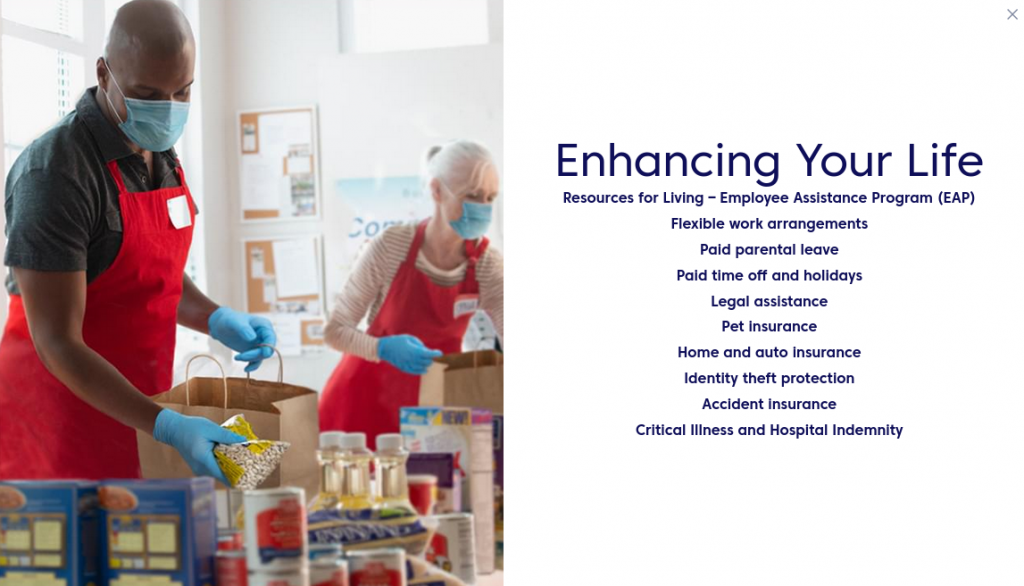 Check out their career page for more information.
Change Healthcare's contact: +1 866-371-9066 / +1 844-709-3017
2. Parallon
Parallon's office in Tennessee is located in Nashville.
Parallon is a provider of healthcare revenue cycle management services and on a mission to help clients employ knowledgeable, effective, and intelligent operational efficiency in the healthcare market.
The company enables providers to care for and improve the health of their communities by optimizing financial performance, navigating regulatory challenges, providing operational best practices and leveraging the latest technology.
Parallon has more than 18,100 colleagues and serves more than 4,750 hospitals and physician practices nationwide.
Parallon was recognized in a survey by Forbes and Statista as one of America's Best Employers for Women.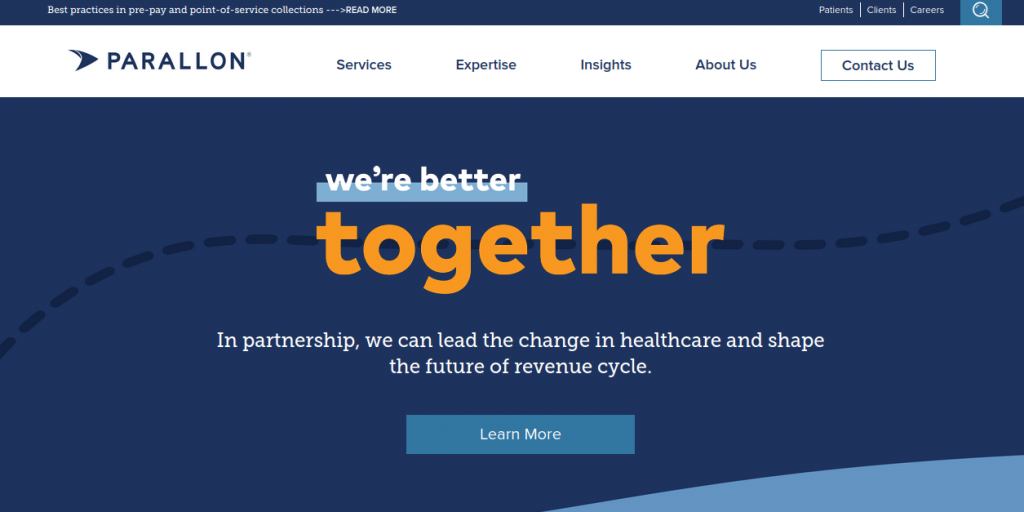 Parallon usually hires in the following roles remotely: Project Director, Insurance Follow Up Representative, Manager in Training, Customer Advisor, Patient Support Specialist, Senior UiPath Developer, Coding Auditor, Processing Center Assistant Director, EDI Billing Manager, Data Abstractor Cardiovascular, Client Support Manager, Coding Quality Review Specialist, Application Developer, etc.
Parallon offers a range of medical, dental, and vision plans, so you can choose the one that works best for your budget and care preference along with paid time off, paid family leave, disability coverage, and leaves of absence.
The company also provides a range of employee or dependent life insurance options, long-term and short-term disability benefits, up to $5,250 in tax-free tuition reimbursement, well-being support, disaster relief support as well as scholarships for dependents.
Furthermore, you'll receive a 401(k) matching program that includes a 100% match on up to 9% of pay and access to Employee Stock Purchase Program that allows employees to purchase shares at a discount.
Check out their career page for more information.
Parallon's contact: +1 844-472-6797 / +1 855-478-7255
3. TechnologyAdvice
TechnologyAdvice's office in Tennessee is located in Brentwood.
TechnologyAdvice is a full-service B2B media company that delivers marketing and data for technology companies to help them find their ideal customers.
With worldwide teams and audiences, the company engages technology buyers through brands such as Developer.com, eWeek, Datamation and Webopedia, email newsletters, and phone conversations.
TechnologyAdvice has been named as one of the Inc. 5000 list of America's Fastest-Growing Private Companies six times, as well as inclusion in the Inc Best Workplaces list for 2021.
A six-time recipient of the annual Tennessee Top Workplaces awards, the company has also received a Nashville Business Journal Small Business Award and was named the Market Mover in the Nashville Chamber's NEXT Awards in 2019.
TechnologyAdvice usually hires in the following roles remotely: Digital Media Specialist (SEO), Senior Staff Writer, Managing Editor – Project Management Software, Director of Paid Media, Administrative Assistant, Vice President of Marketing, Product Manager, Sales Development Representative, Strategic Account Director, Senior Web Development Manager, Software Engineer, QA Engineer, etc.
TechnologyAdvice provides free access to mental health resources like Headspace, fitness reimbursements and on-demand group workouts, as well as comprehensive medical, dental, and vision plans.
The company also offers flexible paid time off, free access to a team of financial advisors, and a company-matched 401k plan. TechnologyAdvice contributes monetarily to charitable organizations that align with their core purpose.
To support your professional growth and help you expand your knowledge and skills, TechnologyAdvice provides reimbursements for personal and professional development books read, a library of books at your finger tips, company-wide book clubs, a monthly speakers series, DE&I education, company-sponsored certifications and leadership academies.
Check out their career page for more information.
TechnologyAdvice's contact: info@technologyadvice.com / +1 877-702-2082
4. Tombras
Tombras' office in Tennessee is located in Knoxville.
Tombras is an advertising and branding agency that provides advertising, marketing, public relations, analytics, and content development services.
The company offers full-service digital strategies and services to clients in a wide range of industries, including financial services, automotive, healthcare, tourism, transportation, entertainment, and food and beverage, among others.
Tombras serves many well-known clients, including Orangetheory Fitness, MoonPie, BUSH's Beans, Pernod Ricard, Big Lots, Mozilla Firefox, Samsung, Zaxby's and ESPN.
Tombras has received multiple awards and recognition including 2020 ADWEEK Fastest Growing Global Agencies, 2019 Ad Age A-List Agencies to Watch, and 2018 Effie Index #3 Most Effective Independent Agency in North America.
Tombras usually hires in the following roles remotely: Business Affairs Talent Manager, Supervisor – Programmatic, Paid Social Manager, Social Brand Manager, Director – Social Media, Senior SEO Manager, Senior Paid Search Manager, Associate Director – Paid Search, UX Director, Senior Copywriter, Digital Media Strategist, Senior Recruiter – Performance Marketing, Staff Accountant, etc.
Tombras offers unlimited PTO, generous parental leave for primary and non-primary caregivers, medical (PPO or high deductible option) for employee and dependents, as well as employer-paid dental & vision plans.
The company also provides a 401(k) plan with a 3% employer match. Employees enjoy the company culture of promotions from within and an atmosphere allowing for varied and rapid career development.
In addition, you'll receive dental & vision insurance, disability insurance, flexible spending account, life insurance, and health savings account, paid sick days and holidays, and 1 paid volunteer day.
Check out their career page for more information.
Tombras' contact: info@tombras.com / +1 865-524-5376
5. Unum
Unum's office in Tennessee is located in Chattanooga.
Unum is an international provider of workplace benefits and services and has been helping workers and their families for more than 170 years.
Through its Unum and Colonial Life brands, the company offers disability, life, accident, critical illness, dental, vision and stop-loss insurance, leave and absence management support, and behavioral health services.
Unum has been named as Worlds Top Female Friendly Company by Forbes and Statista Inc. in 2022 and has been included in Forbes Best Employers for Women 2022 list.
The company has also been awarded as a Great Workplace for New Graduates by Forbes and Statista Inc. in 2022 and has been named as one of the 2022 World's Most Ethical Companies by Ethisphere.
Unum usually hires in the following roles remotely: ServiceNow Architect, Customer Service, Accounting & Finance Manager, Software Development Manager, Financial Reporting Manager, Automation Test Engineer, Business Intelligence Analyst, Senior Finance Associate, IT Delivery Manager, EDI Technology Consultant, Associate Actuary, Senior Software Engineer, Principal Data Scientist, Stop Loss Underwriting Specialist, etc.
Unum offers a portfolio of benefits and rewards that are competitive and comprehensive including healthcare benefits (health, vision, dental), insurance benefits (short & long-term disability), 17 to 30 paid days off, plus personal days and company closure days.
The company also provides performance-based incentive plans and a 401(k) retirement plan with an employer match up to 5% and an additional 4.5% contribution whether you contribute to the plan or not.
Additionally, Unum offers student debt relief and tuition reimbursement to support learning expenses, six weeks of paid parental leave and $25,000 per employee in fertility benefits or adoption assistance, paid volunteer opportunities, and back-up family care and caregiver benefit with five days of leave.
Check out their career page for more information.
Unum's contact: askunum@unum.com / +1 800-621-6403
6. LifePoint Health
LifePoint Health's office in Tennessee is located in Brentwood.
LifePoint Health was founded in 1999 on the idea that everyone deserves quality healthcare close to home and that strong healthcare creates strong communities.
Its diversified healthcare delivery network spans 29 states and includes 63 community hospital campuses, 32 rehabilitation and behavioral health hospitals, and more than 170 additional sites of care across the healthcare continuum, such as acute rehabilitation units, outpatient centers and post-acute care facilities.
The company's guiding principles include delivering high-quality patient care, creating excellent workplaces for employees, supporting physicians, ensuring fiscal responsibility, and taking a leadership role in communities.
LifePoint Health is dedicated to the ongoing improvement of its facilities and has a record of investing in renovations, state-of-the-art technologies, staff development, and physician recruitment.
LifePoint Health usually hires in the following roles remotely: Remote Patient Care Team Lead, Supervisor – Outpatient CDI, OP Risk Adjustment Coder, Quality Analyst – Medical Coding, Project Manager, Senior Business Intelligence Analyst, HR Shared Services Specialist, Senior Telecom Engineer, HR Shared Services Specialist, Systems Engineer, Senior HRIS Analyst – Compensation, Legal Services Manager, etc.
LifePoint Health an excellent total compensation package, including a competitive salary and benefits. The company provides a 401k plan, flexible PTO, generous Employee illness benefit (EIB), medical, dental, vision, tuition reimbursement, and an Employee Assistance Program.
LifePoint Health also offers internships and rotations through academic partnerships nationwide. Employees can advance their skills and earn industry-recognized certifications through specialty educational programs, including online learning and in-person instruction and support.
Check out their career page for more information.
LifePoint Health's contact: +1 615-920-7000
7. Revecore
Revecore's office in Tennessee is located in Franklin.
Revecore is a leading provider of revenue integrity solutions for underpayments and denial prevention and complex claims reimbursement solutions for motor vehicle accident, workers' compensation, and Veterans Affairs claims.
The company serves nearly 1,200 hospitals across the country in 45 states, offering hospitals and health systems over two decades of unrivaled technology and expert insight into the most challenging areas of revenue cycle to ensure they are appropriately reimbursed for the care they provide.
In addition to being ranked Best in KLAS for Complex Claims and Underpayment Recovery, Revecore holds the distinguished HFMA Peer Review Status for underpayment recovery and complex claims solutions.
Revecore is also an eight-time winner of the Best Places to Work in Kentucky Award and a five-time winner of the When Work Works Award.
Revecore usually hires in the following roles remotely: Auto Claims Specialist, ICR Information Request Specialist, Market Engagement Specialist, VA Claims Specialist, Workers' Compensation Claims Specialist, Claims Services Analyst, Denial Prevention Analyst, Hospital Claims Analyst, Talent Acquisition Coordinator, Product Owner, Client Services Associate, etc.
Revecore offers a competitive benefits package, including options to enroll in the following insurance programs: health, dental, vision, life, short-term disability, long-term disability, flex savings accounts, and dependent care savings accounts.
The company also provides a flexible PTO plan, a 401(k) program with a competitive company match, and access to quarterly bonus incentive program and recognition/reward program.
Employees are eligible to enroll in insurance benefits on their date of hire. Additionally, you'll get paid vacation, bereavement leaves, and access to employee assistance programs.
Check out their career page for more information.
Revecore's contact: Recruiter@revecore.com / +1 615-905-2678
8. Centerstone
Centerstone's office in Tennessee is located in Nashville.
Centerstone is a nonprofit health system providing mental health and substance use disorder treatments. The company services are available nationally through the operation of outpatient clinics, residential programs, the use of telehealth, and an inpatient hospital.
Centerstone also features specialized programs for the military community, therapeutic foster care, children's services and employee assistance programs.
Centerstone has been named the winner of a Gold Stevie Award in the "Best Annual Report: Non-Profit Organizations" category in the 18th Annual American Business Awards.
Centerstone usually hires in the following roles remotely: Therapist, Chat/Text Crisis Specialist, Assistant Controller, Clinical Data Analyst, Quality Care Coordinator, Contact Center Specialist, Clinical Supervisor – Adult Residential Services, Accountant, Campaign Coordinator, Major Gifts Officer, Director – Workforce Strategy, Licensed Outpatient Therapist, Family Support Specialist, Crisis Care Consultant, Data Entry Specialist, etc.
Centerstone offers daycare assistance through WeeCare, company paid life insurance including accidental death & dismemberment, 403b retirement plan with company funded matching, and retirement and financial planning services.
The company also provides generous PTO for vacations, illness, personal days, etc. (as well as paid holidays), loan forgiveness options through federal programs (National Health Service Corps & Public Service Loan Forgiveness), and flexible work schedules.
You'll also receive medical, dental, and vision coverage, health spending accounts with an employer contribution, flexible spending accounts, short-term disability, company paid long-term disability insurance along with access to Employee Assistance Program to get assistance with your personal and work related problems.
Check out their career page for more information.
Centerstone's contact: +1 877-467-3123
9. Core10
Core10's office in Tennessee is located in Franklin.
Core10 is a software development company that builds fintech solutions for banks, healthcare providers, and insurance providers, and restoring local communities.
Core10's Accrue product is an OEM Salesforce Platform provider with a powerful, configurable lending and banking application designed specifically for community banks and credit unions looking to accelerate digital innovation.
The company also specializes in fintech software development, data analysis, QA engineering, UX design, onshore outsourcing, API, loan origination, core banking, FinTech, banking, credit unions, lending, mortgage, SaaS implementation, and integrations.
Core10 has been the recipient of 2019 Technology Startup NEXT Award by Nashville Entrepreneur Center.

Core10 usually hires in the following roles remotely: Implementation Analyst, Sales Executive, Senior Node Engineer, Senior PHP Engineer, Account Manager, Scrum Master, Product Owner, Software Engineer, Full Stack Developer, Senior Human Resources Manager, Salesforce Developer, Recruiter, Software QA Analyst, Accounting Analyst, Software Development Manager, etc.
Core10 has a 100% remote work culture and team members have the option to fully work from home or pop into and work from one of Core10's Hereshore locations at their convenience.
Core10 offers health care plan that includes medical, dental, and vision for employee (a significant portion of employee only paid) and family (paid in part).
The company also provides maternity & paternity parental leave, flexible PTO plan, matching 401k retirement plan, flexible spending account, health saving account, AD&D insurance, stock options, and life insurance.
Furthermore, Core10 supports your professional development by offering individual training budget, access to technical book club & other study groups, certifications with bonuses, and mentoring programs.
Check out their career page for more information.
Core10's contact: info@core10.io / +1 855-737-5323
Tithe.ly's office in Tennessee is located in Nashville.
Tithe.ly is a web & mobile based donation platform providing digital giving tools & event management features for ministries & churches of all sizes. Over 37,000 churches in 50 countries trust Tithe.ly to help run their church.
Tithe.ly provides a church app with a variety of communication and engagement features, such as custom branding and layouts, text and email messaging, church management software, social news feed, and interactive sermon notes.
Tithe.ly usually hires in the following roles remotely: Senior Full Stack Engineer, Manager Financial Analyst, Engineering Manager, Group Product Manager, Senior Back End Engineer, Customer Support Advocate, Accounting Manager, .NET Software Engineer, Front End Engineer, Director Of Operations, Manager of Customer Success, Technical Services Specialist, Product Designer, People Ops Coordinator, etc.
Tithe.ly has a fully remote work culture and offers health insurance, dental and vision plans, a 401k plan with company match, and paid time off.
The company also provides paid parental leave including up to six weeks paid time off for the birthing mother plus 2 weeks of paternity leave.
Check out their career page for more information.
Tithe.ly's contact: hello@tithe.ly / +1 424-228-8870
Final Thoughts On Remote Jobs In Tennessee
I hope this list of companies with remote jobs in Tennessee, USA helps you land your next remote job.
Do you want access to 30,000+ more remote and flexible jobs? Click here.
I believe during remote interviews, we struggle more in answering the behavior questions properly and showcasing our soft skills. Candidates usually overlook this but preparing for behavioral rounds is very crucial.
You'll find a lot of Youtube videos on this topic. I would also recommend this course by Bob Firestone which has over 177 example answers that work for competency-based, KSA, situational, structured, and behavioral interviews.
Make sure you send a cover letter along with your resume when applying for remote jobs. Simply sending a CV and hoping to get a call back is really not a great way to show the company that you are interested in their job.
You can download the resume and cover letter templates that helped me get my first remote job by going HERE.
And never forget to use the free Chrome plugin, Grammarly, while writing your resumes, emails, and cover letters. This would highlight any silly grammatical mistakes and save you from possible embarrassment as a job seeker.
Have you joined as a remote employee for any of the listed companies? How was your experience? Do let us know in the comments.
If you find this article helpful, kindly share it with your friends. You may also Pin the above image on your Pinterest account. Thanks!
---
Did you enjoy this article?
---
Abhigyan Mahanta
Hi! I'm Abhigyan, a passionate remote web developer and writer with a love for all things digital. My journey as a remote worker has led me to explore the dynamic landscape of remote companies. Through my writing, I share insights and tips on how remote teams can thrive and stay connected, drawing from my own experiences and industry best practices. Additionally, I'm a dedicated advocate for those venturing into the world of affiliate marketing. I specialize in creating beginner-friendly guides and helping newbie affiliates navigate this exciting online realm.
---
If you're planning to apply for a remote UX researcher position, you need to ace…