These are the top remote companies offering remote jobs in Massachusetts, USA.
Sometimes, the companies offering remote jobs in Massachusetts, USA do not publicly advertise all the remote job roles that they are hiring for.
So, if you don't see your preferred role listed with the remote companies, you can email the company and ask if they are also hiring remotely in your preferred department.
[ Note: Some of these companies keep changing the links to their career page. As of now, all links are working correctly. If you encounter a 404 error, kindly let me know in the comments and I'll update them ASAP. Thanks! ]
Disclosure: Please note that some of the links below are affiliate links and at no additional cost to you, I'll earn a commission. Know that I only recommend products and services I've personally used and stand behind.
1. Aquent
Aquent's office in Massachusetts is located in Boston.
Aquent is one of the world's largest marketing and creative staffing and recruiting firm, providing total workforce services that range from temporary and permanent staffing to freelancer management and the outsourcing of entire teams.
A five-time recipient of Inavero's Best of Staffing Client Award, Aquent delivers innovative workforce solutions that simultaneously drive marketing results for clients and provide talent with the best career opportunities.
Named as one of the 100 Top Places to Work by The Boston Globe and as one of the Top 10 Consulting Firms by Consulting magazine, the company provides contract placement in the following areas of expertise: online marketing, interactive design, marketing, graphic design, and IT.
Aquent usually hires in the following roles remotely: Recruiter, Software Engineering Manager, Recruitment Resourcer, Talent Sourcing Strategist, Benefits Analyst, Account Director, Payroll Specialist, Tableau Developer, Agile Development Manager, Director – Community & Customer Engagement, Product Designer, Business Development Manager, Sales Development Rep, Onboarding Specialist, Senior Finance Director, etc.
Aquent offers a choice of multiple health plans which includes vision insurance and subsidized dental plans. Employees receive paid sick leaves, paid time off, access to wellness & employee assistance programs, and exclusive employee discount promo codes.
The company also provides retirement plans with no minimum hours to contribute, employer matching, and immediate vesting. You'll also receive Flexible Spending Accounts (FSA) for qualified healthcare, dependent care, parking & transit expenses, as well as career coaching from specialized recruiters.
Furthermore, Aquent offers voluntary supplemental insurance plans for accidents, critical illness, and hospitalization, as well as financial wellness programs and identity protection plans.
To support employees' professional growth, Aquent provides access to Aquent Gymnasium, their free learning platform that offers courses by industry trailblazers in web development, design, user experience, and content creation.
Check out their career page for more information.
Aquent's contact: +1 617-535-5000 / employverify@aquent.com
2. Hubspot
Hubspot's office in Massachusetts is located in Cambridge.
Hubspot is a leading customer relationship management (CRM) platform that provides software and support to help businesses grow better.
Ranked first in customer satisfaction by VentureBeat and G2Crowd, HubSpot specializes in website content management, social media publishing & monitoring, search engine optimization, blogging, email marketing, marketing automation, and reporting & analytics.
HubSpot was named the #2 Best Place to Work on Glassdoor in 2022 and has been recognized for award-winning culture by Great Place to Work, Comparably, Fortune, Entrepreneur, Inc., and more.
Hubspot usually hires in the following roles remotely: Account Executive, App Partner Manager, Associate Business Development Representative, Business Systems Analyst, Compensation Operations Analyst, Content Designer, Customer Support Specialist, Data Analyst, Digital Producer, Engineering Lead – Artificial Intelligence, Frontend Platform Engineer – Unit Testing, HR Generalist, Manager – SEO Team, Payroll Analyst, Financial Analyst, etc.
Hubspot offers three flexible work options: @home, @office, and @flex and lets you decide which working model is suitable for you. You get unlimited vacation, plus a company-wide week off in July.
After five years working with HubSpot, you get a four-week paid sabbatical, with the equivalent of a $5K US bonus. Additionally, their global Employee Assistance Program (EAP), HubCare, provides mental health resources with certified clinicians via phone, email, chat, and video 24/7.
Hubspot also provides generous paid leave to new parents, as well as egg-freezing benefits to help give women more support. HubSpot's leadership development team provides training, ThinkSpaces, recognition programs, and resources for new and tenured managers alike.
The company also offers fitness reimbursement, nutrition consultations, and workshops on mindfulness, stress management, and more. Employees can also buy HubSpot stock at a discount from the share price at purchase.
HubSpotters get the equivalent of $5K US/year to spend on education. Employees have used this fund for semester-long classes, weekend workshops, and online courses on everything from finance to design.
Moreover, Hubspot provides ongoing learning opportunities like the Free Books Program, the Learn@HubSpot online platform, a mini-MBA Fellows program, HubTalks, workshops, and more.
Check out their career page for more information.
Hubspot's contact: +1 888-482-7768
3. Toast
Toast's office in Massachusetts is located in Boston.
Toast provides a single platform of software as a service (SaaS) products and financial technology solutions that give restaurants everything they need to run their business across the point of sale, operations, digital ordering and delivery, marketing and loyalty, and team management.
The company has developed a range of products to assist restauranteurs, such as software for reporting, analytics, online ordering, and delivery, as well as hardware devices that include terminals, displays, kiosks, and accessories.
By serving as the restaurant operating system across dine-in, takeout, and delivery channels, Toast helps restaurants streamline operations, increase revenue and deliver amazing guest experiences.
Toast has been recognized as one of the best restaurant POS/restaurant management software and services companies via G2 Crowd.
The company has also been awarded as Best Place To Work by Built-In and has received "silver" level recognition in the "Digital – Food & Drink" category by New York Design Awards.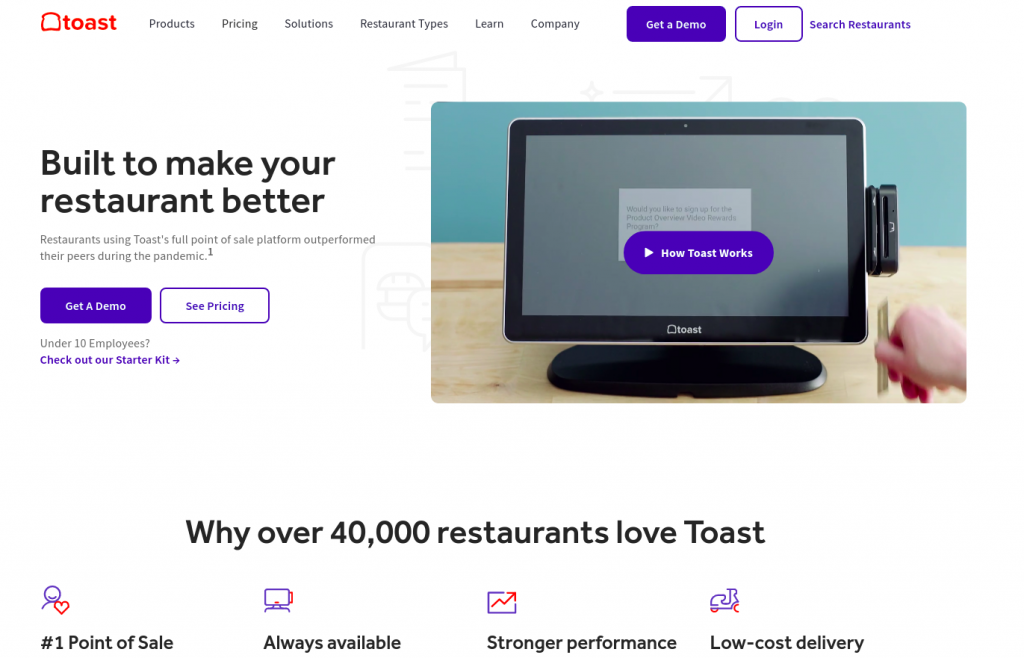 Toast usually hires in the following roles remotely: Accounting Project Manager, Director 3PL Fulfillment, Junior Systems Administrators, Lead Software Engineer, MBA Investment Associate, Onboarding Consultant, Operations & System Strategy Manager, Salesforce Solutions Architect, Senior Android Engineer, Revenue Accounting Manager, Site Reliability Engineer, Senior UX Designer, Talent Acquisition Partner, Customer Marketing Associate, etc.
Toast offers medical, dental, & vision coverage along with mental health benefits and subsidized backup childcare. Employees receive unlimited vacation, sabbatical opportunity after five years, 5 months maternity leave, 4 months paternity leave, and a 401k plan with company match.
The company also commits to Employee Wellness through resources such as a quarterly wellness stipend. In addition to various peer and company recognition programs, Toast also has a reimbursement program for employees' professional development.
Check out their career page for more information.
Toast's contact: +1 617-682-0225
4. Pega
Pega's office in Massachusetts is located in Cambridge.
Pega's cloud software for customer engagement, customer service, and intelligent automation empowers the world's leading companies to maximize customer value.
The company serves more than 3,000 clients in the manufacturing, credit card, healthcare, media, oil, travel, financial, pharmaceutical, insurance, and consumer packaged goods industries worldwide.
Pega helps the world's leading brands solve their biggest business challenges: increasing customer lifetime value, streamlining customer service, and boosting operational efficiency, through their industry-leading CRM, case management, omnichannel experiences, AI, and real-time decision capabilities.
Pega ranked 12th in the Boston Globe's annual list of largest Top Places to Work 2020 in Massachusetts. The company has also won the 2020 Gold Stevie Award for Customer Relationship Management Solution and the 2020 TMC Customer Product of the Year Award.
Pega usually hires in the following roles remotely: Senior Client Success Manager, UI Solutions Developer, Product Marketing Manager, Account Executive, UX Design Manager, Technical Innovation Lead, User Experience Designer, Corporate Strategy Director, Business Development Representative, Sales Data Analyst, Technical Support Engineer, Content Writer, Cloud Network Engineer, Operations Analyst, Public Relations Manager, Content Marketing Manager, etc.
Pega provides health insurance, life insurance, vision & dental coverage, and disability insurance. The company offers one month of maternity leave as well as flexible paid caregiver and adoption leave.
Employees receive tuition assistance and free access to on-demand digital learning to enhance their professional development. You can also buy company stocks through their Employee Stock Purchase Plan (ESPP), either through regular contributions from each paycheck or via annual bonus payments.
Pega also offers generous paid time off, paid volunteer time, and flexible working culture. Employees are encouraged to join colleagues in PegaUp! global wellness challenges and to take advantage of free online fitness and mindfulness apps.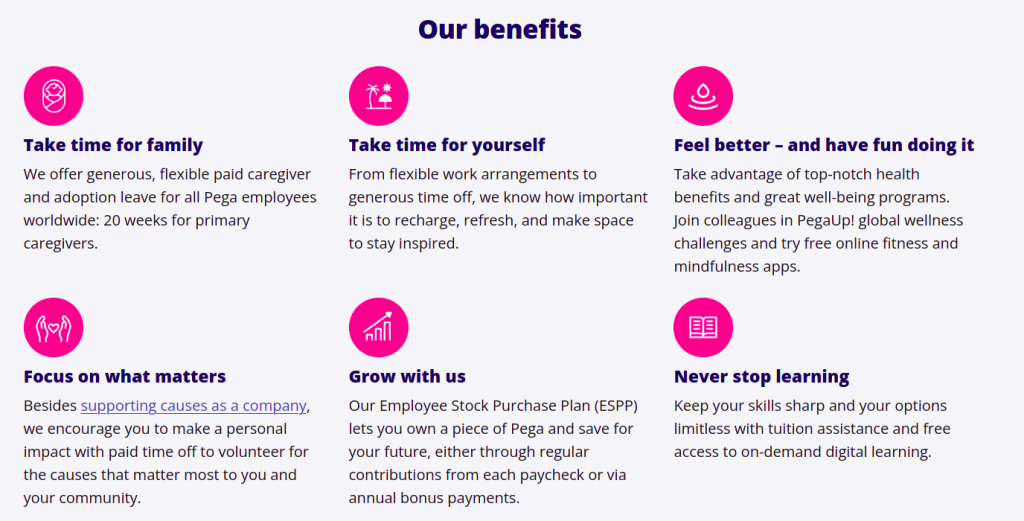 Check out their career page for more information.
Pega's contact: +1 888-734-2669 / PeopleHub@pega.com
5. Liberty Mutual
Liberty Mutual's office in Massachusetts is located in Boston.
Liberty Mutual is a leading global insurance corporation and one of the largest casualty and property insurance companies in the US.
Liberty Mutual strives to help customers lead more secure lives through its homeowners, automobile, business, health, liability, property, workers' compensation, accident, disability, surety, and life insurance policies, in addition to its reinsurance and annuity products.
Liberty Mutual has been recognized as a "Great Place to Work" by Great Place to Work® US for the past several years. The company has been selected as one of the "100 Best Places to Work in IT" on IDG's Insider Pro and Computerworld's 2020 list.
Liberty Mutual has been named by Forbes as one of America's Best Employers for Women, one of America's Best Employers for New Graduates, as well as one of America's Best Employers for Diversity.
Liberty Mutual usually hires in the following roles remotely: Product Analyst, Data Solutions Developer, Claims Team Manager, Principal Software Engineer, Customer Service Representative, Internal Agency Project Manager, Senior Recruiter, Business Analyst, Senior Underwriter, Payroll Tax Specialist, Python Engineer, Financial Analyst, Scrum Master, Product Designer, Cybersecurity Engineer, Data Science Engineer, Full Stack Web Engineer, etc.
Employees receive access to comprehensive health, dental, and vision coverage, as well as a host of other insurance and wellness benefits, including progressive parental benefits and support.
The compensation programs of Liberty Mutual are designed to deliver above-market pay if you perform well, and significantly above that for exceptional performance over time. Virtually every employee is eligible for some type of variable incentive pay in addition to his or her base pay.
Through the pension plan, Liberty Mutual provides you with a monthly pay credit equal to 5% of your monthly eligible compensation, plus monthly interest credits.
You can also participate in the 401(k) plan, which offers a guaranteed company match of $0.50 for each dollar you contribute, up to 8% of your eligible pay.
The company also provides time off through holidays, flexible time off, and special time allowances such as bereavement and jury duty. You'll receive a number of other paid and unpaid leaves of absence, such as disability leave, military leave, family/medical leave, and personal leave.
With your manager's approval, the reimbursement plan reimburses you 100% of the cost for undergraduate and graduate courses. Employees are eligible for the plan once they've been a full-time Liberty Mutual employee for at least one year.
Additionally, Liberty Mutual Marketplace helps you save with employee pricing on electronics, automobiles, gym discounts, movie tickets, or almost anything else.
Check out their career page for more information.
Liberty Mutual's contact: +1 844-629-8984 / +1 800-290-8711
6. Acceleration Partners
Acceleration Partners' office in Massachusetts is located in Needham.
Acceleration Partners is a recognized leader in global partnership marketing. The company manages programs for brands in more than 40 countries worldwide, and provides deep expertise in all key partnership marketing tactics, including affiliate, influencer, content, mass media, and B2B partner marketing.
A five-time winner of the IPMA "Best Performance Marketing Agency" category, Acceleration Partners has a 15-year track record of driving exceptional outcomes for top global brands including Target, Reebok, LinkedIn, Adidas, and Noom.
The company believes that marketing is better for brands and consumers when it is based on authentic connections and so they build genuine connections with clients, partners, employees, and their community to enable remarkable outcomes.
Acceleration Partners has received several prestigious awards and accolades for our culture, including "Best Workplaces" (Inc.), "Best Places to Work" (Glassdoor), "Most Committed to Work-Life Balance" (Digiday).

Acceleration Partners usually hires in the following roles remotely: Executive Assistant, Account Manager – Digital Marketing, Affiliate Marketing Partner Manager, Client Analytics Director, Global Enterprise Accounts Director, Influencer Marketing Manager, Digital Marketing Associate, Senior Account Executive, Internal Communications Manager, Account Strategy Executive, Client Growth & Development Manager, Associate Account Director, etc.
Acceleration Partners is a 100% remote organization and has an open PTO (Paid Time Off) policy. Employees get medical, dental, & vision benefits, flexible spending accounts, health savings accounts, half-day PTO on their birthdays, and PTO to volunteer.
Acceleration Partners provides 401K / Roth company contributions, vacation incentive bonuses, monetary contributions towards hitting personal wellness goals, as well as technology reimbursements & phone allowances.
You'll also receive workspace reimbursements, tuition reimbursement, company match on charitable donations, life insurance & disability insurance, maternity & paternity benefits, and additional discounts through LifeMart for wellness, travel, etc.
In addition, employees also get access to various internal training & leadership programs, coaching & mentoring programs, subsidized TSA/Global entry application fees, and employee assistance programs.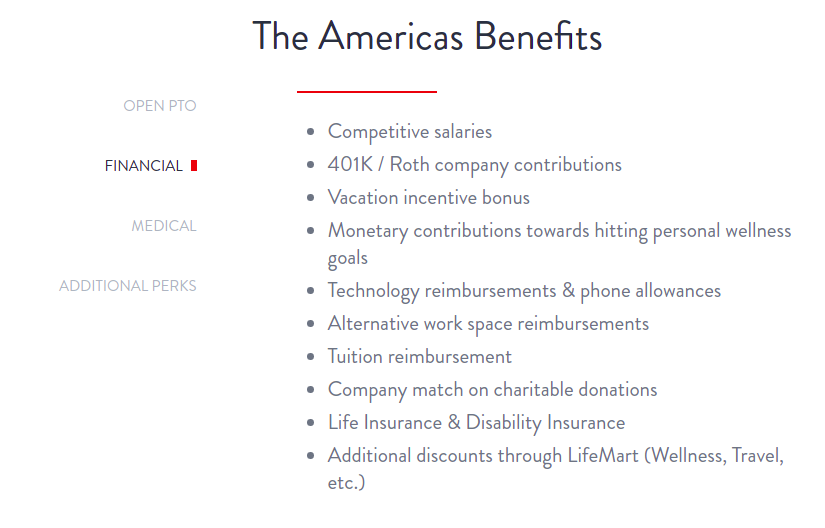 Check out their career page for more information.
Acceleration Partners' contact: +1 617-963-0839
7. Alvaria
Alvaria's office in Massachusetts is located in Westford.
Alvaria is a provider of customer contact, workforce optimization, and Microsoft platform solutions to Fortune 100 and Global Fortune 100 companies.
The company helps organizations improve customer relationships by offering solutions for simplifying business processes and services for comprehensive communications, including cloud-based customer engagement centers, call center services, and self-service solutions.
Alvaria has been the recipient of recognition and awards from several industry publications and organizations. Alvaria has received the 2021 Contact Center Technology Award from CUSTOMER magazine and has been recognized with the 2021 Frost & Sullivan Customer Value Leadership Award.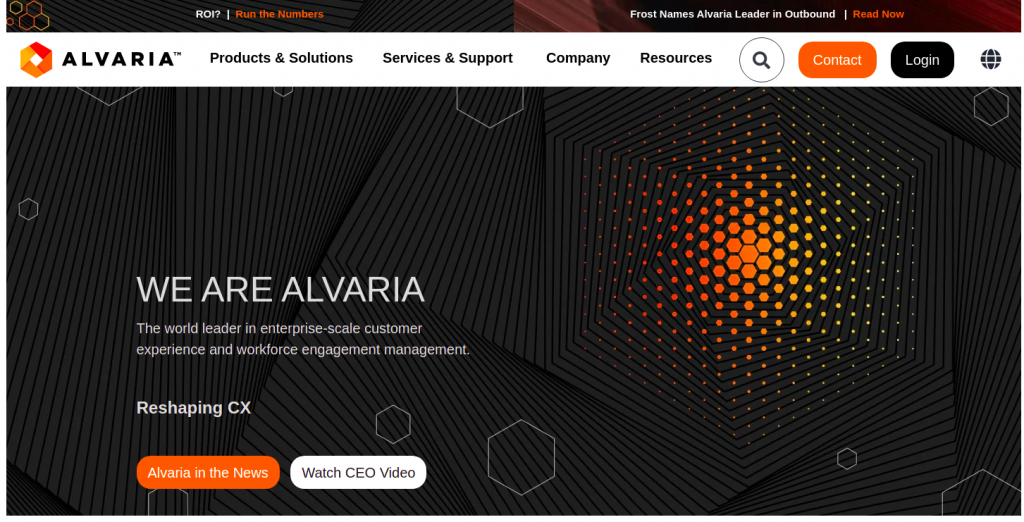 Alvaria usually hires in the following roles remotely: Customer Success Manager, Principal Algorithm Specialist, Cloud Security Engineer, Software Applications Engineer, Deal Pricing Analyst, Systems Engineer, VP Sales Operations, Software Sales Representative, Technical Support Engineer, Solutions Consultant, Enterprise Sales Account Executive, Channel Sales Manager, Accountant – Revenue Recognition, Cloud Voice and Network Architect, Implementation Consultant, Director – AI & Machine Learning Engineering, etc.
Alvaria offers medical, dental & vision, and life insurance. Employees receive flexible spending plans, a 401k plan with company match, group auto & home insurance, as well as pet insurance.
The company also provides access to wellness programs, recognition programs, and scholarship programs. In addition to paid holidays and time off, you'll also receive tuition reimbursement, charitable gift match, and short-term & long-term disability insurance.
Check out their career page for more information.
Alvaria's contact: +1 978-250-7900 / info@alvaria.com
8. LogMeIn
LogMeIn's office in Massachusetts is located in Boston.
LogMeIn is a software company that simplifies how people connect with each other and the world to drive meaningful interactions, strengthen relationships, and improve outcomes for individuals and businesses.
LogMeIn's category-defining products, such as GoTo, LastPass, Rescue, and LogMeIn Central, unlock the potential of the modern workforce by making it possible for millions of people and businesses around the globe to do their best work simply and securely on any device, from any location and at any time.
A pioneer in remote work technology, LogMeIn has become one of the world's largest SaaS companies with tens of millions of active users, more than 3,500 global employees, and approximately 2 million customers worldwide.
LogMeIn has been awarded the Gold Stevie Award for Company of the Year-Computer Software from the 2021 American Business Awards. In 2021, LogMeIn won the Comparably awards for Best Sales Team 2021, Best HR Team 2021, and Best Places to Work in Boston 2021.
LogMeIn also has received the Comparably awards for Best Company for Women 2020, Best Company Culture 2020, Best Company Work-Life Balance, Best Company Perks & Benefits, Best Professional Development 2020, and Best CEOs for Women 2020.
LogMeIn usually hires in the following roles remotely: Analytics & Data Science Manager, Field Marketing Director, Performance Marketing Manager, Compliance Lead, Senior Data Scientist, Staff Data Governance Engineer, Web UX Designer, Senior SEO Manager, MarTech Specialist, Customer Success Manager, Paid Media Programs Manager, Account Resolutions Specialist, Business Intelligence Analyst, Salesforce Reporting Analyst, Marketing Automation Specialist, etc.
LogMeIn offers comprehensive health and wellness coverage, retirement savings plans , and life & disability insurance. Employees enjoy a flexible work environment, tuition reimbursement, innovation hackathons, and paid time off.
The company also provides training & development to support professional growth, leaves of absence (maternity, paternity, & adoption), as well as fertility, surrogacy, and adoption benefits.
Additionally, employees also receive travel insurance, auto & home insurance discounts, pet insurance, Flexible Spending Accounts (FSA), Health Savings Accounts (HSA), and Dependent Care Flexible Spending Accounts.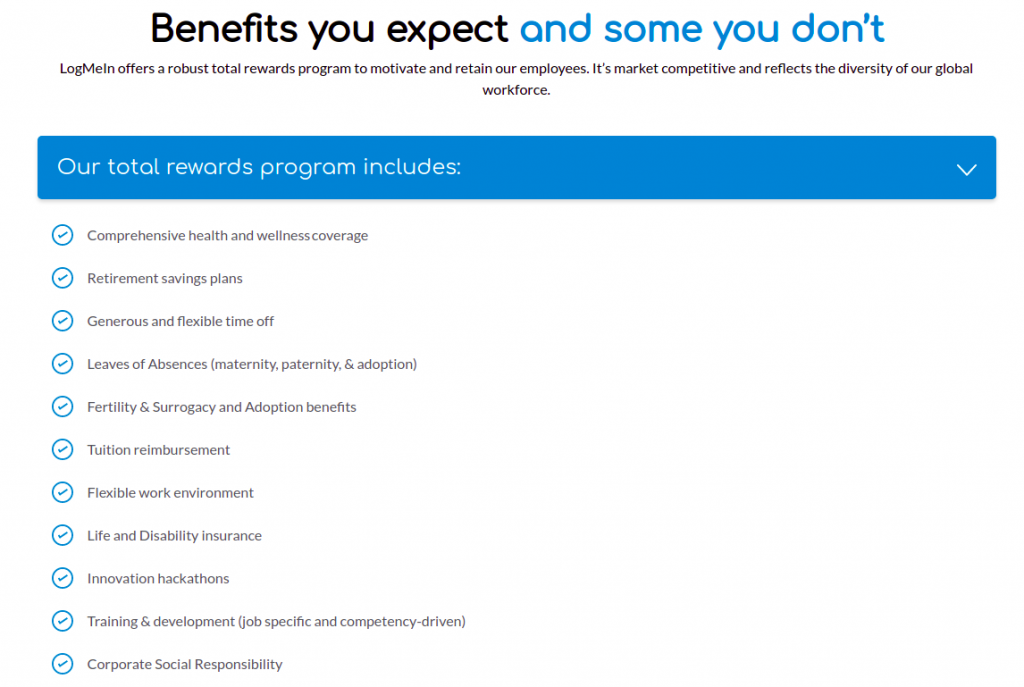 Check out their career page for more information.
LogMeIn's contact: +1 866-478-1805
9. ActBlue
ActBlue's office in Massachusetts is located in Somerville.
ActBlue is a nonprofit that builds tech and infrastructure for Democratic campaigns, progressive-aligned causes, and people trying to make an impact in order to fuel long-term, people-powered change.
The company's flagship product, ActBlue Express, has helped countless organizations and campaigns build a stronger network, see higher conversion rates, and raise more money.
ActBlue has built a powerful online fundraising platform for Democratic candidates up and down the ballot, progressive organizations, and nonprofits.
Their tools make it possible for anyone to build a grassroots campaign or movement and give donors an easy and secure way to support their favorite candidates and causes.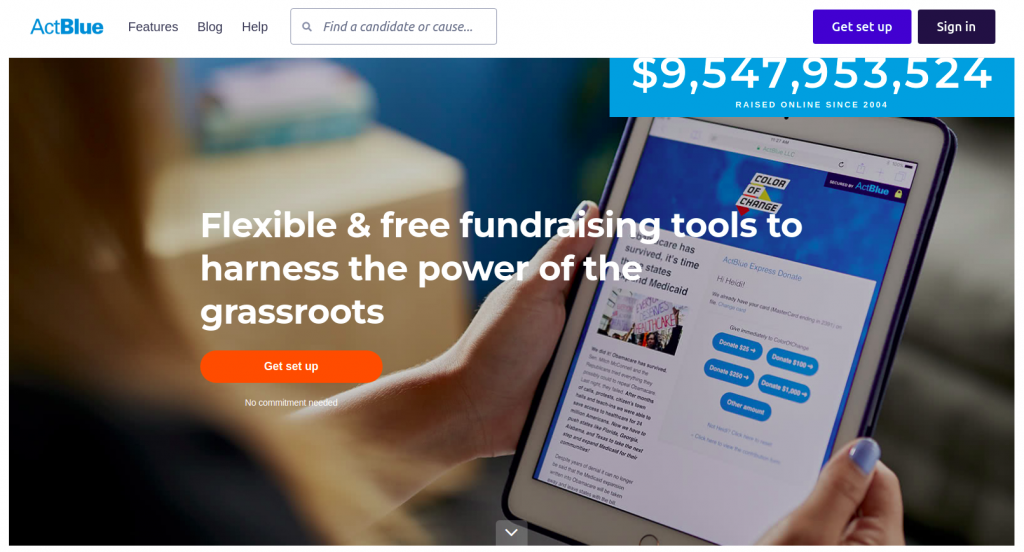 ActBlue usually hires in the following roles remotely: Content Associate, Marketing Director, Press Associate, Admin Support Manager, Donor Support Manager, Engineering Manager, Software Manager, Application Security Engineer, Cloud Security Engineer, Corporate Security Engineer, DevOps Engineer, Scrum Coach, Senior Product Designer, Software Engineer, VP Engineering, Recruitment Director, Human Resources Manager, HR Coordinator, etc.
ActBlue offers fully paid and trans-inclusive health, dental, and vision insurance for employees and their families. The company has an unlimited time-off policy and provides home-office benefits, including a $1,000 home-office setup allowance for all new full-time remote employees.
Employees receive 3 months paid parental and adoption leave for all new parents, 4 weeks of a fully paid flexible work schedule, plus an additional one week of paid leave and an additional one week of flexible work schedule for every full year the employee has worked for ActBlue.
You'll also get a professional development budget to attend conferences, seminars, or training, enroll in courses, and/or join a professional organization. ActBlue offers an automatic 2% 401K contribution, plus up to a 6% match.
Check out their career page for more information.
ActBlue's contact: +1 617-517-7600 / HR@actblue.com
10. Notarize
Notarize's office in Massachusetts is located in Boston.
Notarize's goal is to make legal notarization more efficient, secure, and verifiable by enabling businesses, developers, and mortgage professionals to notarize documents entirely online.
The company's platform integrates with a notarization mobile application and helps users to set up a video chat with a licensed notary public to get their document to notarize for clients and order on-demand document notarization throughout the day, enabling clients to complete the notarization process remotely and entirely online.
In 2019, Notarize won the Comparably awards for Best Company Work-Life Balance, Best Company in Boston 2019, and Best Company Outlook 2019.
Notarize has also been listed in Inc. 5000's Fastest Growing Companies in America and Mogul's Top 100 Workplaces for Best Benefits.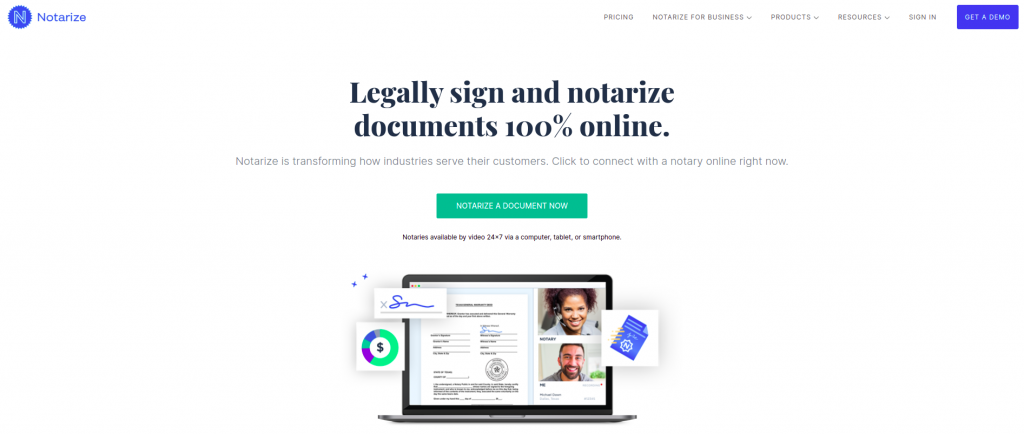 Notarize usually hire in the following roles remotely: Customer Success Manager, Senior Android Engineer, Senior Back-End Software Engineer, Senior Full-Stack Engineer, Senior Site Reliability Engineer, Accounting Manager, Senior Counsel – Labor & Employment, Marketing Analyst, Product Marketing Manager, Senior Visual Designer, SEO Analyst, Sales Operations Analyst, Strategy & Biz Ops Analyst, Senior Technical Recruiter, Solutions Engineer, Deals Desk Manager, etc.
Notarize is a fully-distributed, remote-first team. Notarize offers comprehensive health, dental, and vision benefits and the company pays 90% of the cost for employees and their dependents.
The company also provides unlimited PTO & flexible work schedules, a 401k plan with a 4% company match, up to 12 weeks of paid leave for new parents, monthly wellness days, and company holidays.
To support your professional growth, Notarize offers an annual budget for personal learning & development. The company also holds regular Lunch and Learns and gives you access to a professional development allowance.
Employees also receive a monthly Grubhub stipend, meditation classes, wellness allowance, and access to the company's Employee Assistance Program.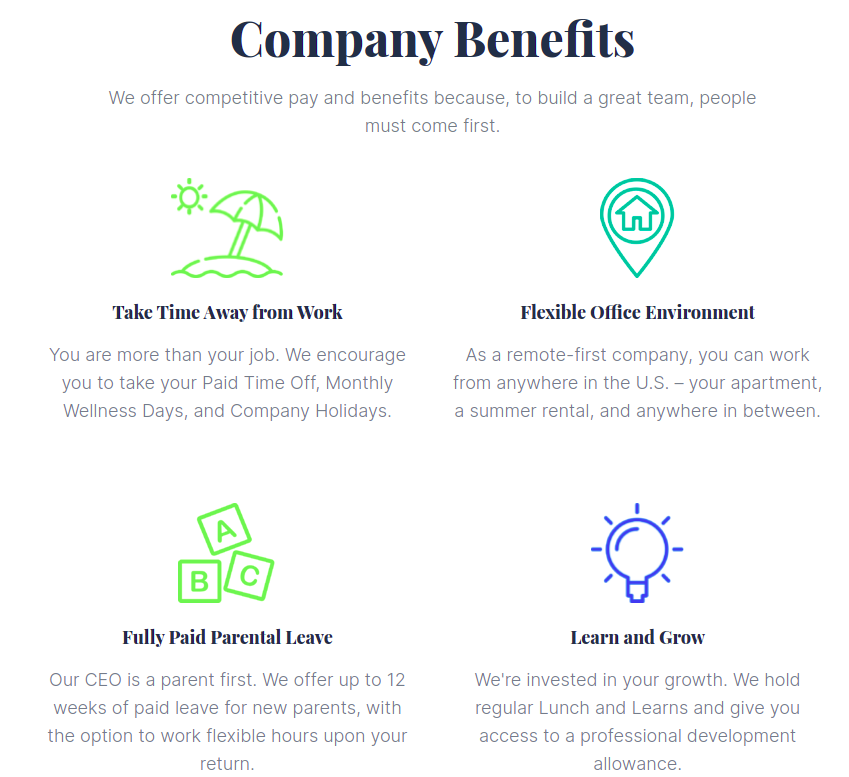 Check out their career page for more information.
Notarize's contact: support@notarize.com
Final Thoughts On Remote Jobs In Massachusetts
I hope this list of companies with remote jobs in Massachusetts, USA helps you land your next remote job.
Do you want access to 30,000+ more remote and flexible jobs? Click here.
I believe during remote interviews, we struggle more in answering the behavior questions properly and showcasing our soft skills. Candidates usually overlook this but preparing for behavioral rounds is very crucial.
You'll find a lot of Youtube videos on this topic. I would also recommend this course by Bob Firestone that has over 177 example answers that work for competency-based, KSA, situational, structured, and behavioral interviews.
Make sure you send a cover letter along with your resume when applying for remote jobs. Simply sending a CV and hoping to get a call back is really not a great way to show the company that you are interested in their job.
You can download the resume and cover letter templates that helped me get my first remote job by going HERE.
And never forget to use the free Chrome plugin, Grammarly, while writing your resumes, emails, and cover letters. This would highlight any silly grammatical mistakes and save you from possible embarrassment as a job seeker.
Have you joined as a remote employee for any of the listed companies? How was your experience? Do let us know in the comments.
If you find this article helpful, kindly share it with your friends. You may also Pin the above image on your Pinterest account. Thanks!
---
Did you enjoy this article?
These are the top remote companies offering remote jobs in Canada. Sometimes, the companies offering…