These are the top remote companies offering remote jobs in Pennsylvania, USA.
Sometimes, the companies offering remote jobs in Pennsylvania, USA do not publicly advertise all the remote job roles that they are hiring for.
So, if you don't see your preferred role listed with the remote companies, you can email the company and ask if they are also hiring remotely in your preferred department.
[ Note: Some of these companies keep changing the links to their career page. As of now, all links are working correctly. If you encounter a 404 error, kindly let me know in the comments and I'll update them ASAP. Thanks! ]
Disclosure: Please note that some of the links below are affiliate links and at no additional cost to you, I'll earn a commission. Know that I only recommend products and services I've personally used and stand behind.
1. PNC
PNC's office in Pennsylvania is located in Pittsburgh.
PNC is a financial service company providing bank deposit products and services to its community. The company offers a variety of services ranging from wealth management to banking and maintains over 2,600 PNC branches and 9,000 PNC ATMs across 19 states.
PNC is committed to incorporating green practices into its business by constructing green buildings and using recycled materials. The company has won multiple awards in many categories over the years. U.S. Veterans Magazine (2021) included PNC in the 'Best of the Best Top Veteran-Friendly Companies]' list.
PNC has also been included in the lists of "Best Places to Work for LGBTQ Equality" by Human Rights Campaign (2021) and "Top 50 Employers" by Equal Opportunity Magazine (2021).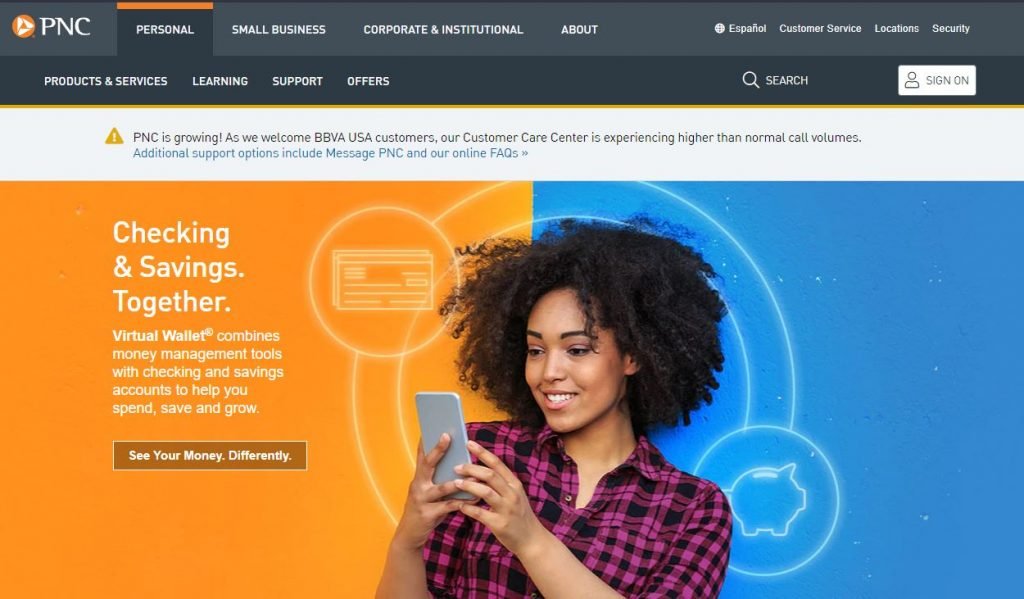 PNC usually hires in the following roles remotely: Detection & Investigating Staff Manager, Operations Analyst Senior, AML Sanctions Manager, Software Manager, Market Research Consultant, Data Scientist, Machine Learning Engineer, Software Developer, Technology Engineer ( Oracle / Linux / Kafka / OpenShift ), Salesforce Developer, Quality Assurance Manager, Security Specialist, Project Administrator, LOB Risk Specialist, etc.
PNC offers its full-time employees medical/prescription drug coverage (with a Health Savings Account feature), dental and vision options, employee and spouse/child life insurance, and short-term and long-term disability protection.
The company also provides maternity and parental leave, paid holidays, vacation days & occasional absence time, educational assistance, and a robust wellness program with financial incentives.
You'll also receive a 401(k) plan, pension, stock purchase plans, dependent care reimbursement account, backup child/elder care, and adoption assistance.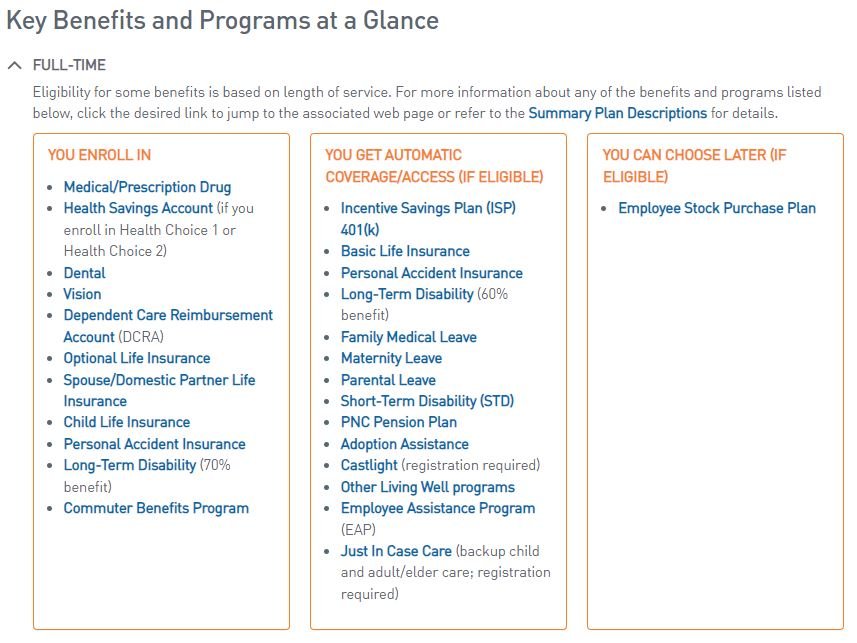 Check out their career page for more information.
PNC's contact: +1 888-762-2265 / +1 412-803-7711
2. Unisys
Unisys' office in Pennsylvania is located in Blue Bell.
Unisys is a global information technology company that builds high-performance, security-centric solutions for the most demanding businesses and governments on Earth. The company's vision is to enhance people's lives through secure, reliable advanced technology.
Unisys offerings include security software and services, digital transformation and workplace services, industry applications and services, and innovative software operating environments for high-intensity enterprise computing.
The company builds better outcomes securely for numerous clients across the Government, Financial Services, and Commercial markets. Unisys has been named as "International IT Systems Provider of the Year – Highly Acclaimed" at the 2020 STAT Times International Awards.
Unisys usually hires in the following roles remotely: Associate Engineering Manager, MSSA Cloud Engineer, IT Service Desk Support, Business Analyst, Cyber Security Senior Manager, Bid Financial Management, Technology Content Creator, Transition Management Director, Specialty Sales Executive, Asset & Configuration Analyst, Network Architect, Applications Enterprise Analyst, Cloud Associate Solution Manager, Oracle EBS Developer, etc.
Unisys provides health, dental, and vision benefits. The company also offers death benefits, which cover certain causes of death, short-term disability insurance for accidents or illness, long-term disability insurance, and group life insurance.
To help secure a dependable money stream later in life, Unisys also provides a 401(k) plan, stock bonus, defined benefit pension plans, and defined contribution pension plans.
Employees with defined benefit pension plans are provided with a predetermined amount upon retirement. With a defined contribution pension plan, Unisys helps employees save and invest for retirement.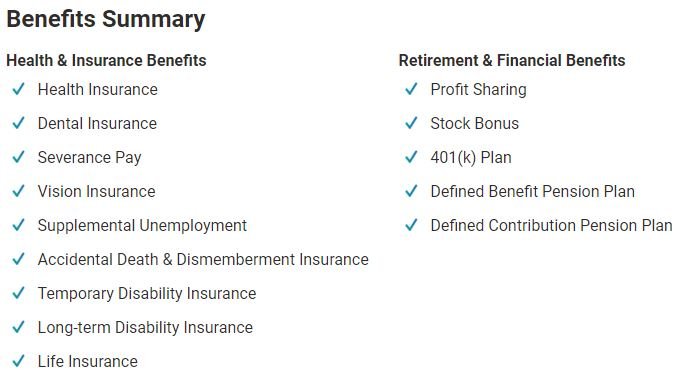 Check out their career page for more information.
Unisys' contact: GlobalRecruiting@unisys.com / +1 888-560-1782
3. eMoney Advisor
eMoney Advisor's office in Pennsylvania is located in Radnor.
eMoney Advisor delivers wealth management software that helps financial advisors manage their client information, navigate regulatory requirements, and deliver a more interactive customer experience.
Rooted in comprehensive financial planning, eMoney's solutions strengthen client relationships, streamline business operations, enhance business development and drive overall growth.
In recognition of its workplace culture, eMoney Advisor was named among the "Best Places to Work in PA" and was one of the San Diego Business Journal's "Best Places to Work."
The company was also selected as the "Technology Provider winner for the Account Aggregation and Financial Planning" category for the second consecutive year in the 2020 virtual Wealth Management Industry.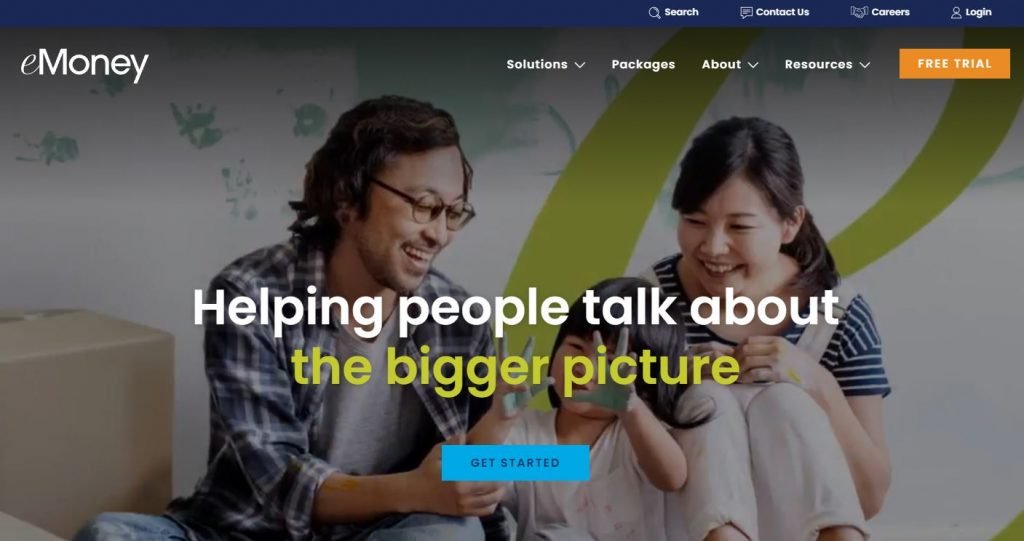 eMoney Advisor usually hires in the following roles remotely: Advisory Software Architect, Client Support Specialist, Content Marketing Manager, Director – Design System, Event Strategist, Legal Counsel – Commercial, Scrum Master, Senior Business Analyst, Data Entry Specialist, DevOps Engineer, React Developer, Senior Software Engineer, User Experience (UX) Researcher, Technical Support Analyst, VP – Enterprise Architecture, etc.
The company has a flexible remote work policy and offers a robust benefits package that includes no-cost medical plan options.
Employees get paid parental leave, generous paid time off (including a day off for your birthday), and access to educational resources with time dedicated for learning.
eMoney Advisor also offers a 401k plan with a company match, wellness programs, onsite massage therapists & nutritionists, and access to financial planning services, onsite training classes, and rewards & recognition programs.
Check out their career page for more information.
eMoney Advisor's contact: customerservice@emoneyadvisor.com / +1 888-362-8482
4. Highmark
Highmark's office in Pennsylvania is located in Pittsburgh.
Highmark is one of America's leading health insurance organizations and an independent licensee of the Blue Cross Blue Shield Association.
The company's affiliated health plans work passionately to deliver high-quality, accessible, understandable & affordable experiences, outcomes, and solutions to our customers.
Highmark's businesses include the Highmark Health Plan, a growing regional hospital and physician network, and leading companies that offer dental solutions, reinsurance solutions, population health management, and technology solutions.
Highmark has received multiple distinctions as an employer of choice and has been named one of the Achievers' Most Engaged Workplaces, among the Human Rights Campaign's Best Places to Work, and one of the Best Employers for Healthy Lifestyles.
Highmark usually hires in the following roles remotely: Revenue Cycle Specialist, Medical Case Manager, Lead Reporting Analyst, Principal Design, Client Service Manager, Sales Support Analyst, Director Operational Excellence, Security Associate, Business System Analyst, IT Manager, Quality Assurance Manager, Associate Digital Product Manager, Senior Software Engineer, Senior Architect, Application Developer, Scrum Master, etc.
In addition to competitive pay rates and flexible career growth, Highmark show employee appreciation through a comprehensive Total Rewards package and access to wellness programs and resources.
Highmark offers 100% coverage for preventive exams including flu shots, access to chronic condition management programs when enrolled in the employer-sponsored medical plan, and 24/7 telephone access to health and wellness coaching to achieve personal goals.
Employees also receive health saving accounts, flexible spending accounts, tuition reimbursement, 401(k) plan, and employee discounts.
Highmark also provides medical, dental, and vision coverages for your and your eligible dependents, life insurance, AD&D & disability insurance, PTO, and access to stress management classes including yoga, mindfulness, and meditation.
Check out their career page for more information.
Highmark's contact: HRServices@highmarkhealth.org / +1 800-241-5704
5. EPAM Systems
EPAM Systems' office in Pennsylvania is located in Newtown.
EPAM Systems has leveraged its software engineering expertise to become a leading global product development, digital platform engineering, and top digital and product design agency.
Through its 'Engineering DNA' and innovative strategy, consulting, and design capabilities, EPAM Systems works in collaboration with its customers to deliver next-gen solutions that turn complex business challenges into real business outcomes.
The company serves customers in more than 35 countries across North America, Europe, Asia, and Australia.
EPAM was one of only four technology companies to appear on Forbes 25 Fastest Growing Public Tech Companies list every year of publication since 2013 and ranked as the top IT services company on Fortune's 100 Fastest-Growing Companies list in 2019 and 2020.
EPAM Systems usually hires in the following roles remotely: API Strategist, AWS Cloud Alliances Manager, AWS Cloud DevOps Engineer, Algorithmic Trading Software Engineer, Angular Developer, Big Data Solution Architect, Business Analyst, Data Technology Consultant, Digital Technical Recruiter, Field Marketing Specialist, Full Stack Developer, GoLang Developer, Lead Experience Designer, Product Manager, etc.
EPAM Systems offers medical, dental, and vision insurance along with health savings account and flexible spending accounts (healthcare, dependent care, and commuter).
Employees are also provided with a company-matched 401(k) retirement savings plan, short-term & long-term disability insurance, life insurance, and AD&D insurance.
In addition to these benefits, EPAM Systems also provides unlimited access to LinkedIn learning solutions to support your professional growth. You'll also receive paid time off, a legal plan & identity theft protection, employee discounts, pet insurance, and accident insurance.
Check out their career page for more information.
EPAM's contact: +1 267-759-9000 / info@epam.com
6. AccuWeather
AccuWeather's office in Pennsylvania is located in State College.
AccuWeather is recognized and documented as the most accurate source of weather forecasts and warnings in the world. AccuWeather produces and distributes news, weather content, and video for more than 180,000 third-party websites.
The company provides constantly updated forecasts using its Superior Accuracy tool, with engaging video presentations and customized content that can be viewed via tablets, smartphones, mobile, and wired internet sites through AccuWeather.com.
AccuWeather serves more than 1.5 billion people daily to help them plan their lives and get more out of their day through innovative digital media properties, such as AccuWeather.com and mobile, as well as Business solutions (AES), radio, television, newspapers, and the 24/7 AccuWeather Network.
AccuWeather usually hires in the following roles remotely: Account Executive, Android Developer, Director – Business Development, Senior Account Manager, Senior Vice President, Compensation & Benefits Specialist, Learning & Development Manager, Data Engineer, Senior Sales Executive, Lead Software Developer, Mobile Quality Engineer, Senior DevOps Engineer, UX Designer, Web Solutions Architect, Senior Technical Project Manager, etc.
In addition to excellent medical, dental, and vision insurance coverage, AccuWeather offers a Fitness Stipend to reimburse the monthly costs of a gym membership or free access to the Telemedicine Teladoc app to talk to a doctor via smartphone.
Employees can also take advantage of benefits such as discounts on their prescriptions, employee assistance programs, and flexible spending accounts.
AccuWeather also provides saving and investment programs to help define and build on employees' financial goals. In addition to offering a company-matched 401k, the company also helps you with future education costs with a College America 529 plan.
You'll also receive unlimited sick days so you can take care of yourself or your family whenever they are feeling under the weather. Furthermore, AccuWeather also offers paid vacation as well as 9 company paid holidays.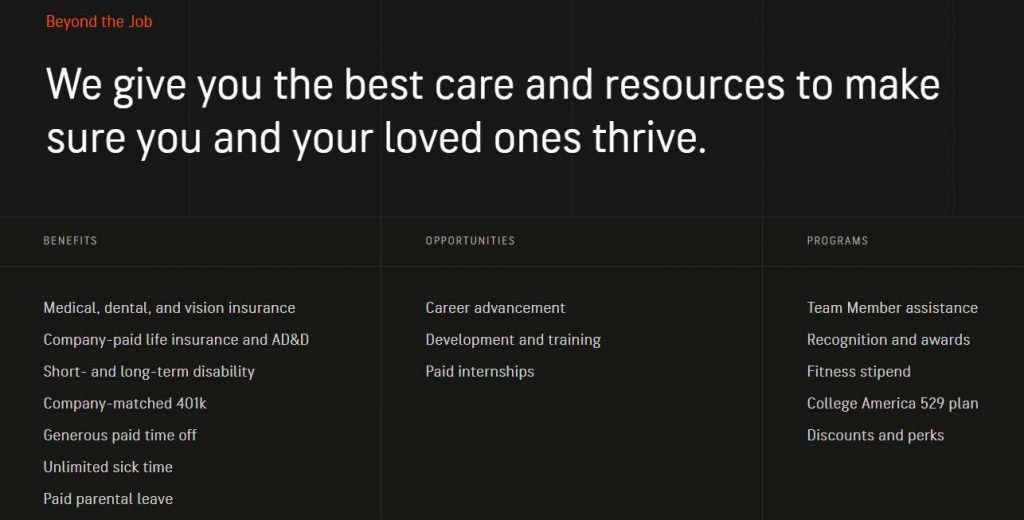 Check out their career page for more information.
AccuWeather's contact: human.resources@accuweather.com / +1 814-235-8600
7. WebFX
WebFX's office in Pennsylvania is located in Harrisburg.
WebFX is a full-service Internet marketing, web design, and web development agency offering integrated web solutions for businesses around the world.
Services offered by WebFX fall into the categories of SEO and lead generation, reputation and brand management, content and analytics, social media and email marketing, and creative and UX website design.
The company has driven over $700 million in sales and over 3 million leads for clients. They have also built the most connected media team in the industry, with over 40 in-house influencers dedicated to building relationships and earning publication on prominent websites.
WebFX has been named among the "Best Places to Work in Pennsylvania" and the "Best Places to Work for Millennials." The company has also been recognized by Entrepreneur magazine as one of the "Best Entrepreneurial Companies in America."
WebFX usually hires in the following roles remotely: Digital Marketing Lead, Content Integration Specialist, Internet Marketing Account Strategist, Director of Client Success, Content Reviewer – Finance Sector, FXInternational Marketing Designer, Database Engineer, Digital Website Project Manager, Lead Quality Assurance Engineer, Research and Development Software Developer, Web Designer, Talent Acquisition Specialist, Social Media Account Manager, etc.
WebFX provides 3 weeks paid time off, 6 holidays, great healthcare, dental, and vision insurance, flexible start times/hours, 3% retirement match, lots of social activities and parties, and a yearly Christmas bonus in the form of a tech gadget.
The company also offers 6 weeks of paid maternity leave for mothers with an optional 4-month ramp-back program. You'll get the chance to win money, gift cards, and trips by either reading books from their FXLearns or getting millions of steps with FitBit.
WebFX will assist you with your home office setup by providing equipment. Moreover, employees receive 150% company match of personal charity donations, supplemental insurance, birthday PTO, and productivity bonuses.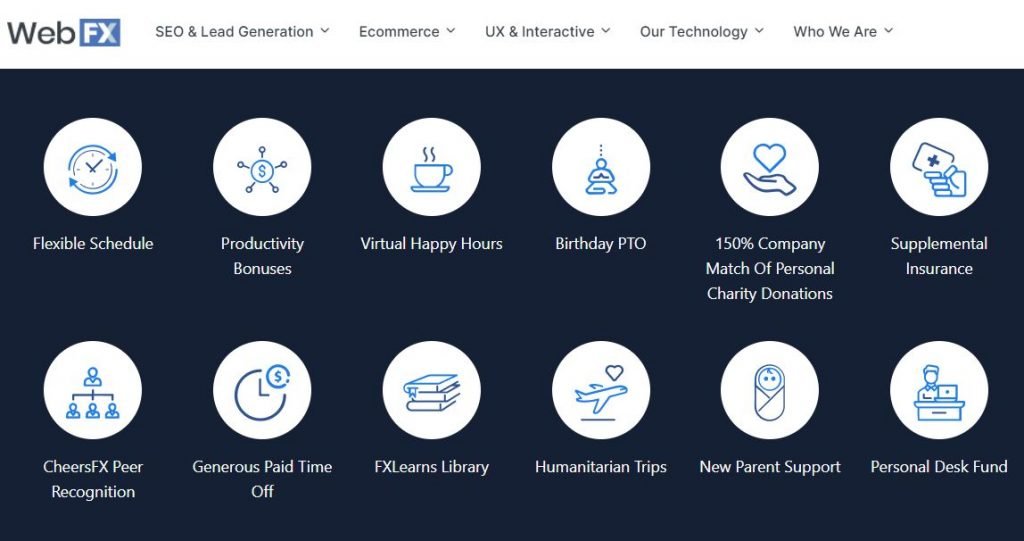 Check out their career page for more information.
WebFX's contact: +1 888-601-5359 / careers@webfx.com
8. HealthVerity
HealthVerity's office in Pennsylvania is located in Philadelphia.
HealthVerity is a technology startup that provides software tools and products to help healthcare providers integrate patient data from a wide variety of sources.
The HealthVerity IPGE platform, based on the foundational elements of Identity, Privacy, Governance, and Exchange, enables the discovery of real-world data across the broadest healthcare data ecosystem and the building of more complete and accurate patient journeys.
HealthVerity has received recognition from The Tech Tribune as one of the Best Tech Startups in Philadelphia in 2021.
The company has also been awarded as one of the 10 Best Big Data Companies of 2018 from the CIO Bulletin and has been honored as a Top Healthcare IT Startup from Tracxn, which tracks innovative companies across hundreds of technology sectors.
HealthVerity usually hires in the following roles remotely: Data Engineer, Technical Product Manager, Software Engineer, QA Engineer, DevOps Engineer, Security Analyst, Director – Data Partnerships, Content Marketing Manager, Marketing Automation Manager, Project Manager – Client Delivery Enterprise, Healthcare Data Analyst, VP – Partnerships & Business Development, Sales Development Representative, etc.
HealthVerity provides access to a benefits package that includes competitive pay, a generous vacation policy, tech talks and hackathons, and a mentorship program.
The company also offers a host of health insurance options to choose from. They provide options of stock, generous PTO, a 401k plan, and learning opportunities.
Employees also receive accidental death & dismemberment insurance, health savings accounts (HSA), flexible spending accounts (FSA), dental insurance, and life insurance.
Check out their career page for more information.
HealthVerity's contact: careers@healthverity.com / +1 267-262-6776
9. Radian
Radian's office in Pennsylvania is located in Philadelphia.
Radian is helping to ensure the American dream of homeownership in even bigger and better ways with industry-leading mortgage insurance and a comprehensive suite of mortgage, risk, real estate, and title services.
The company connects homebuyers, lenders, loan providers, and investors with a mortgage insurance suite and risk management products.
Radian Group's principal subsidiary, Radian Guaranty, provides private mortgage insurance that helps clients buy or refinance homes with low down payments and minimizes the risk of default for lenders and investors.
Radian has been included on Bloomberg's Gender-Equality Index, being honored as a Tech 100 by HousingWire, pledged to PwC's CEO Action for Diversity & Inclusion commitment, and has received the Spirit Award from the MBA's Open Door's Foundation.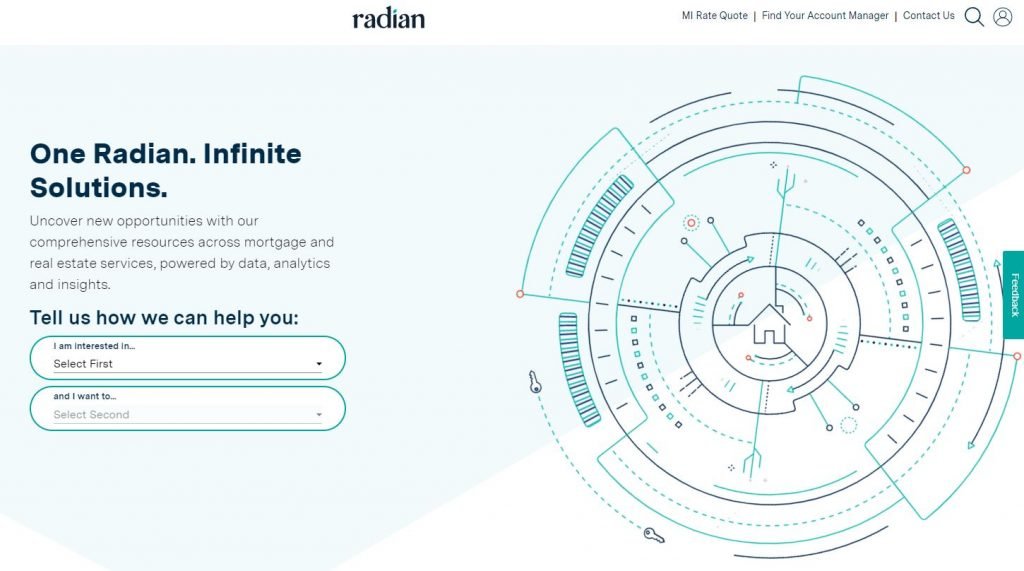 Radian usually hires in the following roles remotely: Mortgage Fulfillment Supervisor, Human Resources Business Partner, Director – Diversity, Equity & Inclusion, AVP Application Developer, Operations Analyst, Sr. Mortgage Underwriter, Client Services Manager, Regional Account Manager, Associate Software Engineer, Credit Modeler, Software Quality Assurance Analyst, Senior Escrow Officer, Data Scientist, Talent Acquisition Partner, etc.
Radian offers multiple medical plan choices, including HSA and FSA options, dental, and vision. The company also offers an Employee Assistance program that will help you navigate the healthcare system to provide resources and assistance for parents and caregivers of children with developmental disabilities.
Radian also provides a 401(k) plan with a top-of-market company match in which the company match is immediately vested upon joining and the opportunity to participate in Employee Stock Purchase Plan (ESPP).
Furthermore, you'll receive pet insurance, paid parental leave, generous time off starting day one, 9 paid holidays plus 1 floating holiday, and enjoy discounts with thousands of retailers and services.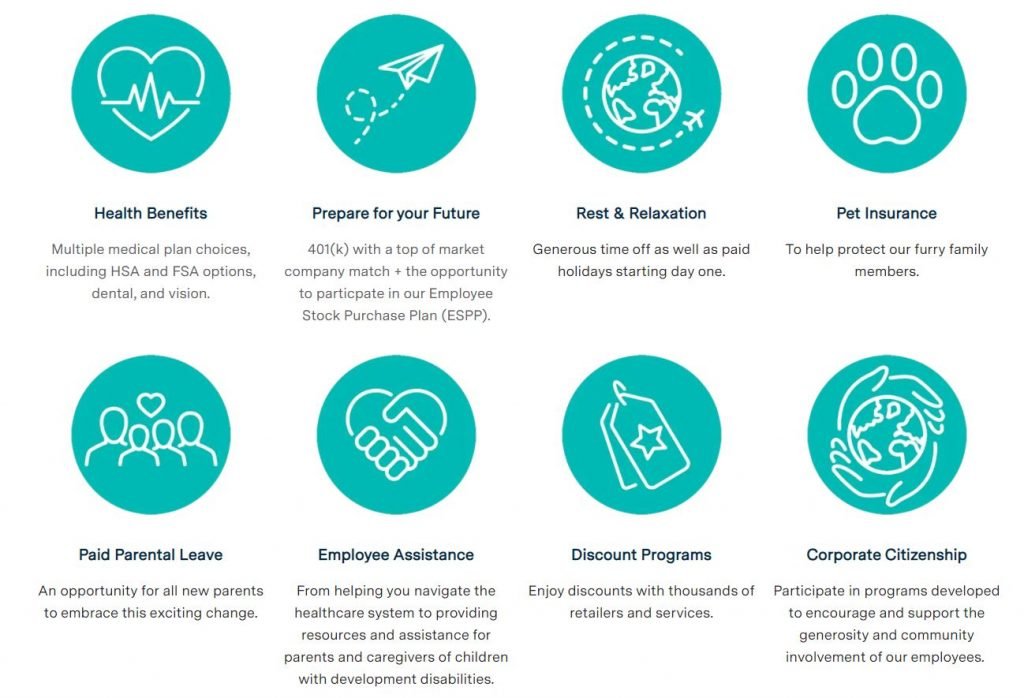 Check out their career page for more information.
Radian's contact: +1 800-523-1988
10. DuckDuckGo
DuckDuckGo's office in Pennsylvania is located in Paoli.
DuckDuckGo is a search engine that offers a mobile browser app and a desktop extension, both aimed at allowing you to browse the internet without companies gobbling up your personal data.
DuckDuckGo promises to keep your searches private, anonymous and offers built-in tracker blocking, so the sites you visit have a harder time collecting information about you.
The company's mission is to raise the standard of trust online. DuckDuckGo believes a more trusted Internet starts with simple and accessible privacy for everyone.
With over 4 million users and rising, DuckDuckGo has been selected as the default search engine in the highly-secure chat platform Tor Browser and is often the default search engine in the private browsing modes of several other browsers.
DuckDuckGo usually hires in the following roles remotely: Senior IT Operations Engineer, Senior Communications Manager, Director – Partner Marketing, VP – Finance, Senior UX Writer, Talent Acquisition Manager, Business Development Manager, macOS Engineer, Product Director, User Experience Researcher, Senior Human Resources Manager, Senior Privacy Engineer, Marketing Director, Android Engineer, Security Engineer, etc.
DuckDuckGo offers multiple medical, dental, and vision insurance plans to choose from. You'll also receive Health Savings Accounts (HSA) and Health & Dependent Care Flexible Spending Accounts (FSA).
The company will reimburse the purchase of a computer every 3 years and offset the cost of a phone (up to $500) every 2 years to do your job. If you prefer to work from a co-working space, DuckDuckGo will reimburse the cost up to $500 per month.
To help you get your office set up, DuckDuckGo will also reimburse up to $1,250 to cover the purchase of office productivity items, such as desk, chair, computer monitors, keyboards, etc.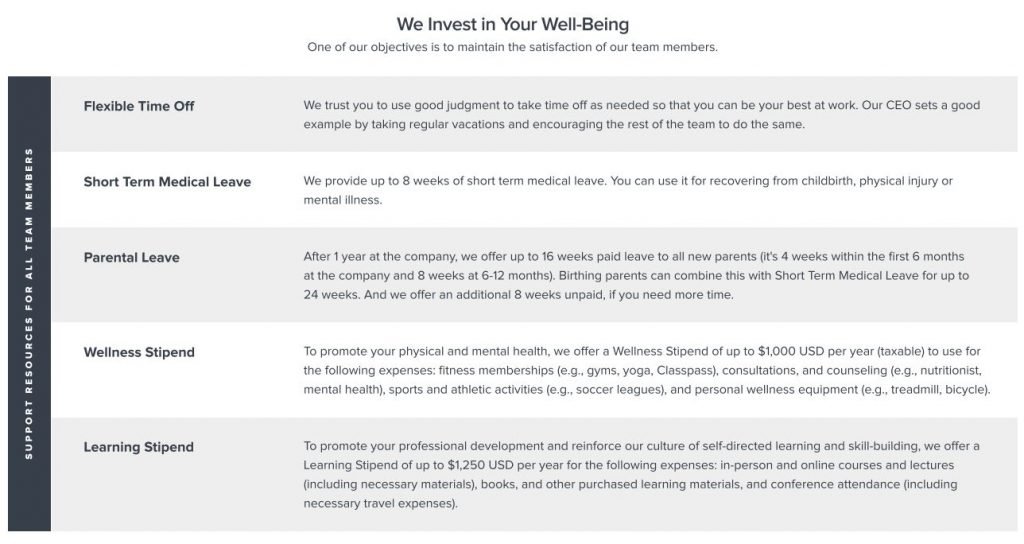 Furthermore, the company offers counseling services provided through Workplace Options to help you and your family manage life stressors. DuckDuckGo also matches on qualified charitable donations of up to $1,000 per year.
Apart from that, employees enjoy flexible time off, up to 8 weeks of short term medical leave, up to 16 weeks of paid parental leave, and a Wellness Stipend of up to $1,000 per year to use for fitness memberships (e.g., gyms, yoga, Classpass), consultations, and counseling (e.g., nutritionist, mental health), sports and athletic activities (e.g., soccer leagues), and personal wellness equipment (e.g., treadmill, bicycle).
To promote employees' professional development, DuckDuckGo also offers a Learning Stipend of up to $1,250 per year for the following expenses: in-person and online courses and lectures (including necessary materials), books, and other purchased learning materials, and conference attendance (including necessary travel expenses).
Check out their career page for more information.
DuckDuckGo's contact: careers@duckduckgo.com / open@duckduckgo.com
Final Thoughts On Remote Jobs In Pennsylvania
I hope this list of companies with remote jobs in Pennsylvania, USA helps you land your next remote job.
Do you want access to 30,000+ more remote and flexible jobs? Click here.
I believe during remote interviews, we struggle more in answering the behavior questions properly and showcasing our soft skills. Candidates usually overlook this but preparing for behavioral rounds is very crucial.
You'll find a lot of Youtube videos on this topic. I would also recommend this course by Bob Firestone that has over 177 example answers that work for competency-based, KSA, situational, structured, and behavioral interviews.
Make sure you send a cover letter along with your resume when applying for remote jobs. Simply sending a CV and hoping to get a call back is really not a great way to show the company that you are interested in their job.
You can download the resume and cover letter templates that helped me get my first remote job by going HERE.
And never forget to use the free Chrome plugin, Grammarly, while writing your resumes, emails, and cover letters. This would highlight any silly grammatical mistakes and save you from possible embarrassment as a job seeker.
Have you joined as a remote employee for any of the listed companies? How was your experience? Do let us know in the comments.
If you find this article helpful, kindly share it with your friends. You may also Pin the above image on your Pinterest account. Thanks!
---
Did you enjoy this article?
---
Abhigyan Mahanta
Hi! I'm Abhigyan, a passionate remote web developer and writer with a love for all things digital. My journey as a remote worker has led me to explore the dynamic landscape of remote companies. Through my writing, I share insights and tips on how remote teams can thrive and stay connected, drawing from my own experiences and industry best practices. Additionally, I'm a dedicated advocate for those venturing into the world of affiliate marketing. I specialize in creating beginner-friendly guides and helping newbie affiliates navigate this exciting online realm.
---
If you're a teacher searching for remote English tutor jobs, then you would certainly benefit…