If you're a teacher searching for remote English tutor jobs, then you would certainly benefit from this list of top companies hiring online English teachers.
As remote jobs are on the rise and companies are hiring candidates worldwide for remote roles, the demand for English language skills is soaring, and with it, the need for skilled English tutors.
This is where you come in. Working from the comfort of your home, you get the opportunity to teach students from various countries and earn a good salary.
Let's dive in and discover the opportunities waiting for you in the world of remote English tutoring!
[ Note: Some of these companies keep changing the links to their career page. As of now, all links are working correctly. If you encounter a 404 error, kindly let me know in the comments and I'll update them ASAP. Thanks! ]
Disclosure: Please note that some of the links below are affiliate links and at no additional cost to you, I'll earn a commission. Know that I only recommend products and services I've personally used and stand behind.
1. AmazingTalker
AmazingTalker is an innovative and dynamic online language-learning platform that connects language learners with certified tutors from all around the world.
The company has an extensive network of language tutors, covering a wide range of languages from English and Spanish to less commonly taught languages like Mandarin and Arabic.
The platform offers flexible scheduling and a variety of lesson formats, including one-on-one lessons, group classes, and even corporate training.
To ensure the highest quality of instruction, AmazingTalker carefully selects and verifies its tutors. They undergo a rigorous application process and often hold teaching certifications or relevant qualifications.
How do I become an AmazingTalker tutor?
To get accepted, you need to have a degree in English or a similar degree or be a native English speaker yourself.
You'll have an edge if you have experience in 1-on-1 English tutoring or related classroom experience as well.
As an AmazingTalker tutor, you choose your hourly rate and there is no upper limit to what you can charge. Courses are usually divided into trial lessons and 25 & 50 minutes standard lessons.
You can choose your own schedule and set your availability to the times that best suit you with no set minimum. Just input your weekly availability and students can select time slots that work for them.
As long as you have a stable internet connection and a computer with a microphone & webcam you can work from your preferred location anywhere in the world.
Check out their hiring page for more information.
AmazingTalker's contact: amazingtalker@amazingtalker.com / +852-52216246
2. Lessonpal
LessonPal offers a robust yet intuitive lesson plan editor that allows teachers to design customized lessons tailored to their specific classroom needs.
The platform provides templates, tools, and resources to streamline the planning process. Teachers can collaborate with colleagues, sharing lesson plans, ideas, and best practices.
LessonPal offers tools for creating assessments and quizzes, helping educators measure student progress and adjust their teaching strategies accordingly.
The platform integrates with various learning management systems (LMS) and classroom technology, ensuring seamless integration into existing teaching environments.
How do I become a Lessonpal tutor?
You don't have to be a certified teacher to become an online tutor on Lessonpal. You just need relevant literature knowledge and experience with the subject.
You'll require a stable internet connection, proficiency in using online meeting platforms such as Zoom, and a verified PayPal account to receive payments for lessons.
As a Lessonpal English teacher, you will set your own rates. If your rates are attractive to students, you'll get lessons so it's all in your hands.
You also have complete control of when and how much you teach. You control your schedule, availability, and how many students you take on.
Compared to other platforms, Lessonpal tutors keep more of their earnings. You keep 90% of what you earn!
Check out their hiring page for more information.
Lessonpal's contact: support@lessonpal.com
3. Preply
Preply boasts a vast network of highly qualified tutors who specialize in various subjects and languages.
Whether you're looking to learn a new language, improve your academic skills, or explore a hobby, you can find a tutor to meet your specific needs.
Preply's platform offers flexible scheduling, allowing students to book lessons at a time that suits their convenience.
Preply's virtual classroom provides tools for interactive and engaging online lessons. Students and tutors can use video calls, chat, and shared documents to facilitate effective learning.
The platform offers student reviews and tutor ratings, helping prospective learners make informed decisions when choosing a tutor.
How do I become a Preply tutor?
You will need a laptop or a desktop computer, a stable internet connection, a webcam, and a microphone for conducting lessons in the Preply virtual classroom.
You don't need specific certification or teaching experience to apply for Preply. You can choose your hourly rate and change it anytime.
You can also decide when and how many hours you want to teach. There is no minimum time commitment or fixed schedule.
Preply provides free professional development webinars and multilingual customer support to guide you along every step of your tutoring journey.
The commission for every trial lesson with a new student is 100%. For all subsequent lessons, the commission starts at 33% and decreases to 18% based on how many hours you've taught on the platform.
Most popular tutors on Preply earn up to $550 a week. You can receive your payment via Paypal, Payoneer, Skrill, or Transferwise.
Check out their hiring page for more information.
Preply's contact: support@preply.com
4. Cambly
Cambly is an innovative online language-learning platform that connects language learners with native-speaking tutors from around the world.
Cambly's tutors are not just language experts but also friendly conversational partners. They create a relaxed and supportive environment, encouraging learners to practice without fear of making mistakes.
Cambly's mobile apps for iOS and Android devices enable users to practice language skills on the go, ensuring that learning opportunities are always at their fingertips.
Learners can receive instant feedback on their language skills, helping them identify areas for improvement and track their progress over time.
How do I become a Cambly tutor?
Becoming a Cambly tutor is a pretty straightforward process. You can sign up from their joining page.
You don't need any teaching certificate, bachelor's degree, or prior teaching experience to become a Cambly tutor.
You can work from the comfort of your home or anywhere with a stable internet connection.
You earn for every minute you spend chatting! You make $0.17/min ($10.2/hour) on Cambly and $0.2/min ($12/hour) on Cambly Kids. Cambly offers weekly pay via PayPal and direct deposit.
You can start tutoring at any time of the day based on your schedule. You can work as little or as much as you want as there are no minimum hours to meet.
Check out their hiring page for more information.
Cambly's contact: help@cambly.com
5. Lingoda
Lingoda offers live, interactive language lessons in various languages, including English, German, French, Spanish, and Business English.
These lessons are conducted in small groups or one-on-one sessions, providing personalized attention to learners.
Learners can choose the time and frequency of their lessons to fit their busy schedules.
This flexibility makes it convenient for students, professionals, and anyone seeking to improve their language skills.
Lingoda's instructors are native speakers who are highly qualified and experienced in teaching their respective languages.
They create engaging and effective lessons that cater to individual learning styles.
How do I become a Lingoda tutor?
To become a Lingoda teacher you need to have C2 or above level of the language you would like to teach.
You would also need a certificate to teach your chosen language as a foreign language and at least 2-3 years of valuable teaching experience which may not necessarily be online classes.
Lingoda classes are taught on Zoom – an online conferencing platform. Therefore you will need a high-speed internet connection, a camera, and a high-quality headset.
All teachers work with Lingoda on a freelance basis – you must be legally able to do so. You also need to feel comfortable speaking English.
You can book both long-term (months in advance) and short-term (hours in advance). This allows you to have a completely flexible and spontaneous schedule.
The average Lingoda teacher teaches approximately 5-20 hours per week – but your own timing is entirely up to you.
Check out their hiring page for more information.
Lingoda's contact: service@lingoda.com
6. Protostar Education
Protostar Education is an online English learning platform for children in Asia.
It was founded by a group of moms and dads who are passionate about connecting Asian children with the best English learning resources.
Protostar's curriculum is based on US Common Core standards and is taught by professional US teachers.
The company's unique PLOT pedagogy creates a fully immersed English environment that helps children build confidence in English communication and strengthen their independent thinking and teamwork skills.
How do I become a Protostar Education tutor?
To become a Protostar tutor, you need to be a native English speaker with at least one year of teaching experience.
The application process includes submitting a resume, passing a resume screening, and completing a 40-minute interview with a 10-minute teaching demonstration.
The interview will be conducted through Classin, the platform Protostar uses for actual teaching. The content for the teaching demonstration will be sent to the applicant along with the interview invite.
The contract term for Protostar teachers is usually 12 months. After signing the contract, teachers will need to complete the onboarding process and pass a test session with a Protostar mentor.
You'll earn up to $22 per lesson which is around 40 minutes. There will be a fixed class schedule where you teach the same students for at least 18 weeks or longer.
Check out their hiring page for more information.
Protostar Eductaion's contact: recruit@protostaredu.com
7. Cafetalk
Cafetalk is an online teaching platform that connects students and tutors from all over the world. It was founded in 2012 in Tokyo, Japan, and has since grown to become one of the largest online learning platforms in Asia.
Cafetalk offers a wide variety of lessons, including language, music, art, design, hobbies, and more. Students can find tutors who are experts in their field and who can help them learn at their own pace.
Tutors on Cafetalk set their own rates and hours, so they can make a living doing what they love. They also have access to a variety of tools and resources to help them create and deliver engaging lessons.
Cafetalk is a great way to learn new skills, improve your language skills, or simply connect with people from all over the world. It is a convenient and affordable way to get the education you want when you want it.
How do I become a Cafetalk tutor?
Cafetalk tutor application process is very simple:
Apply for an Account: Application & registration is free.
Fill out your Profile: Mention about your background, teaching history, and lesson ideas.
Take a Simple Interview: An interview to determine your skills.
Start Teaching: Make students happy with your knowledge.
Cafetalk offers tutors a variety of payment options, including bank transfer, Payoneer, and PayPal.
Lesson prices are set by tutors in points (1 point = 1 JPY) and tutor fees are calculated based on a flexible rate system where your fee increases the longer and the more lessons you teach.
You need to be familiar with Skype or Zoom and guarantee a stable internet connection and a quiet lesson environment.
You can conduct your lessons using a laptop or a tablet but smartphones are not allowed.
Check out their hiring page for more information.
Cafetalk's contact: info@cafetalk.com
8. SkimaTalk
SkimaTalk is an online language learning platform that connects language learners with native speakers. It has over 1 million registered users and over 10,000 teachers.
SkimaTalk offers one-on-one online English lessons with native English speakers. Lessons are 25 minutes long and can be booked at any time, 24/7.
SkimaTalk also offers a variety of features to help learners improve their English, such as a progress tracker, a library of learning resources, and a community forum.
SkimaTalk's teachers are all native English speakers with a proven track record of teaching English. They are carefully screened and interviewed before being accepted onto the SkimaTalk platform.
How do I become a SkimaTalk tutor?
You don't need teaching experience or a teaching certificate to become a teacher at SkimaTalk.
All you need to do is create a teaching profile, record an introduction on the SkimaTalk website, and take a SkimaTalk teacher guidelines test.
Those selected will receive an email from SkimaTalk within 10 business days after your application.
SkimaTalk conducts a screening of teacher qualifications such as if he/she is a native speaker and has the potential to become a good teacher.
However, it is the community of students who decides whether he/she is actually a good teacher.
You'll need a PC, an Internet connection, and either a built-in microphone and speakers or a headset to take lessons.
Also, you would have to install Skype on your PC. Usually, SkimaTalk learning sessions last around 25 minutes.
SkimaTalk charges a fee of 20% of the session price, less applicable PayPal/Stripe fees. The remaining 80% of the session cost gets passed directly to the teacher.
Check out their hiring page for more information.
SkimaTalk's contact: support@skimatalk.com
9. italki
italki is an online language learning platform that connects students and teachers for 1-on-1 online language lessons.
italki offers over 150 languages, including English, Spanish, French, Chinese, Japanese, Korean, and German. Students can find teachers who are native speakers or fluent in the language they want to learn.
italki teachers set their own rates and hours, so students can find a teacher who fits their budget and schedule. Lessons are held via video chat, so students can learn from anywhere in the world.
italki has over 10 million registered users and over 30,000 teachers and is available in over 200 countries.
How do I become a italki tutor?
To apply for a teaching position at italki, visit their hiring page using a computer or laptop, as this option is not available on the phone or app.
Expect to receive a response within 10 business days regarding your application. Once you receive a pre-approval email, you have 15 calendar days to complete the onboarding process.
This onboarding process includes uploading your identity document as part of the ID verification process, watching teacher success tutorial videos, setting up your account through guided tutorials, and successfully passing quizzes to finalize your application.
You can set your own prices and hours. You can each from anywhere. All you need is a computer, a headset, and an internet connection.
italki will also help you manage all of your student records and lesson history along with handling international payments and resolving any issues with students.
Check out their hiring page for more information.
italki's contact: support@italki.com
10. TutorMe
TutorMe is an online tutoring company that connects students with tutors for one-on-one help in over 300 subjects. It was founded in 2015 and is headquartered in Austin, Texas.
TutorMe works with schools, districts, colleges, and universities to provide personalized learning experiences for their students. Students can access TutorMe through their school or district, or they can sign up directly on the TutorMe website.
TutorMe tutors are all highly qualified and experienced. They are vetted through a rigorous screening process and must have a bachelor's degree or higher in their subject area.
TutorMe sessions are conducted live online using video chat. This allows students and tutors to interact face-to-face, just like they would in a traditional tutoring session.
TutorMe also offers a Writing Lab where students can submit essays and other writing assignments for feedback from tutors.
How do I become a TutorMe tutor?
To become a TutorMe tutor, you begin by filling out an online application where you provide personal details and describe your educational and professional background.
Following that, you get to choose the subjects you want to tutor and explain your qualifications in those areas, with one subject designated as your primary expertise for evaluation.
After a review of your application, you'll receive an email notifying you of the decision. If accepted, a background check and tutor orientation program are the final steps before you can start tutoring.
Once onboarded, you can easily access tutoring requests matching your expertise through the TutorMe Dashboard and coordinate live sessions with students, making it a seamless process to begin helping students and earning income as a TutorMe tutor.
You need to have a least two years of tutoring or teaching experience and hold a degree or are currently enrolled at an accredited university.
You can tutor at TutorMe from anywhere in the world, as long as you have a computer with fast and steady internet access.
All tutors are paid $16 USD per hour for time spent in a session with students, or time spent providing writing feedback. All tutors are paid by Friday morning every week.
Check out their hiring page for more information.
TutorMe's contact: info@tutorme.com
11. EF Education First
EF Education First is an international education company that specializes in language training, educational travel, academic degree programs, and cultural exchange.
The company offers English language training programs for adults, teens, and children. Programs are offered in a variety of settings, including in-person classrooms, online, and blended.
EF Education First has a presence in over 116 countries, which gives students and travelers the opportunity to learn about different cultures and languages.
The company also provides undergraduate and graduate degree programs in business, marketing, and other subjects. Programs are offered in partnership with universities around the world.
How do I become a EF Education First tutor?
To apply as a EF Education First tutor, you need to follow these three simple steps. First, introduce yourself by providing key documents like your resume, bachelor's degree certificate (or equivalent), and any TEFL or ESL teaching certificates you may have in the application form.
Make sure these documents are in PDF format for easy upload. Next, you'll engage in a video call with one of their team members to determine if EF is the right fit for you.
Lastly, once you receive your offer and sign the contract, you can dive into EF's teaching platform, complete your online introduction, and familiarize yourself with their tools.
You have to be a fully-fluent English speaker (C2 level) to work as an online English teacher.
Also, you must have completed a bachelor's degree or equivalent. It does not have to be a degree in either teaching or English – any degree will be sufficient.
In addition, you'll require a 40-hour TEFL (Teaching English as a Foreign Language) certificate. You can start working on your certification during the application process.
You will need to use a laptop or desktop computer with a webcam to teach online. The teaching platform is only accessible using Google's Chrome browser and using Windows 8 (or higher).
Check out their hiring page for more information.
EF Education First's contact: ef.teachonline@ef.com
12. Qkids
Qkids is an online education platform that connects English teachers with over 500,000 Chinese students from ages 4 to 12 years old.
Qkids uses a patented game-based learning platform to teach English. Classes are 25 minutes long and are led by native English speakers from the United States and Canada.
Qkids has been praised by parents and students alike for its high-quality teaching, engaging curriculum, and flexible scheduling.
The company has also been recognized by a number of awards, including the Stevie Award for Customer Service Excellence and the EdTech Digest Best of 2022 Award.
The company has over 10,000 teachers and is available in China, the United States, Canada, Australia, New Zealand, and Japan.
How do I become a Qkids tutor?
In order to become a Qkids tutor, you need to be eligibile to work in the U.S. or Canada, have a bachelor's degree, and possess a teaching license or an English teaching certificate (such as TESOL, TEFL, CELTA, or ESL).
The hiring process involves applying with the necessary materials, followed by an initial screening, a demo interview, trial classes, and a background check, culminating in a contractual agreement.
The required hiring materials include a resume, availability information, and a 1-2 minute introduction video where candidates introduce themselves, mention their location, educational background, and any prior teaching or child-related experience.
Teachers can work from home in the U.S. and Canada and need basic equipment, including a computer with a webcam, a headset with a microphone, and a stable internet connection, preferably a cable connection.
You will be teaching through Qkids patented and interactive gaming-based learning platform. All curricula are preset and incorporated with animated characters and games.
Check out their hiring page for more information.
Qkids' contact: teacher@qkids.net
13. Skooli
Skooli is an online tutoring platform that connects students with certified teachers for one-on-one or small group tutoring sessions.
Skooli offers tutoring in a variety of subjects, including math, science, English, reading, writing, and more. Students can find tutors who are experts in their subject and who can help them learn at their own pace.
Skooli sessions are conducted through a live video chat platform. This allows students and tutors to interact in real time and to see each other's faces.
Students can also share their screens with their tutors, which can be helpful for explaining concepts or working on problems.
Skooli sessions are typically 30 minutes long, but they can be customized to meet the needs of the student. Students can book sessions on demand or schedule them in advance.
How do I become a Skooli tutor?
To become a tutor with Skooli, applicants can sign up on their hiring page by submitting essential documents, including a government-issued photo ID and copies of their highest completed degree or transcripts.
Tou would also need to submit any applicable teaching licenses (such as state/provincial licensure or TEFL qualifications) and a criminal record check completed within the last 6 months.
Once these criteria are met, eligible tutors will receive an email invitation within a few days to schedule a video interview.
During this interview, applicants receive additional information about Skooli and its online classroom, along with answering teaching-related interview questions.
Only after successfully passing the interview and having all required documents approved will their accounts be activated, allowing them to start receiving tutoring requests through the Skooli platform.
To receive payments, you'd need a PayPal account. You also don't need to download any extra software to teach at Skooli.
While Skooli is also accessible on tablets for students, tutors are required to have a desktop or laptop setup to ensure that all features of the digital whiteboard are accessible to them. A working camera, headphones/speakers and microphone are also required.
Check out their hiring page for more information.
Skooli's contact: info@skooli.com
14. Littera Education
Littera Education is an education technology company that provides online tutoring and academic support to K-12 schools and districts.
Littera's platform uses data-driven insights to match students with the right tutors, and provides a variety of tools and resources to help tutors deliver effective instruction.
The company also offers support services to schools and districts, including curriculum alignment, professional development, and program management.
Littera's mission is to enable schools and districts to deliver efficient and effective tutoring programs that help students succeed.
Littera Education has served over 10,000 students and offers professional development to tutors to help them improve their skills.
How do I become a Littera Education tutor?
To become a Littera Education tutor, you can start by visiting their hiring page and filling up the joining form.
The application process involves recording and submitting a brief video about your experience working with students, participating in a virtual mock tutoring appointment, and consenting to a background check.
To be eligible, you need to be over 18 and reside in the US and should have relevant experience with school-age learners, consistent weekly availability, and strong communication skills.
You also need to be proficient in online virtual tools and technology and have a desktop or laptop, Chrome browser, video camera, stable internet, and a noise-canceling headset.
While a bachelor's degree is preferred, college students with 1+ years of relevant experience are encouraged to apply, and a TESOL or TEFL certificate is a plus.
Check out their hiring page for more information.
Littera Education's contact: contact@litteraeducation.com
15. LiveXP
LiveXP is a language learning marketplace that connects students with tutors for 1-on-1 online lessons.
LiveXP currently offers lessons in over 40 languages, including English, Spanish, French, German, Chinese, Japanese, and Arabic.
LiveXP lessons are conducted through the company's website or app. Students and tutors can schedule lessons at their convenience.
In addition to individual lessons, LiveXP also offers corporate language training programs. These programs are designed to help businesses improve their employees' language skills.
LiveXP is a relatively new company, but it has grown rapidly in recent years. The company has over 2,000 tutors and over 100,000 students. LiveXP is available in over 150 countries.
How do I become a LiveXP tutor?
To start your journey as a remote tutor on LiveXP, follow these simple steps:
First, register on the platform and create a comprehensive tutor profile, including details about your languages, schedule, and an introductory video to showcase your skills and personality.
A detailed tutor card increases your chances of being chosen by students. Next, download the LiveXP mobile app (available on both IOS and Android) to manage your lessons and messages.
Once your tutor card is complete, it becomes visible to students, and they can select you for lessons.
Students can begin with a 30-minute trial lesson and then opt for a subscription plan that suits their needs, providing them with a set number of lessons over a specific period.
This approach helps students progress, while tutors enjoy a consistent stream of students and income.
Lastly, acquaint yourself with LiveXP's platform rules and tutor-level system to ensure a smooth and successful experience for both tutors and students.
You don't need to provide any teaching certificate for applying as a LiveXP tutor.
You can withdraw your earnings once a week via PayPal, Payoneer, Bank transfer, or crypto.
Check out their hiring page for more information.
LiveXP's contact: register@livexp.com
Final Thoughts On Remote English Tutor Jobs
I hope this list of companies offering remote English tutor jobs helps you land your next online English teaching job.
Check out our active list of various remote jobs available and remote companies that are hiring now.
Explore our site and good luck with your remote job search!
If you find this article helpful, kindly share it with your friends. You may also Pin the above image on your Pinterest account. Thanks!
---
Did you enjoy this article?
---
Abhigyan Mahanta
Hi! I'm Abhigyan, a passionate remote web developer and writer with a love for all things digital. My journey as a remote worker has led me to explore the dynamic landscape of remote companies. Through my writing, I share insights and tips on how remote teams can thrive and stay connected, drawing from my own experiences and industry best practices. Additionally, I'm a dedicated advocate for those venturing into the world of affiliate marketing. I specialize in creating beginner-friendly guides and helping newbie affiliates navigate this exciting online realm.
---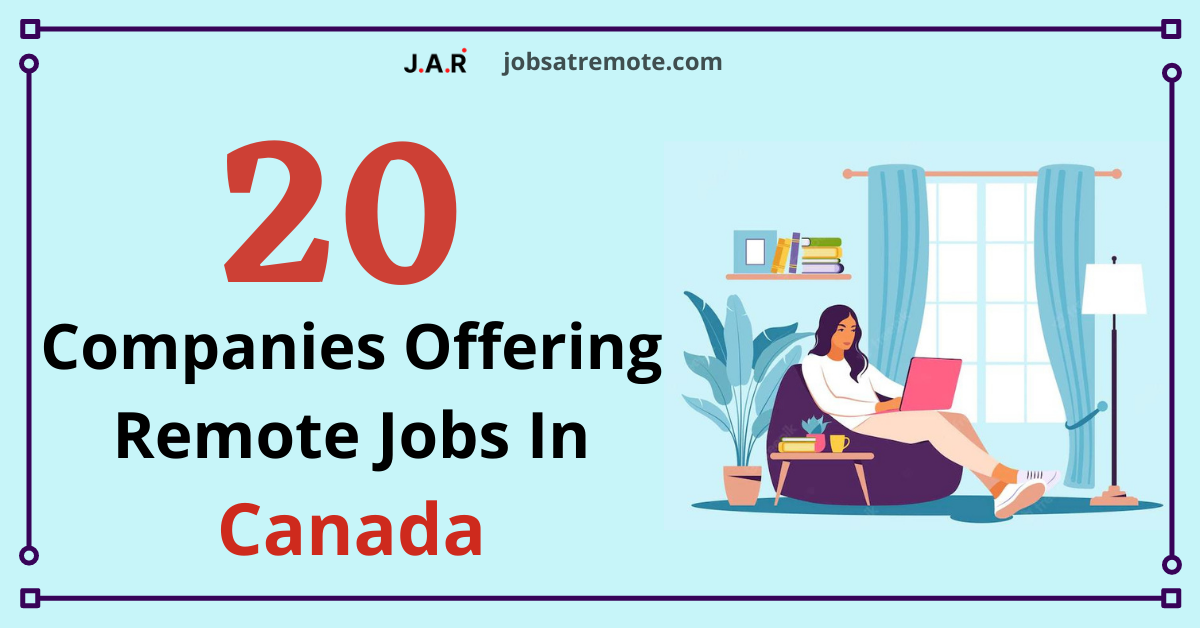 These are the top remote companies offering remote jobs in Canada. Sometimes, the companies offering…