Following are the top companies with remote jobs in California, USA.
Sometimes, the companies offering remote jobs in California do not publicly advertise all the remote job roles that they are hiring for.
So, if you don't see your preferred role listed with the remote companies, you can email the company and ask if they are also hiring remotely in your preferred department.
[ Note: Some of these companies keep changing the links to their career page. As of now, all links are working correctly. If you encounter a 404 error, kindly let me know in the comments and I'll update them ASAP. Thanks! ]
Disclosure: Please note that some of the links below are affiliate links and at no additional cost to you, I'll earn a commission. Know that I only recommend products and services I've personally used and stand behind.
1. Twilio
Twilio's office in California is located in San Francisco.
Twilio provides clients with the privacy and security they need, as well as enables the use of VoIP, messaging, and phone services to be embedded into desktop, web, and mobile software.
Twilio has democratized communications channels like voice, text, chat, video, and email by virtualizing the world's communications infrastructure through APIs that are simple enough for any developer to use, yet robust enough to power the world's most demanding applications.
Twilio usually hires in the following roles remotely: Program Management Director, Customer Success Manager, Cloud Infrastructure Architect, Senior Engineering Manager, Senior Software Engineer, Software Architect, Enterprise Account Executive, Senior Financial Analyst, Fullstack Javascript Engineer, etc.
Twilio perks include healthcare insurance that covers dental, vision, and prescription drugs. You also get flexible spending and health savings accounts.
The company offers leave programs for all of life's moments: maternity, parental/bonding, as well medical leave to care for yourself or a loved one. And yes, they also offer a 401(k) retirement savings plan with a match.
You'll also receive a $65 per month work-from-home stipend, up to $50 per month for wellness expenses and activities, as well as, up to $30 per month to use towards books/eBooks.
Check out their career page for more information.
Twilio's contact: +1 (415) 390-2337
2. Salesforce
Salesforce's office in California is located in San Francisco.
Founded in 1999, Salesforce is the global leader in Customer Relationship Management (CRM).
Companies of every size and industry are using Salesforce to transform their businesses, across sales, service, marketing, commerce, and more by connecting with customers in a whole new way.
The company is ranked by Fortune as one of the "Most Admired Companies in the World" and one of the "100 Best Companies to Work For" eleven years in a row, and named "Innovator of the Decade" and one of the "World's Most Innovative Companies" eight years in a row by Forbes.
Salesforce usually hires in the following roles remotely: Full-Stack Software Engineer, Demo Product Manager, Segment Account Partner, Content Marketing Manager, Site Reliability Engineer, Senior Art Director, Human Resource Business Partner, UI – UX Designer, Business Operation Analyst, etc.
The company is open to Fully Remote, Flex (1-3 days/week in the office), or Office-Based (4-5 days/week in office) work arrangements.
Salesforce has an entire website that explains their various employee benefits, including wellbeing reimbursement, generous parental leave, adoption assistance, commuter assistance, educational reimbursement, fertility benefits, and more.
Check out their career page for more information.
Salesforce's contact: 1-800-667-6389
3. CrowdStrike
CrowdStrike's office in California is located in Sunnyvale.
CrowdStrike was founded in 2011 to solve the problem of sophisticated attacks that were forcing the world's leading businesses into the headlines that could not be solved with existing malware-based defenses.
The company has received plenty of industry recognition in its short tenure. CrowdStrike is featured in the Inc. 500 list of American's Fastest-Growing Companies and Forbes magazine's Most Promising Companies.
CrowdStrike's well-known clients include ADP, Shutterstock, Sony, Tribune Media, the Massachusetts Institute of Technology (MIT), Sega, Natural Gas Partners (NGP), and the Center for Strategic and International Studies.
The company's primary mission is to stop breaches and provide safety and security to clients and the billions of people who use their services.
Besides that, CrowdStrike also runs the CrowdStrike Foundation, which develops the next generation of talent and resources in cybersecurity and AI.
CrowdStrike usually hires in the following roles remotely: Digital Marketing Manager, Senior Data Center Engineer, Senior Intelligence Analyst, Senior Growth Manager of eCommerce, Product Security Engineer, Principal Developer Advocate, Customer Success Manager, AWS Platform Engineer, etc.
Regarded as one of the 'Best Workplaces in Technology' by the Great Place to Work Institute, CrowdStrike fosters a diverse and inclusive culture based on autonomy, trust, flexibility, and innovation.
As their employee, you get to work in a remote-friendly culture. You'll receive competitive vacation and flexible working arrangements, as well as, comprehensive health benefits plus a 401k plan, among other benefits.
Check out their career page for more information.
CrowdStrike's contact: 1-888-512-8906 / recruiting@crowdstrike.com
4. Elastic
Elastic's office in California is located in Mountain View.
Elastic is a search company built on a free and open heritage. The company offers three solutions for enterprise search, observability, and security, built on one technology stack that can be deployed anywhere.
From finding documents to monitoring infrastructure to hunting for threats, Elastic makes data usable in real-time and at scale.
Thousands of organizations worldwide, including Cisco, eBay, Goldman Sachs, Microsoft, The Mayo Clinic, NASA, The New York Times, Wikipedia, and Verizon, use Elastic to power mission-critical systems.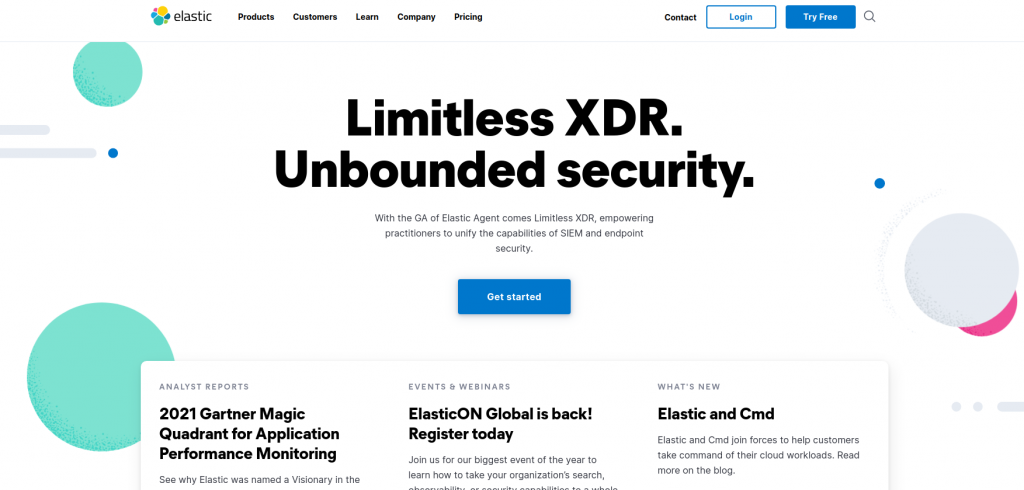 Elastic usually hires in the following roles remotely: Senior Marketing Intelligence and Insights Analyst, Senior Product Marketing Manager, Engineering Recruiter, Director – Business Transformation Office, Curriculum Developer, Senior Human Resources Data Analyst, Associate Customer Success Manager, etc.
Elastic offers competitive pay based on the work you do there and not your previous salary. The company offers health coverage for you and your family in many locations, as well as, minimum of 16 weeks of parental leave.
You'll also have the ability to craft your calendar with flexible locations and schedules for many roles. Moreover, you get up to 40 hours each year toward volunteer projects you love.
Check out their career page for more information.
Elastic's contact: +1-650-458-2620 / info@elastic.co
5. Invitae
Invitae's office in California is located in San Francisco.
Invitae is dedicated to bringing comprehensive genetic information into mainstream medicine to improve healthcare for billions of people.
The company is leading the transformation of the genetics industry, by making genetic testing affordable and accessible for everyone to guide health decisions across all stages of life.
Invitae usually hires in the following roles remotely: Medical Records Phone Specialist, Marketing Manager – Strategic Partners, Senior Operations Manager, Medical Affairs Director – Molecular Pathology, Design Quality Engineer, AI Data Scientist, DevOps Site Reliability Engineer, etc.
Invitae offers a competitive total rewards package, which includes healthcare coverage, 401k, and a broad range of other benefits.
For supporting work-life balance and other employer efforts, Invitae has received the 'Healthy Mothers' Coalition Workplace Award' more than once.
As their employee, you'll receive health, dental, vision, short and long-term disability, paid time off, holiday pay, parental leave, and basic life insurance coverage.
Check out their career page for more information.
Invitae's contact: +1 (415) 930-4018 / globalsupport@invitae.com
6. Coalition Technologies
Coalition Technologies' office in California is located in Culver City.
Coalition Technologies offers clients a variety of services to meet their online business needs, including website design and development, user experience, search engine optimization, email marketing, pay-per-click, and social media marketing.
The company has successfully developed online marketing engines for many well-known brands, such as District Clothing, Zumba, Swim Spot, Urban Armor Gear, Harvard University, and Spinning.
Coalition Technologies usually hires in the following roles remotely: Social Media Specialist, SEO Analyst, Magento Developer, Frontend Developer, Copywriter, Recruiter, Sales Associate, Graphic Designer, Shopify Developer, Web Development Project Manager, Email Marketing Specialist, etc.
The company offers the most competitive profit-sharing bonus plans in the industry. They pay up to 50% of all profits monthly to all full-time employees.
As their employee, you'll get to enjoy paid time off and subsidized gym memberships. For US-Based team members, they offer medical, dental, vision, and life insurance packages in all US states.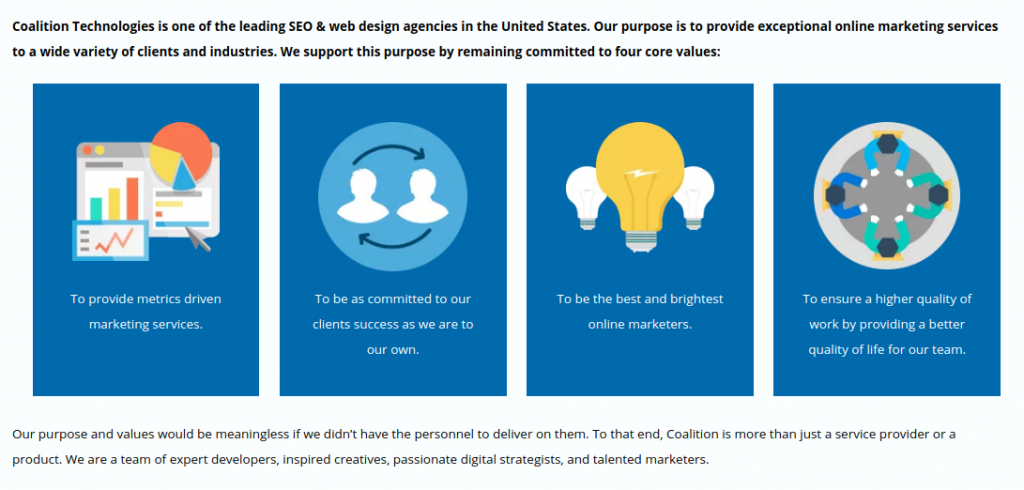 Check out their career page for more information.
Coalition Technologies' contact: +1 (424) 433-5778 / careers@coalitiontechmologies.com
7. ServiceNow
ServiceNow's office in California is located in Santa Clara.
ServiceNow is a cloud-based workflow automation platform that enables enterprise organizations to improve operational efficiencies by streamlining and automating routine work tasks.
The company's cloud‑based platform and solutions deliver digital workflows that create great experiences and unlock productivity for employees and the enterprise.
With over 6,900 customers, the company serves approximately 80% of the Fortune 500, and they are listed on the 2020 list of FORTUNE World's Most Admired Companies.
ServiceNow usually hires in the following roles remotely: Senior Curriculum Developer, Senior Support Account Manager, Senior Product Security Engineer, Global Head of Automotive Industry Solutions, Director – Sales, Managing Editor, Senior Sales Recruiter, Senior Principal Strategist, etc.
ServiceNow provides an opportunity for associates to grow their professional careers through hands-on experience, as well as offers competitive compensation and benefits packages for eligible staff.
The company has been listed in 'Fortune's 100 Best Companies to Work For 2021' and 'Best Places To Work For LGBTQ Equality 2021', among other prestigious awards.
Check out their career page for more information.
ServiceNow's contact: +1 (408) 501-8550 / talent.acquisition@servicenow.com
8. Alorica
Alorica's office in California is located in Irvine.
Alorica serves business-to-consumer (B2C) and business-to-business (B2B) clients across the healthcare, financial services, automotive, technology, retail, communications, government, and travel industries.
The company was recognized at the 13th annual Stevie Awards for Sales & Customer Service with three honors for "Consulting Practice of the Year," "Training Practice of the Year", and "Outsourcing Provider of the Year."
Alorica handles more than 2 billion customer interactions per year and serves half of fortune 50 healthcare companies.
Alorica usually hires in the following roles remotely: Operations Support Associate, Lead Customer Experience Agent, Technical Support Work At Home, Talent Acquisition Recruiter, Customer Service Representative, Senior Financial Analyst, Sales Coach, etc.
Besides working on a flexible schedule, you'll get medical and dental coverage, tuition reimbursement, retirement planning, and discounts on your favorite brands.
Furthermore, as the industry's largest minority business enterprise, the company maintains a diverse work environment.
Check out their career page for more information.
Alorica's contact: 1-866-256-7422 / info@alorica.com
9. HashiCorp
HashiCorp's office in California is located in San Francisco.
HashiCorp is a fast-growing startup that solves development, operations, and security challenges in infrastructure so organizations can focus on business-critical tasks.
The company builds products to give organizations a consistent way to manage their move to cloud-based IT infrastructures for running their applications.
HashiCorp's products enable companies large and small to mix and match AWS, Microsoft Azure, Google Cloud, and other clouds as well as on-premises environments, easing their ability to deliver new applications for their business.
HashiCorp usually hires in the following roles remotely: Senior Web Engineer, Cloud Infrastructure Engineer, Site Reliability Engineer, Software Engineer, Customer Success Architect, Lead Product Designer, Senior Product Designer, Senior Financial Analyst – R&D, Commercial Account Manager, etc.
HashiCorp offers a fully remote culture. The company offers a competitive salary, generous equity grants, excellent benefits, and a flexible time-off policy.
The company provides birthing parents up to 16 weeks of paid maternity leave via short-term disability and HashiCorp's parental leave policy. For non-birthing parents including adoptive, they offer 8 weeks of paid parental leave.
Furthermore, employees enjoy 4 weeks of paid vacation per year plus 10 days of paid sick leave and bereavement leave per year.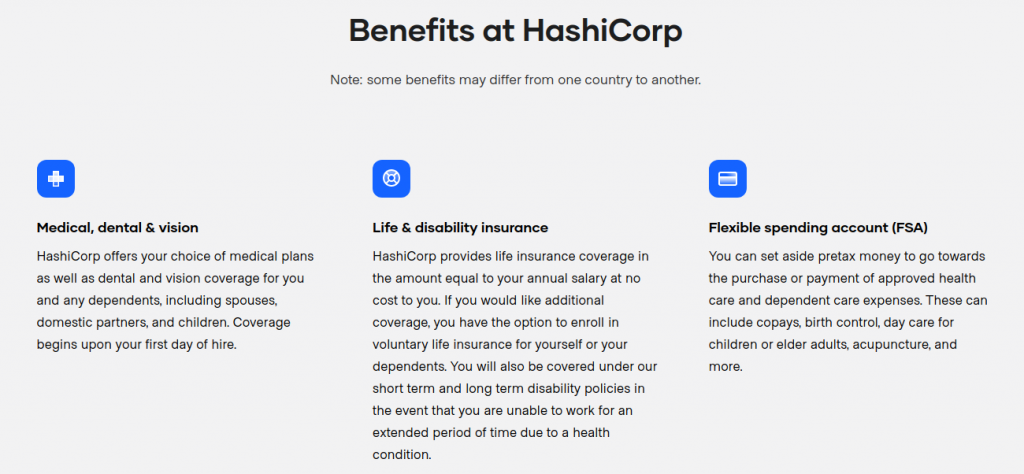 Check out their career page for more information.
HashiCorp's contact: 1 415-301-3250 / hello@hashicorp.com
10. Recharge Payments
Recharge Payments' office in California is located in Santa Monica.
Since 2014, Recharge Payments has helped over 15,000 merchants launch and scale their subscription business. They are on a mission to create a world where payments are frictionless.
The company has been a remote-first company since 2014. Recharge is listed on the Forbes list of 'Top 100 companies for remote jobs'.
Recharge Payments usually hires in the following roles remotely: Account Manager, Support Engineer, Principal Software Development Engineer, Senior Data Engineer, Senior Frontend Engineer, Technical Project Manager, Senior Financial Analyst, Director of Revenue Marketing, Migration Specialist, etc.
The company offers 100% coverage for medical, dental, vision, and life insurance for employees and their dependents.
Also, you'll get a $700/month stipend to cover health and wellness, a coworking space, and subscription products.
ReCharge Payments also offers eligible associates a benefits package that includes paid time off, profit-sharing programs, and access to Apple equipment.
Check out their career page for more information.
Recharge Payments' contact: support@rechargepayments.com
Final Thoughts On Remote Jobs in California
I hope this list of companies with remote jobs in California helps you land your next remote job.
Do you want access to 30,000+ more remote and flexible jobs? Click here.
I believe during remote interviews, we struggle more in answering the behavior questions properly and showcasing our soft skills. Candidates usually overlook this but preparing for behavioral rounds is very crucial.
You'll find a lot of Youtube videos on this topic. I would also recommend this course by Bob Firestone that has over 177 example answers that work for competency-based, KSA, situational, structured, and behavioral interviews.
Make sure you send a cover letter along with your resume when applying for remote jobs. Simply sending a CV and hoping to get a call back is really not a great way to show the company that you are interested in their job.
You can download the resume and cover letter templates that helped me get my first remote job by going HERE.
And never forget to use the free Chrome plugin, Grammarly, while writing your resumes, emails, and cover letters. This would highlight any silly grammatical mistakes and save you from possible embarrassment as a job seeker.
Have you joined as a remote employee for any of the listed companies? How was your experience? Do let us know in the comments.
If you find this article helpful, kindly share it with your friends. You may also Pin the above image on your Pinterest account. Thanks!
---
Did you enjoy this article?
---
Abhigyan Mahanta
Hi! I'm Abhigyan, a passionate remote web developer and writer with a love for all things digital. My journey as a remote worker has led me to explore the dynamic landscape of remote companies. Through my writing, I share insights and tips on how remote teams can thrive and stay connected, drawing from my own experiences and industry best practices. Additionally, I'm a dedicated advocate for those venturing into the world of affiliate marketing. I specialize in creating beginner-friendly guides and helping newbie affiliates navigate this exciting online realm.
---
If you're planning to apply for a remote UX researcher position, you need to ace…