These are the top remote companies offering remote jobs in Illinois, USA.
Sometimes, the companies offering remote jobs in Illinois do not publicly advertise all the remote job roles that they are hiring for.
So, if you don't see your preferred role listed with the remote companies, you can email the company and ask if they are also hiring remotely in your preferred department.
[ Note: Some of these companies keep changing the links to their career page. As of now, all links are working correctly. If you encounter a 404 error, kindly let me know in the comments and I'll update them ASAP. Thanks! ]
Disclosure: Please note that some of the links below are affiliate links and at no additional cost to you, I'll earn a commission. Know that I only recommend products and services I've personally used and stand behind.
1. Paylocity.
Paylocity's office in Illinois is located in Schaumburg.
Paylocity is a human resource and payroll company that develops cloud-based human capital management (HCM) and payroll software solutions for midsized organizations across the U.S.
The company is an industry leader and creator of payroll applications such as benefits, time-tracking, and talent management and its goal is to help businesses improve their human resources, payroll, and finance capabilities.
Paylocity has been recognized as one of the nation's fastest-growing companies, according to the Inc. magazine, and has also been named a 'Best Place to Work' in Illinois for several consecutive years, as well as one of the 'Top 100 Digital Companies in Chicago' by 'Built In Chicago'.
Paylocity usually hires in the following roles remotely: Support Specialist, Enterprise Account Executive, Salesforce Developer, Senior Manager Salesforce Development, Manager Tax Treasury, Robotic Process Automation Developer, Support Analyst General Ledger, Client Funds Analyst, High Volume Recruiter, Business Intelligence Analyst, Banking Operations Specialist, Head of UX – Design Systems, Account Manager, etc.
Paylocity offers medical, dental, vision, life, disability, and a 401(k) plan with company match. Additionally, employees get access to a SoFi program to consolidate and refinance federal and private student loans.
Furthermore, the company provides paid parental leave, adoption assistance, concierge health services from Blue Cross & Blue Shield, and tuition reimbursement.
Paylocity also offers multiple health and wellness programs ranging from Naturally Slim to Ovia Health to Hinge Health, gym membership subsidies, and discounted employee stock purchasing program.
Check out their career page for more information.
Paylocity's contact: 800.520.2687
2. Discover
Discover's office in Illinois is located in Riverwoods.
Discover is one of the most recognized brands in U.S. financial services. The firm also provides credit cards, banking services, savings account, personal loans, student loans, home equity loans, credit score, and online banking.
The company's mission is to help people spend smarter, manage debt better, and save more to achieve a brighter financial future.
In addition to its flagship Discover Card, the company has a leading network of ATM and debit services, and Diners Club International, a selective banking and payments company.
Glassdoor has placed Discover in its list of Top 25 Companies for Culture and Values. Moreover, the company has been distinguished among the Best Places to Work in Glassdoor's Large U.S. Companies category and named one of Built In Chicago's Best Places to Work.
Discover usually hires in the following roles remotely: Lead Data Science Analyst, Lead Network Engineer, Solution Experience Designer, Product Strategist, Principal Application Architect, Principal Cloud Architect, Full Stack Software Engineer, Java Developer, Manager Facilities Operations, Manager Software Engineering, Lead DevOps Engineer, Content Marketing Specialist, Principal Risk Management, Business Intelligence Analyst, etc.
The company offers health, vision, and dental insurance, along with health savings account, health reimbursement account, and flexible spending accounts.
You'll also receive critical illness insurance, life & accident insurance, long-term & short-term disability insurance, onsite health services center with nurse practitioners, and annual health evaluation & health coaching.
Discover also provides a 401(k) savings plan with fixed and matching contributions, an employee stock purchase plan, and "Financial Wellness for You" learning programs.
Additionally, the company offers 7 paid holidays, tuition reimbursement, paid parental leave, legal assistance plan, adoption assistance, group auto, home and pet insurance, and much more.
Check out their career page for more information.
Discover's contact: 1-800-347-2683
3. Allstate
Allstate's office in Illinois is located in Northbrook.
Allstate offers a broad array of protection products through multiple brands and diverse distribution channels, including auto, home, life, and other insurance offered through its Allstate, Esurance, Encompass, SquareTrade, and Answer Financial brands.
Allstate Life Insurance Company offers life, annuity, and pension products, and its Business Insurance offers select coverages for small and medium-sized businesses.
The company is an award-winning organization that has been named one of the Happiest Companies in America by CareerBliss, one of the 100 Best Companies for Working Mothers by Working Mother magazine, and one of America's Best Employers by Forbes magazine, among other accolades.
Allstate usually hires in the following roles remotely: Solution Engineer, Software Managing Engineer, Marketing Decision Manager, Full Stack Software Engineer, Data Scientist, SAP Developer, Mobile Engineer, Security Architect, Legal Administrative Assistant, HR Recruiting Specialist, Risk Manager, Linux Administrator, Allstate Benefits Operations Manager, Technical Product Manager, Customer Experience Consultant, etc.
Allstate offers medical, vision, and dental insurance that includes certain preventive, diagnostic, restorative, reconstructive, and orthodontic services.
Employees are also provided with a health care flexible spending account, a group critical illness plan, group accident insurance plan, group hospital indemnity plan, short-term and long-term disability insurance.
Additionally, you can enroll in life insurance and accidental death & dismemberment (AD&D) insurance with coverage up to eight times your Qualified Annual Earnings (QAE).
Allstate also offers a 401(k) plan in which the company matches 80 cents for every dollar you contribute on your first 5% of pre-tax and/or Roth 401(k) contributions.
Other benefits include flexible spending accounts for dependent daycare, 5 days PTO, identity protection, miscellaneous time off, group legal plan, up to $5,000 as adoption reimbursement, and wellness programs.
Check out their career page for more information.
Allstate's contact: 1-800-255-7828
4. Relativity
Relativity's office in Illinois is located in Chicago.
Relativity helps organizations manage large volumes of data and quickly identify key information during internal investigations, litigation, compliance projects, and more.
The company is a market-leading, global tech company that equips legal and compliance professionals with a powerful platform to organize data, discover the truth, and act on it. 
Tech in Motion Timmie Awards has recognized the company for "Best Technology Work Culture." Relativity has also been named among Computerworld's "Best Places to Work in IT," and in the Chicago Tribune's Top Workplaces for at least seven consecutive years.
Relativity usually hires in the following roles remotely: Account Executive, Software Engineer, Associate Product Designer, Big Data Architect, Customer Success Manager, Demand Generation Program Manager, Director of DevOps, HR Digital Transformation Lead, Incident Response Manager, Lead Accountant, Lead Data Scientist, ML Engineer-AI, Product Manager, Senior Business Process Analyst, etc.
Relativity has assumed a hybrid work strategy, allowing choice and flexibility for employees to work either from home, a physical Relativity office location, or a combination of the two, within certain logistical boundaries.
The company offers comprehensive health insurance plans and employee equity programs. The company encourages continuous learning, growth, and development and provides a training investment program for employees.
You get the opportunity to work in a flexible schedule, as management believes in a flexible, paid-time-off policy that gives you have the chance to balance all the essentials to being your best self.
Relativity also offers unlimited time off, a 401k plan with employer match, as well as two holiday breaks per year.
Check out their career page for more information.
Relativity's contact: +1 (312) 263-1177
5. Clearcover
Clearcover's office in Illinois is located in Chicago.
Clearcover is a digital car insurance provider offering better coverage for less money. The company uses modern technology to automate certain aspects of the insurance process, which have traditionally been time-consuming and done manually.
As a result, Clearcover is able to provide insurance at a lower cost and pass those savings to its customers.
Clearcover was recently named a Glassdoor 2021 Best Place to Work and was named one of Inc.Magazine's Best Workplaces of 2020.
Clearcover usually hires in the following roles remotely: Auto Physical Damage Estimator, Claims AVP / Director Zone Leader, Claims Liability Supervisor, Claims Representative – Liability, Customer Service Representative, Insurance Support Specialist, Analytics Engineer, Data Analyst, Data Engineer, Data Scientist, Business Intelligence Analyst, Engineering Manager, Kotlin Software Engineer, React Native Engineer, etc.
Clearcover covers 90% of your health premiums while your dependents enjoy 75% coverage. The company provides 100% dental and vision coverage of premiums for you and your dependents.
The company also offers paid family leave, life insurance, fertility support, short-term disability, and an Employee Assistance Program with features like free introductory counseling sessions.
For your 401k plan, Clearcover will contribute 3% even if you contribute nothing. Also, if Clearcover is available in your state, you could have access to an employee discount on auto insurance.
Moreover, employees get access to unlimited vacation, monthly mental health workshops, discounted gym memberships, equity in the company, and an annual bonus program.
Check out their career page for more information.
Clearcover's contact: 855-444-1875
6. Kin Insurance
Kin Insurance's office in Illinois is located in Chicago.
Kin Insurance offers affordable, convenient insurance for homeowners. Besides providing standard home coverage, Kin specializes in areas that are often harder to insure, such as mobile homes and flood insurance.
The company upholds an "A – Exceptional" rating in financial stability from Demotech, Inc., and it operates on three key principles: home insurance should be easy, protecting your home should be affordable, and everyone deserves a home insurance company that cares about them.
Kin Insurance has been recognized as Built In's 2021 Best Midsize Companies to Work For in Chicago and Forbes' 2021 Best Startup Employers in America.
Kin Insurance usually hires in the following roles remotely: Customer Service Agent, Data Project Manager, Data Architect, DevOps Engineer, Engineering Manager, Senior Front-End Engineer, Staff Software Engineer, Product Manager – Customer Funnel, Data QA Engineer, Software Development Engineer in Test, Inside Sales Representative, Licensed Insurance Agent, Recruiter, Social Media Manager, etc.
Kin Insurance offers medical, dental, and vision insurance including 100% employer-paid plans. You'll also receive generous equity options and a 401k plan.
The company provides 16 days PTO, 2 floating holidays, federal holidays, parental leave, as well as support for continuing education and professional development.
Employees are also provided with flexible spending accounts, disability & life insurance, training, development, and networking opportunities via Sales Assembly.
Check out their career page for more information.
Kin Insurance's contact: 855-717-0022 / support@kin.com
7. Mastery Logistics Systems
Mastery Logistics Systems' office in Illinois is located in Chicago.
Mastery Logistics Systems is a comprehensive cloud-based SaaS transportation management system (TMS) that helps large shippers, carriers, and logistics service providers manage complex transportation needs in an efficient, cohesive, and intelligent way.
Ideal for brokers, carriers, and shippers, the organization contains tools for optimizing, centralizing, and automating tasks like appointment setting and management, tracking, and shipping.
Mastery Logistics Systems usually hires in the following roles remotely: Customer Data Insight Analyst, Senior Full Stack Software Engineer, Site Reliability Engineer, Agile Project Manager, Senior DevOps Engineer, Business Analyst, Applicant Support Specialist, Android Engineer, JIRA Administrator, Senior Program Manager, Lead Data Engineer, Implementation Specialist, UX Designer, Product Designer, Application Security Engineer, etc.
The company offers medical, dental, and vision insurance that covers 90% of premium costs. Mastery Logistics provides a 401k savings plan with a 4% match.
Additionally, you'll receive legal, AD&D, additional life, and other employee assistance benefits, along with, company-paid life insurance for 1X salary.
Furthermore, Mastery Logistics Systems offers employees professional growth and development opportunities, Paid Time Off, as well as, additional creative perks for their remote team.
Check out their career page for more information.
Mastery Logistics Systems' contact: 847-710-5988
8. Hologram
Hologram's office in Illinois is located in Chicago.
Hologram is a telecommunications company that offers a global cellular platform for Internet-of-Things (IoT) coverage in 190+ countries across more than 500 carrier partners.
The company has made it possible for the rapid growth of micro-mobility vehicles like e-scooters. Hologram have kept self-driving cars connected and on the road and have helped drones deliver medicine to remote communities.
The company is s working to become the operating system for global connectivity, having served a range of startups, small businesses, and enterprises such as Amazon, UPS, Kellogg's, Fleetsu, and more.
Hologram's eUICC SIM platform, Hyper has received the 2021 IoT Evolution Industrial IoT Product of the Year Award. The company has also been included in the Inc. magazine's annual list of the Best Workplaces for 2021 in addition to winning in Inc.'s Prosperous and Thriving category.
Hologram usually hires in the following roles remotely: Senior Product Designer, Senior DevOps Engineer, Senior Software Engineer, Senior Accountant, Staff Accountant, Customer Success Manager, Principal Solutions Engineer, Revenue Operations Manager, Sales Engineer, Solutions Engineer, Paid Media Manager, Head of People Ops, Senior Recruiter, Product Manager, Account Executive, Inside Sales Manager, Business Development Representative, etc.
The company offers 100% coverage of your medical, dental, vision, life, and disability benefits and 80% for your family members.
You'll receive unlimited books, e-books, and audiobooks for continuous learning, unlimited paid time off and flexible scheduling, a generous home office setup stipend, as well as 14 weeks of family leave.
Check out their career page for more information.
Hologram's contact: recruiting@hologram.io / +1 888-980-4758
9. Level Ex
Level Ex's office in Illinois is located in Chicago.
Level Ex is a computer games company that is on a mission to develop video games that specifically target those in the medical field. Their games feature thrilling medical cases reimagined with the highest standards of design and deliberate game mechanics.
The company employs state-of-the-art graphics, the latest art tools, and custom-built physics tech: including GPU-based fluids, tissues, and soft-body systems that look and react like the real deal.
Level Ex has earned 2nd place at SIGGRAPH Real-Time Live! 2019, sharing the stage with Epic, Unity, NVidia, Digital Domain, and others. In 2021, Level Ex made the Top 100 Most Loved Workplaces list and became certified by Most Loved Workplace®.
Level Ex has also won the Fast Company's Most Innovative Company award for two years in a row – once in the Gaming (2020) category and once in the Health category (2021).
Level Ex usually hires in the following roles remotely: Technical Artist, Medical Advisor Liaison, Game Design Manager, Game Director, Level Designer, Senior Game Designer, Senior Product Manager, Executive Producer – Software, Lead Senior Producer/Project Manager, Director of Market Development, Director of Product Marketing, Senior Manager – Sales Strategy, Build Engineer, Senior Graphics Engineer, Senior Software Engineer, etc.
Level Ex offers multiple health insurance plans with 100% company-paid premiums and a 401(k) plan with a generous company-paid match.
The company has a 100% remote working culture for all U.S. employees and provides pre-tax flex spending and commuter accounts, dental & vision insurance, and 4 weeks of PTO.
Level Ex encourages team after-hours events, like Board Game Night, and offers full kitchen food options including breakfast, healthy and comfort snacks.
Check out their career page for more information.
Level Ex's contact: (847) 920-8489
10. Allscripts
Allscripts' office in Illinois is located in Chicago.
Allscripts provides the vendor-agnostic patient engagement platform that enables providers to engage and community with patients in order to improve patient outcomes.
The company's mission is to be the most trusted provider of innovative solutions that empower all stakeholders across the healthcare continuum to deliver world-class outcomes.
Through its various platforms and market solutions, Allscripts helps connect 2,500 hospitals, 45,000 physician practices, nearly 20,000 physicians, and more than seven million patients around the world.
Allscripts has been recognized by Frost & Sullivan with the 2019 Best Practices Award for its population health management solutions. Allscripts has also ranked #1 in the Top 10 integrated EHR 2018 rankings by 'Black Book'.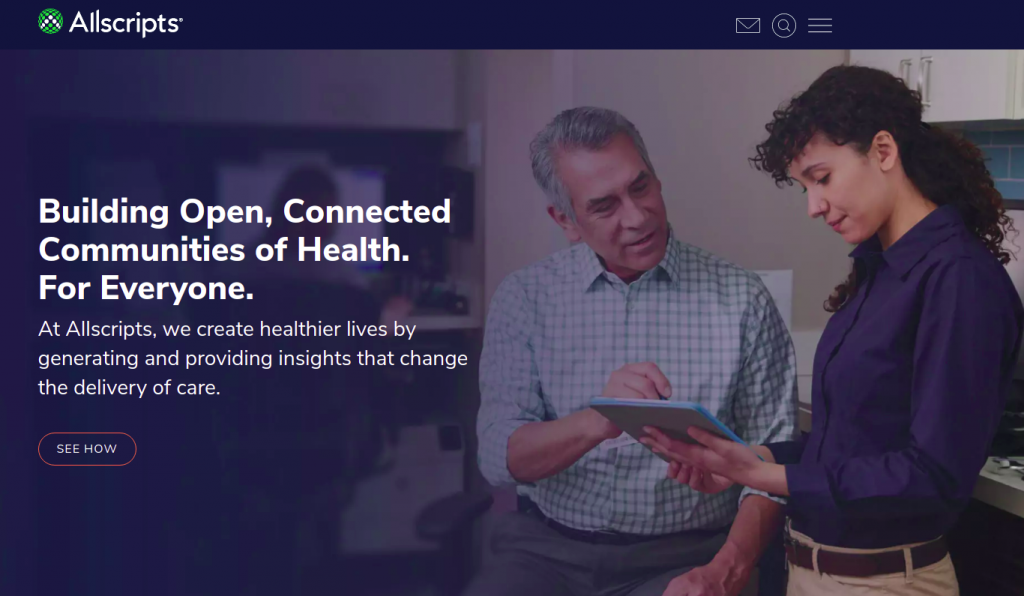 Allscripts usually hires in the following roles remotely: Director Solutions Management, Sales Director, Expert Field Sales Executive, UX / Visual Design Product Manager, Software Engineer-Digital Patient Experience, DevOps Engineer, Senior Software Engineer, Senior Architect, Manager – Product Management, Associate Solutions Manager, Technical Writer, Manager Professional Services, MS Business Analyst, Security Engineer, etc.
Allscripts offers a comprehensive benefits package, including paid time off, medical coverage, tuition reimbursement programs, and professional development opportunities through the Allscripts Learning Center.
Employees are also given access to participate in a program to buy company stock at a reduced rate. Along with developing yearly individual goals, employees have access to a career development plan, which shows the path for associates to "customize" their careers.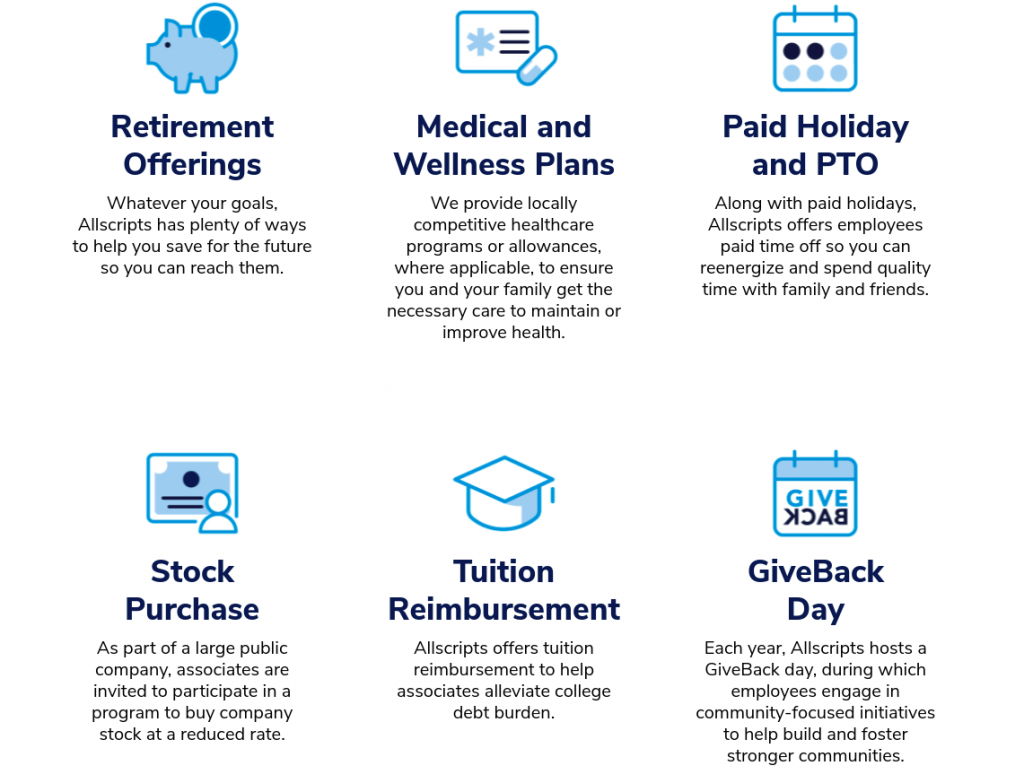 Check out their career page for more information.
Allscripts' contact: 1-800-334-8534 / 919-854-3749
Final Thoughts On Remote Jobs In Illinois
I hope this list of companies with remote jobs in Illinois, USA helps you land your next remote job.
Do you want access to 30,000+ more remote and flexible jobs? Click here.
I believe during remote interviews, we struggle more in answering the behavior questions properly and showcasing our soft skills. Candidates usually overlook this but preparing for behavioral rounds is very crucial.
You'll find a lot of Youtube videos on this topic. I would also recommend this course by Bob Firestone that has over 177 example answers that work for competency-based, KSA, situational, structured, and behavioral interviews.
Make sure you send a cover letter along with your resume when applying for remote jobs. Simply sending a CV and hoping to get a call back is really not a great way to show the company that you are interested in their job.
You can download the resume and cover letter templates that helped me get my first remote job by going HERE.
And never forget to use the free Chrome plugin, Grammarly, while writing your resumes, emails, and cover letters. This would highlight any silly grammatical mistakes and save you from possible embarrassment as a job seeker.
Have you joined as a remote employee for any of the listed companies? How was your experience? Do let us know in the comments.
If you find this article helpful, kindly share it with your friends. You may also Pin the above image on your Pinterest account. Thanks!
---
Did you enjoy this article?
---
Abhigyan Mahanta
Hi! I'm Abhigyan, a passionate remote web developer and writer with a love for all things digital. My journey as a remote worker has led me to explore the dynamic landscape of remote companies. Through my writing, I share insights and tips on how remote teams can thrive and stay connected, drawing from my own experiences and industry best practices. Additionally, I'm a dedicated advocate for those venturing into the world of affiliate marketing. I specialize in creating beginner-friendly guides and helping newbie affiliates navigate this exciting online realm.
---
If you're a teacher searching for remote English tutor jobs, then you would certainly benefit…