These are the top remote companies offering remote jobs in North Carolina, USA.
Sometimes, the companies offering remote jobs in North Carolina, USA do not publicly advertise all the remote job roles that they are hiring for.
So, if you don't see your preferred role listed with the remote companies, you can email the company and ask if they are also hiring remotely in your preferred department.
[ Note: Some of these companies keep changing the links to their career page. As of now, all links are working correctly. If you encounter a 404 error, kindly let me know in the comments and I'll update them ASAP. Thanks! ]
Disclosure: Please note that some of the links below are affiliate links and at no additional cost to you, I'll earn a commission. Know that I only recommend products and services I've personally used and stand behind.
1. Red Hat
Red Hat's office in North Carolina is located in Raleigh.
Red Hat helps customers integrate new and existing IT applications, develop cloud-native applications, standardize on our industry-leading operating system, and automate, secure, and manage complex environments.
The company is a leading provider of enterprise open source software solutions, using a community-powered approach to deliver reliable and high-performing Linux, hybrid cloud, container, and Kubernetes technologies.
Red Hat has been recognized as one of Forbes magazine's World's Most Innovative Companies, one of the Best Cloud Computing Companies and CEOs to Work For, and one of Glassdoor's Best Places to Work.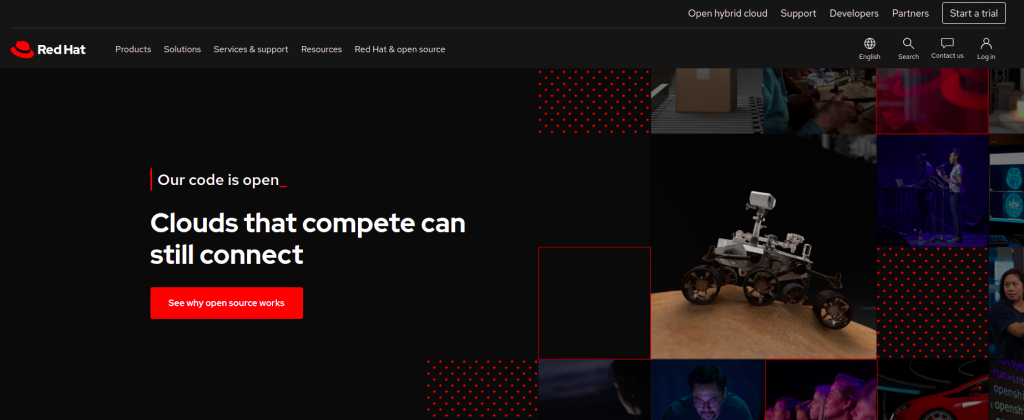 Red Hat usually hires in the following roles remotely: Marketing Events Manager, Sales Account Executive, Platform Senior Consultant, Solutions Architect, Adoption Analyst, Project Coordinator, Senior User Experience (UX) Producer, OneStream Developer, Personalization Delivery Specialist, Senior Front-End Developer, Human Resources Manager, Ecosystems Sales Specialist, Marketing Account Manager, Software Engineer, Senior Quality Engineer, etc.
Red Hat offers comprehensive medical, dental, and vision coverage along with a 401(k) plan with an employer match for retirement purposes.
Employees receive flexible spending accounts for healthcare and dependent care as well as health savings accounts with high deductible medical plans.
In addition to paid parental leave plans, employees enjoy PTO and leave benefits that include disability, paid family medical leave, and paid military leave.
Red Hat also provides an employee stock purchase plan, family planning reimbursement, tuition reimbursement, transportation expense account, employee assistance program, and more.
Check out their career page for more information.
Red Hat's contact: +1 919-754-4950 / customerservice@redhat.com
2. Premier Inc.
Premier Inc's office in North Carolina is located in Charlotte.
Premier Inc. is a healthcare improvement company uniting an alliance of approximately 4,400 U.S. hospitals and health systems and more than 225,000 other providers and organizations.
With the goal of improving members' quality outcomes while safely reducing costs, Premier has created one of the most comprehensive databases of actionable data, clinical best practices, and efficiency improvement strategies.
Premier Inc. is deeply committed to improving communities, as well as advancing the standards of healthcare. The company has been recognized among the Ethisphere Institute's list of the "World's Most Ethical Companies" for 14 years in a row.
The company has also been ranked #1 on Charlotte's Healthiest Employers list for 2019 and 2020, and 12th Healthiest Employer in America (2019).
Premier Inc. usually hires in the following roles remotely: Principal Advisory Services, Technology Services Analyst, Supply Chain Systems Analyst, Implementation Project Manager, Senior Analytics Developer, Systems Administrator, Data Integration Engineer, Sales Director, Product Director, Director Advisory Services, Senior Network Engineer, Customer Service Rep, Software Architect, Healthcare Supply Chain Leader, RN Utilization Manager, etc.
Premier Inc. provides health, dental, vision, life, and disability insurance. Employees receive a 401k retirement plan, health savings accounts (HSA), and access to Premier's employee incentive plans.
The company further offers tuition reimbursement and professional development opportunities along with access to on-site and online exercise classes.
In addition, you'll receive paid maternity & paternity leaves, accidental death & dismemberment insurance, flexible spending accounts (FSA), occupational accident insurance, 5 floating holidays, 25 days of accrued sick time, and 15 PTOs to start with.
Check out their career page for more information.
Premier Inc's contact: +1 704-816-5200 / +1 704-357-0022
3. Brighthouse Financial
Brighthouse Financial's office in North Carolina is located in Charlotte.
Brighthouse Financial is the brand name for Brighthouse Life Insurance Company, Brighthouse Life Insurance Company of NY, and New England Life Insurance Company.
One of the largest providers of annuities and life insurance in the U.S., the company specializes in products designed to help people protect what they've earned and ensure it lasts.
Brighthouse Financial is a FORTUNE® 500 company that has over $200 billion in total assets, more than 2 million customers, and approximately 2.5 million annuity contracts and insurance policies in force.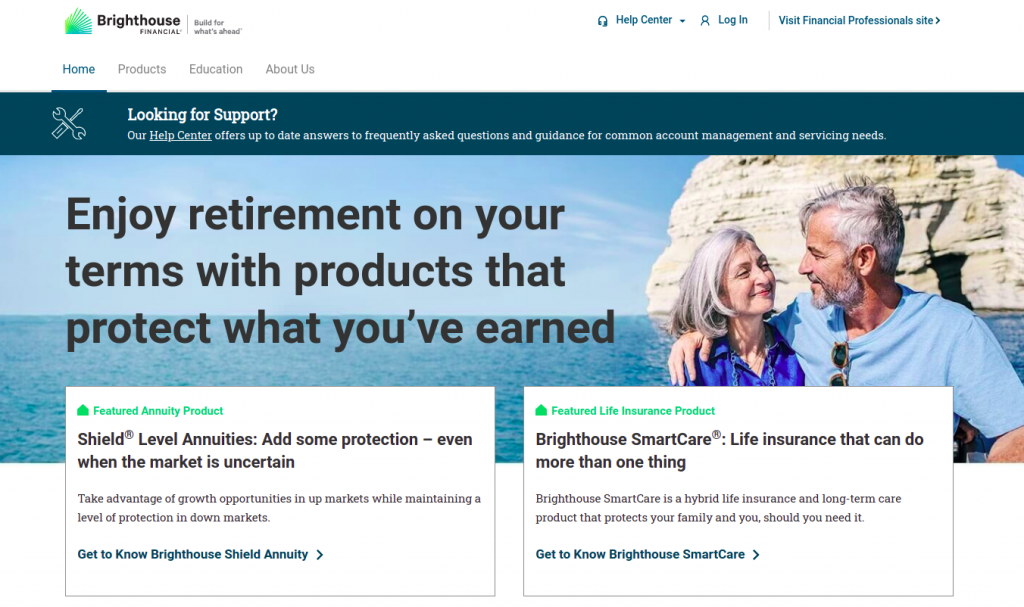 Brighthouse Financial usually hires in the following roles remotely: Quality Control Compensation Specialist, Life Top Producer Analyst, Instructional Designer, Learning & Development Advisor, Financial Analyst, Senior Technology Auditor, Test Engineer – Life & Annuity, Accounting Systems Analyst / QA Testing, Web Content Specialist (Charlotte, Python Software Engineer, Lead Infrastructure & Security Architect, Paralegal, Life Insurance Product Consultant, etc.
Brighthouse Financial offers a 401(k) savings plan with up to a 6% annual match and 3% annual company nondiscretionary contribution of eligible compensation, financial counseling services, and an employee stock purchase plan.
The company also provides company-paid basic life insurance and short-term disability, 20 days of paid time off, and 13 paid company holidays per full calendar year, plus paid volunteer time.
Employees receive medical, vision, and dental plans, plus tax-free health savings accounts with potential company contributions up to $1,000 per family. Additionally, you'll get access to their wellness incentive platform, employee assistance program, and fitness center discounts.
Brighthouse Financial also offers up to 16 weeks of paid leave for new parents, a backup care program, dependent care flexible spending accounts, and adoption & surrogacy assistance.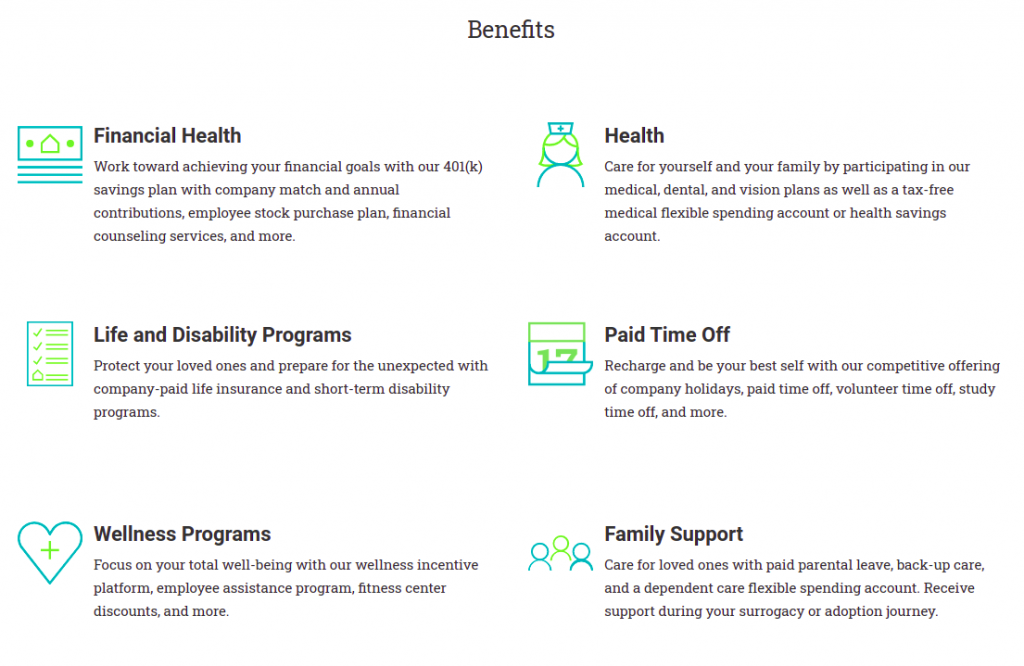 Check out their career page for more information.
Brighthouse Financial's contact: +1 888-243-1974
4. Percona
Percona's office in North Carolina is located in Raleigh.
Percona creates some of the most amazing open-source database software available and ensures that it is made freely available to all who desire enterprise-class functionality without vendor lock-in.
In addition to managed services and support, Percona offers a full spectrum of consulting services in performance optimization, infrastructure architecture and design, high availability, upgrades and migrations, and server and database automation.
Percona has received multiple awards from business, industry media outlets, and organizations that have recognized their success as a business and as a technical contributor to MySQL, MariaDB, MongoDB, PostgreSQL, and other open-source database ecosystems.
Percona usually hires in the following roles remotely: Technical Writing Manager, Build and Release Engineer (RPM/DEB), Senior Director – Engineering, Product Manager, Field Marketing Manager, Contracts Specialist, Inside Sales Representative, Head of Design, PostgreSQL Engineer, Senior Product Manager, Backend Architect, Business Development Representative, C Software Engineer, Technical Account Specialist, Software Engineer (Golang), MongoDB Engineer, etc.
Percona is a remote-only organization that has colleagues in more than 40 countries. Percona offers generous benefits including flexible work hours and paid time off, providing you time to spend with your family, volunteer, work out, or take time for external hobbies.
The company also funds for career development (external training, certifications, conferences) and the opportunity to participate in an equity incentive plan.
Percona also provides staff members with the hardware and software required to be successful in their home office, as well as travel expenses, educational opportunities, and more.
Moreover, you will have opportunities to meet industry experts, authors, and speakers as you share knowledge and network with the Percona community.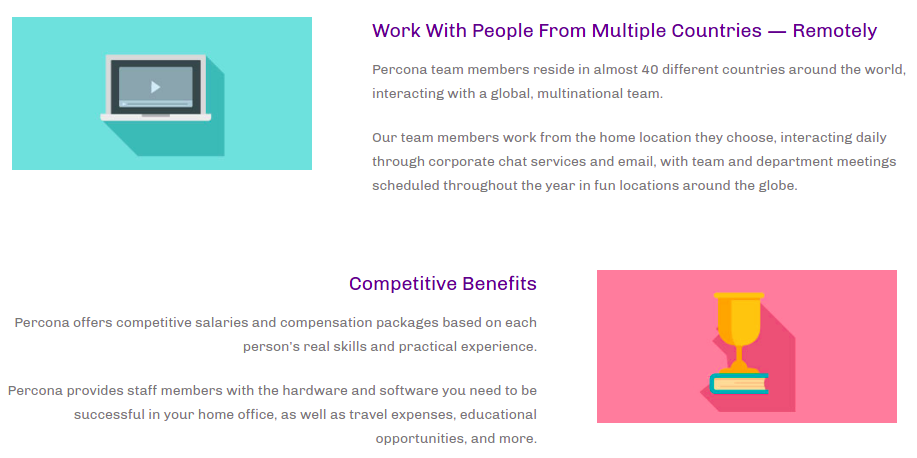 Check out their career page for more information.
Percona's contact: careers@percona.com / +1 919-296-8684
5. Cardinal Financial
Cardinal Financial's office in North Carolina is located in Charlotte.
Cardinal Financial is a nationwide direct mortgage lender that focuses on creating solutions for its borrowers, partners, and employees – to provide the very best experience.
The company offers a range of financial products to meet diverse needs, including conventional, FHA, Jumbo, USDA, and VA loans for an initial home purchase or for refinancing.
Cardinal Financial was awarded the WebAward for Outstanding Achievement for the Financial Services Standard of Excellence by the Web Marketing Association.
Cardinal Financial usually hires in the following roles remotely: Regional Account Executive, Associate National Account Executive, Business Intelligence Engineer, Mortgage Loan Processor, Transaction Assistant, Software Engineer, UI Designer, Sales Manager, Digital Product Specialist, Settlement Specialist, Underwriter, Transaction Coordinator, Campaign Designer, Internal Audit Manager, Sourcing Recruiter, Application Developer, Software QA Automation Engineer, etc.
Cardinal Financial offers a full range of benefits, beginning the first day of the month following your start date, including – Medical, Dental, Vision, Life, Disability Insurance, and much more.
As their employee, you'll receive a 401K plan with a 50% company match that begins the 1st of the month following 30 days of employment. You'll also receive a generous paid time off package that also includes all the major holidays.
There is plenty of opportunity for carrier growth and employees are given access to Octane, the company's engineered proprietary technology that is transforming the mortgage industry.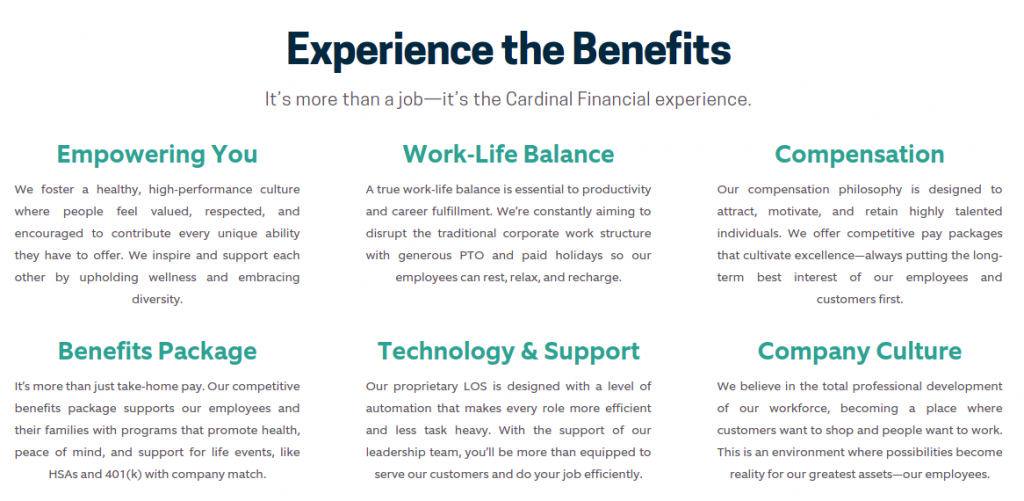 Check out their career page for more information.
Cardinal Financial's contact: +1 855-561-4944 / customercare@cardinalfinancial.com
6. CloudFactory
CloudFactory's office in North Carolina is located in Durham.
CloudFactory delivers significant efficiency improvements for data-intensive processes by combining exceptional business process outsourcing management experience, innovative quality control tools, and a highly advanced cloud workforce management platform.
The company believes that talent is equally distributed around the world, but opportunity is not. Their mission is to connect one million people in the developing world to digital-age work while raising them up as leaders to address poverty in their own communities.
CloudFactory processes millions of tasks a day for innovators including Microsoft, GoSpotCheck, Hummingbird Technologies, Ibotta, and Luminar.
CloudFactory was presented with a 3S Award from the Global Sourcing Council for the positive impact that the company has made on the lives of thousands of skilled workers in Nepal.

CloudFactory usually hires in the following roles remotely: Client Success Manager, Technology Operations Specialist, Cloud Ops & Security Engineer, Marketing Content Writer, Lead Data Engineer, Talent Acquisition Partner, Director of Sales, Machine Learning Engineer, Pricing Analyst, Product Manager, Senior Financial Analyst, Delivery Manager, Sales Development Representative, Senior Manager – Client Success, VP Global Sales, etc.
CloudFactory is a 100% distributed organization and offers a high growth globally scaling company culture. You'll receive medical, dental, and vision care along with life, accident, disability insurance, and a 401(k) retirement savings plan.
The company provides regular opportunities for professional training, personal enrichment, and participation in community service projects.
Employees get access to a global platform with rich content and learning pathways to help them grow leadership skills, personal and professional interests, as well as upward mobility.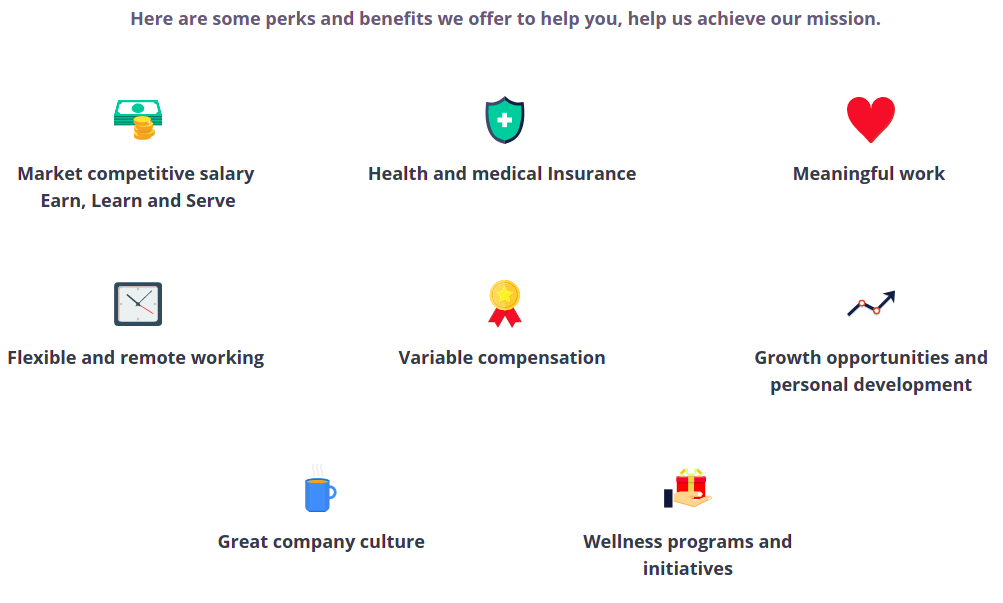 Check out their career page for more information.
CloudFactory's contact: +1 888-809-0229 / contact@cloudfactory.com
7. Research Square
Research Square's office in North Carolina is located in Durham.
Research Square is a mission-driven business focused on developing innovative software and services for the global research community.
The company runs the largest author services company, American Journal Experts (AJE), and has supported over 775,000 manuscripts from researchers in 192 countries.
Author services include language editing, translation, formatting, posters, and figure preparation. Video abstracts help researchers share their work with more people, and new solutions help publishers streamline and improve the process of submitting research.
Research Square has received numerous awards by top names in the business, research, and publishing communities and has been on the list of fastest-growing private companies in the United States for several years in a row.

Research Square usually hires in the following roles remotely: Quality Control Inspector, Director Business & Partner Development, Full Stack Software Engineer, Delivery Project Manager, Data Analyst, Business Analyst, Academic Editor – Math/Computer Science, Product Manager – Platform, Academic Editor – Engineering, Scientific Editor (Clinical or Life Science), Marketing Operations Manager, Submission Processor, etc.
Research Square offers medical, dental, and vision insurance with flexible spending accounts, health savings accounts, and Employee Assitance Program.
The company also provides short-term and long-term disability and life insurance 100% paid for by the company, an array of voluntary benefits, and a 401(k) plan with a 100% match from RSC (up to $3000 annually).
Full-time employees accrue between 15 and 25 days of PTO each year, depending on years of service. And, if you stick around for 10 years, you receive a month-long sabbatical in addition to your PTO days.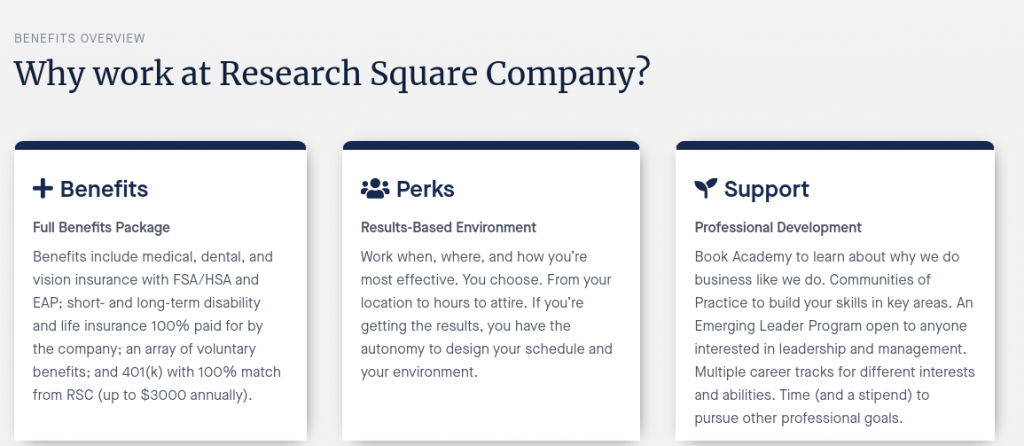 Research Square will cover your salary, with some exceptions, for short and occasional illness-related absences. As there is no accrued sick time, this way you do not need to use PTO or unpaid time off.
The company also offers six weeks of paid parental leave that can be used by mothers, fathers, and domestic partners anytime a child enters the family, either by birth or adoption.
In addition to these, every employee receives a half-day paid time off each quarter for volunteer work or service in the community. Research Square also matches charitable donations when employees/teams participate in fundraising efforts for qualified non-profit organizations.
Check out their career page for more information.
Research Square's contact: +1 919-704-4253 / info@researchsquare.com
8. Levvel
Levvel's office in North Carolina is located in Charlotte.
Levvel is a strategy and technology consulting firm. They help companies create great technology through human-centered problem-solving that is rooted in deep industry expertise.
To help businesses turn their endeavors into success stories, whether they're creating a new product, improving an existing product, or reinventing their entire organization, Levvel provides human-centered problem-solving rooted in industry expertise.
Levvel has been awarded as one of Inc.'s Best Workplaces of 2021. Levvel has also been listed on Inc.'s 5,000 fastest-growing companies each year since 2018.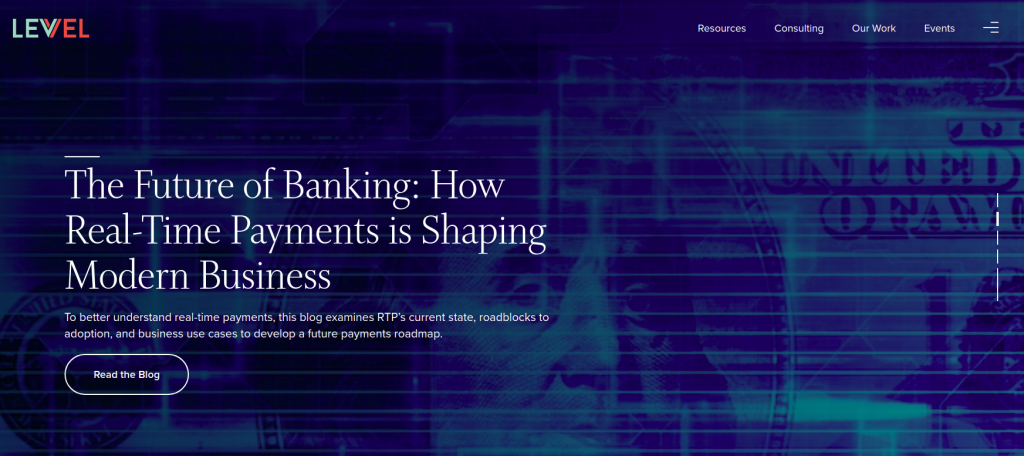 Levvel usually hires in the following roles remotely: Architect – Financial Services & Payments, Lead/Senior CloudOps Consultant, Senior DevSecOps Engineer, Site Reliability Engineer, Senior UX Researcher, Data Scientist, Full Stack Developer, Java Developer, Senior React Native Developer, Financial Services & Payments Consultant, Business Analyst, Engagement Manager, Product Manager – T&L, Recruiter, etc.
Levvel has a remote-friendly working culture even before the pandemic and employees are encouraged to work wherever they are most comfortable. The company offers a 401(k) plan with a 4% match program that has no vesting schedule – you are 100% vested in all contributions.
Levvel also provides medical, dental, and vision insurance to support our people and their dependents. Employees receive 6 weeks of paid time off which includes vacation, sick time, company holidays, and one floating holiday.
Additionally, the company offers fully-paid parental leave, equity options, life insurance, short- and long-term disability, gym allowance, company-paid certifications, flexible spending accounts, and global work opportunities.
The company's HSA contributions help you save for medical costs with pre-tax dollars. These accounts can help cover expenses like copays, prescriptions, glasses, and even over-the-counter medications.
Depending on your role, you'll also have the opportunity to participate in the annual bonus or commission programs that are based on your performance and company success.
Check out their career page for more information.
Levvel's contact: +1 980-278-3065 / hello@levvel.io
9. Inmar
Inmar's office in North Carolina is located in Winston-Salem.
Inmar helps leading Fortune 500 companies and emerging brands stay relevant and propel growth while providing their consumers with personalized and precision-driven tools to save money, improve health and safety, and more conveniently go about their lives.
Inmar's holistic portfolio of media products enables advertisers to access a variety of intelligent tools, including its influencer media platform, conversational commerce (chat-based media), audience extension, and on-site digital media for retail.
Inmar has served retailers, manufacturers, healthcare providers, government, and employers as their trusted intermediary and helped them redefine innovation. The company was named one of Triad's Healthiest Employers, Food Logistics' Top Green Providers, and a North Carolina Top 50 Family-Friendly Workplace.
Inmar usually hires in the following roles remotely: Money Transmitter Compliance Officer, Account Executive, Ad Strategist, Intern IT Project Management, Field Account Representative – Healthcare, Client Development Director, Senior Customer Success Manager, Digital Operations Account Executive, Category Management Director, Software Engineer, Media Solutions Manager, Client Development Director – CPG Accounts, Quality Assurance Engineer, etc.
Inmar offers health, dental, and vision coverage that's effective the first day you join. Their award-winning Wellness Program includes health & wellness fairs, annual biometric screening, onsite health improvement classes, mobile mammogram visits, fitness classes like yoga and Zumba, wellness challenges, and competitions for all fitness levels.
Employees receive a 401(k) plan in which deferral contributions are matched at 100% of the first 3% and 50% of the next 2% contributed by the associate and 100% of plan contributions are vested immediately.
The company also offers flexible paid time off, stress & weight management classes, financial wellness classes, health coaching programs, tuition reimbursement, and Patent Incentive Program.
Check out their career page for more information.
Inmar's contact: +1 800-765-1277 / recruiting@inmar.com
10. AccruePartners
AccruePartners' office in North Carolina is located in Charlotte.
AccruePartners is a Talent Workforce Solutions company that specializes in executive search, accounting and finance, information technology, engineering, financial services, human resources, and marketing.
Additionally, the firm offers retained search, statement of work, talent acquisition, recruiting, national recruiting center, temporary to hire and contract employees services.
AccruePartners has made the prestigious Inc. 5000 Fastest-Growing Companies list for 9 years running. The company is recognized as one of the Largest Women-Owned Companies in the area through the Charlotte Business Journal and has received ClearlyRated's Best of Staffing Awards for 8 years.
AccruePartners usually hires in the following roles remotely: Learning Architect, Web Publisher, Senior Paid Search Associate, Paid Media Manager, Digital Experience Manager, QA Manager, Field Recruiter, Senior Front End Engineer, Art Director, Digital Content Strategist, Procurement Manager, Trade Settlement Support Liaison, Graphic Designer, Payment Application Specialist, Senior Cloud Engineer, Android Mobile Technology Lead, UX User Experience Researcher, etc.
AccruePartners offers medical, dental, vision, and life insurance, along with an employee assistance program, a 401(k) plan with company match, and short-term & long-term disability insurance.
The company's vision insurance provides coverage for routine eye care, including eye exams and eyeglasses (lenses and frames), or contacts.
AccruePartners offers disability insurance to protect employees and their families from unexpected financial hardship by continuing a portion of an employee's salary when medically approved illness or injury causes the employee to be out of work.
The company also offers accident, critical illness, and hospital indemnity insurance. These coverages provide help in the instance you are in an off-the-job accident, diagnosed with a specified disease, or need additional help with room and board hospital expenses.
Check out their career page for more information.
AccruePartners' contact: info@accruepartners.com / +1 704-632-9955
Final Thoughts On Remote Jobs In North Carolina
I hope this list of companies with remote jobs in North Carolina, USA helps you land your next remote job.
Do you want access to 30,000+ more remote and flexible jobs? Click here.
I believe during remote interviews, we struggle more in answering the behavior questions properly and showcasing our soft skills. Candidates usually overlook this but preparing for behavioral rounds is very crucial.
You'll find a lot of Youtube videos on this topic. I would also recommend this course by Bob Firestone that has over 177 example answers that work for competency-based, KSA, situational, structured, and behavioral interviews.
Make sure you send a cover letter along with your resume when applying for remote jobs. Simply sending a CV and hoping to get a call back is really not a great way to show the company that you are interested in their job.
You can download the resume and cover letter templates that helped me get my first remote job by going HERE.
And never forget to use the free Chrome plugin, Grammarly, while writing your resumes, emails, and cover letters. This would highlight any silly grammatical mistakes and save you from possible embarrassment as a job seeker.
Have you joined as a remote employee for any of the listed companies? How was your experience? Do let us know in the comments.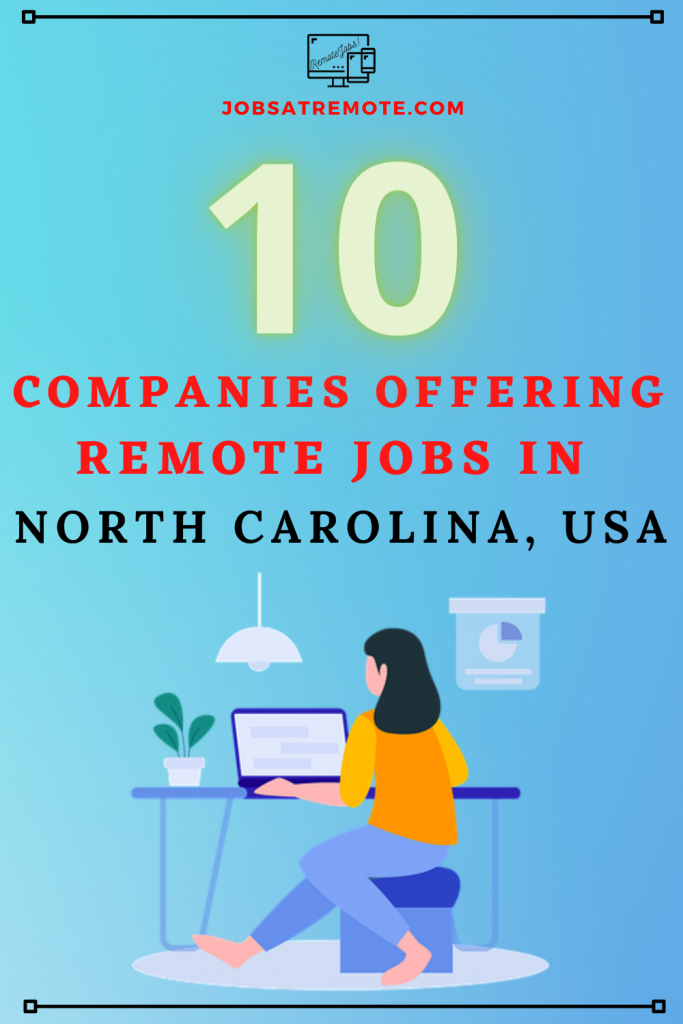 If you find this article helpful, kindly share it with your friends. You may also Pin the above image on your Pinterest account. Thanks!
---
Did you enjoy this article?
---
Abhigyan Mahanta
Hi! I'm Abhigyan, a passionate remote web developer and writer with a love for all things digital. My journey as a remote worker has led me to explore the dynamic landscape of remote companies. Through my writing, I share insights and tips on how remote teams can thrive and stay connected, drawing from my own experiences and industry best practices. Additionally, I'm a dedicated advocate for those venturing into the world of affiliate marketing. I specialize in creating beginner-friendly guides and helping newbie affiliates navigate this exciting online realm.
---
If you're a teacher searching for remote English tutor jobs, then you would certainly benefit…