These are the top remote companies offering remote jobs in Missouri, USA.
Sometimes, the companies offering remote jobs in Missouri, USA do not publicly advertise all the remote job roles that they are hiring for.
So, if you don't see your preferred role listed with the remote companies, you can email the company and ask if they are also hiring remotely in your preferred department.
[ Note: Some of these companies keep changing the links to their career page. As of now, all links are working correctly. If you encounter a 404 error, kindly let me know in the comments and I'll update them ASAP. Thanks! ]
Disclosure: Please note that some of the links below are affiliate links and at no additional cost to you, I'll earn a commission. Know that I only recommend products and services I've personally used and stand behind.
Prefer watching a video instead?
Remote Jobs Missouri, USA Video:
1. Enterprise Holdings
Enterprise Holdings' office in Missouri is located in St. Louis.
Enterprise Holdings Inc. is a leading provider of mobility solutions, owning and operating the Enterprise Rent-A-Car, National Car Rental and Alamo Rent A Car brands through its integrated global network of independent regional subsidiaries.
Enterprise Holdings and its affiliates offer extensive car rental, car sharing, truck rental, fleet management, retail car sales, as well as travel management and other transportation services, to make travel easier and more convenient for customers.
Chief Learning Officer magazine recognized Enterprise Holdings as a gold Learning Elite organization in 2018. The award recognizes organizations for learning and development programs that deliver significant business results.
The company was also included by Training magazine on its Training Top 125 list, which ranks companies on their employee training and development programs.
Enterprise Holdings usually hires in the following roles remotely: Digital Architect – Analytics and Tagging, Automotive Service Advisor, Supply Chain Vendor Management Analyst, Product Owner – Asset Management, Support Analyst, Marketing Insights Specialist, Senior Software Engineer, User Experience Designer, Customer Service Representative, Staff Accountant, etc.
Enterprise Holdings offer medical, dental, vision, and prescription drug plans. The company also provides long-term disability insurance, health savings account, flexible spending account, life insurance, tobacco cessation program, and AD&D insurance.
In addition to 401(k) retirement savings plan and profit sharing, you'll also get access to employee discounts, employee assistance program, service award program, vehicle rental & purchase discounts, and adoption assistance.
Furthermore, Enterprise Holdings provides paid holidays, short-term disability insurance, and paid volunteer time. You'll also receive paid leaves for maternity, parental, adoption, and bereavement.
Check out their career page for more information.
Enterprise Holdings' contact: workfromhomeopportunities@ehi.com / +1 314-506-4419
2. Leggett & Platt
Leggett & Platt's office in Missouri is located in Carthage.
Leggett & Platt enhances people's lives worldwide by designing and manufacturing innovative, distinctive products and components for use in bedding, homes, offices, airplanes, and automobiles.
The company designs, manufactures, and distributes seating components and finished products, carpet cushion and hard-surface flooring underlayment, and textiles and geo-components that help you lead a more comfortable life anywhere you are.
Leggett & Platt has previously won The Work Truck Show New Product Innovation Award for its mobile workspace shelving, storage areas, rugged docking stations, and vehicle mounts featuring eCoupled technology.
Leggett & Platt usually hires in the following roles remotely: IT Project Leader, EDI Coordinator, Social Media Strategist, Supply Chain Specialist, Director of Compensation, Commodity Manager, Digital Content Contributor, Marketing Project Manager, Network Engineer, Senior Accountant, Customer Service Representative, Senior Talent Advisor, etc.
Leggett & Platt offers medical, dental, and vision insurance, along with prescription drug coverage, flexible spending accounts and telehealth service for medical plan participants.
Employees also receive personalized career development programs, on-demand and instructor-led learning opportunities, as well as paid vacation, holidays, and personal time.
Furthermore, the company provides a generous 401(k) plan with company match, discount on company stock purchases, family and income protection, in addition to savings and discounts on products, services, travel, and entertainment.
Check out their career page for more information.
Leggett & Platt's contact: careers@leggett.com / +1 417-358-8131
3. Lumeris
Lumeris' office in Missouri is located in Maryland Heights.
Lumeris is a value-based care managed services operator for health systems and providers seeking extraordinary clinical and financial outcomes.
The company aligns providers and payers across populations with technologies, processes, behaviors and information to achieve high-quality, cost-effective care with satisfied consumers and engaged physicians.
Lumeris has many prestigious clients including Essence Healthcare, Independence, Abington Memorial Hospital, ARIA Health, Baptist Health South Florida, Esse Health, and Tandigm Health.
KLAS, a research and insights firm that improves healthcare delivery by independently measuring vendor performance, recognized Lumeris as the top-rated full-service value-based care managed services firm for three times in a row.

Lumeris usually hires in the following roles remotely: Financial Analyst, Senior Technical Analyst, Software Engineer, UI Engineer, Digital Marketing Manager, Senior Director – Analytics Consulting, People Systems Analyst, User Experience Researcher, VP-National Network Expansions, Customer Service Associate, Internal Auditor, Data Warehouse Analyst, etc.
Lumeris offers comprehensive medical, dental and vision coverage including a health savings account with their Consumer Health Plan. Employees also receive company-paid life and accidental death and dismemberment insurance.
In addition to paid vacation time, paid sick time, and paid holidays, you'll also get financial help for courses to build skills, earn degrees, or gain and maintain professional licensing.
Moreover, the company provides company-paid short-term and long-term disability insurance to supplement loss of income due to a disability as well as a 401(k) savings plan with a generous company match.
Lumeris also offers access to employee assistance program that includes no-cost confidential counseling, including legal and financial assistance, day-care, and elder-care referrals.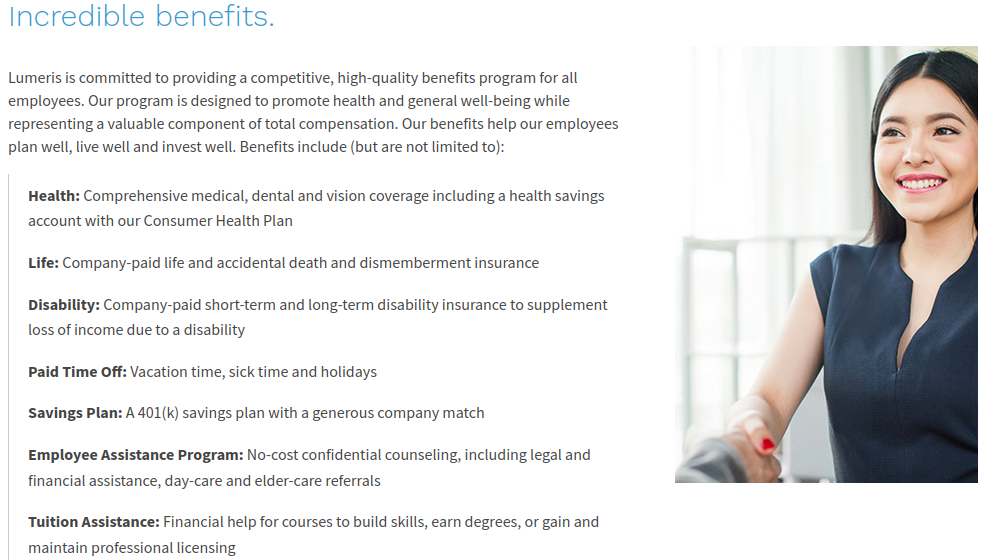 Check out their career page for more information.
Lumeris's contact: info@lumeris.com / +1 888-586-3747
4. Onshore Outsourcing
Onshore Outsourcing's office in Missouri is located in Macon.
Onshore Outsourcing is a market leader in providing rural information technology services and solutions to Fortune 2000 companies.
The company specializes in IT rural sourcing, application maintenance and support, quality assurance testing, business intelligence and data reporting, help and service desk solutions, as well as software development.
Onshore Outsourcing uses a proprietary workforce development model to create sustainable IT careers in small-town America, breathing new life into under-served communities and helping people see beyond their current situation and toward a better way of living.
The company has been awarded with the HDI Team Certified Pinnacle of Excellence Award for 2020, recognizing the company's Knowledge Management Team and Support Center Team Lead Group.
Onshore Outsourcing usually hires in the following roles remotely: Senior Azure Architect, Senior Quality Assurance Test Engineer, Senior Ruby Developer, Software Engineer, Customer Service Representative, .NET Developer, Senior Java Developer, IT Support Analyst, Systems Analyst, Full Stack Developer, etc.
Onshore Outsourcing offers medical, dental, and vision plans along with prescription drug coverage. The company also provides Flexible Spending Accounts (FSA) for medical and dependent care reimbursement.
You'll also receive employer-paid basic life and accidental death & dismemberment insurance as well as access to Employee Assistance Plan (EAP) and WorkLife Services benefits.
Furthermore, employees receive a 401(k) plan with matching contributions, paid time off, accident and critical illness plans, life insurance, long-term disability insurance, nursing mother accommodations, and gym memberships partially paid by Onshore.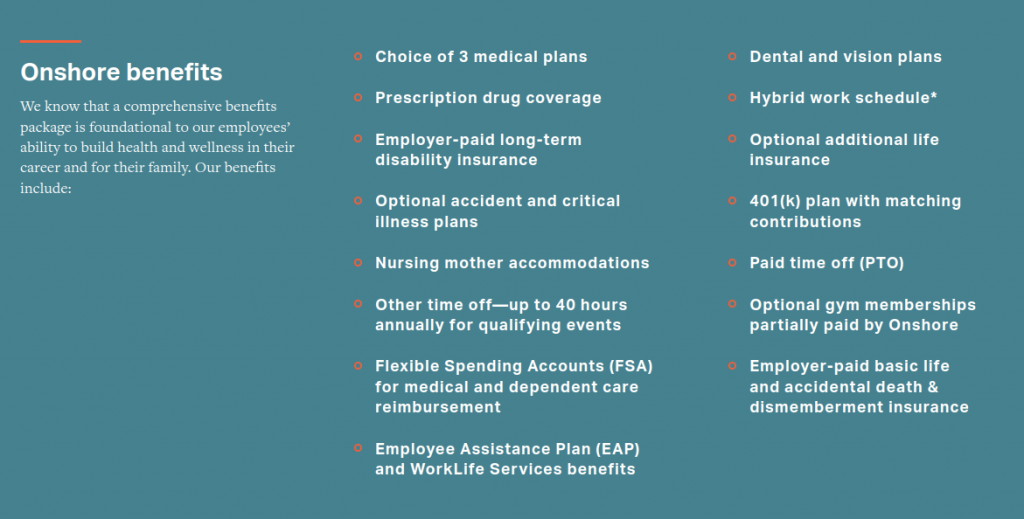 Check out their career page for more information.
Onshore Outsourcing's contact: info@onshoreoutsourcing.com / +1 660-395-4242
5. Washington University
Washington University's office in Missouri is located in St. Louis.
Washington University offers associate, bachelor's, master's, and doctorate degree programs in over 90 fields of study through its seven academic divisions, including Art and Architecture, Arts and Sciences, Social Work and Public Health, Business, Engineering, Law, and Medicine.
The university also conducts more than 3,000 research projects in areas like energy, health, environment security, and economic prosperity to help promote a more optimistic and sustainable future.
In 2022, Washington University was recognized nationally for its institution-wide sustainability efforts and earned a gold STARS certification from the Association for the Advancement of Sustainability in Higher Education (AASHE).
The university also landed in AASHE's top 10 in the category of Diversity & Affordability for the second time in the 2022 Sustainable Campus Index, earning recognition for the many programs and departmental support for notable Diversity, Equity and Inclusion initiatives.
Washington University usually hires in the following roles remotely: Assistant Accountant, Manager Financial Operations, Senior Project Manager, Research Administrator, Certified Coder, Grant Specialist, Financial Analyst, Manager HR & Payroll Services, HR Data Management Coordinator, Statistical Data Analyst, Supervisor Coding, Treasury Analyst, etc.
Washington University provides Employee Assistance Program, paid time off, including holidays, vacation, sick days, and caregiver/parental leave, and Long Term Care (LTC).
Employees also receive family-friendly benefits including adoption benefits and Back-Up Care along with WashU services such as infant nursing rooms, nursery school, University City Children's Center and the Washington University Family Center.
Washington University also offers training courses to enhance your skills, access to LinkedIn Learning modules, management development, administrative professional certificate programs, robust career development resources and tools, including an Individual Development Plan, online learning, and leadership coaching.
Furthermore, you'll also get recognition and appreciation initiatives and additional WashU campus perks such as the Sumers Recreation Center, Edison Theatre, Whittemore House Membership Club, Bear Bucks cashless system for on-and off-campus purchases.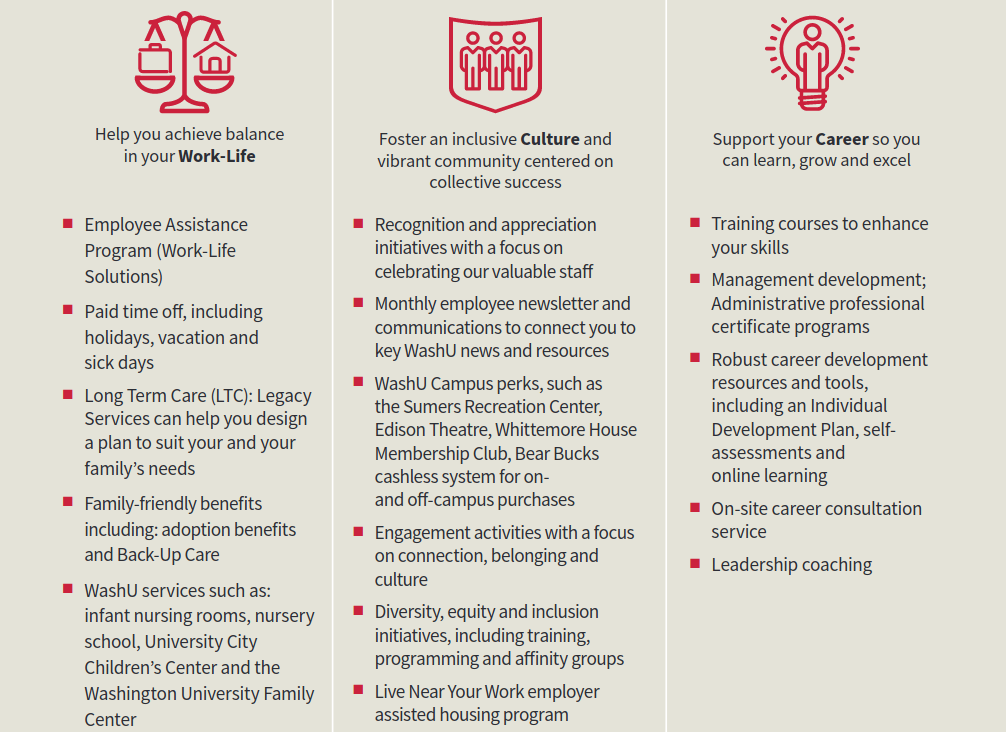 Check out their career page for more information.
Washington University's contact: CandidateQuestions@wustl.edu / +1 314-935-1149
6. Human Agency
Human Agency's office in Missouri is located in St. Louis.
Human Agency offers a full range of services that include research and strategy, digital advertising, creative, website, email, and technology solutions.
The company develops and executes the client's social media blueprint and boost their online presence for a more findable and scalable identity.
Human Agency also designs and develops standout websites for better brand awareness. They bring flexibility and functionality to their client's content management system.
Human Agency has a work-from-anywhere team with employees spanning 11 states and 5 nations.
The company is a member of the Global Startup Studios Network, a highly-curated community of innovative builders that includes notable venture studios such as eFounders, Pioneer Square Labs, and High Alpha.
Human Agency usually hires in the following roles remotely: Group Account Director, Marketing Manager, Media Manager, Entrepreneur in Residence, Chief Executive Officer – Healthtech Startup, Chief Executive Officer, SaaS & Enterprise Software, Software Developer, Ruby on Rails Developer, Administrative Coordinator, Frontend Developer, Communications Manager, Technical Project Manager, etc.
Human Agency offers 100% employee and dependent healthcare coverage, including abortion support for those in restricted states. The company also provides HSA contributions, a 401k with match, a 529 with match, and two FSAs to support your growth and well-being.
In addition, you'll receive unlimited PTO, PTO minimums, paid sabbaticals, paid maternity and paternity leave, as well as 9 paid holidays. Whether it's a sick day, a mental health day, or an international vacation, Human Agency ensures you get the rest you need.
Human Agency will also help you deck out your home office with a new computer, desk, headphones, or other tool to help you feel focused and supported. If working from home isn't working for you, the company will pay for a shared office space to give you the change of scenery you need.
Employees enjoy subsidized continuing education, support for select graduate programs, and annual company retreats. Furthermore, the company helps you maximize and diversify earnings through commissions, revenue and profit sharing.
Check out their career page for more information.
Human Agency's contact: hello@humanagency.com / +1 636-434-2109
7. World Wide Technology
World Wide Technology's office in Missouri is located in Maryland Heights.
World Wide Technology (WWT) combines the power of strategy, execution and partnership to accelerate transformational outcomes for large public and private organizations around the world.
Through its Advanced Technology Center, WWT helps customers and partners conceptualize, test and validate innovative technology solutions for the best business outcomes and then deploys them at scale through its 4 million square feet of global warehousing, distribution and integration space.
WWT clients can work virtually or on-site with its support team to access workshops, demos, proofs, labs, training, and advisory services.
With over 8,000 employees and more than 55 locations around the world, WWT has been recognized 11 years in a row by Fortune and Great Place to Work® for its unique blend of determination, innovation and leadership for diversity and inclusion.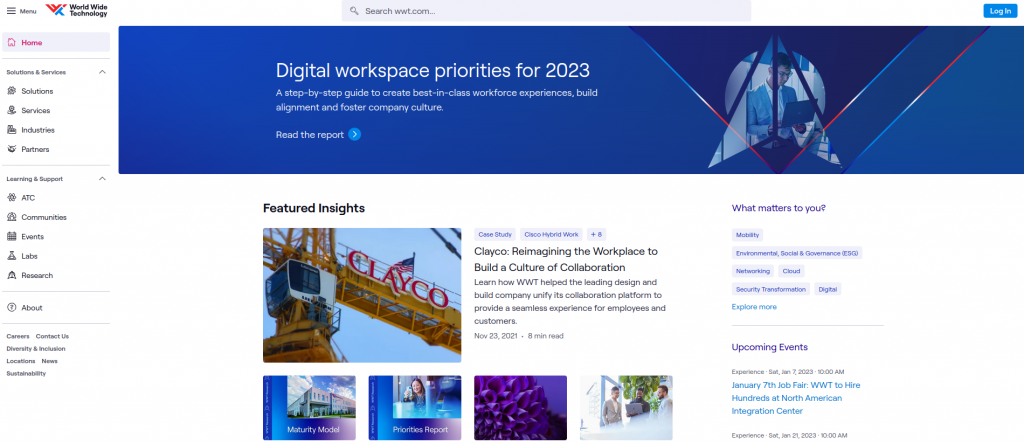 World Wide Technology usually hires in the following roles remotely: Project Coordinator, Enterprise Security Architect, Consulting Sytem Engineer, Senior System Engineer, B2B Integration Developer, Senior Program Manager, .Net Developer, Front-End Developer, Engagement Architect, Data Visualization Analyst, Full-Stack JavaScript Developer, Digital Architect, Cloud Sales Advisor, QA Engineer, etc.
World Wide Technology offers a total rewards package that includes health, dental, and vision care, onsite health centers, employee assistance program, comprehensive wellness program, and gender affirming healthcare.
The company also offers financial benefits such as competitive pay, profit sharing, a 401k plan with company matching, life & disability insurance, as well as tuition reimbursement.
Employees also receive PTO & holidays, parental leave, sick leave, military leave, and bereavement leaves. You'll also receive adoption assistance, fertility benefits, surrogacy, and child care assistance.
In addition, World Wide Technology provides nursing mothers benefits, voluntary legal assistance, pet insurance, and employee discount program.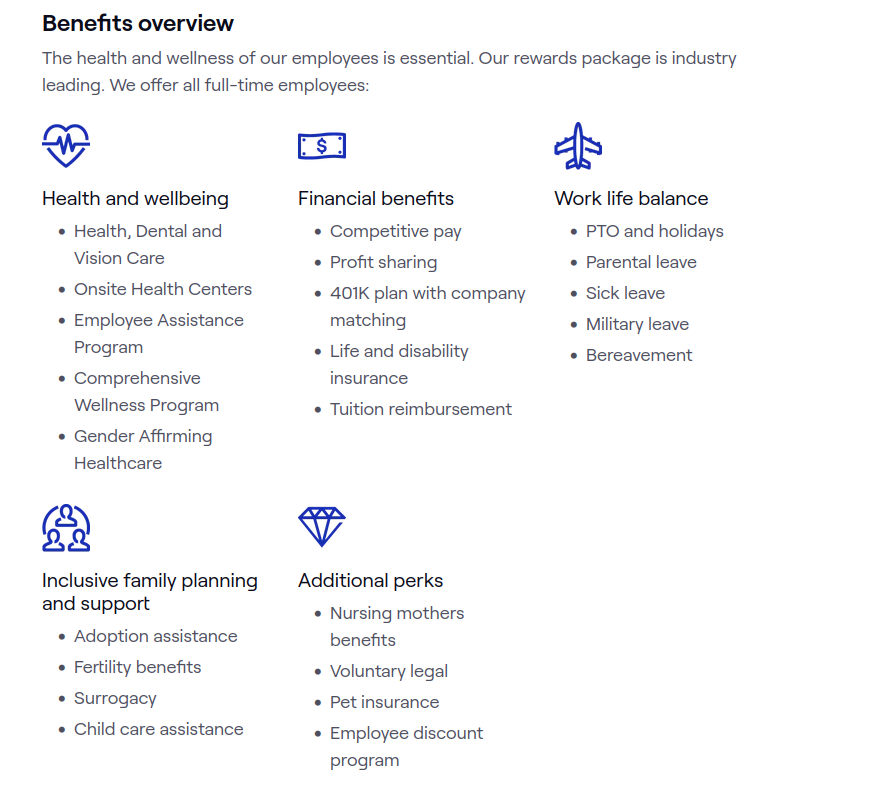 Check out their career page for more information.
World Wide Technology's contact: jobs@wwt.com / +1 618-512-4661
8. Emerson
Emerson's office in Missouri is located in St. Louis.
Emerson is a leading global technology, software and engineering company providing innovative solutions for customers in industrial, commercial, and residential markets.
The company's Automation Solutions business helps process, hybrid and discrete manufacturers maximize production, protect personnel and the environment while optimizing their energy and operating costs.
Emerson's Commercial & Residential Solutions business helps ensure human comfort and health, protect food quality and safety, advance energy efficiency and create sustainable infrastructure.
Emerson is an award-winning employer recognized on CEO magazine's list of the "Best Companies for Leaders", CareerBliss's list of the "50 Happiest Companies in America," and the American Heart Association's list of "Fit-Friendly Companies."
Emerson usually hires in the following roles remotely: Sales Executive, System Sales Account Manager, Senior Agile Software Engineer, Hardware Design Manager, Principal Solution Architect, Global Integrated Marketing Manager, Business Development Manager, Director – Global Product Management, Video Content Creator, Application Engineer, Financial Analyst, World Wide FP&A Manager, etc.
Emerson provides medical insurance plans, dental and vision coverage, 401(k), tuition reimbursement, flexible time-off plans, including paid parental leave, vacation, and holiday leave.
The company invests in their employees to ensure they have the marketplace knowledge, skills, and competencies while competing and leading in a global economy.
Emerson's training programs focus on end-to-end development of its employees, from onboarding through senior leadership.
Check out their career page for more information.
Emerson's contact: +1 314-553-2000
9. UniGroup
UniGroup's office in Missouri is located in Fenton.
UniGroup is a $1.7 billion transportation and relocation services company and is the parent company of transportation and logistics companies United Van Lines, Mayflower Transit, Allegiant Move Management, and Trans Advantage.
The company's mission is to provide a premier customer experience by providing centralized support functions, products and services, purchasing power, and information networks, as well as assist military families by providing a stress-free relocation experience.
In 2018, UniGroup received a Super-Star Award for Environmental Consciousness by Altair Global Relocation.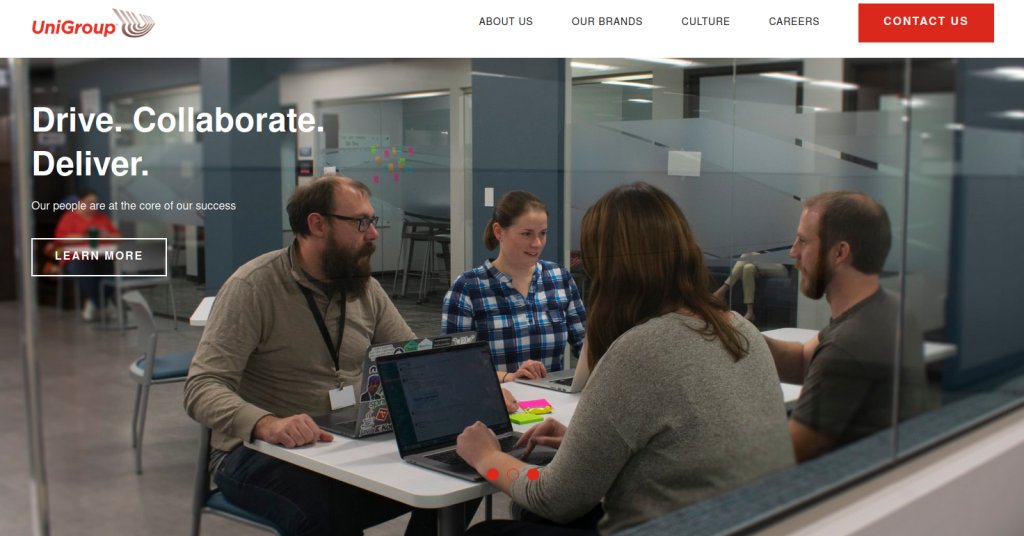 UniGroup usually hires in the following roles remotely: Lead Information Security Analyst, Product Owner, Project Manager, Senior Data Analyst, Senior Software Engineer, Java Full Stack Developer, Javascript Developer, Data Engineer, Application Engineer, Product Design Manager, Digital Marketing Copywriter, UX Designer, etc.
UniGroup provides medical & prescription coverage, dental & vision insurance, life insurance & AD&D, and flexible spending accounts.
The company also offers disability plans, employee assistance program, legal services benefit, a 401(k) plan with company match, and paid time off (PTO) available within first year.
In addition, UniGroup provides numerous online and instructor-led courses to help employees develop technical, business and leadership skills.
Check out their career page for more information.
UniGroup's contact: careers@unigroup.com / +1 636-305-5000
10. Ascension
Ascension's office in Missouri is located in St. Louis.
Ascension is one of the nation's leading non-profit and Catholic health systems, with a Mission of delivering compassionate, personalized care to all with special attention to persons living in poverty and those most vulnerable.
In FY2022, Ascension provided $2.3 billion in care of persons living in poverty and other community benefit programs. Ascension includes approximately 139,000 associates and 36,000 aligned providers and operates more than 2,600 sites of care – including 139 hospitals in 19 states.
For years, Ascension has earned numerous awards for its person and family engagement efforts at the Professional Research Consultants Awards ceremony, including the President's award in 2018.
Ascension usually hires in the following roles remotely: EPIC Architect, Data Engineer, Cloud native Platforms Manager, Technology Architect, Senior Software Engineer, Program Coordinator, Project Manager, Digital Workplace Solutions Engineering Manager, Data Development Engineer, React Native Developer, Clinical Data Analyst, Software Developer in Test, Compliance Auditor, etc.
Ascension offers 12 days of paid time off in addition to 8 paid holidays per year. Your medical insurance premium is based on your annual base pay to ensure you have access to affordable care.
Ascension also offers a health savings account (HSA) and flexible spending account (FSA) to save on out-of-pocket medical costs. If you enroll in an HSA, Ascension contributes too.
Furthermore, the company provides pet insurance, auto and home insurance discounts, legal services, retail discounts and eligible transportation tax breaks.
In addition to paid parental leaves, you'll get dependent care FSA, that will help you make pre-tax dollars to help pay for daycare, nursery school, preschool, after-school, senior day care, and more for your eligible dependents.
As an employee, you'll also have free access to professional development resources such as career coaching, tuition reimbursement, online learning modules and leadership programs.
Furthermore, Ascension offers disability, life and accidental death and dismemberment (AD&D) insurance at no cost to you. You'll also have the option to purchase additional coverage, including child and spouse life insurance.
Check out their career page for more information.
Ascension's contact: +1 314-733-8000 / +1 855-288-6747
Final Thoughts On Remote Jobs In Missouri
I hope this list of companies with remote jobs in Missouri, USA helps you land your next remote job.
Do you want access to 30,000+ more remote and flexible jobs? Click here.
I believe during remote interviews, we struggle more in answering the behavior questions properly and showcasing our soft skills. Candidates usually overlook this but preparing for behavioral rounds is very crucial.
You'll find a lot of YouTube videos on this topic. I would also recommend this course by Bob Firestone which has over 177 example answers that work for competency-based, KSA, situational, structured, and behavioral interviews.
Make sure you send a cover letter along with your resume when applying for remote jobs. Simply sending a CV and hoping to get a call back is really not a great way to show the company that you are interested in their job.
You can download the resume and cover letter templates that helped me get my first remote job by going HERE.
And never forget to use the free Chrome plugin, Grammarly, while writing your resumes, emails, and cover letters. This would highlight any silly grammatical mistakes and save you from possible embarrassment as a job seeker.
Have you joined as a remote employee for any of the listed companies? How was your experience? Do let us know in the comments.
If you find this article helpful, kindly share it with your friends. You may also Pin the above image on your Pinterest account. Thanks!
---
Did you enjoy this article?
---
Abhigyan Mahanta
Hi! I'm Abhigyan, a passionate remote web developer and writer with a love for all things digital. My journey as a remote worker has led me to explore the dynamic landscape of remote companies. Through my writing, I share insights and tips on how remote teams can thrive and stay connected, drawing from my own experiences and industry best practices. Additionally, I'm a dedicated advocate for those venturing into the world of affiliate marketing. I specialize in creating beginner-friendly guides and helping newbie affiliates navigate this exciting online realm.
---
If you're a teacher searching for remote English tutor jobs, then you would certainly benefit…