These are the top remote companies offering remote jobs in Colorado, USA.
Sometimes, the companies offering remote jobs in Colorado, USA do not publicly advertise all the remote job roles that they are hiring for.
So, if you don't see your preferred role listed with the remote companies, you can email the company and ask if they are also hiring remotely in your preferred department.
[ Note: Some of these companies keep changing the links to their career page. As of now, all links are working correctly. If you encounter a 404 error, kindly let me know in the comments and I'll update them ASAP. Thanks! ]
Disclosure: Please note that some of the links below are affiliate links and at no additional cost to you, I'll earn a commission. Know that I only recommend products and services I've personally used and stand behind.
Prefer watching a video instead?
Remote Jobs Colorado, USA Video:
1. TTEC
TTEC's office in Colorado is located in Englewood.
TTEC is a leading global customer experience (CX) technology and services innovator for end-to-end, digital CX solutions. The company delivers leading CX technology and operational CX orchestration at scale through its proprietary cloud-based CXaaS (Customer Experience-as-a-Service) platform.
Leveraging next-gen digital and cognitive technology, the Company's Digital business designs, builds, and operates omnichannel contact center technology, conversational messaging, CRM, automation (AI / ML and RPA), and analytics solutions.
TTEC was ranked among the best employers by Comparably in 2021. The company was included in InHerSight's list of 'The 50 Best Places to Work' and has been certified as a Great Place to Work® after a thorough, independent analysis conducted by Great Place to Work Institute®, Canada.
TTEC usually hires in the following roles remotely: Revenue Accountant, Customer Service Representative, Senior Information Security Engineer, Enterprise Architect, Sales Executive, Senior Financial Analyst, Graphic Designer, Quality Assurance Analyst, Administration Associate Analyst, Talent Acquisition Specialist, Senior Data Scientist, Chatbot Solutions Architect, Senior Automation Developer, AWS Developer, etc.
TTEC offers dental, vision, and health insurance along with a 401k retirement plan with a company match. In addition to flexible working schedules, employees also receive performance bonuses, tuition reimbursement, and employee discounts.
TTEC also provides flexible spending accounts & health saving accounts, long-term & short-term disability insurance, pet insurance, paid time off, parental leave, financial & income protection benefits, and employee assistance programs.
Check out their career page for more information.
TTEC's contact: +1 866-796-5485 / jobopportunities@ttec.com
2. JumpCloud
JumpCloud's office in Colorado is located in Boulder.
JumpCloud is a software company that has created a Directory-as-a-Service (DaaS) platform that simplifies and centralizes identity management, flexible administration, and access control.
The company's mission is to Make Work Happen, providing simple, secure access to corporate technology resources from any device, or any location.
The JumpCloud Directory Platform gives IT, security operations, and DevOps a single,cloud-based solution to control and manage employee identities, their devices, and apply Zero Trust principles.
JumpCloud has a global user base of more than 150,000 organizations, with more than 5,000 paying customers including Cars.com, GoFundMe, Grab, ClassPass, Uplight, Beyond Finance, and Foursquare.
JumpCloud has received the G2's 2022 Best Software awards in the categories of Best Software Products, Fastest Growing Products, Global Sellers, Highest Satisfaction Products, and Security Products.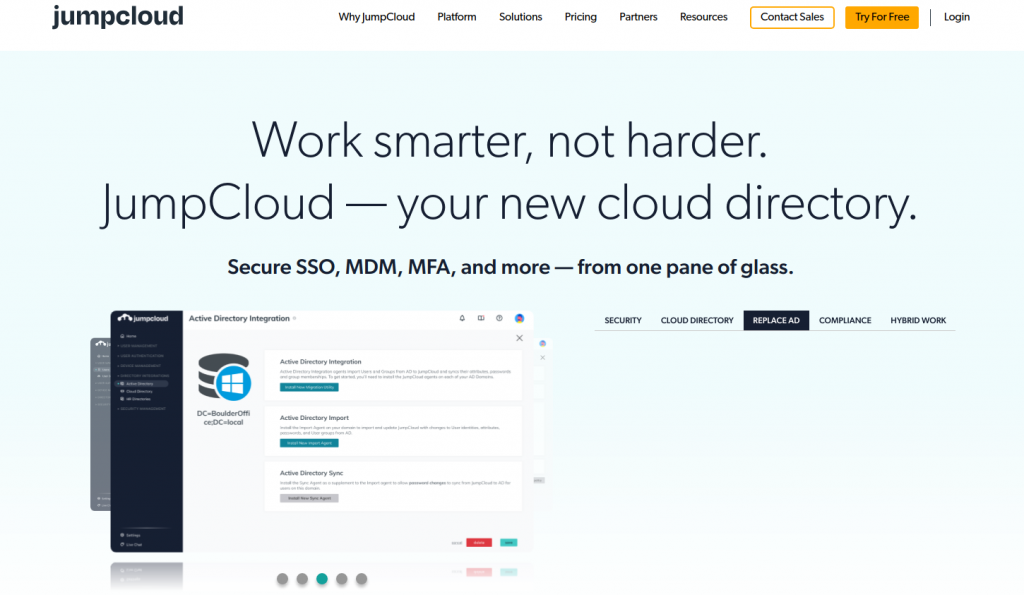 JumpCloud usually hires in the following roles remotely: NetSuite Analyst, Senior Salesforce Developer, Customer Support Engineer, Manager – Data Architecture, Release Training Specialist, Engineering Manager, Principal Software Engineer, Senior Platform Engineer, Senior Site Reliability Engineer, Solutions Engineer, Senior Financial Analyst, IT Support Specialist, Senior HR Business Partner, Product Designer, Senior Security Engineer, etc.
JumpCloud is a fully remote-friendly organization and has an unlimited time-off policy. The company provides a comprehensive benefits package, with several medical plans to choose from including a high deductible HSA plan with employer contribution.
You'll also receive dental plans, vision insurance, flexible spending account (FSA), employee assistance program (EAP), short-term & long-term disability, life insurance, and a 401k savings plan with match.
Check out their career page for more information.
JumpCloud's contact: +1 720-240-5005 / info@jumpcloud.com
3. Optiv
Optiv's office in Colorado is located in Denver.
Optiv is a cyber advisory and solutions leader that delivers strategic and technical expertise to more than 7,000 companies across every major industry.
The company's end-to-end cybersecurity capabilities span risk management and transformation, cyber digital transformation, threat management, cyber operations, identity & data management, as well as integration and innovation.
Optiv has been named a Microsoft Security 20/20 award winner for the Security System Integrator of the Year category for its demonstrated excellence in innovation, integration, and customer implementation with Microsoft technology.
Optiv usually hires in the following roles remotely: Senior Compensation Analyst, Talent Acquisition Partner, Integration Software Engineer, IT Operations Architect, Corporate Project Manager, Project Operations Analyst, Enablement Manager, Principal SIEM Engineer, Senior Threat Analyst, Cloud Security Architect, Consultant – On Call Data Engineer, Technical Product Manager, Cyber Security Client Success Manager, etc.
Optiv pays 100% of these benefits: basic life, AD&D, short-term disability, long-term disability, health advocate/employee assistance program (EAP), business travel insurance.
The company offers medical, dental, and vision insurance along with Flexible Spending Account (FSA), Health Savings Account (HSA) with Optiv contribution, and voluntary life and AD&D insurance.
You'll also receive accident, critical illness, and hospital indemnity benefits in addition to identity theft protection and pre-tax commuter benefits.
Optiv will also match 50% of your employee deferral contribution, up to six percent, and all employer matching contributions are immediately vested.
Additionally, the company offers "Recharge", a flexible, time-off program that encourages eligible employees to take the time they need to recharge as well as 9 paid holidays annually.
To support your professional growth, Optiv provides in-person and remote courses that focus on your professional development. And yes, you'll also get tuition reimbursement, certifications, and vendor training
Check out their career page for more information.
Optiv's contact: +1 888-727-9105 / HumanResources@optiv.com
4. Quantum Metric
Quantum Metric's office in Colorado is located in Colorado Springs.
Quantum Metric is a Continuous Product Design Platform that helps businesses identify and quantify the cost of bad customer experience.
The Quantum Metric platform empowers a customer-centric culture, using quantified empathy to align business and technical teams to effectively prioritize customers' needs based on business impact.
The company has worked with some of the world's leading Fortune 500 companies, including 1-800-Contacts, LegalZoom, American Girl, eHarmony, Asics, Western Union, Advanced Auto Parts, Hot Wheels, and Virgin America.
Quantum Metric has earned recognition for its revenue growth and product innovation from Deloitte (Top 100 fastest growing companies), CNBC (Upstart 100 most innovative companies), Gartner (Cool Vendor), and Ernst & Young (Entrepreneur of the Year)
Quantum Metric usually hires in the following roles remotely: Senior Product Manager, Software Engineering Manager, Cloud Operations Policy, Business Continuity & Compliance Manager, Director of Sales Development, Solutions & Value Consulting Manager, Demand Marketing Specialist, Solutions Engineering Manager, Front End Software Engineer, Data & Cloud Ops Engineer, Android Developer, Software Quality Engineer, etc.
Quantum Metric provides medical, dental, and vision insurance with 99% of the medical base plan paid by the company. In addition, the company has several wellness initiatives to encourage work-life balance, a flexible work environment, and holistic health.
Quantum Metric also offers the newest MacBook Pro and a one-time work from home stipend to upgrade your workspace. Moreover, the company offers a monthly stipend to cover cell phone and internet costs.
You'll also receive generous parental leaves, unlimited PTO, 11 company holidays, 3 weeks of accrued vacation per year, a 3% 401(k) matching program to invest in your future, and ample opportunities for you to grow personally as well as advance your career at Quantum Metric.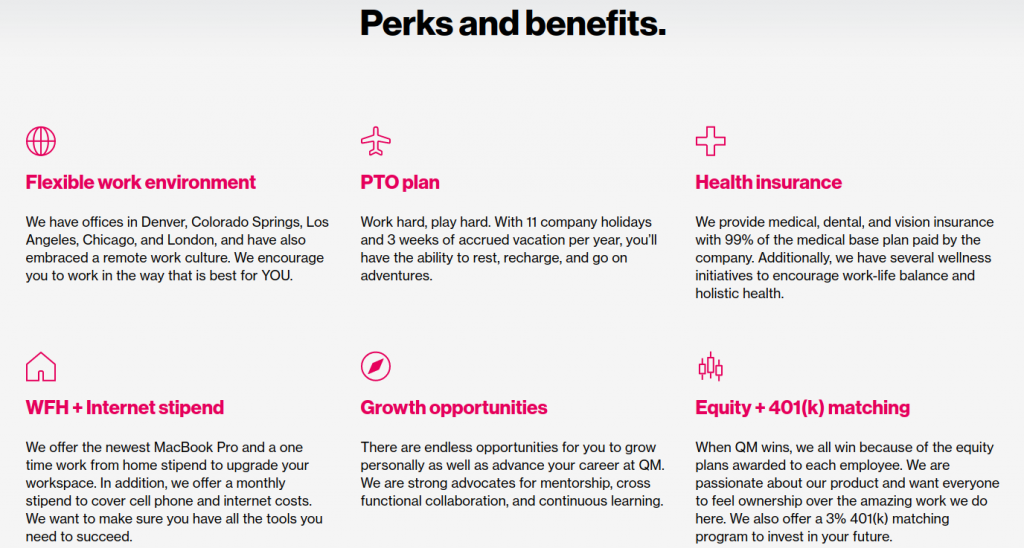 Check out their career page for more information.
Quantum Metric's contact: +1 719-345-2400 / info@quantummetric.com
5. TeamSnap
TeamSnap's office in Colorado is located in Boulder.
TeamSnap is a cloud-based team management software for parents, coaches, team managers, and group organizers. TeamSnap helps users manage team members and communication within teams.
The company offers coaches and players a remedy to the painstaking process of tracking players, games, and team payments by offering a web-based application that does all work for them.
With TeamSnap, team managers can remotely schedule events and set event descriptions such as arrival times, locations, and opponents. Team members can also sync event details with third-party personal calendars like Apple's Calendar, Microsoft Outlook, or Google Calendar for real-time updates.
TeamSnap is a remote-first company and has rightfully earned a place in the Outside Magazine's list of "Best Places to Work " and Built In's "100 Best Remote-First Places to Work".
TeamSnap usually hires in the following roles remotely: Advertising Operations Trafficker, Engineering Manager – Brands & Members Team, Senior iOS Software Engineer, Staff Software Engineer – Full Stack, Senior Software Development Engineer in Test, Senior Product Designer, Content Marketing Manager, Senior Quality Assurance Engineer, Senior Accountant, Senior Site Reliability Engineer, Customer Success Specialist, etc.
TeamSnap offers 100% premium coverage of medical/dental/vision for you and your family along with a $1,500 annual learning and development stipend.
Employees receive unlimited PTO and 8 weeks of paid parental leave for all parents (not just primary or secondary). You'll also receive a generous home office allowance to set you up for success as well as a 401K plan to help you invest for the future.
The company also provides 10 days of paid sick leave, 13 paid holidays, term life insurance, AD&D insurance, short-term & long-term disability insurance, hospital indemnity insurance, and legal services.
Additionally, you'll receive a $50/month wellness allowance for a gym membership, yoga classes, or anything else that gets you moving as well as the opportunity to travel to fun locations for all-company meetings and team events.
Check out their career page for more information.
TeamSnap's contact: +1 720-496-1056 / policies@teamsnap.com
6. Ibotta
Ibotta's office in Colorado is located in Denver.
Ibotta is a free cashback rewards and payments app that gives you real cash for everyday purchases when you shop and pay through the app.
Ibotta provides thousands of ways for consumers to earn cash on their purchases by partnering with more than 1,500 brands and retailers.
The company has received widespread recognition for its innovative use of interactive and mobile technology from leading media outlets, such as ABC News and Good Morning America.
Ibotta has paid out over $1 billion in cash rewards to more than 35 million users since its founding in 2012.
Ibotta usually hires in the following roles remotely: Full Stack Engineer, Senior Marketing Associate, Senior Account Executive, Strategic Project Manager, Sales Operations Analyst, Senior Business Recruiter, Senior Technical Sourcer, Staff Machine Learning Engineer, Data Engineer, Instructional Designer, Partnership Development Associate, Senior Platform Engineer, Software Engineering Manager, Staff Security Engineer, etc.
Ibotta offers multiple health insurance and dental plans for employees to choose from to best fit their medical needs. Employees can contribute up to $2750 annually to their Flexible Spending Account.
A Lifestyle Spending Account is available for employees to receive reimbursement for a variety of wellness programs they can choose from independently. Moreover, employees can access mental health services through an Employee Assistance Program.
Ibotta also offers employees professional development opportunities like bi-weekly training sessions, manager boot camp, panel events, hackathons, team training, and more. The company provides a budget for paid industry certifications based on an individual's professional goals and development.
You'll receive a 401(k) plan in which Ibotta will match 100% of contributions up to 3% of your annual gross pay. As a full-time employee, you'll also be eligible for stock options and participate in Ibotta's Profit Sharing program.
Ibotta employees receive a minimum of 20 days per year of paid time off and 8 hours per year of paid volunteer time.
Additionally, Ibotta offers family medical leave, generous parental leave, life insurance, disability insurance, pet insurance, vision benefits, and up to $150 per month for reimbursement for applicable fitness and wellness expenses.
Check out their career page for more information.
Ibotta's contact: +1 303-593-1633 / inquiries@ibotta.com
7. Granicus
Granicus' office in Colorado is located in Denver.
Granicus provides technology and services that empower government organizations to create seamless digital experiences for the people they serve.
By offering the industry's leading cloud-based solutions for communications, content management, meeting and agenda management, and digital services to over 4,000 public sector organizations, Granicus helps turn government missions into quantifiable realities.
Used by more than 200 million citizen subscribers, Granicus also specializes in services like cloud computing, streaming media, webcasting, communications, and government transparency.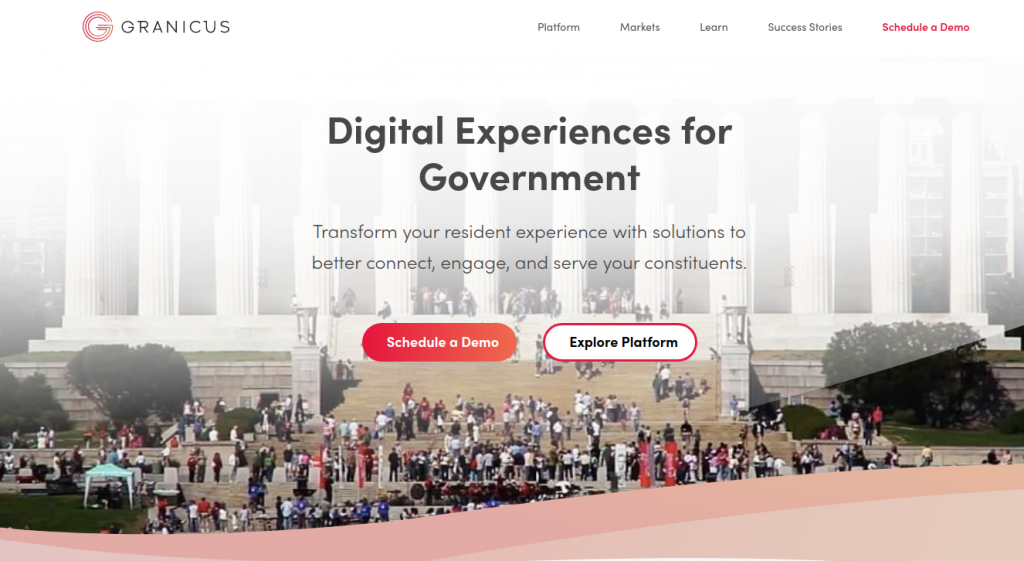 Granicus usually hires in the following roles remotely: Associate Product Designer, Associate Product Manager, Technical Services Consultant, BDR Manager, Business Operations Specialist, Business Systems Analyst, Contracts Specialist, Customer Success Operations Manager, Desktop Services Manager, DevOps Engineer, Digital Strategist, Graphic Designer, Implementation Consultant, Quality Assurance Engineer, Web Developer, etc.
Granicus provides medical (includes an option that is paid 100% by Granicus), dental, and vision insurance.
The company offers flexible time off that's not limited by accruals and a 401(k) plan with a matching contribution.
You'll also receive tuition & training reimbursement, paid parental leave, employer-paid short and long-term disability insurance, group term life insurance, AD&D insurance, and group legal coverage.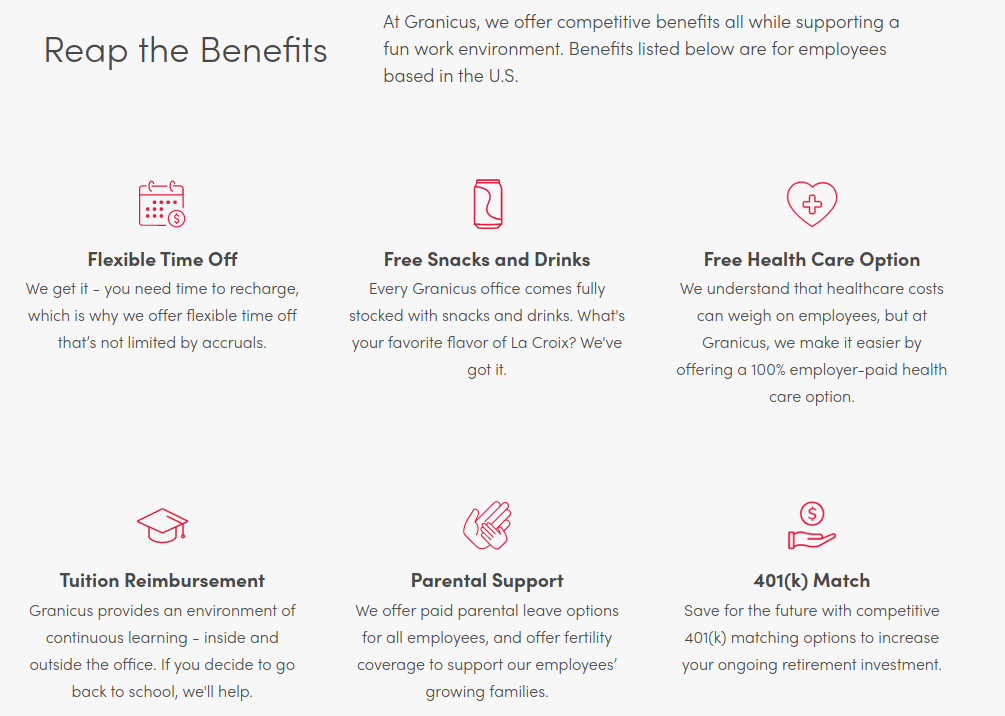 Check out their career page for more information.
Granicus' contact: +1 800-314-0147 / support@granicus.com
8. EverCommerce
EverCommerce's office in Colorado is located in Denver.
EverCommerce is a leading service commerce platform, providing top marketing, business management, and customer retention solutions to more than 400,000 service businesses across the globe.
The company provides mission-critical marketing, business management, and customer experience software solutions that accelerate growth, streamline operations, and increase retention.
Its digital and mobile software & payment solutions create predictable, informed, and convenient experiences between customers and their service providers.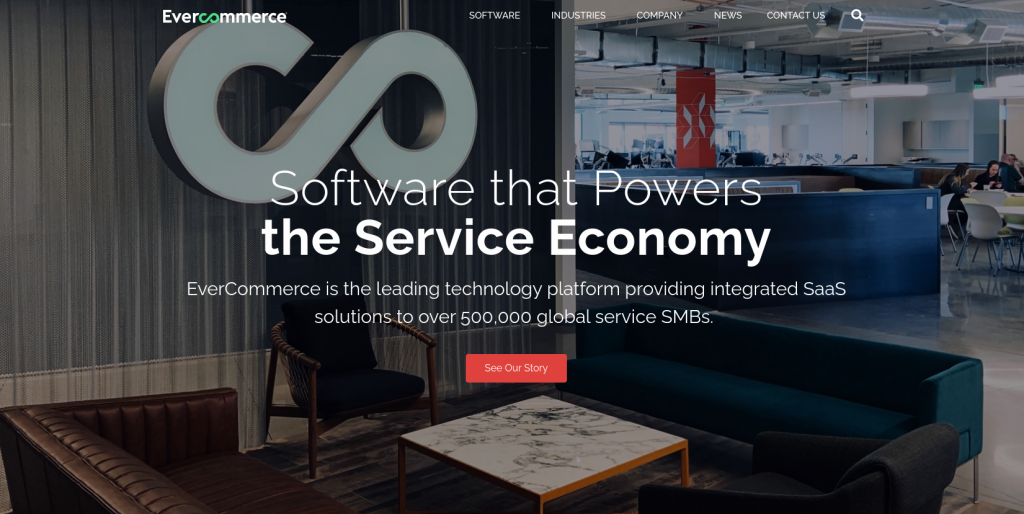 EverCommerce usually hires in the following roles remotely: Paid Search Analyst, Corporate Recruiter, Senior Cloud Engineer, Global Marketing Director, Accounts Payable Specialist, Accounting Manager, Analytics Manager, Software Engineer, QA Automation Engineer, IT Systems Engineer, Marketing Manager, SEO Strategist, Senior Salesforce Administrator, Sales Operations Director, Software Engineer, etc.
EverCommerce provides robust medical, dental, and vision benefits to you and your family based on location and eligibility along with additional resources such as telemedicine and virtual visits.
Through their Employee Assistance Program, you can receive free access to 24/7 services such as confidential emotional support, legal guidance, work-life solutions, help for new parents, and financial resources.
All full-time employees can earn 17 days of paid days off in their first year of employment. In addition to 11 company holidays off, you get two additional floating holidays to use however you please.
In addition to Employee Stock Purchase Program and Student Loan Repayment Program, EverCommerce offers a 401k plan with up to a 4% match and 8 hours of paid volunteer time.
Furthermore, you'll receive a monthly reimbursement towards your favorite yoga studio, rock climbing gym, or ski pass, as well as monthly workshops for your continuous professional & personal growth.
Check out their career page for more information.
EverCommerce's contact: +1 720-647-4948 / dpo@evercommerce.com
9. Automox
Automox's office in Colorado is located in Boulder.
Automox is the cloud-native IT operations platform for modern organizations that make it easy to keep every endpoint automatically configured, patched, and secured – anywhere in the world.
The company consolidates IT operations into a single console that offers the visibility, automation, and control that IT teams need to effortlessly advance operations at scale, streamline IT workflows, and minimize risk and exposure.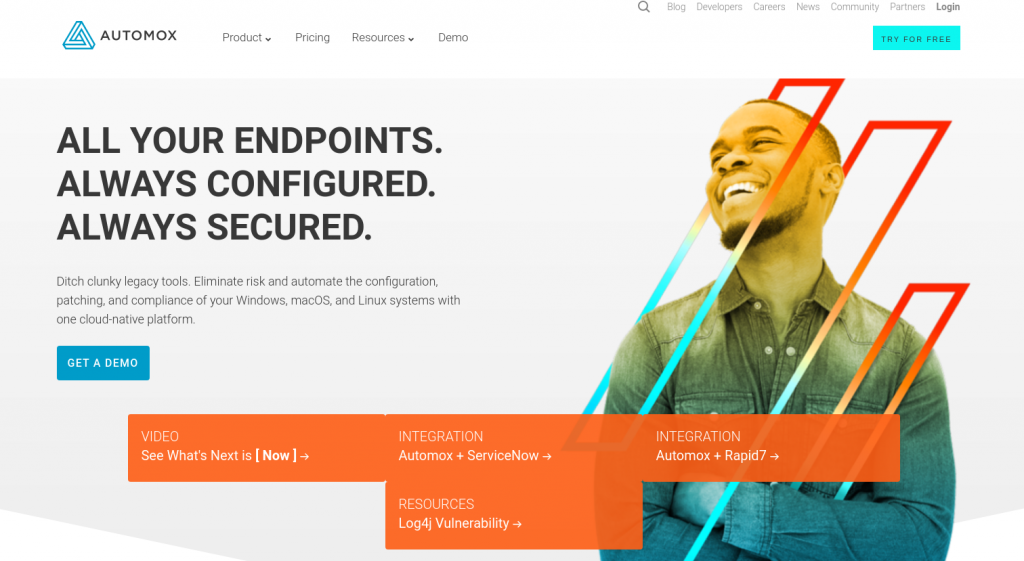 Automox usually hires in the following roles remotely: Account Manager, Business Development Representative, Channel Account Manager, Commercial Account Executive, Commissions Analyst, Director of Program Management, Full Stack Engineer, HR Business Partner, IT Cloud Engineer, IT Helpdesk Technician, Salesforce Administrator, Customer Marketing Manager, Solutions Engineer, etc.
Automox offers a 100% remote working culture and provides comprehensive family planning, generous primary and secondary parental leave, and financial support for families growing through adoption.
Automox also offers 100% company-paid short-term & long-term disability and life insurance as well as $100-$150-$200 per month HSA contribution based on tier.
Employees also receive equity, unlimited PTO, a generous sick time policy, and $20 a month to connect virtually with colleagues.
The company also provides a $50/month Lifestyle Spending Account, $50/month internet reimbursement, $750 home office stipend, $10k adoption benefit, comprehensive family planning covered on Cigna Medical Plan, and up to 12 weeks paid leave for new parents.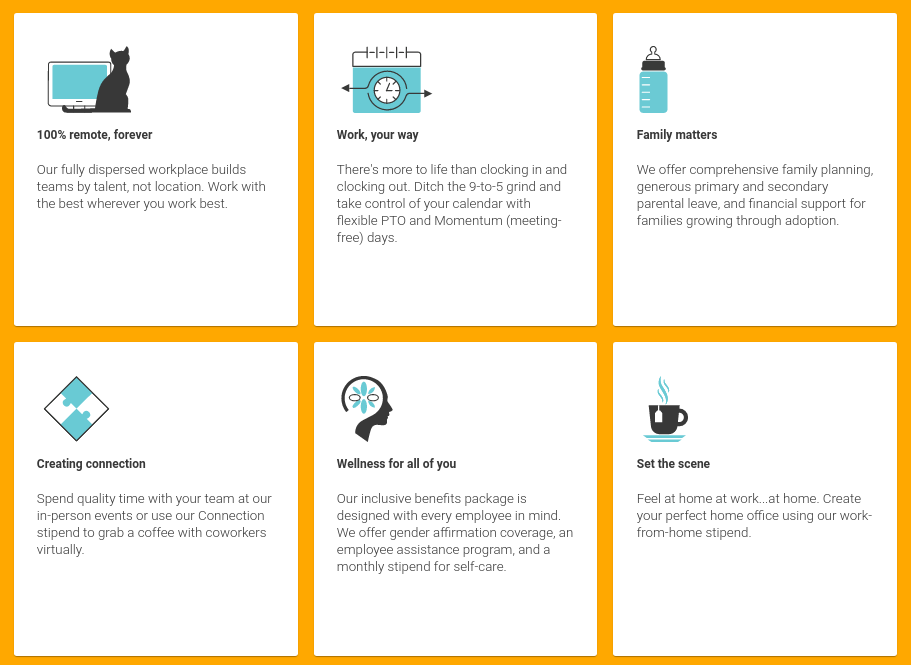 Check out their career page for more information.
Automox's contact: +1 720-334-8473 / info@automox.com
10. Maxar
Maxar's office in Colorado is located in Westminster.
Maxar provides advanced space technology solutions, such as analytics, Earth imagery, geospatial data, and satellites for clients in commercial and government markets worldwide.
The company's ground-based information systems solutions include earth observation ground systems, defense information systems, airborne surveillance systems, transportation management systems, and e-government systems.
Maxar has been voted Top Workplaces for three years in a row by Radiant Solutions and has been listed by Arlington Magazine as one of its 2021 Best Places to Work.

Maxar usually hires in the following roles remotely: Senior Software Developer, Project Manager, Director of Engineering Transformation, Systems Engineer, Product Quality & Analytics Director, Financial Analyst, Flight Software Test Manager, Senior Systems Engineer – Guidance, Navigation & Control, Mission Architect, R&D Scientist, Senior Database Administrator, VP of Enterprise Growth, etc.
Maxar offers a comprehensive compensation and benefits package including a competitive salary, choice of medical plans, dental, life, and disability insurance as well as a 401(K) plan with company match, paid holidays, and a generous time-off policy.
The company also provides tuition reimbursement, student loan repayment, various professional development opportunities, fitness and wellness discounts, pet insurance, legal insurance, Employee Stock Purchase Plan, and adoption reimbursement.
You'll also receive an equipment stipend (desks, chairs, technology for remote working environments), dedicated COVID-19 employee resources and guidelines, including mental health, as well as quick guides for testing, medical leave, and financial relief.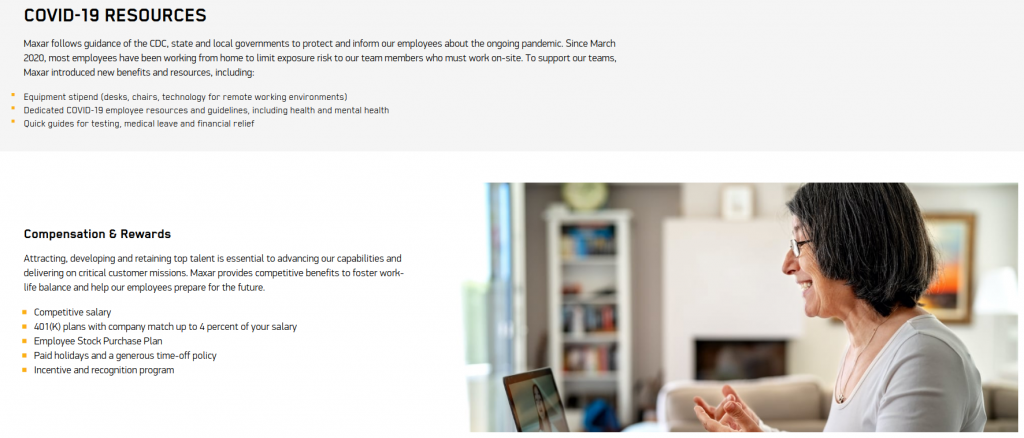 Check out their career page for more information.
Maxar's contact: careers@maxar.com / talentacquisition@maxar.com
Final Thoughts On Remote Jobs In Colorado
I hope this list of companies with remote jobs in Colorado, USA helps you land your next remote job.
Do you want access to 30,000+ more remote and flexible jobs? Click here.
I believe during remote interviews, we struggle more in answering the behavior questions properly and showcasing our soft skills. Candidates usually overlook this but preparing for behavioral rounds is very crucial.
You'll find a lot of Youtube videos on this topic. I would also recommend this course by Bob Firestone that has over 177 example answers that work for competency-based, KSA, situational, structured, and behavioral interviews.
Make sure you send a cover letter along with your resume when applying for remote jobs. Simply sending a CV and hoping to get a call back is really not a great way to show the company that you are interested in their job.
You can download the resume and cover letter templates that helped me get my first remote job by going HERE.
And never forget to use the free Chrome plugin, Grammarly, while writing your resumes, emails, and cover letters. This would highlight any silly grammatical mistakes and save you from possible embarrassment as a job seeker.
Have you joined as a remote employee for any of the listed companies? How was your experience? Do let us know in the comments.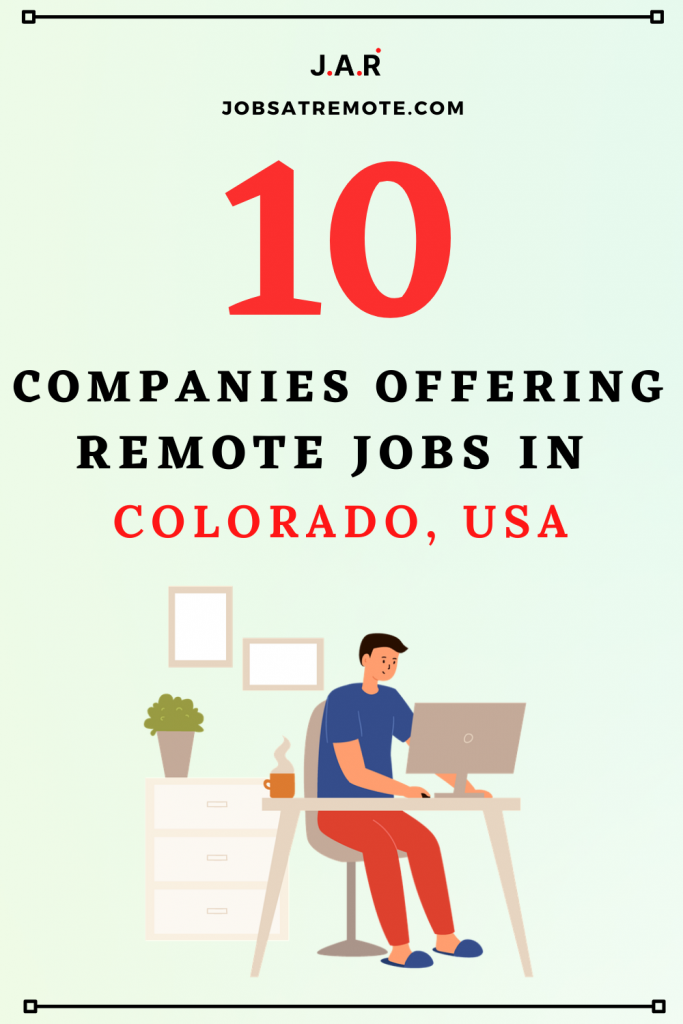 If you find this article helpful, kindly share it with your friends. You may also Pin the above image on your Pinterest account. Thanks!
---
Did you enjoy this article?
---
Abhigyan Mahanta
Hi! I'm Abhigyan, a passionate remote web developer and writer with a love for all things digital. My journey as a remote worker has led me to explore the dynamic landscape of remote companies. Through my writing, I share insights and tips on how remote teams can thrive and stay connected, drawing from my own experiences and industry best practices. Additionally, I'm a dedicated advocate for those venturing into the world of affiliate marketing. I specialize in creating beginner-friendly guides and helping newbie affiliates navigate this exciting online realm.
---
If you're a teacher searching for remote English tutor jobs, then you would certainly benefit…