These are the top remote companies offering remote jobs in New York, USA.
Sometimes, the companies offering remote jobs in New York, USA do not publicly advertise all the remote job roles that they are hiring for.
So, if you don't see your preferred role listed with the remote companies, you can email the company and ask if they are also hiring remotely in your preferred department.
[ Note: Some of these companies keep changing the links to their career page. As of now, all links are working correctly. If you encounter a 404 error, kindly let me know in the comments and I'll update them ASAP. Thanks! ]
Disclosure: Please note that some of the links below are affiliate links and at no additional cost to you, I'll earn a commission. Know that I only recommend products and services I've personally used and stand behind.
1. Stash
Stash's office in NY is located in New York.
Stash is an American financial technology and financial services company that makes investing easy and affordable for millions of Americans. The company's mission is to empower next-generation investors and provide financial opportunities to all.
Stash focuses its services on micro-investing or investing in small increments and its app is available on iOS and Android devices. After joining, users are supported with ongoing guidance and education to teach them how to be autonomous investors and lead better financial lives.
Stash has been listed in BuiltIn's Best Places to Work (2019, 2020, 2021), Forbes Fintech 50 (2019, 2020, 2021), and NYC Companies with the Best Benefits 2021. The company has also been awarded as one of the 'NYC Best Midsize Companies to Work For 2021'.
Stash usually hires in the following roles remotely: Brand Motion Designer, Creative Project Coordinator, Manager – External Communications, Android Engineer, Backend Engineer, Data Engineer, DevOps Engineer, Full Stack Engineer, iOS Engineer, IT Operations Engineer, Machine Learning Engineer, Site Reliability Engineer, SEO Specialist, Associate – Growth Marketing, Recruiter – Tech & Product, Product Designer, etc.
Stash offers medical, dental, and vision insurance as well as equity & Stash Accounts (Invest, Retire, Custodial, Bank). You'll also receive a learning & development fund and flexible paid time off.
The company also provides paid parental leave (primary & secondary), work from home stipends, gym reimbursement, One Medical membership, referral bonuses, as well as 401k retirement plans.
Check out their career page for more information.
Stash's contact: recruiting@stash.com / +1 800-205-5164
2. Tinuiti
Tinuiti's office in NY is located in New York.
Tinuiti is the largest independent performance marketing firm across Google, Facebook, and Amazon, with nearly $3 billion in digital media under management and over 950 employees.
With industry-leading expertise in search, social, Amazon and marketplaces, addressable TV and mobile apps, CRM, and email marketing, Tinuiti understands that success requires both strategy and channel expertise.
During the pandemic, Tinuiti did not lay off or furlough a single employee. In fact, the company achieved an employee retention rate of 84%, which is virtually unheard of in the marketing industry.
Tinuiti has won several prestigious industry awards and accolades for both culture and performance, including recognition as #1 on Ad Age's Best Places to Work for two consecutive years, Inc. Magazine's 2021 Annual List Of Best Workplaces, and taking home 11 Stevie Business Awards – including the Grand Stevie Award for Most Honored Marketing Agency.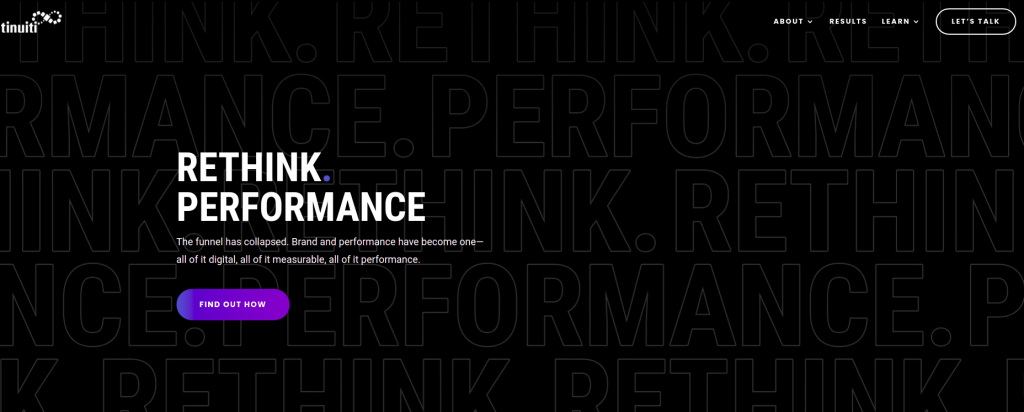 Tinuiti usually hires in the following roles remotely: Associate Digital Analyst, Associate Director – Analytics, Digital Analyst, Manager – Insights & Analytics, Technical Analyst, Coordinator – Client Strategy, Copywriter, Motion Graphic Designer, Strategist – CRM & Email, Email Specialist – Growth Media, Product Design Lead, QA Engineer, Software Engineer, Solutions Architect, Data Operations Analyst, Senior Manager – Paid Search, etc.
Tinuiti lets you choose whether you want to work fully remote or work from their office. If you choose remote, the company will get you everything you need to work comfortably from home.
As per employee reviews, there is no micromanagement and employees enjoy a ton of flexibility as long as the work gets done and they're transparent with their teams.
You get 14 paid holidays plus the freedom to take time for a vacation or to rest and recharge. There are no "counting days" and "running out of PTO". As long as you meet your performance goals, you decide when and how often to take time off.
The company offers health, dental, and vision insurance with FSA & HSA options. You'll receive 16 weeks of leave with 100% pay for primary caregivers (6 weeks for partners).
Tinuiti takes the mental health of its employees very seriously. They offer employees multiple avenues to talk, learn, process, and decompress, all of them free. The company's Employee Assistance Program includes five consultations with licensed counselors and up to 10 free therapy sessions with licensed counselors and therapists.
Tinuiti also provides $100 a month for employees to use toward goodies like discounted exercise classes, self-care, entertainment, and other fun stuff. In addition, the company offers pet insurance and a full match up to 4% of income on a pre-tax or Roth 401(k) option for your retirement savings.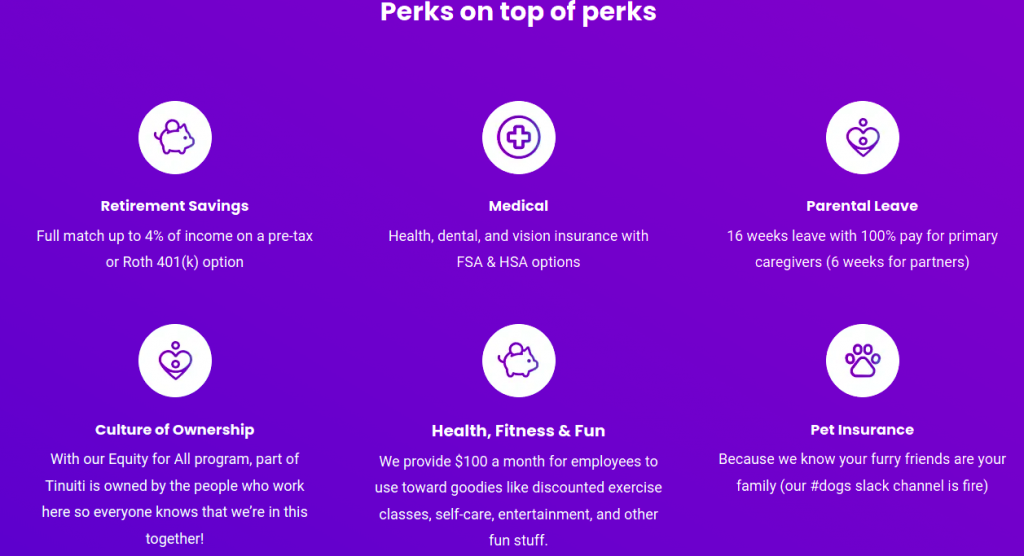 Check out their career page for more information.
Tinuiti's contact: hello@tinuiti.com / +1 833-846-8484
3. ConsenSys
ConsenSys' office in New York is located in Brooklyn.
ConsenSys is a market-leading blockchain technology company that enables developers, enterprises, and people worldwide to build next-generation applications, launch modern financial infrastructure, and access the decentralized web.
The company's vision is that blockchain technology allows us to progress to the next generation of the Web that they call the "Web 3.0". They believe Web 3.0 will serve as the foundation for new economic systems that are more open, efficient, and accessible.
ConsenSys' mission is to enable that progress by building platforms, applications, and tools for Web 3.0 while offering services to ensure they are useful to their customers.
The company's cryptographers, engineers, and financial experts help clients tackle emerging risks, explore blockchain-use cases, business processes, and monolithic systems; and conceptualize and implement domain-specific solutions, new prototypes, and system integrations.
ConsenSys usually hires in the following roles remotely: Blockchain Protocol Engineer, Agile Project Manager, Community Support Manager, Customer Success Manager, Data Analyst, Data Scientist, Director of Engineering, Fullstack Engineer, Presales Architect, Product Designer, Mobile/Web3 Engineer, Site Reliability Engineer, DevOps Engineer, UX Researcher, Technical Support Engineer, Performance Java Engineer, etc.
ConsenSys offers a remote-first working culture where you'll join a network of entrepreneurs and technologists that extends across the global crypto ecosystem.
In addition to competitive benefits package and company equity, ConsenSys enables its employees to participate in "zero productivity" days to take a break from work, shut down, and sit back and relax.
To support employees' continuous professional development, the company also provides ongoing growth and development through on-the-job learning, and the ConsenSys Advance Program which includes full access to Coursera, bespoke, technical learning programs and ConsenSys Academy.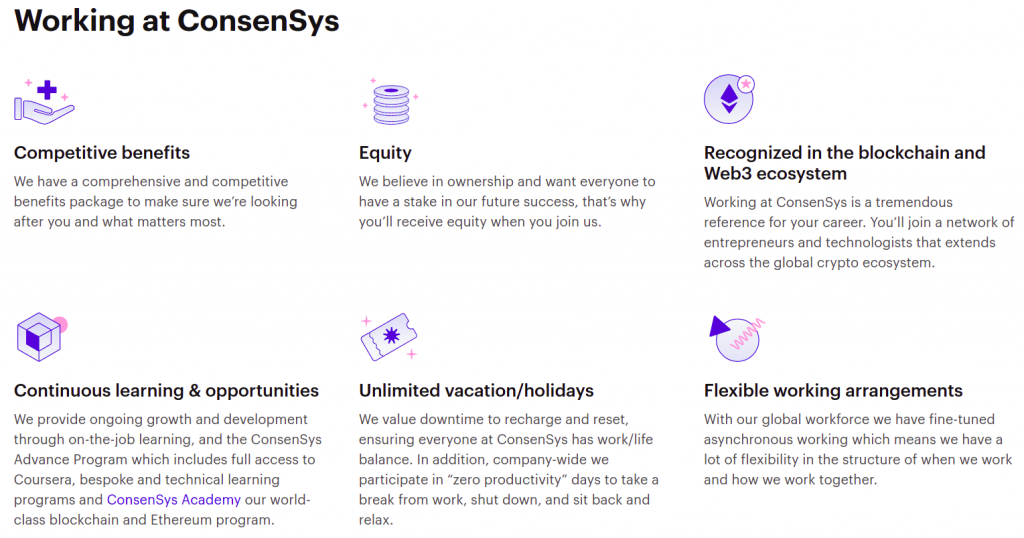 Check out their career page for more information.
ConsenSys' contact: +1 646-598-6373 / info@consensys.net
4. Cockroach Labs
Cockroach Labs' office in NY is located in New York.
Cockroach Labs is the creator of CockroachDB, the most highly evolved cloud-native, distributed SQL database on the planet. Cockroach Labs combines the functionality of structured query language (SQL) with the scalability of non-relational solutions.
Since its inception, the company has been committed to delivering CockroachDB as a free, open-source project. It also offers a paid enterprise-level plan with more robust support and distributed incremental backup services.
CockroachDB is in use at some of the world's largest enterprises across all industries, including Equifax, Bose, Comcast, and some of the largest companies in banking, retail, and media.
Cockroach Labs has been recognized as one of the best places to work for 4 years in a row by CRAIN'S and has been named to Inc. magazine's annual list of the Best Workplaces for 2021.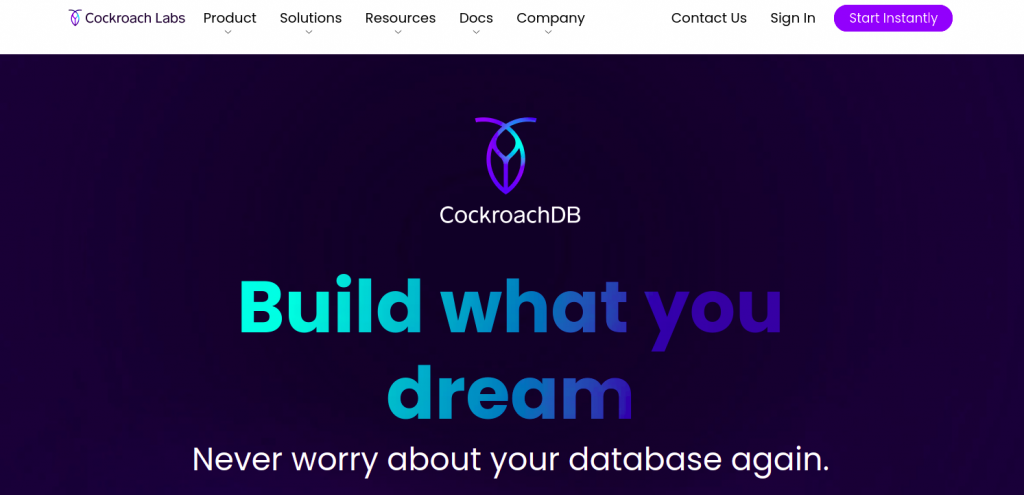 Cockroach Labs usually hires in the following roles remotely: Client Platform Engineer, Compliance Analyst, Backend Software Engineer, Financial Analyst, FP&A Manager, Sales Commissions Manager, Senior Marketing Automation Manager, Senior Data Engineer, Senior Technical Writer, Salesforce Administrator, Account Executive – Enterprise, Software Engineer – Cloud Platforms, Recruiting Coordinator, Software Engineer – Test Infrastructure, etc.
Cockroach Labs offers 100% health insurance coverage for employees & their dependents, One Medical membership, gym discounts, free Citibike membership, FSA, and a 401(k) plan with company matching.
The company also provides 12 weeks of paid parental leave to all new parents after 30 days of joining, individualized transition time, and re-entry support, plus $500 in baby bucks.
In addition to flexible time off and flex Fridays, Cockroach Labs also provides $2500 annually to support your learning and development through workshops, conferences, and networking events.
The company has partnered with Spring Health and an Employee Assistance Program to provide free counseling and support the mental health of their employees. Moreover, if you are planning to shift to NYC, the company will help you with relocating as well.
Check out their career page for more information.
Cockroach Labs' contact: info@cockroachlabs.com
5. Andela
Andela's office in NY is located in New York.
Andela is a global talent network that connects companies with vetted, remote engineers in emerging markets. Hundreds of leading companies like GitHub, Cloudflare, and ViacomCBS leverage Andela to scale their engineering teams quickly and cost-effectively.
For technologists, Andela offers competitive long-term career opportunities with leading organizations, access to a global community of professionals, and education opportunities with leading technology providers.
For companies, Andela provides access to a global network of fully integrated team members that unlock their business' innovation and growth potential.
Andela is a distributed organization spanning four continents and is backed by investors including Generation Investment Management, Chan Zuckerberg Initiative, Spark Capital, and Google Ventures.
The company has been awarded as 'Employer of Choice' and 'Best HR Recruitment Strategy' by 'HR People Magazine Awards'.
Andela usually hires in the following roles remotely: ALC Partner Manager – Talent Operations, Andela Technical Leadership Program Cohort, Assessment Commercial Leader, Cloud Specialization Manager, Creative Director, Customer Growth Marketing Manager, Data Analyst, Data Science Recruiter, Director of People Success, Enterprise Sales Development Representative, Head of Design Practice, Cloud Solution Architect, etc.
Andela is a fully global remote work organization and offers norms and practices that ensure employees can excel in the remote lifestyle effortlessly. Their remote work enablement support includes flexible working hours, laptop allowance, remote work set-up allowance, and utility allowance.
In addition to official paid holidays, Andela offers a variety of time-off options that allow employees the opportunity to take time off to rest and recharge. These options include PTO allowances, parental leaves, sick leaves, and compassionate leaves.
Employees also enjoy other benefits like 'Wellness Wednesdays', 'Bonus.ly Rewards Program', 'Calm Subscription', and 'Quarterly Home Office Stipend'.
Check out their career page for more information.
Andela's contact: +1 646-726-4003 / Info@Andela.com
6. Newsela
Newsela's office in NY is located in New York.
Newsela is an online news-as-literacy platform that features high-interest articles on everything from current events to myths and legends and from literature to science.
Their content is updated daily, with stories from a wide range of sources (from the Associated Press to Scientific American to the Washington Post) in English and also often in Spanish.
For teachers, the paid subscriptions offer the site's most useful options, including a dashboard to manage students' assignments and view both individual and class results, tracking progress toward meeting the related Common Core State Standards and Next Generation Science Standards.
In 2021, Comparably awarded Newsela the following awards: Best Company Perks & Benefits, Best Career Growth 2021, Best Product & Design Team 2021, Best Engineering Team 2021, Best Places to Work in New York 2021, and Best Company Outlook 2021.

Newsela usually hires in the following roles remotely: Editorial Production Lead, Freelance Content Contributor, Gainsight Administrator, Key Account Sales, Program Manager, Regional Sales Director, Sales Development Representative, Sales Manager, Strategic Customer Success Manager, Vice President of Sales, Financial Analyst, Research Scientist, Demand Marketing Manager, Corporate Recruiter, Software Engineer, Data Analyst, etc.
Newsela offers great medical, dental, and vision insurance, pet insurance, free One Medical membership, 401K match at 25% of the first 4%. The company also provides mental health services, maternity & paternity leaves, and unlimited PTO.
Additionally, employees are provided with a $1000 annual education reimbursement fund, phone/internet reimbursement, 16 days of paid holidays, and a 4-week sabbatical after 5 years of employment.
Check out their career page for more information.
Newsela's contact: info@newsela.com / +1 855-711-0118
7. InVision
InVision's office in NY is located in New York.
InVisionApp provides a design collaboration platform for startups, corporations, and design agencies. It lets users research, design, review, and test products tools for prototyping, task management, and version control.
Users can also create and craft things for Web and mobile platforms, and design prototyping, sharing & presentation, provide feedback, commenting meetings, and whiteboarding.
Over the years, the company has served professionals at leading companies, such as Evernote, Twitter, Adobe, Salesforce, Uber, Sony, Nike, IBM, and Intel.
InVision has been named the Best Apps and Software: Productivity & Collaboration in the 25th Annual Webby Awards Internet Celebration. The company has also received 'Best Work-Life Balance', 'Best Company Perks & Benefits', and 'Best Company Happiness' awards.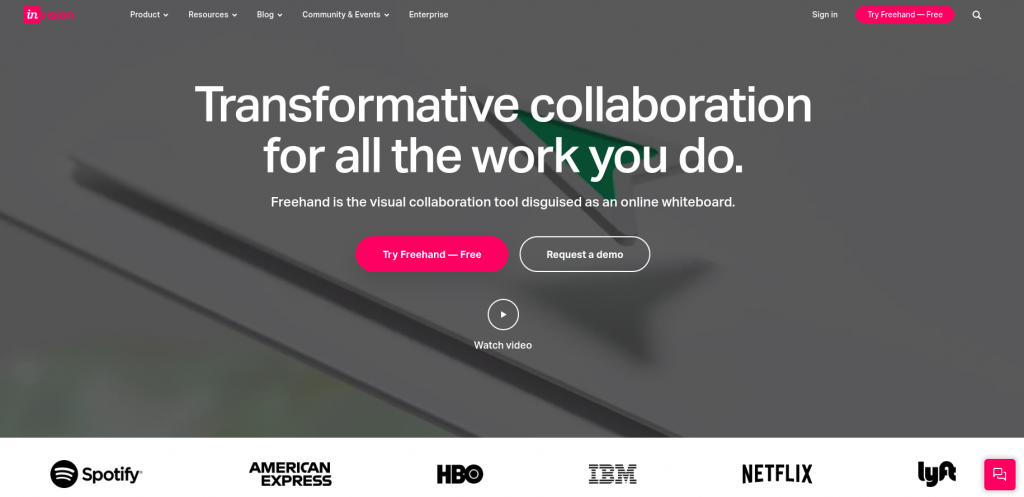 InVision usually hires in the following roles remotely: Staff Software Engineer, Site Reliability Engineer, Executive Assistant, Software Engineer – Frontend Development, Director of Engineering, Sales Development Representative, Marketing Automation Manager, Content Marketing Manager, Strategic Account Executive – EMEA, Global Customer Support Director, Lead Design Researcher, Senior Product Designer, Staff Accountant, etc.
InVision is a remote-first company since day one and every employee is given the freedom and tools to do their best work from their home location.
InVision offers competitive health plans, flexible spending accounts, life/disability insurance, and a 401(k) plan with employer matching.
The company also provides a flexible vacation policy, monthly coffee shop stipends, annual allowances for books related to your profession, home office setup allowance, and wellness reimbursements.
In addition to that, InVisioner receives a free Headspace account, parental leaves, fertility care & support, charitable donation matching, peer recognition budget, family caregiving support, and reimbursement for nursing-related costs during business travel.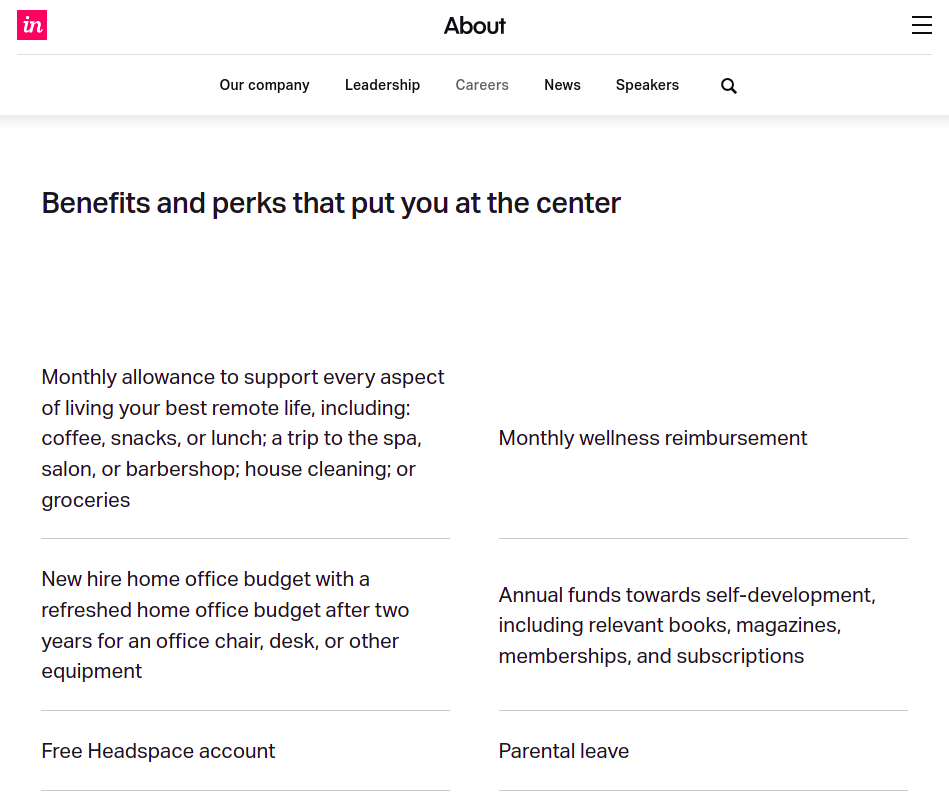 Check out their career page for more information.
InVision's contact: info@invisionapp.com / +1 877-932-7111
8. Phreesia
Phreesia's office in NY is located in New York.
Phreesia helps medical groups and health systems leverage patient intake to achieve their strategic objectives. The company facilitates more than 54 million patient visits annually through a robust platform of applications, including patient registration, revenue cycle, clinical support, appointments, and patient activation.
Phreesia's mission is to know patient intake and to help healthcare providers better understand their patients. They use medical histories, insurance benefits, and socio-economic indicators to gather important data and engage patients in their care.
Phreesia has been recognized as the top-rated patient intake management vendor by KLAS for three years in a row. Phreesia garnered Best in KLAS honors in 2020 and was named Category Leader in 2019 after KLAS launched the new category the previous year.
Phreesia usually hires in the following roles remotely: Senior Product Manager, Sales Enablement Director, Marketing Manager – Email and Automation, Sales Development Manager, Director of Client Experience, Compliance Analyst, Financial Analyst, UX Designer, Network Liaison, Software Engineer, Desktop Systems Specialist, Consultant – Client Services, Manager – Sales Operations, Market Development Director, HR Director, etc.
Phreesia offers unlimited paid time off to all employees, flexible working options, and a competitive benefits package, including a variety of health plans, dental and vision coverage, and short-term, long-term, and life insurance plans.
The company encourages healthy lifestyles by offering a monthly fitness stipend, maternity & paternity leaves, and other membership discounts. Employees also receive competitive compensation packages, including equity, tuition as well as certification reimbursement, and other professional development opportunities.
In addition to that, you'll also get a 401(k) savings plan, home office set-up stipend, mobile phone stipends, and internet reimbursement.
Check out their career page for more information.
Phreesia's contact: +1 888-654-7473 / support@phreesia.com
9. Knock
Knock's office in NY is located in New York.
Knock is an online home selling platform that makes buying or selling a home simple and certain.
The company was launched by founding team members from Trulia.com and uses data science to price homes accurately, technology to sell homes quickly, and a dedicated team of professionals to guide homeowners through the selling process.
The Knock Home Swap empowers a customer to buy their new dream home before selling their old one. Knock GO provides homebuyers with the best features of a cash offer in a competitive home loan to win the home they want without paying more.
Knock has been featured in media outlets such as TechCrunch, The Wall Street Journal, and Yahoo! Finance and has worked with many top investors who have served brands like HomeAway, Netflix, Match.com, and Houzz.
Knock usually hires in the following roles remotely: Treasury Manager, Broker Partnership Manager, Senior UX Designer, Director – Data & Analytics, Senior Full Stack Engineer, Software Engineering Manager, Senior Software Engineer, Loan Processor, Copywriter, Growth Marketing Specialist, Marketing Associate – Partnerships & Events, Paid Media Buyer, Performance Marketing Specialist, Senior Product Manager – Growth, etc.
Knock offers a 100% remote work culture and unlimited PTO for full time employees. The company also provides 100% employee covered medical, dental, and vision premiums along with life, AD&D, and disability insurance.
You'll also recieve $1,000 annually for professional development, $50 monthly home internet allowance, and $75 monthly cell phone reimbursement.
Additionally, Knock provides 6 weeks of paid parental leave, a 401k plan (noncontributory by Knock), $75 monthly allowance for health & wellness, and $2,500 referral bonus for eligible employees.
Check out their career page for more information.
Knock's contact: +1 866-996-1695 / hello@knock.com
10. Voya Financials
Voya Financials' office in NY is located in New York.
Voya Financial is a leading health, wealth, and investment company that provides retirement planning, investment, and insurance services.
The company offers asset accumulation, protection, and distribution products and services to individual and institutional customers in the United States.
Voya Financials' retirement products include recordkeeping, tailored participant education programs, digital capabilities for sponsors and plan participants, trustee services, and retail investments. Its investment management division offers international and domestic equity, fixed-income, and multi-asset products.
Voya Financials has been recognized as one of the World's Most Ethical Companies by the Ethisphere Institute; the No. 1-ranked financial services firm among Barron's 100 Most Sustainable Companies for three consecutive years; and a "Best Place to Work for Disability Inclusion" on the Disability Equality Index.
Voya Financials usually hires in the following roles remotely: Customer Contact Center Representative, IT Manager – Robotics Process Automation, IT Director – Enterprise Digital Technology, Stop Loss Actuary, Clinical Claims Consultant, Senior Financial Systems Analyst, Mutual Funds Accounting & Reporting Analyst, Lead Data Quality Analyst, Data Acquisition Lead, Network Security Engineer, Solution Architect, Full Stack Developer, Product Manager, etc.
In addition to a comprehensive 401(k) and pension savings plans, Voya Financials' Total Rewards Program includes benefits from medical coverage and life insurance to legal services, retirement benefits, and time away from work.
The company provides 20 days PTO, 9 paid holidays, choose your own Diversity Day, and 40 hours of paid volunteer time off. Employees also receive adoption assistance, backup child care & elder care, identity theft protection, parental leaves, and tuition reimbursement.
Voya Financials also offers Health Saving Accounts, Flexible Spending Accounts, BTA (Business Travel Accident) insurance, short-term & long-term disability insurance, and supplemental health insurance products that provide benefits in the event of a critical illness/specified disease or accident that occurs on or after your coverage effective date.
Check out their career page for more information.
Voya Financials' contact: +1 800-584-6001
Final Thoughts On Remote Jobs In New York
I hope this list of companies with remote jobs in New York, USA helps you land your next remote job.
Do you want access to 30,000+ more remote and flexible jobs? Click here.
I believe during remote interviews, we struggle more in answering the behavior questions properly and showcasing our soft skills. Candidates usually overlook this but preparing for behavioral rounds is very crucial.
You'll find a lot of Youtube videos on this topic. I would also recommend this course by Bob Firestone that has over 177 example answers that work for competency-based, KSA, situational, structured, and behavioral interviews.
Make sure you send a cover letter along with your resume when applying for remote jobs. Simply sending a CV and hoping to get a call back is really not a great way to show the company that you are interested in their job.
You can download the resume and cover letter templates that helped me get my first remote job by going HERE.
And never forget to use the free Chrome plugin, Grammarly, while writing your resumes, emails, and cover letters. This would highlight any silly grammatical mistakes and save you from possible embarrassment as a job seeker.
Have you joined as a remote employee for any of the listed companies? How was your experience? Do let us know in the comments.
If you find this article helpful, kindly share it with your friends. You may also Pin the above image on your Pinterest account. Thanks!
---
Did you enjoy this article?
---
Abhigyan Mahanta
Hi! I'm Abhigyan, a passionate remote web developer and writer with a love for all things digital. My journey as a remote worker has led me to explore the dynamic landscape of remote companies. Through my writing, I share insights and tips on how remote teams can thrive and stay connected, drawing from my own experiences and industry best practices. Additionally, I'm a dedicated advocate for those venturing into the world of affiliate marketing. I specialize in creating beginner-friendly guides and helping newbie affiliates navigate this exciting online realm.
---
If you're a teacher searching for remote English tutor jobs, then you would certainly benefit…