Following are the top companies with remote jobs in Idaho, USA.
Sometimes, the companies offering remote jobs in Idaho do not publicly advertise all the remote job roles that they are hiring for.
So, if you don't see your preferred role listed with the remote companies, you can email the company and ask if they are also hiring remotely in your preferred department.
[ Note: Some of these companies keep changing the links to their career page. As of now, all links are working correctly. If you encounter a 404 error, kindly let me know in the comments and I'll update them ASAP. Thanks! ]
Disclosure: Please note that some of the links below are affiliate links and at no additional cost to you, I'll earn a commission. Know that I only recommend products and services I've personally used and stand behind.
1. Empowered Education
Empowered Education's office in Idaho is located in Boise.
Empowered Education is a health and wellness platform that provides related education for practitioners and coaches.
The company is a completely virtual business of more than 200 team members that are passionate about health, believe education can transform someone's narrative, and feel empowered to make a difference.
Empowered Education has trained more than 20,000 global practitioners and coaches who are now empowered to partner with other functional medicine professionals or doctors and work directly with patients or clients.
Empowered Education usually hires in the following roles remotely: Senior Graphic Designer, Financial Analyst, Empowerment Coach, Director of Business Systems, DevOps Engineer, Copywriter, Admissions Advisor, Tuition Support Specialist, Content Editorial Manager, etc.
The company offers generous health, dental, and life insurance to employees who work at least 30 hours per week..
In addition to 8 paid holidays, Empowered Education offers employees 14 days of paid time off beginning their first year. Employees also get the opportunity to work with a Health Coach for 3 months each year.
Moreover, employees and their families can receive discounted access to seasonal cleanses, detoxes, and supplements via the company's e-commerce store to keep their bodies and minds operating at peak performance.
Check out their career page for more information.
Empowered Education's contact: (877) 978-3207
2. Tackle.io
Tackle.io's office in Idaho is located in Boise.
Tackle.io enables enterprise software companies to accelerate the use of Cloud Marketplaces like AWS, Azure, and Google.
The company's vision is to transform the way software is bought and sold with a laser focus on helping customers build and drive significant channels of revenue through the Cloud Marketplaces.
Tackle.io has been trusted by a variety of well-known software- and cloud-focused clients, including A Cloud Guru, CyberArk, PagerDuty, ParkMyCloud, and New Relic.
Tackle is a fully distributed team. The company embraces remote culture as they believe this creates better employees, better products, and better service in the long run.
Tackle.io usually hires in the following roles remotely: Financial Analyst, Commission/Revenue Analyst, Executive Assistant, VP – Sales, Director of Revenue Operations, Sales Ops Manager, Director of Customer Support, Content Marketing Manager, Account Executive – Sales, Senior Software Engineer, Product Manager, etc.
The company offers flexible work hours with medical, dental, and vision coverage. Besides an unlimited vacation plan and a 401(k) plan, you'll also receive monthly wellness, internet, phone reimbursements.
Additionally, Tackle.io gives $500 to cover for home ergo/office set up costs.
Check out their career page for more information.
Tackle.io's contact: hello@tackle.io / 716-998-8907
3. Lovevery
Lovevery's office in Idaho is located in Boise.
Lovevery is an early learning platform that offers a stage-based system of information for parents and products for children. The platform also offers educational play products and toys designed by child development experts for stage-based learning.
Lovevery helps parents feel confident that they are giving their children the best resources possible by offering an early learning platform for stage-based play.
Lovevery products have won awards from Red Dot, Parents' Choice, and NAPPA. TIME Magazine named The Play Kits subscription offering as one of the Best Inventions of 2018.
Lovevery usually hires in the following roles remotely: Lead UX Researcher, Software Engineering Manager, Principal Software Engineer, Senior Front-End Engineer, Senior Product Manager, Senior Technical Recruiter, UX Copywriter, Editor, Lead UI Designer, iOS Developer, etc.
Lovevery offers competitive salaries, benefits, and stock options packages. You'll also get access to free/discounted Lovevery products.
The company offers 12 Company paid holidays plus 3 Weeks of PTO. Lovevery mostly uses MacBooks, but they are happy to get you whatever equipment helps you get your job done.
Check out their career page for more information.
Lovevery's contact: heretohelp@lovevery.com / 833-568-3879
4. ConvertKit
ConvertKit's office in Idaho is located in Boise.
ConvertKit is email marketing software for online creators – the authors, makers, podcasters, photographers, YouTubers, teachers, artists, and other creators building the future.
The company delivers a solution that includes landing pages, email marketing, sign-up forms, email design, commerce, email automation, integrations, and other features.
All positions at the company are 100% remote jobs.
ConvertKit usually hires in the following roles remotely: WordPress Developer, Account Manager, Senior Account Executive, VP of Engineering, Finance Operations, Full Stack Engineer, Business Intelligence Manager, WordPress Plugin Engineer, SEO Manager, Director of Sales and Account Management, etc.
For U.S. based team members, the company offers a $3,200 equipment allowance for your first two years and a $2,500 budget every following two years.
ConvertKit offers a 401k plan with a 5% match, as well as 12 weeks paid parental leave and excellent medical, dental, and vision benefits.
Employees also get three weeks paid vacation, which increases to four weeks paid vacation after one year on the team, along with a $1,000 yearly vacation bonus.
Check out their career page for more information.
ConvertKit's contact: help@convertkit.com
5. Valor Global
Valor Global's office in Idaho is located in Meridian.
Valor Global is an award-winning and industry leader in providing support solutions including service desk, tech support, and customer care solutions delivered 24/7 from the US, Costa Rica, and the Philippines.
The company specializes in providing complex IT support based on ITIL standards with an emphasis on responsive and flexible service models.
Valor Global usually hires in the following roles remotely: Customer Service Representative, Inbound Call Center Sales Agent, Internal Communications Specialist, Customer Service Representative, Executive Talent Recruiter, Bilingual Team Manager, etc.
As an employee of Valor Global, you'll receive a 401k plan with a 4% match and have the opportunity to work in a flexible environment.
The company also offers a range of benefits such as healthcare plans with dental & vision, childcare discounts, disability & life insurance, paid time off, and ample professional development opportunities.
Check out their career page for more information.
Valor Global's contact: Recruiting@valorglobal.com
6. First American
First American's office in Idaho is located in Grangeville.
First American serves home buyers and sellers, real estate professionals, loan originators, commercial property professionals, home builders, and others involved in residential and commercial property transactions with products and services specific to their needs.
The company's core business lines include title insurance and closing/settlement services, title plant management services, title, and other real property records and images, valuation products and services, home warranty products, property and casualty insurance, and banking, trust, and investment advisory services.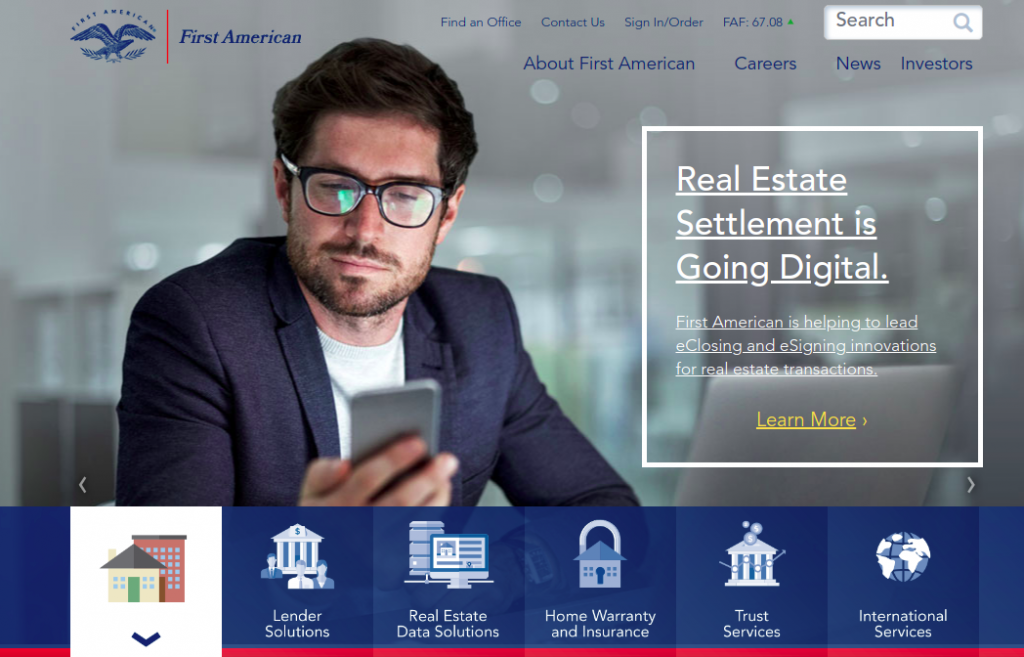 First American usually hires in the following roles remotely: Quality Analyst, Data Analyst, Lead Commercial Title Examiner, HR Project Coordinator, Instructional Designer, Technical Product Manager, Production Support Analyst, Software Team Lead, Server & Development Team Lead, etc.
First American offers a comprehensive benefits package including medical, dental, vision, 401k, PTO/paid sick leave, and other great benefits like an employee stock purchase plan.
The company also reimburses employees for their title policy and escrow fees when buying, selling, or refinancing their principal residence. This benefit ranges from $200 to $7,000 depending on the value of the property, and there is no limit on how often it can be used.
Employees can also manage and improve their health through the use of FA Wellbeing, an abundance of free health support programs that delivers access to diet plans and personal health coaching sessions.
Check out their career page for more information.
First American's contact: 1.800.854.3643 / 208 983-0150
7. Bodybuilding.com
Bodybuilding's office in Idaho is located in Boise.
Bodybuilding.com is one of the world's largest online sports nutrition retailers and digital fitness solution providers that includes fitness plans, programs, premium content, and recipes.
The company helps millions of people every month achieve their health, fitness, and appearance goals by offering over 35,000 pages of information, including more than 25,000 articles and 10,000 videos, with new content added regularly.
Bodybuilding.com also offers more than 60 expert-designed training programs with corresponding instructional videos and nutrition and supplementation plans via its BodyFit subscription plan.
Bodybuilding.com usually hires in the following roles remotely: Executive Editor, Senior Graphic Designer, Senior Manager Growth & Email Marketing, Senior Video Motion Designer, Senior Tax Accountant, Senior Data Analyst, Senior Full Stack Developer, etc.
The company provides comprehensive medical, dental, wellness, and vision plans for you and your family.
Bodybuilding.com also offers employees free 'All Access memberships' and discounts on all products sold on the company's website.
Besides 8 paid holidays and working in a flexible environment, you'll also receive a generous 401k match, as well as reimbursement of your monthly gym fees.
Check out their career page for more information.
Bodybuilding.com's contact: service@bodybuilding.com / 1-866-236-8417
8. CRI Advantage
CRI Advantage's office in Idaho is located in Boise.
CRI Advantage is an Information Technology (IT) Services and Solutions firm providing program management, managed services, cloud application development, and cyber security solutions to commercial, state, local governments, educational institutions, and the federal government.
The company brings business-driven digital transformation to meet the transforming needs of businesses, users, and citizens.
CRI Advantage has been awarded by the Department of Energy awardee, certified by the CMMI Institute, and International Standards Organization and the company has served clients like Hewlett-Packard, Merrill Lynch, General Electric, and Delta Airlines, among others.
CRI Advantage usually hires in the following roles remotely: Help Desk Service Specialist, ASP.NET Developer, ServiceNow Developer, QA Analyst, Software Development Engineer in Test, Full Stack Software Engineer, Senior System Administrator, Solutions Architect & Engineer, etc.
As an employee of CRI Advantage, you'll get multiple health plan options, paid time off, retirement savings, 401(k) Retirement Savings Plan with ROTH options, and other perks and benefits.
The company offers access to Flexible Spending Accounts (FSA) and Health Savings Accounts (HSA), as well as free technical and professional training with access to over 8,000 classes.
Check out their career page for more information.
CRI Advantage's contact: +1 208-343-9192 / info@criadvantage.com
9. Page One Power
Page One Power's office in Idaho is located in Boise.
Page One Power is a marketing agency specializing in strategic content creation and sustainable SEO link-building that focuses on securing links on websites that direct back to clients' sites.
The company collaborates with clients that range from small businesses to large, well-known brands who want to obtain top search engine rankings that last, and helps them by developing a customized link-building campaign to execute a successful SEO strategy.
Page One Power prides itself on its knowledge and expertise in offering services like link-building training, keyword research, SEO consulting, content creation, and technical SEO audits, in addition to custom link-building.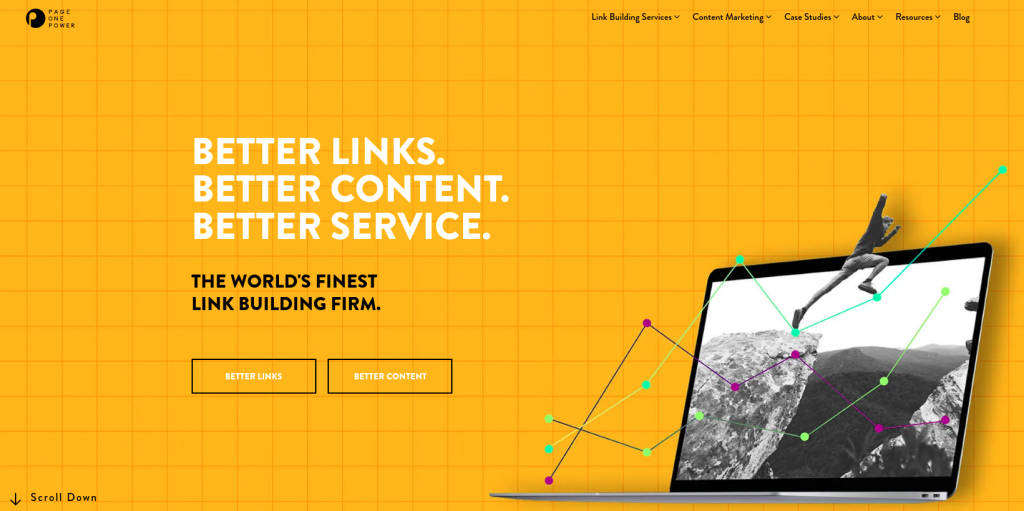 Page One Power usually hires in the following roles remotely: SEO Junior Project Manager, Content Outreach Team, SEO Content Creator, SEO Linkbuilding Contract Writer, Content Marketing Specialist, SEO Onsite Content Contractor, Outreach Coordinator, etc.
The company offers a 4-Day work week which makes them stand out compared to other companies. You get to work in a flexible working environment and the company provides you with any computer hardware that you need.
Apart from health, vision, and dental insurance, Page One Power also offers HSA and 401(k) with company match.
You'll also get paid fitness subscription and supplement insurance options along with paid time off and paid parental leave.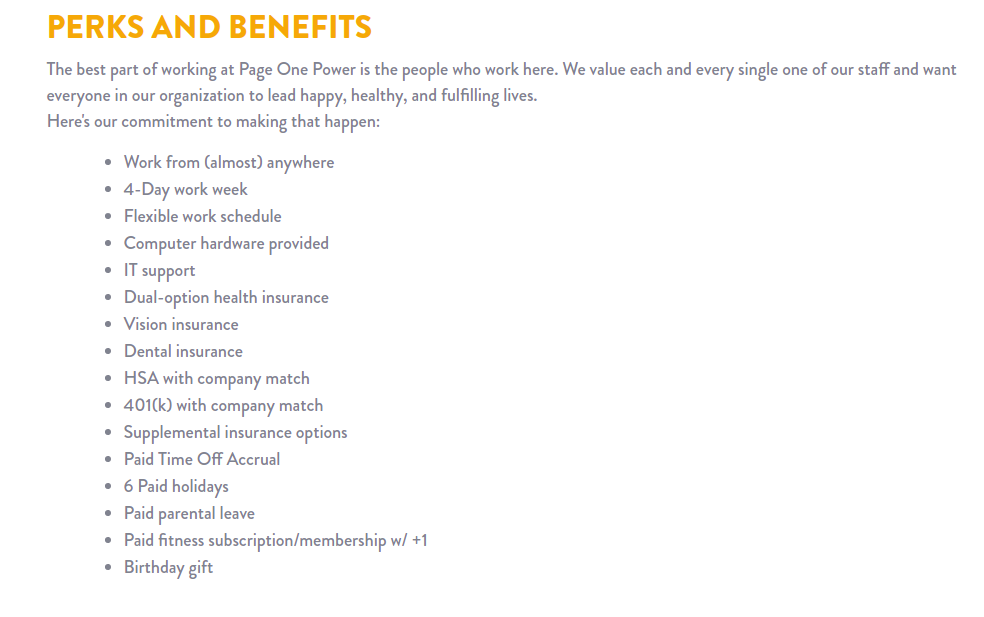 Check out their career page for more information.
Page One Power's contact: 208.229.7046 / contact@pageonepower.com
10. Healthwise
Healthwise's office in Idaho is located in Boise.
The company offers a wide range of products including health coaching, patient instructions, shared decision making, self-management programs, care support, print guides, and mobile modules that assist organizations to meet their business needs.
Healthwise offers unbiased, action-oriented health education materials written in simple language that instruct and engage people about their health conditions.
The company has received seven Digital Health Awards for its patient education videos and content in the Health Information Resource Center (HIRC)'s 2021 spring competition.
Healthwise usually hires in the following roles remotely: Director of Product Operations, Product Manager, Database Administrator/Architect, Senior Software Engineer, Senior ASP.Net Engineer, Medical Scriptwriter, Content Analyst, Human Resources Coordinator, etc.
The company is remote-friendly and offers flexible working schedules for its employees. As an employee, you'll receive wellness and health perks, tuition reimbursement, 401k match, and health plans including domestic partner benefits.
Check out their career page for more information.
Healthwise's contact: 1-800-706-9646
Final Thoughts On Remote Jobs In Idaho
I hope this list of companies with remote jobs in Idaho helps you land your next remote job.
Do you want access to 30,000+ more remote and flexible jobs? Click here.
I believe during remote interviews, we struggle more in answering the behavior questions properly and showcasing our soft skills. Candidates usually overlook this but preparing for behavioral rounds is very crucial.
You'll find a lot of Youtube videos on this topic. I would also recommend this course by Bob Firestone that has over 177 example answers that work for competency-based, KSA, situational, structured, and behavioral interviews.
Make sure you send a cover letter along with your resume when applying for remote jobs. Simply sending a CV and hoping to get a call back is really not a great way to show the company that you are interested in their job.
You can download the resume and cover letter templates that helped me get my first remote job by going HERE.
And never forget to use the free Chrome plugin, Grammarly, while writing your resumes, emails, and cover letters. This would highlight any silly grammatical mistakes and save you from possible embarrassment as a job seeker.
Have you joined as a remote employee for any of the listed companies? How was your experience? Do let us know in the comments.
If you find this article helpful, kindly share it with your friends. You may also Pin the above image on your Pinterest account. Thanks!
---
Did you enjoy this article?
---
Abhigyan Mahanta
Hi! I'm Abhigyan, a passionate remote web developer and writer with a love for all things digital. My journey as a remote worker has led me to explore the dynamic landscape of remote companies. Through my writing, I share insights and tips on how remote teams can thrive and stay connected, drawing from my own experiences and industry best practices. Additionally, I'm a dedicated advocate for those venturing into the world of affiliate marketing. I specialize in creating beginner-friendly guides and helping newbie affiliates navigate this exciting online realm.
---
If you're a teacher searching for remote English tutor jobs, then you would certainly benefit…