Following are the top companies with remote jobs in Oregon, USA.
Sometimes, the companies offering remote jobs in Oregon do not publicly advertise all the remote job roles that they are hiring for.
So, if you don't see your preferred role listed with the remote companies, you can email the company and ask if they are also hiring remotely in your preferred department.
[ Note: Some of these companies keep changing the links to their career page. As of now, all links are working correctly. If you encounter a 404 error, kindly let me know in the comments and I'll update them ASAP. Thanks! ]
Disclosure: Please note that some of the links below are affiliate links and at no additional cost to you, I'll earn a commission. Know that I only recommend products and services I've personally used and stand behind.
1. OCHIN
OCHIN's office in Oregon is located in Portland.
OCHIN offers a wide range of health IT tools and assistance, such as electronic medical records, virtual care, and broadband services, to equitably bridge the digital divide in health care.
They strengthen the entire U.S. health care system by increasing access to high-quality care and supporting the health care workforce among community health centers, public health departments, rural hospitals, school-based clinics, correctional facilities, and behavioral health services.
OCHIN usually hires in the following roles remotely: Application Analyst, Business Analyst, Business Development Executive, Clinical Ambulatory Analyst, Director, Administrative Services, Research Analyst, Revenue Cycle Practice Consultant, Software Developer, etc.
OCHIN is also recruiting AmeriCorps volunteers to serve OCHIN network members in Washington state on a part-time basis starting in September 2021.
As their employee, you'll be enrolled in an employer-sponsored 401(k) performance bonus program. You'll also receive a work-from-home allowance, as well as, IT equipment as per your requirements.
Your benefits package also included comprehensive medical, dental, and vision plans along with flexible spending accounts for health and dependent care.
Check out their career page for more information.
OCHIN's contact: (503) 943-2500
2. Paragon Planners
Paragon Planners' office in Oregon is located in West Linn.
Paragon Planners provides territory management, sales support, and appointment-setting services to financial industry clients.
The company specializes in providing territory management services that include marketing, scheduling, event planning, and administrative support.
Paragon Planners usually hires in the following roles remotely: Virtual Administrative Assistant, Financial Planning Assistant, Regional Scheduler, Client Services – Marketing Assistant, Scheduling and Appointment Setting Associate, HR Generalist, etc.
Paragon Planners discusses ideal schedules in-depth with candidates and implement desired work schedules. As their employee, you can enjoy working in a flexible schedule in a company that is rocking the financial world even in the midst of a pandemic.
Check out their career page for more information.
Paragon Planners' contact: (877) 635-6049 / Opportunities@ParagonPlanners.com
3. Lytics
Lytics' office in Oregon is located in Portland.
Lytics equips marketers with the tools to create unique one-to-one marketing campaigns and engagements based on each user's interests and customer journey.
The company delivers high-quality services regarding advertising, email, mobile, web content, and more.
Some of the world's most innovative brands use Lytics' CDP technology, including General Mills, Live Nation, Nestlé Purina, AEG, Industry Dive, and Yamaha.
Lytics usually hires in the following roles remotely: Account Manager, Data Engineering Manager, Senior Product Manager, Senior Technical Services Consultant, Account Executives, Senior Customer Success Manager, Senior Technical Services Consultant, Pre-Sales Solutions Architect, etc.
Lytics ensures that there are a variety of methods for staff to grow their skills and further their careers.
The benefits include affordable health insurance, 401K Match, flexible PTO, stock options, paid parental leave, remote work connectivity benefits, life insurance, and disability plans.
Check out their career page for more information.
Lytics' contact: 1-503-479-5880 / info@lytics.com
4. NAVIS CRM
NAVIS CRM's office in Oregon is located in Bend.
For over 30 years, NAVIS CRM, which is now a part of REVINATE, has served as a leader in hospitality by guiding brands to gain new performance heights. They serve the unique needs of independent hotels, casinos, and vacation rental property managers.
NAVIS has created a new category of software designed to drive results and maximize direct booking revenue by working with the industry's top hospitality brands.
NAVIS CRM usually hires in the following roles remotely: Business Development Representative, Product Manager, Reservation Sales Agent, Senior DevOps Engineer, Database Reliability Engineer, Senior Software Developer, UI-UX Designer, etc.
NAVIS has been consistently awarded as one of the 'Top Places to Work' for the past few years and was once ranked number one among small businesses in central Oregon.
The company culture is highly collaborative and client-oriented, and its work environment promotes real-world training and career development opportunities.
Check out their career page for more information.
NAVIS CRM's contact: 866-712-3439
5. Anitian
Anitian's office in Oregon is located in Beaverton.
Anitian believes that security can be a force for good. Anitian's mission is to make security and compliance easy for all.
They harness the power and scale of the cloud to empower developers with automated, accelerated, autonomous, and accommodating security technologies.
The company offers employees flexibility in their work location. You can choose to work onsite at Beaverton, OR, headquarters office, work fully remote from your home, or even opt for a hybrid routine.
However, it is a requirement that all remote work must be performed within the United States.
Anitian usually hires in the following roles remotely: Lead Technical Program Manager, Senior Security Advisor, Staff Platform Engineer, Staff Accountant, DevOps Engineer, Technical Program Manager, Product Manager, Marketing Webmaster & Web Developer, etc.
The company offers multiple medical and dental packages, as well as, vision, FSA, EAP, and employer-paid life insurance and disability benefits. Anitian also offers 4 weeks of paid time off per year and 11 paid holidays.
Besides that, you'll also receive gym discounts, pet insurance, weekly company happy hours, professional development opportunities, and monthly volunteer hours.
Check out their career page for more information.
Anitian's contact: 888-264-8426 / info@anitian.com
6. The Dyrt
The Dyrt's office in Oregon is located in Portland.
The Dyrt is an online search and discovery platform for campers and outdoor enthusiasts. The company has constructed an extensive database of campgrounds in the United States with user-generated content and authentic reviews.
The Dyrt is the number one ranked camping app on both iOS and Android. They have more than one million user-submitted campgrounds, reviews, and tips.
Their mission is to help find campgrounds easier for the 80+ million people who camp across the United States.
The Dyrt usually hires in the following roles remotely: Frontend Developer, Product Designer, Backend Developer, Senior Quality Assurance Engineer, Senior UX Designer, Technical Product Manager, Customer Success Specialist, Strategic Digital Marketing Designer, etc.
The Dyrt supports work flexibility with remote work opportunities / part-time schedules and hires remote workers with geographic flexibility.
The company expects your working hours to overlap +/- 3 hours with the US Pacific time. You may need to be present online for a couple of hours later than usual during a big feature rollout, but generally late nights and weekend work are unnecessary.
Check out their career page for more information.
The Dyrt's contact: info@thedyrt.com / support@thedyrt.com
7. Cayuse
Cayuse's office in Oregon is located in Portland.
The company's mission is to empower organizations to conduct globally connected research and sponsored projects, advancing their impact on science, discovery, and society.
Cayuse has developed an entire electronic-research administration ecosystem that serves over 450 academic institutions, hospitals, biotech companies, government agencies, and non-profit organizations.
Cayuse usually hires in the following roles remotely: Senior UX Designer, Technical Product Owner, Sr. DevOps Engineer, Software Engineer, Software Development Manager, Senior Software Test Engineer, Principal QA Engineer, Accounting Manager, Recruiter, Technical Support Specialist, etc.
The company believes in promoting a healthy work/life balance, with generous benefits, holidays, PTO, flexible schedules, work-from-home options, and paid parental leave.
As their employee, you'll also receive a remote work stipend, free transit passes, reimbursed gym memberships, and sit-stand desks, among other amenities.
Check out their career page for more information.
Cayuse's contact: support@cayuse.com / 877-689-3661
8. Foureyes
Foureyes' office in Oregon is located in Portland.
Foureyes is a category-creating software company that uses a unique dataset to help businesses track, protect, engage, and sell better.
The company collects disconnected data to provide an integrated view of customers. While the sources may change over time, the focus remains on data with sales intent.
Foureyes' sales intelligence software is used to inform the marketing and sales decisions of more than 5,000 businesses, including original equipment manufacturers (OEMs) and car dealerships like Audi, Buick, Cadillac, Ford, GMC, and Hyundai.
Foureyes usually hires in the following roles remotely: Senior Software Engineer, Product Manager, Software Engineering Manager, Communication Analyst, Product Designer, Contracts Manager, etc.
As their employee, you'll get the opportunity to work in a creative, fast-paced, high-growth environment. The company has a team culture that prioritizes people over politics and forward progress over egos.
Besides a competitive salary, 401k matching, and commuter/cell phone benefits, you'll also get generous PTO days, in addition to paid holidays.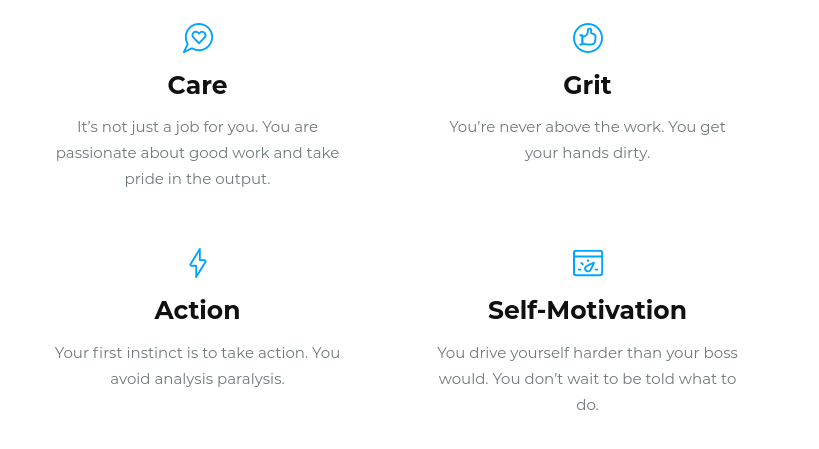 Check out their career page for more information.
Foureyes' contact: (971) 352-3450
9. NAVEX Global
NAVEX Global's office in Oregon is located in Lake Oswego.
NAVEX Global provides a full suite of integrated risk and compliance management software products.
The company has served more than 13,000 clients around the world and its mission is to help other companies protect and defend their people and reputation.
Each year, NAVEX Global sponsors the Ethics & Compliance Virtual Conference which provides valuable industry information through keynote speakers, free resources, and breakout sessions.
NAVEX Global usually hires in the following roles remotely: Account Executive (Mid-Market), Commission Analyst, Customer Growth Marketing Manager, Customer Support Technician, Director PR & Analyst Relations, Sales Enablement Coordinator, Senior Security Analyst, Senior Web Developer, etc.
As an employee of NAVEX Global, you'll receive medical, dental and vision insurance for you and your family with 100% of preventive care covered.
The company also offers unlimited paid time off for exempt professionals, generous paid time off for non-exempt, and paid holidays for everyone.
Check out their career page for more information.
NAVEX Global's contact: careers@navexglobal.com / (800) 230-1421
10. Hiring Thing
Hiring Thing's office in Oregon is located in Bellevue.
Hiring Thing is an integrated applicant tracking platform company that helps companies post jobs online, manage applicants, and hire great employees.
The company is 100% remote with no physical office. They keep in touch with Slack and regular video conferences. Employees meet as a team daily and are required to connect with other teams during standard business hours.
Hiring Thing usually hires in the following roles remotely: Front End Engineer, Customer Support Representative, Director of Business Development, SaaS Sales Demo Specialist, Content Marketer, Senior Rails Engineer, Product Manager – Quality Lead, Software Scrum Master, etc.
As their employee, you'll have an opportunity for professional development and to increase experience with Hubspot, B2B sales, and Enterprise sales.
The company has an unlimited PTO policy and offers participation in employee stock option plans.
The company also offers a 401(k) plan with regular and Roth options available with employer contribution. You'll also get $100/month telecom reimbursement and up to $50/month fitness reimbursement.
Check out their career page for more information.
Hiring Thing's contact: support@hiringthing.com / (888) 769-2023
Final Thoughts On Remote Jobs In Oregon
I hope this list of companies with remote jobs in Oregon helps you land your next remote job.
Do you want access to 30,000+ more remote and flexible jobs? Click here.
I believe during remote interviews, we struggle more in answering the behavior questions properly and showcasing our soft skills. Candidates usually overlook this but preparing for behavioral rounds is very crucial.
You'll find a lot of Youtube videos on this topic. I would also recommend this course by Bob Firestone that has over 177 example answers that work for competency-based, KSA, situational, structured, and behavioral interviews.
Make sure you send a cover letter along with your resume when applying for remote jobs. Simply sending a CV and hoping to get a call back is really not a great way to show the company that you are interested in their job.
You can download the resume and cover letter templates that helped me get my first remote job by going HERE.
And never forget to use the free Chrome plugin, Grammarly, while writing your resumes, emails, and cover letters. This would highlight any silly grammatical mistakes and save you from possible embarrassment as a job seeker.
Have you joined as a remote employee for any of the listed companies? How was your experience? Do let us know in the comments.
If you find this article helpful, kindly share it with your friends. You may also Pin the above image on your Pinterest account. Thanks!
---
Did you enjoy this article?
---
Abhigyan Mahanta
Hi! I'm Abhigyan, a passionate remote web developer and writer with a love for all things digital. My journey as a remote worker has led me to explore the dynamic landscape of remote companies. Through my writing, I share insights and tips on how remote teams can thrive and stay connected, drawing from my own experiences and industry best practices. Additionally, I'm a dedicated advocate for those venturing into the world of affiliate marketing. I specialize in creating beginner-friendly guides and helping newbie affiliates navigate this exciting online realm.
---
If you're a teacher searching for remote English tutor jobs, then you would certainly benefit…