These are the top remote companies offering remote jobs in South Carolina, USA.
Sometimes, the companies offering remote jobs in South Carolina, USA do not publicly advertise all the remote job roles that they are hiring for.
So, if you don't see your preferred role listed with the remote companies, you can email the company and ask if they are also hiring remotely in your preferred department.
[ Note: Some of these companies keep changing the links to their career page. As of now, all links are working correctly. If you encounter a 404 error, kindly let me know in the comments and I'll update them ASAP. Thanks! ]
Disclosure: Please note that some of the links below are affiliate links and at no additional cost to you, I'll earn a commission. Know that I only recommend products and services I've personally used and stand behind.
1. Blackbaud
Blackbaud's office in South Carolina is located in Charleston.
Blackbaud connects and empowers organizations to increase their impact through cloud software, services, expertise, and data intelligence.
Blackbaud serves the entire social good community – nonprofits, higher education institutions, K-12 schools, healthcare organizations, faith communities, arts and cultural organizations, foundations, companies, and individual change agents
The company helps its clients with fundraising, relationship management, financial management, education administration, website management, direct marketing, ticketing, prospect research, consulting, and training.
Blackbaud is ranked in the top 40 for WW SaaS and cloud software for vendor revenue (2018 and 2019), according to the IDC, Worldwide Software as a Service, and Cloud Software Market Shares.
The company was also named one of the Best Places to Work in Austin in 2021 by Built-In and one of Anita B.org's Top Companies for Women Technologists.
Blackbaud usually hires in the following roles remotely: Principal DevSecOps Engineer, Senior Systems Engineer, Software Engineer, Sales Account Executive, Sales Solutions Engineer, Site Reliability Engineer, Software Engineering Manager, Financial Analyst, Director of Customer Success, Senior Data Engineer, Technical Product Manager, Endpoint Security Engineer, Cloud Security Senior Architect, Graphic Designer, Applications Manager – Salesforce, etc.
Blackbaud is a remote-first company that embraces a flexible remote work culture. The company offers tuition reimbursement and student loan repayment programs, in addition to ongoing career development learning opportunities.
Blackbaud has a generous paid time off policy, and offers flexible work schedules and paid holidays. The company also provides a wide variety of great local discounts on products and services and 401(k) matching programs or applicable pension plans outside of the US.
Additionally, Blackbaud offers medical, dental, and vision insurance as well as wellness programs and the opportunity to earn extra time off by volunteering.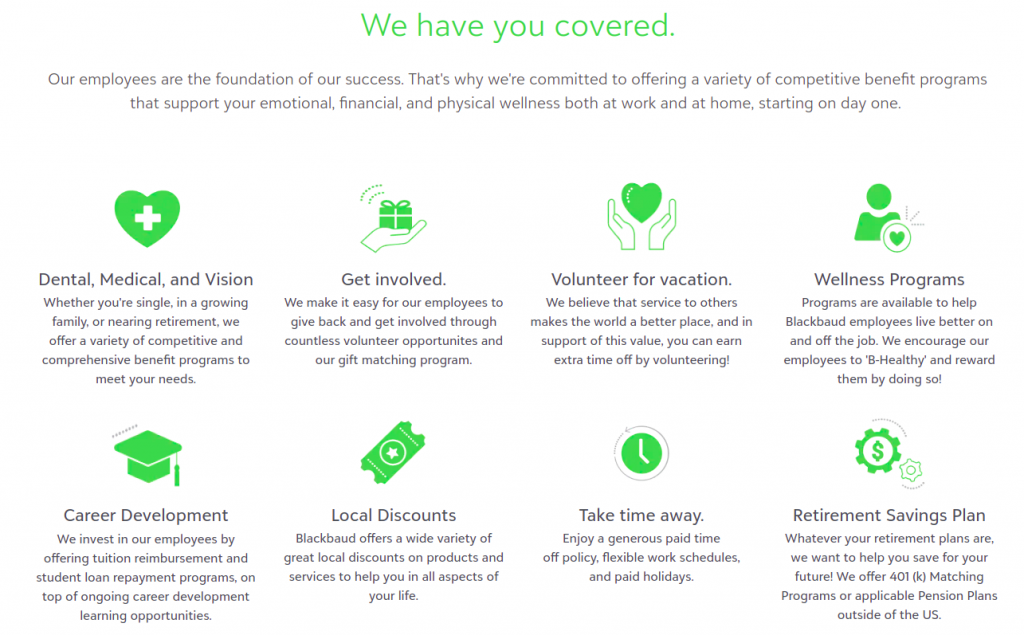 Check out their career page for more information.
Blackbaud's contact: +1 800-443-9441 / solutions@blackbaud.com
2. Red Ventures
Red Ventures' office in South Carolina is located in Fort Mill.
Red Ventures is an Internet marketing company that develops and manages large-scale, multi-channel customer acquisition programs for leading brands in the U.S., Canada, and Puerto Rico.
The company builds online journeys that make it easier for people to make important decisions about their homes, health, travel, finances, education, and entertainment through premium content and personalized digital experiences.
Over the last twenty years, Red Ventures has built a portfolio of influential brands, digital platforms, and strategic partnerships that work together to connect millions of people with expert advice.
The company owns and operates several large digital brands including Healthline, The Points Guy, Bankrate, MYMOVE, and Allconnect.com. Red Ventures has been the recipient of the Best Place to Work in Charlotte Award from the Charlotte Business Journal multiple times.
Red Ventures usually hires in the following roles remotely: Account Coordinator, Analytics Engineer, Associate Copy Editor, Associate Product Manager, SEO Analyst, Social Media Manager, Vice President – Health Systems, Associate Web Publisher, Business Analyst, Content Promotion Associate, Copywriter, Data Science Manager, Director of Engineering, Editorial Coordinator, Front End Engineer, Inside Sales Representative, etc.
Red Venture offers a comprehensive benefits program for full-time employees, including medical, dental, and vision coverage, paid time off, life insurance, disability coverage, employee assistance program, 401(k) plan, and a paid parental leave program.
Red Venture employees and their eligible dependents get free access to therapy sessions with a licensed professional, access to self-care apps and technology, as well as 1-1 manager consultations and support for issues such as substance abuse.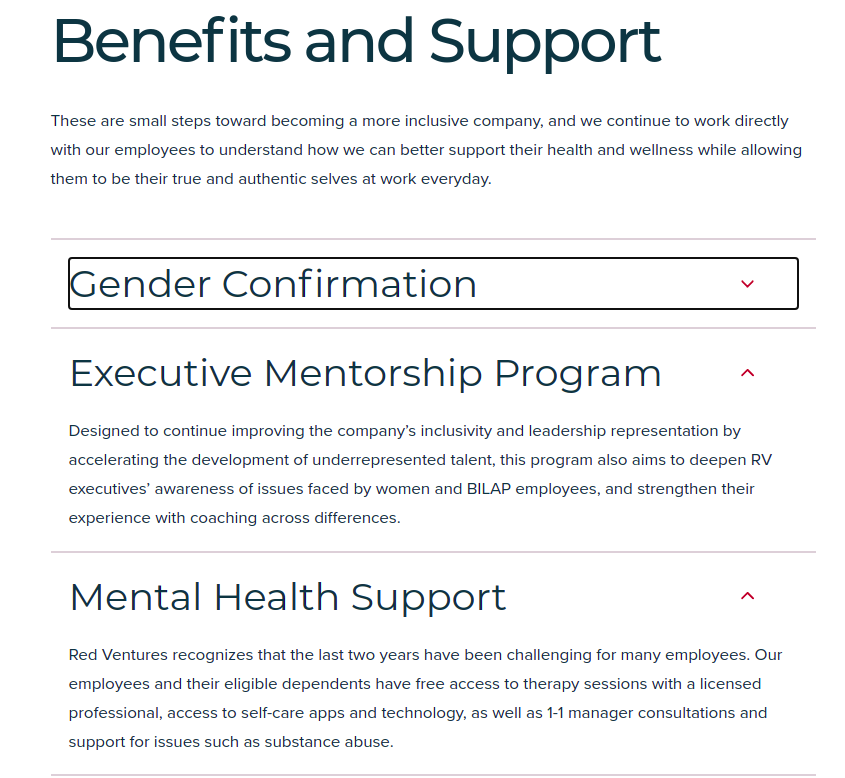 Red Ventures also provides employees professional development opportunities like an Annual individual budget for training, onsite training courses, and the ability to attend job-related conferences and seminars.
The company also offers a mentorship program that includes a 1-to-1 program, a 1-to-many program, a cross-department program, career mentoring, and leadership mentoring.
If you decide to work from one of their numerous office locations, Red Ventures will contribute up to $260 per month for transit expenses (train passes, subway passes, van pools, and bus passes) as well as $260 per month for parking expenses.
Check out their career page for more information.
Red Ventures' contact: +1 704-971-2300 / accommodation@redventures.com
3. Lash Group
Lash Group's office in South Carolina is located in Fort Mill.
Lash Group is a patient support services agency and member of the global publicly-traded company AmerisourceBergen Corporation.
The company provides comprehensive patient support services, including reimbursement support, integrated pharmacy solutions, co-pay assistance, adherence services, patient assistance programs, value-added services, and more.
Lash Group is consistently a top performer on the Fortune 500 and has earned the "Top Best Place to Work" award by the SC Biz magazine and the South Carolina Chamber of Commerce.
Lash Group usually hires in the following roles remotely: Senior Analytics Data Engineer, Workforce Management Analyst, Assistant Director – Value & Access Strategy, Analyst – Market Access, Meeting Planner, Project Manager, Specialty GPO – Enablement Specialist, Senior Financial Analyst, Patient Access Specialist, Software Developer, Accountant, Field Reimbursement Manager, SAP Business Solutions Analyst, Data Engineer, etc.
Lash Group offers life & supplemental life insurance, benefits for domestic partners & same-sex couples, dental, and vision insurance.
The company also provides short-term and long-term disability insurance along with medical, health savings account (HSA), supplemental medical, and prescription drugs.
Employees get access to employee assistance programs and adoption assistance programs, employee stock purchase plans (ESPP), and flexible spending accounts for health and daycare.
You'll also receive pet insurance, pre-paid legal assistance, tuition reimbursement, a 401k plan, paid time off (PTO), and volunteer time off (VTO).
Check out their career page for more information.
Lash Group's contact: +1 800-357-5274
4. Life Cycle Engineering
Life Cycle Engineering's office in South Carolina is located in Charleston.
Life Cycle Engineering (LCE) provides consulting, engineering, information technology, and education solutions that deliver lasting results for private industry, the Department of Defense, and other government organizations.
The company's services include asset productivity consulting, logistics, shipyard planning & engineering, process support, financial management, cybersecurity, and other related services.
LCE was voted "Best Place to Work" in South Carolina in 2020 and has been recognized as one of the best employers in the state for fifteen straight years.
Life Cycle Engineering usually hires in the following roles remotely: Contracts Administrator, Proposal Manager, Information Systems Security Officer, .NET Software Engineer, Systems Engineer, Logistics Program Support Assistant, MCS Engineer, Inbound Marketing Specialist, Senior Financial Analyst, Logistician, Project Manager, Site Reliability Engineer, etc.
Life Cycle Engineering offers medical, dental, and vision insurance coverage to employees and their dependents which becomes effective on the first day of the month following employment.
The company also provides paid vacation, holidays, sick leave, basic life insurance, disability insurance, and the option of additional contributory life insurance.
LCE offers two ways to help save for retirement: a matching 401K plan and a company-funded employee stock ownership program (ESOP).
To support your professional development, LCE provides reimbursement for training programs, meetings, seminars, formal degree-granting programs, and basic membership fees in one technical or professional organization of your choice.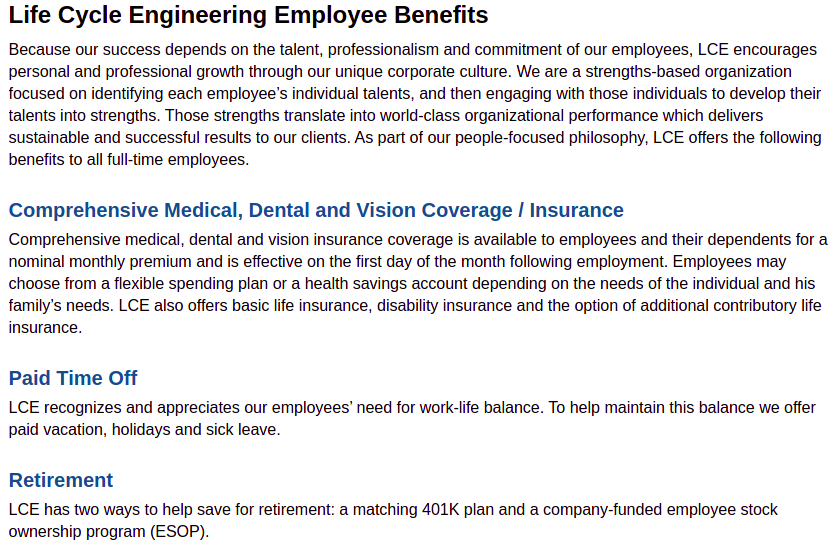 Check out their career page for more information.
Life Cycle Engineering's contact: +1 843-744-7110 / careers@LCE.com
5. Palmetto Clean Technology
Palmetto Clean Technology's office in South Carolina is located in Charleston.
Palmetto is committed to the democratization of energy by putting power and control back in the hands of consumers and inspiring them to make environmentally responsible choices.
Palmetto has developed a clean energy marketplace with proprietary technology designed to make it easier and more affordable for homeowners to source their energy from renewables like solar power.
The company develops proprietary products that reduce costs and drive the widespread distribution of simple energy management solutions through a fully distributed network with teammates throughout the United States.
In furthering its mission, Palmetto invests in communities to help mitigate climate change with its Get Solar, Give Solar program.
Previously featured by Fortune magazine, Yahoo! Finance, TechCrunch, and other popular media outlets, Palmetto has been recognized by Forbes as one of the fastest-growing private companies in the United States.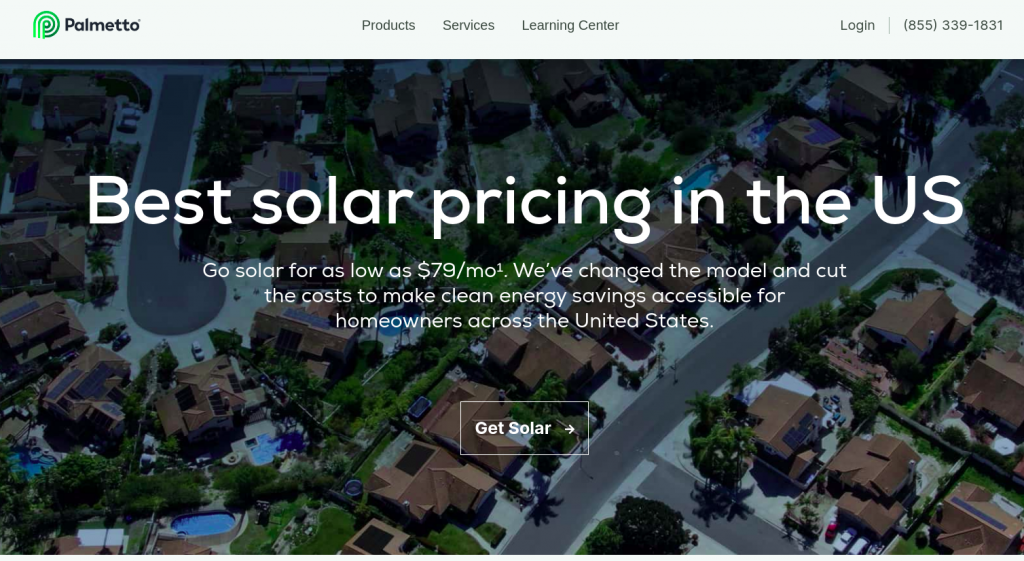 Palmetto Clean Technology usually hires in the following roles remotely: Product Marketing Director, Senior FP&A Analyst, Software Engineer, Product Management Director, Partner Engagement Manager, Senior Technical Recruiter, Core Applications Manager, Business Development Director, Project Engineer, Human Resources Business Partner, Director – Demand Generation, Supply Chain Analyst, Analytics Engineer, etc.
Palmetto is a VC-backed high-growth company with a promote-from-within culture for talent development. The company offers unlimited vacation, medical, dental, and vision coverage, and retirement plans.
Palmetto also provides innovative benefits that help employees thrive in a 21st-century economy, including a fully remote work staff, 4-day work week, 2-week annual sabbaticals, parental leave, and unlimited PTO.
Employees also receive stock options, comprehensive healthcare coverage, pre-tax spending accounts, telehealth & pet coverage, paid family leave up to 14 weeks, holiday time off (Dec 23-Jan 4), a student loan repayment program, and professional development reimbursement.
In addition, Palmetto is continuing its work-from-home policy for all employees and providing a monthly stipend to design and maintain a functioning home office.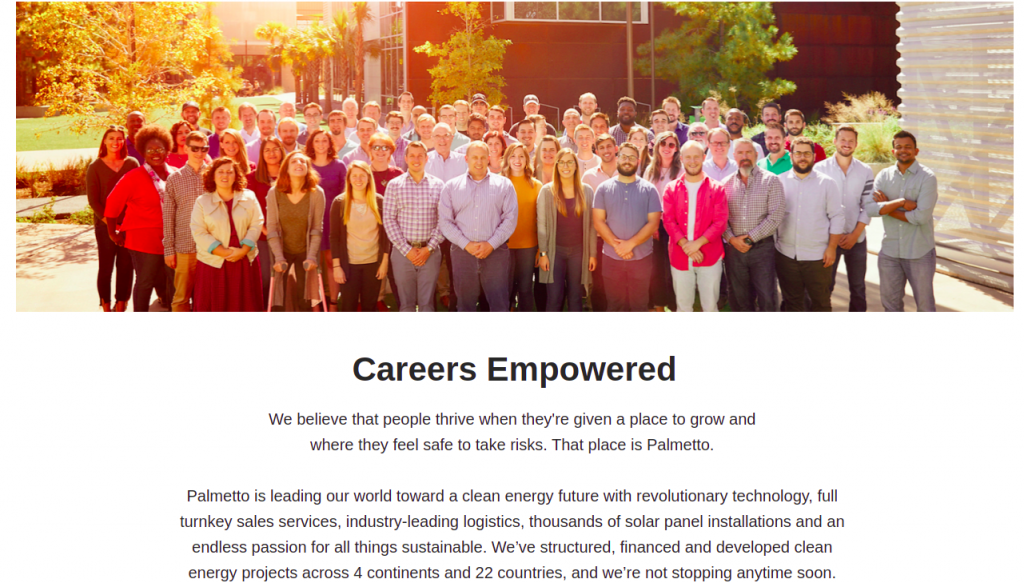 Check out their career page for more information.
Palmetto Clean Technology's contact: +1 855-339-1831 / help@palmetto.com
6. Elevar
Elevar's office in South Carolina is located in Charleston.
Elevar specializes in leveraging analytics and tag management to help merchants improve their site speed & conversion rates, avoid losing money on paid acquisition through poor tagging, and provides the insights they need to make data-informed decisions.
The company is an official partner of Shopify Plus, Facebook Marketing, and Google Cloud. and currently serves thousands of brands including Rothys, Thrive Causemetics, Vuori, and Tuft & Needle.
Elevar usually hires in the following roles remotely: Customer Success Manager, CRO Strategist, Frontend React Engineer, Implementation Specialist, Partner Manager, Product UX Designer, Senior Data Analyst, Technical Account Manager, Web Analytics Specialist, Account Manager, Marketing Manager, Onboarding Specialist, Web Analytics Specialist Team Lead, Recruiter – Head of People, etc.
Elevar has a remote-first culture and offers competitive compensation, health insurance, home office equipment, dental and vision coverage, an annual team retreat, and more.
Employees also receive maternity & paternity leaves, paid holidays & paid time off, access to Employee Assistance Programs, and other home office perks.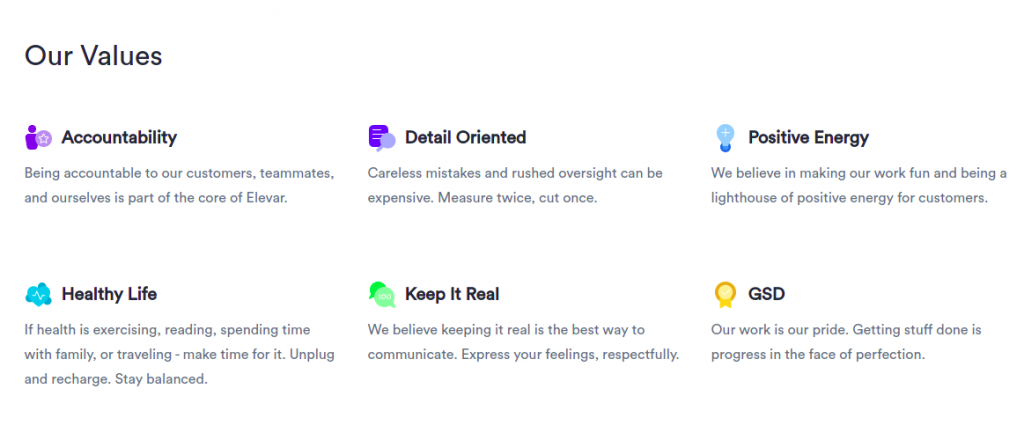 Check out their career page for more information.
Elevar's contact: help@getelevar.com
7. Booz Allen Hamilton
Booz Allen Hamilton's office in South Carolina is located in Charleston.
Booz Allen Hamilton is a consulting firm that advises public and private sector clients, primarily the United States government, on organization, strategy, logistics, and information technology, among other areas.
The company offers services in consulting, analytics, digital solutions, engineering, and cyber, and with industries ranging from defense to health to energy to international development.
Booz Allen Hamilton has been listed multiple times on the list of Insider Pro and Computerworld's 100 Best Places to Work in IT. The company has also been listed among Indeed Top Workplaces, Forbes Best Companies for Women, and Vault Top 50 Consulting Firm.

Booz Allen Hamilton usually hires in the following roles remotely: Information Assurance Analyst, Cyber Threat Hunter, Full Stack Developer, Mobile Security & Vulnerability Engineer, Cloud Architect, Pricing Analyst, DevOps Engineer, Database Administrator, Jira Developer, SailPoint Engineer, Automation Tester, Data Protection Analyst, Embedded Systems Engineer, Lead HR Specialist, 2D UI/UX Artist, Human Resources Specialist, AI Engineer, Project Integration Manager, etc.
Booz Allen Hamilton's comprehensive benefit offerings include healthcare, retirement plans, insurance programs, commuter programs, employee assistance programs, paid & unpaid leave programs, education assistance, and childcare benefits.
The company provides access to their online learning platform called Degreed, where you can access learning resources at the time and place that works for you.
Programs like FlexEd (tuition reimbursement program) and the Expert's Program (which delivers personalized learning experiences) are designed to take your career to the next level.
In addition to a dollar-for-dollar 401(k) match plan and 10 paid holidays each year plus paid parental leaves, you can also earn contributions to your HSA or paycheck by taking advantage of their employee wellness program, PowerUP.
Check out their career page for more information.
Booz Allen Hamilton's contact: +1 843-471-1231
8. Orange Bees
Orange Bees' office in South Carolina is located in Greenville.
Orange Bees is a software development company that provides e-business solutions for integrating databases, Internet, and CRM applications.
Multiple organizations have taken advantage of Orange Bees' services to increase their productivity, improve key workflows, streamline business processes, and digitize their business with custom software solutions.
Orange Bees' services include Web Application Development, Mobile Application Development, Data & Analytics, System Integration, Product Engineering, and Enterprise Management.
The company was named the fastest-growing company in South Carolina beating the other 24 finalists at the SC 25 Fastest Growing Companies for 2019.
Orange Bees usually hires in the following roles remotely: Python Developer, Front End Angular Developer, .NET Core Developer, Infrastructure Operations, Cloud Ops, Java Developer, etc.
Orange Bees offers competitive salaries, excellent group medical, vision, dental, life insurance, and AD&D insurance. They have received glowing recommendations on Glassdoor from its employees and at the time of writing this post, they have 5-star ratings on Glassdoors.
Orange Bees is a growing company and they usually hire experienced candidates but they have mentioned that some of their Flutter or Elastic experts weren't experts when they joined. So if you're looking for a junior role, I advise you to have a chat with their hiring team.
Orange Bees provides employee training as well and they'll make sure you're current on relevant certifications and training too.
Check out their career page for more information.
Orange Bees' contact: +1 864-516-1525 / info@orangebees.com
9. Softdocs
Softdocs' office in South Carolina is located in Columbia.
Softdocs develops document management, electronic forms, workflow automation, and print customization solutions for the higher education and K-12 markets.
With a cloud-first methodology, the company's Etrieve platform reduces the need for paper and provides institutions complete control over how content is captured, processed, and distributed.
Softdocs has been named as the Best Place to Work in South Carolina since 2017 and one of America's fastest-growing companies by Inc. 5000.
Softdocs usually hires in the following roles remotely: Cloud Operations Engineer, Development Intern, Scrum Master, Client Support Specialist, K-12 Software Account Executive, Higher Education Software Account Executive, Technical Solutions Consultant, Sales & Marketing Intelligence Intern, Sales Manager – Account Development, etc.
Softdocs has created a remote work environment that is laid-back, collaborative, and encouraging of new ideas and innovations. The company offers vision, dental, and health insurance in addition to four weeks of paid time off and a 401k plan with a company match.
Employees also receive medical insurance (PPO & HDHP w/ HSA options), disability insurance, $15,000 life insurance, flexible PTO, 13 paid holidays, and paid parental leave.
The company will also assist you with your remote work office setup and provide you with a stipend to purchase the laptop you would like and supporting equipment you need to do your best work.
Check out their career page for more information.
Softdocs' contact: +1 888-457-8879
10. TM Floyd & Company
TM Floyd & Company's office in South Carolina is located in Columbia.
TM Floyd & Company provides IT consulting and contracted services for businesses and organizations in healthcare, state government, manufacturing, finance and insurance, and more.
The company helps clients plan and implement technologies that control the costs of development and operations, solve business challenges, and reduce co-employment risks.
TM Floyd & Company provides a full range of multi-platform IT services, including strategic planning, software development, program and project management, technology assessments, systems monitoring, operations, and support.
TM Floyd & Company usually hire in the following roles remotely: Security Risk Analyst, Information Systems Architect, Cybersecurity Senior Analyst, Java Developer, IT Vendor & Contract Administrator, VMware Engineer, Systems Programmer, System Admin/Staff Specialist, Splunk Engineer, Senior Applications Developer, UI/UX Developer, Cloud Solutions Architect, Software Asset Manager, Business Systems Analyst, Linux Developer, etc.
TM Floyd & Company provides medical & dental insurance, 401(k), PTO, and profit-sharing benefit options​. The company offers different compensation options for contractors – salaried or hourly plans.
Contractors receive continuous support from the company during the project and assistance with reassignment when the contract is complete​. Additionally, you'll get the opportunity to have a higher earning potential as well as the flexibility to choose your working time.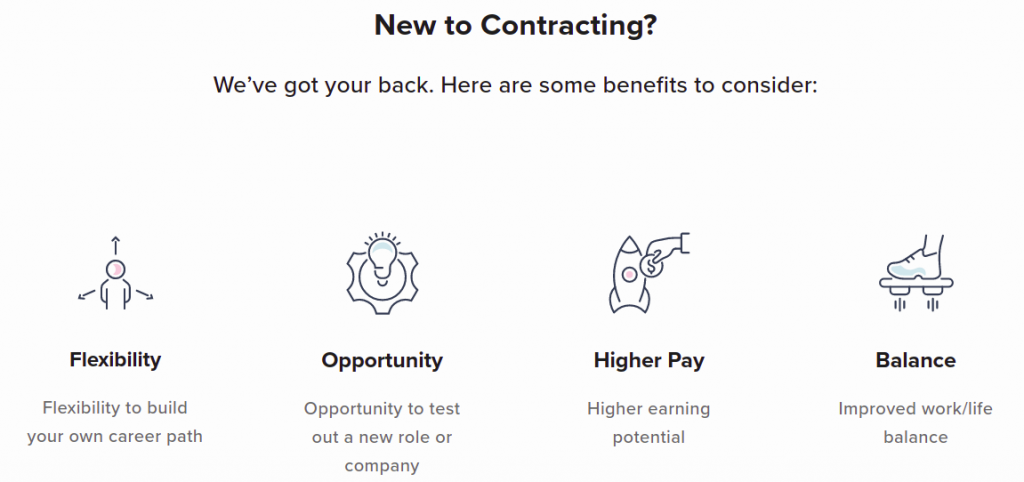 Check out their career page for more information.
TM Floyd & Company' contact: +1 803-765-1310
Final Thoughts On Remote Jobs In South Carolina
I hope this list of companies with remote jobs in South Carolina, USA helps you land your next remote job.
Do you want access to 30,000+ more remote and flexible jobs? Click here.
I believe during remote interviews, we struggle more in answering the behavior questions properly and showcasing our soft skills. Candidates usually overlook this but preparing for behavioral rounds is very crucial.
You'll find a lot of Youtube videos on this topic. I would also recommend this course by Bob Firestone that has over 177 example answers that work for competency-based, KSA, situational, structured, and behavioral interviews.
Make sure you send a cover letter along with your resume when applying for remote jobs. Simply sending a CV and hoping to get a call back is really not a great way to show the company that you are interested in their job.
You can download the resume and cover letter templates that helped me get my first remote job by going HERE.
And never forget to use the free Chrome plugin, Grammarly, while writing your resumes, emails, and cover letters. This would highlight any silly grammatical mistakes and save you from possible embarrassment as a job seeker.
Have you joined as a remote employee for any of the listed companies? How was your experience? Do let us know in the comments.
If you find this article helpful, kindly share it with your friends. You may also Pin the above image on your Pinterest account. Thanks!
---
Did you enjoy this article?
These are the top remote companies offering remote jobs in Canada. Sometimes, the companies offering…