These are the top remote companies offering remote jobs in Virginia, USA.
Sometimes, the companies offering remote jobs in Virginia, USA do not publicly advertise all the remote job roles that they are hiring for.
So, if you don't see your preferred role listed with the remote companies, you can email the company and ask if they are also hiring remotely in your preferred department.
[ Note: Some of these companies keep changing the links to their career page. As of now, all links are working correctly. If you encounter a 404 error, kindly let me know in the comments and I'll update them ASAP. Thanks! ]
Disclosure: Please note that some of the links below are affiliate links and at no additional cost to you, I'll earn a commission. Know that I only recommend products and services I've personally used and stand behind.
Prefer watching a video instead?
Remote Jobs Virginia, USA Video:
1. Maximus
Maximus' office in Virginia is located in Reston.
Maximus is a leading operator of government health and human services programs in the United States, United Kingdom, Canada, Australia, and Saudi Arabia.
The company delivers business process services to improve the cost-effectiveness, efficiency, and quality of government-sponsored benefit programs, such as the Affordable Care Act, Medicaid, Medicare, Children's Health Insurance Program (CHIP), Health Insurance BC (British Columbia), as well as welfare-to-work and child support programs around the globe.
Maximus' primary customer base includes federal, provincial, state, county, and municipal governments. The company was named the 2020 Grand ClearMark Award winner for Healthcare Communication.
Maximus usually hires in the following roles remotely: Provider Relations Specialist, Utilization Review Manager, CE Solutions Analyst, Senior Functional Tester, Senior Architect – Salesforce, Cloud Engineer, Recruiter, Clinical Data Analyst, Telecommunications Analyst, Clinical Quality Assurance Manager, Scrum Master, Informatica Developer, Manager Network Operations, IT Project Manager, etc.
Maximus has partnered with benefit carriers that provide strong networks of physicians to provide employees and their families with the best available care.
Employees receive medical plans provided by Anthem BCBS with a Health Savings Account or Health Reimbursement Account, prescription drug coverage, including free generic drugs for chronic conditions, as well as dental & vision insurance.
The company also provides a Flexible Spending Account (FSA) for eligible healthcare and dependent care expenses along with short and long-term disability insurance at no cost.
Maximus contributes to your 401(k) retirement plan with 100% company match on the first 3% contributed and 50% on the next 2% for a total of 4%. You'll also receive life insurance/AD&D insurance at no cost as well as paid time off and paid holidays.
Furthermore, Maximus offers an Employee Assistance Program, meditation and workout apps, employee discount program, wellness incentive deposits to HSA, legal services, voluntary critical illness, hospital indemnity, group accident coverage, and nationwide childcare discounts.
Check out their career page for more information.
Maximus' contact: RecruitmentCoordinator@vesservices.com / +1 877-637-8387
2. Leidos
Leidos' office in Virginia is located in Reston.
Leidos is a Fortune 500® technology, engineering, and science solutions and services leader that supports vital missions for government and commercial customers by operating through its three segments: Defense Solutions, Civil, and Health.
The company engages in the provision of scientific, engineering, and information technology services and solutions in the areas of defense, intelligence, civil, and health markets.
Leidos has been named to lists including Forbes' Best Employers for Diversity, Forbes' America's Best Employers for Women, Military Times Best for Vets Employers, and Ethisphere Institute's World's Most Ethical Companies®.
Leidos usually hires in the following roles remotely: Enterprise Taxonomy Architect, Senior Software Developer, Data Management Lead, UNIX Computer Systems Architect, Customer Experience (CX) Analyst, Machine Learning Engineer, Federal Proposal Manager, Cloud Architect, Full Stack Developer & Website Administrator, Digital Product Manager, Unreal Virtual Reality Developer, Drupal Developer, etc.
Leidos has partnered with Virgin Pulse to help support employees' journey to health and well-being. The well-being platform offers employees and their spouse/domestic partner the opportunity to meet a personal well-being goal, as well as earn points towards rewards.
The company offers medical insurance plans that cover you and your eligible family members, including registered domestic partners, and short-term & long-term disability insurance.
You'll also receive Health Savings Accounts in conjunction with HSA-eligible consumer-directed health plans as well as vision coverage and dental insurance.
As an employee, you'll be able to accrue paid time off for vacations, personal business, and short-term illness. You can also borrow up to 40 hours of PTO before you accrue it, with your manager's approval.
Furthermore, Leidos provides 4 weeks of paid parental leave, paid bereavement leave, a 401k retirement plan, an employee stock purchase plan with a 10% discount for all enrollees, dependent / daycare flexible spending accounts, life insurance, AD&D insurance, and business travel accident insurance.
Check out their career page for more information.
Leidos' contact: askhr@leidos.com / +1 601-460-2000
3. GDIT
GDIT's office in Virginia is located in Fairfax.
General Dynamics Information Technology (GDIT) supports some of the United States' most complex government, defense, and intelligence projects.
The company enhances client operations and prepares them for future success by melding its in-depth understanding of technology with its mission knowledge.
Furthermore, GDIT solves technical challenges in areas like artificial intelligence, high-performance computing, and application services, logistics and supply chain management, training and simulation, life sciences, and medical research.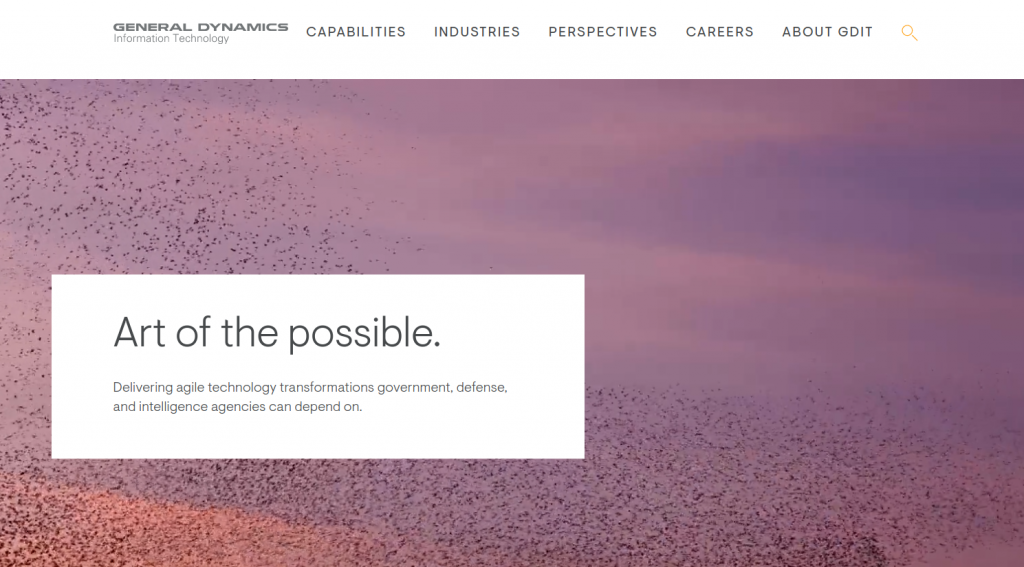 GDIT usually hires in the following roles remotely: Customer Service Representative, Senior Developer, Project Manager, Functional Analyst, Data Scientist, React.js Developer, Telecommunications Network Engineer, Software Development Lead, Senior SAS Programmer, Senior Cyber Architect, Oracle Financial Developer, Java Automated Tester, IT Training Specialist, Full Stack Developer, Cyber Security Engineer, etc.
GDIT invests in its employees' health and wellness and offers paid time off, a 401k plan, income protection, a flexible work environment, and other important programs like talent development, employee recognition, and tuition assistance.
The company also provides health, dental, vision, and life insurance along with Health Savings Accounts (HSA), Flexible Spending Accounts (FSA), and AD&D insurance.
In addition, you'll receive paid holidays, paid parental leaves, adoption assistance, company stock options, regular performance bonuses, and legal assistance.
Check out their career page for more information.
GDIT's contact: Employment_Verifications@gdit.com / +1 800-242-0230
4. ICF
ICF's office in Virginia is located in Fairfax.
ICF is a global advisory and digital services provider with annual revenues exceeding $950 million.
ICF serves major corporate and government organizations with project evaluation and management, policy analysis, and strategy services and solutions.
The company offers services in the areas of health, environment, community development, climate change, transportation, energy, aviation, international development, defense, human services, and infrastructure.
ICF has received widespread recognition for its accomplishments, including being named by Forbes magazine as one of the Best Midsize Employers in America and one of America's Best Consulting Firms.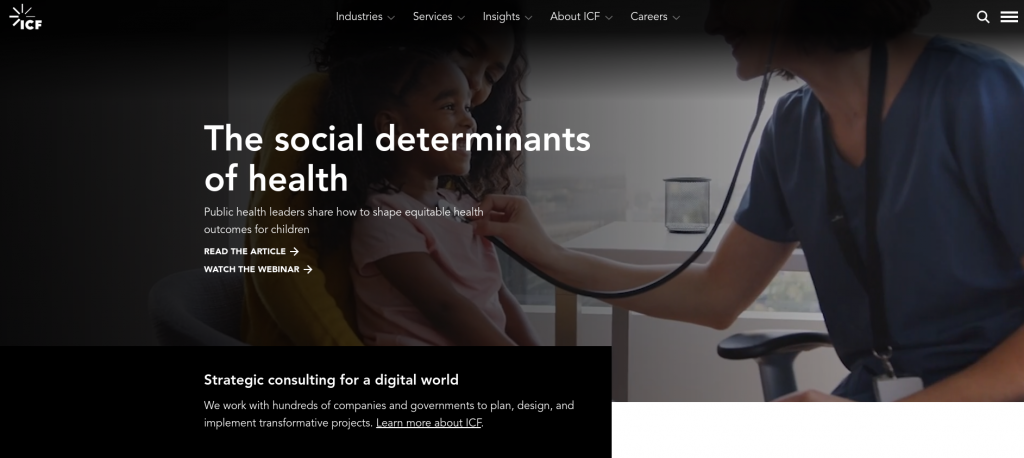 ICF usually hires in the following roles remotely: Data Engineer, Instructional Designer, Software Developer, Application Programmer, Graphic Designer, Survey Interviewer, React Developer, Financial Analyst, Technical Writer, Java Developer, Appian Developer, Business Analyst, Salesforce Developer, IT Project Manager, UX Developer, Pricing Analyst, Web Content Administrator, Node.js Developer, etc.
ICF offers a plethora of benefits for its employees. The company provides medical, dental, and vision insurance along with AD&D insurance, business travel accident insurance, short & long-term disability insurance, and life insurance.
You'll also receive a 401k retirement plan and tax savings accounts in addition to 10 company holidays, 17 vacation days, travel assistance, bereavement leave, and military leave.
Additionally, ICF provides adoption assistance, employee discount programs, education assistance, employee stock purchase plan, professional development budgets, and tuition reimbursement.
Check out their career page for more information.
ICF's contact: info@icf.com / +1 703-934-3000
5. SAIC
SAIC's office in Virginia is located in Reston.
SAIC provides full life-cycle services and solutions in the technical, engineering, and enterprise information technology markets. Over 95% of its business comes from federal and state government projects, about 70% of which are in national defense.
The services offered by SAIC include commercial outsourcing, criminal justice, cybersecurity, life sciences, maritime, information technology, health solutions, and transportation.
The company has been recognized by Forbes as #5 on its 2021 list of "America's Best Employers for Veterans" and as #63 on its 2022 list of "Best Employers for Diversity."
SAIC usually hires in the following roles remotely: Sales Engineer, Senior Program Analyst, Solutions Engineer, Data Scientist, Full Stack Java Developer, Lead Software Engineer, UI/UX Designer, Business Architect, Cloud Engineer, Oracle Developer, IT Functional Analyst, Database Developer, Network Engineer, Security Analyst, Accounting Associate, Azure Administrator, Technical Writer, Cyber Engineer, etc.
SAIC offers comprehensive coverage for employees and their families, including domestic partners, with multiple health, dental, and vision plan options to choose from.
In addition to basic life insurance, health savings accounts, and dependent care flexible spending accounts, you'll also get AD&D insurance, business travel accident insurance, supplemental term life insurance, short-term & long-term disability benefits, and a company matching 401k plan.
SAIC's optional work program provides the choice of having every other Friday off at most work locations. This flexible work program allows you to work 80 hours over 9 days and have an additional day off during a two-week pay period.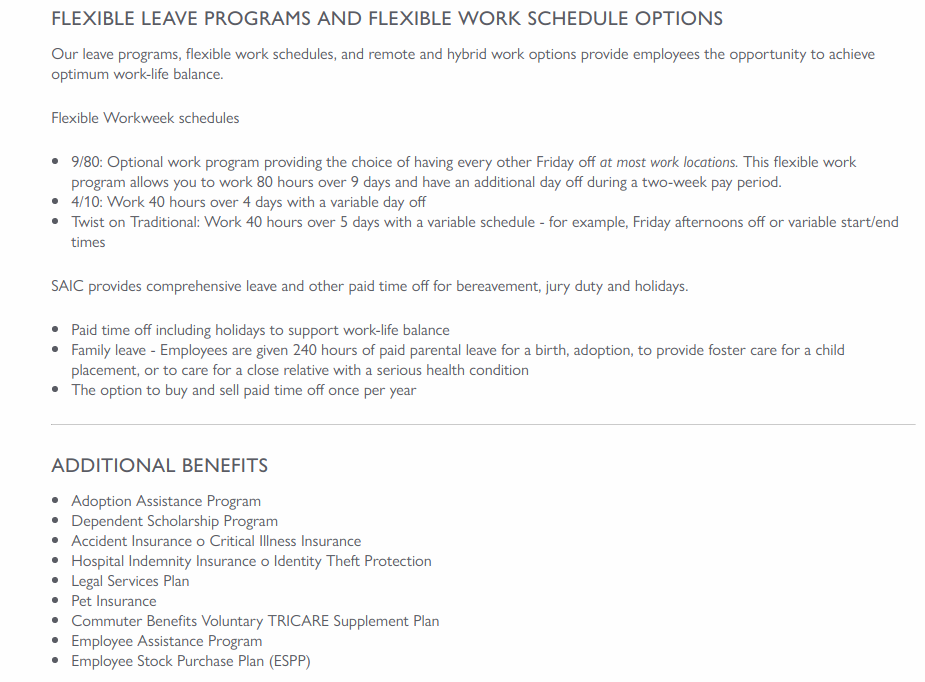 You can also choose to work 40 hours over 4 days with a variable day off or work 40 hours over 5 days with a variable schedule. The company also offers paid time off including holidays and the option to buy and sell paid time off once per year.
Employees are given 240 hours of paid parental leave for a birth, or adoption, to provide foster care for child placement, or to care for a close relative with a serious health condition.
Furthermore, you'll receive additional benefits such as access to Adoption Assistance Program, Dependent Scholarship Program, Critical Illness Insurance, Hospital Indemnity Insurance, Identity Theft Protection, Legal Services Plan, Pet Insurance, and Employee Stock Purchase Plan (ESPP).
Check out their career page for more information.
SAIC's contact: +1 703-676-4300 / +1 800-760-4332
6. CarMax
CarMax's office in Virginia is located in Richmond.
CarMax is a Fortune 500 company, which engages in the retail of used vehicles and wholesale vehicle auction operators and has been distinguished by Workforce magazine's "Workforce 100" and Computerworld's "100 Best Places to Work in IT."
The company operates through the CarMax Sales Operations and CarMax Auto Finance (CAF) segments. The CarMax Sales Operations segment consists of all aspects of its auto merchandising and service operations. The CAF segment provides vehicle financing to customers buying retail vehicles.
CarMax annually wins dozens of national and local awards in communities across the country for being a top used car retailer and a great place to work. The company has landed on the FORTUNE 100 Best Companies to Work For® list for 17 years in a row.
CarMax usually hires in the following roles remotely: Customer Service Consultant, Principal Salesforce Engineer, Principal Software Engineer – Data Science, Solutions Architect, Product Strategy & Analytics Manager, Senior Analyst – Digital Marketing, Oracle Cloud Financials Lead, Senior Product Designer, Senior Technology Compliance Analyst, Engineering Manager, Visual Systems Designer, etc.
Carmax offers multiple medical, dental, and vision plans for employee and their dependents. The company also provides health care flexible spending accounts, comprehensive nurse support for chronic conditions, life insurance, and short-term & long-term disability insurance.
Furthermore, employees get a 401(k) plan with up to a 6% company match, daycare savings account, tuition assistance program, employee stock purchase plan, car discounts, wellness incentives, and paid time off for vacation, sick days, and holidays.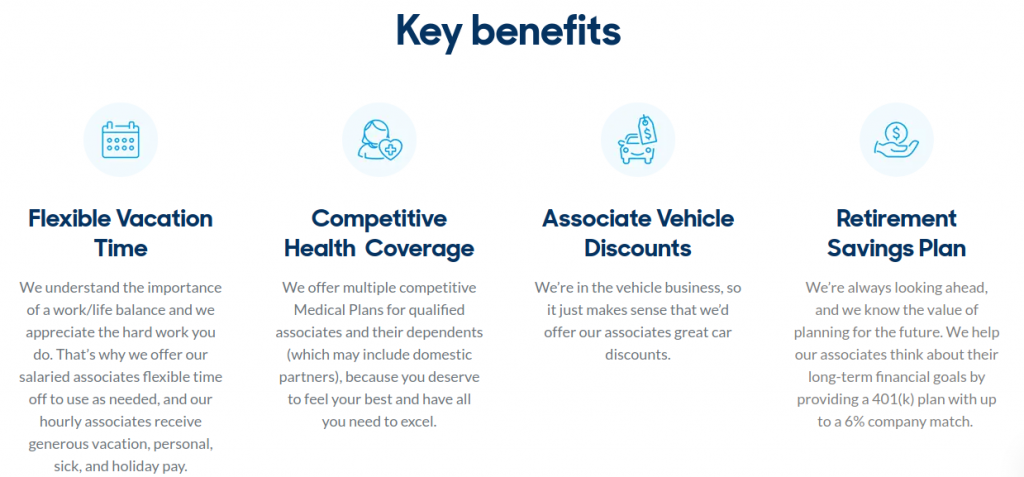 Check out their career page for more information.
CarMax's contact: recruiting_net@carmax.com / +1 913-384-6697
7. Ferguson Enterprises
Ferguson Enterprises' office in Virginia is located in Newport News.
Ferguson Enterprises is the largest wholesale distributor of residential and commercial plumbing supplies and pipes, valves, and fittings in the U.S.
The company is also a major distributor of HVAC equipment, fire protection systems, waterworks, and industrial products and services. Ferguson and its subsidiaries serve customers in all 50 states, Puerto Rico, Mexico, and the Caribbean.
Ferguson Enterprises has been named by Forbes Magazine as one of America's Best Employers and appears on one of InHerSight's Best Companies lists in May 2022, including Best Wholesale Companies to Work For.
Ferguson Enterprises usually hire in the following roles remotely: Talent Acquisition Sourcer, Inside Sales Representative, Senior Internal Auditor, HR Employment Practices Manager, Accounts Payable Coordinator, Marketing Specialist, Systems Engineer, Oracle Cloud Report Developer, Application Architect, Full Stack Developer, CyberThreat Specialist, Site Reliability Engineer, Digital Product Manager, Network Engineer, etc.
Ferguson Enterprises is dedicated to providing meaningful benefits programs and products to their associates and their families—geared toward benefits, wellness, financial protection, and retirement savings.
The company offers a competitive benefits package that includes medical, dental, vision, retirement savings with company match, paid leave (vacation, sick, personal, holiday, and parental), employee assistance programs, associate discounts, and community involvement opportunities.
You'll also receive life insurance, short-term & long-term disability insurance, educational assistance, employee training courses, group home & auto insurance, and work/life solutions (EAP).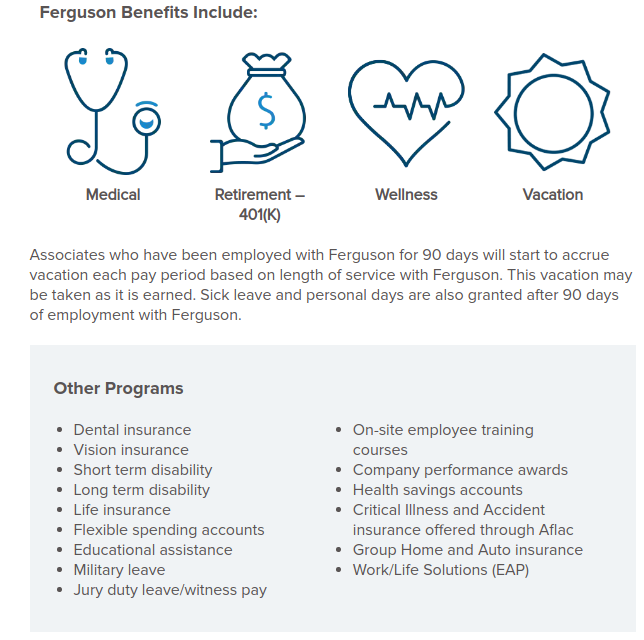 Check out their career page for more information.
Ferguson Enterprises' contact: AskHR@Ferguson.com / +1 800-721-2590
8. Peraton
Peraton's office in Virginia is located in Herndon.
Peraton drives missions of consequence spanning the globe and extending to the farthest reaches of the galaxy. As the world's leading mission capability integrator and transformative enterprise IT provider, Peraton delivers trusted and highly differentiated national security solutions and technologies that keep people safe and secure.
The company serves as a valued partner to essential government agencies across the intelligence, space, cyber, defense, citizen security, health, and state and local markets.
Peraton has been recognized as a Best Managed Company in the U.S. by Deloitte Private and The Wall Street Journal. Forbes has also named Peraton to its Best Employers for Diversity list, ranking Peraton fourth in the aerospace and defense industry.
Peraton usually hires in the following roles remotely: Technical Project Manager, UI Design Engineer, Systems Administrator, Software Developer, Database Analyst, Business Systems Analyst, Project Manager, Network Engineer, AWS Cloud Engineer, Senior Data Scientist, Financial Analyst, Customer Technical Support Representative, Javascript Developer, Test Automation Engineer, Scrum Master, etc.
Peraton offers three national medical plans using the Anthem network, one PPO and two high deductible health plans, and access to telemedicine options for access to board-certified doctors, pediatricians, psychologists, and dietitians to treat non-emergency conditions via virtual office visits from your smartphone, tablet, or computer.
The company also offers three voluntary benefit plans for critical illness, hospital indemnity, and accident insurance to provide protection against healthcare expenses beyond the medical plan.
With generous accrued paid time off (PTO), paid major holidays, 4 floating holidays, leave for jury duty and bereavement, and a flexible approach, Peraton avidly supports work/life balance. Their PTO program encompasses vacation, personal, and sick time, with accrual based on position and years of eligible service.
Peraton is dedicated to your career development and provides training to help drive success, with access to their e-Learning suite for formal and informal learning, professional and technical certification preparation, and education assistance for job-related or Peraton career path-related courses at accredited institutions.
The company also provides ample tuition and training assistance for its employees, in addition to access to a student loan refinancing service and 529 plan through tuition.io.
In addition to a 401k plan with generous company matching, you'll also receive two weeks of paid parental leave due to birth or adoption, and Peraton will reimburse a portion of your adoption costs.
Peraton offers life insurance and disability coverages to help protect you and your family from financial hardship, with employer-paid life insurance equal to your annual salary, plus the option to purchase additional life and accident coverage for you and your eligible dependents.
Employer-paid Business Travel Accident insurance is also provided. Plus, Peraton covers short-term disability at no cost to you and offers long-term disability coverage for optional purchases.
Furthermore, employees get access to Healthcare FSA, Dependent Care FSA, Health Savings Account, Employee Assistance Program, Info Armor Identity Theft Protection, Group Legal Plan, and Benefits Hub, an exclusive online discount center where you will find great savings on Homeowners, Auto and Pet Insurance, as well as travel, events, shopping, and more.
Check out their career page for more information.
Peraton's contact: bwagne01@peraton.com / +1 202-302-8754
9. ScienceLogic
ScienceLogic's office in Virginia is located in Reston.
ScienceLogic is a leader in IT Operations Management, providing modern IT operations with actionable insights to predict and resolve problems faster in a digital, ephemeral world.
The company's solution sees everything across multi-cloud and distributed architectures, contextualizes data through relationship mapping, and acts on this insight through integration and automation.
Trusted by thousands of organizations across the globe, ScienceLogic's technology is designed for the rigorous security requirements of the United States Department of Defense, proven for scale by the world's largest service providers, and optimized for the needs of large enterprises.
The company has been named a four-time winner of the Northern Virginia Technology Council's Tech 100 companies.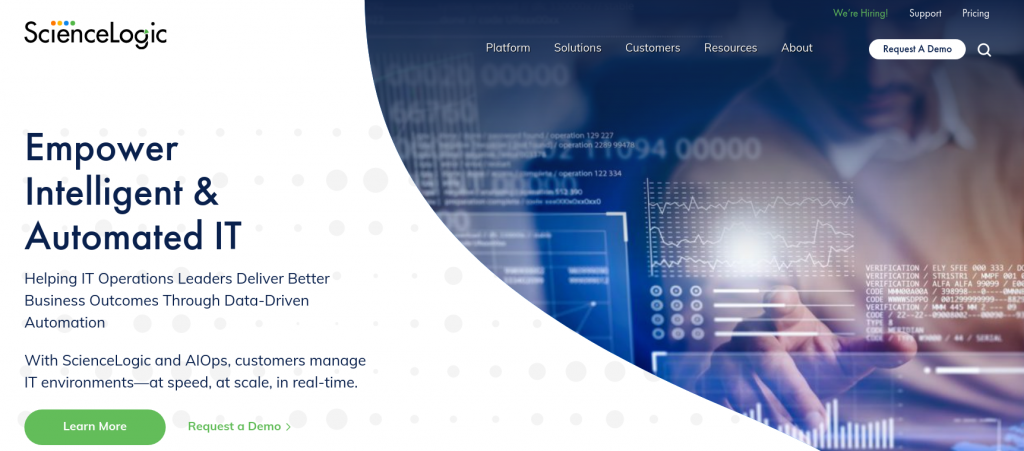 ScienceLogic usually hires in the following roles remotely: Customer Success Manager, Full Stack Engineer, Software Development – Front End, Principal Go Software Engineer, Software Developer in Test, DevOps Engineer, Python Engineer, UI Architect, Security Software Engineer, Customer Operations Analyst, Salesforce Developer, Field Marketing Coordinator, Product Manager, Site Reliability Engineer, Technical Support Engineer, etc.
ScienceLogic offers comprehensive medical, prescription drug, dental, and vision insurance through large, nationally known providers in the U.S. Medical plans coupled with either an HRA or HSA, both of which include generous employer funding.
Health and Dependent Care FSAs are provided, as well as voluntary offerings including pet insurance and free telemedicine, and virtual mental health benefits to all benefit-eligible employees.
The company also offers a Flexible Time Off (FTO) program and paid company holidays, as well as opportunities to give back to the community through a Volunteer Time Off (VTO) program, as well as a 401(k) plan with a company match.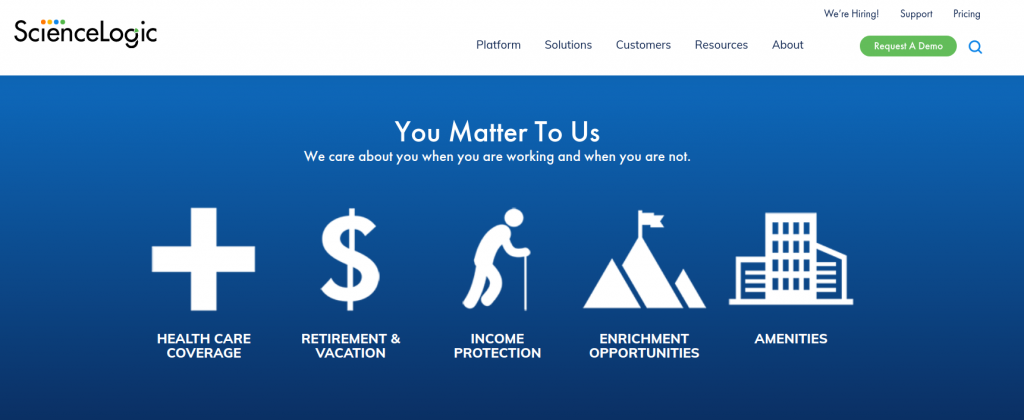 Additionally, ScienceLogic provides learning resources, employee training programs, and other tools to support employees' quest for continuous learning and development.
Comprehensive Wellness and Corporate Social Responsibility (CSR) programs are also offered including opportunities to join in on free monthly yoga sessions and nutritional webinars. Furthermore, you'll receive an Incentive Stock Option program and an Employee Referral Bonus Program.
Employees receive company-paid short-term and long-term disability coverage, as well as company-paid Life and AD&D coverage. Additionally, Voluntary Life Insurance offerings are made available for eligible employees, spouses, and children.
Check out their career page for more information.
ScienceLogic's contact: info@sciencelogic.com / +1 800-724-5644
10. Altria
Altria's office in Virginia is located in Richmond.
Altria has a leading portfolio of tobacco products for U.S. tobacco consumers age 21+. Altria's Vision through 2030 is to responsibly lead the transition of adult smokers to a non-combustible future.
Altria is the parent company of Philip Morris USA (producer of Marlboro cigarettes), John Middleton, Inc., U.S. Smokeless Tobacco Company, Inc., and Philip Morris Capital Corporation.
Altria earned national recognition as a Great Place to Work-CertifiedTM company. Fortune and Great Place to Work® has ranked Altria #5 on its list of the Best Workplaces in Manufacturing & ProductionTM for 2021.
Altria usually hires in the following roles remotely: Device Engineering Lead, Manager – Regulatory Product Commercialization, Associate Audit Manager, Associate Manager Regulatory Infrastructure & Quality Control, Senior Digital Products Manager, Senior Analyst Procurement, Digital & Database Analyst, Associate Manager Testing and Optimization, Paralegal – Employment Law, Financial Accounting & Reporting Analyst, etc.
Altria provides financial planning and education services at no cost to you. You'll receive student loan repayment assistance of up to $100 per month / $10,000 lifetime maximum, and an Educational Refund Program for job-related courses or a company-related degree.
The company also offers paid family and medical leave of up to 12 weeks of full pay for various reasons, including bonding with a new child and caring for a family member. You'll also receive adoption assistance of up to $35,000 per child.
Furthermore, employees receive paid vacation (your date of hire and years of service determine your eligibility), 14 paid holidays annually, and a vacation buy program, which allows you to purchase up to five additional vacation days each year.
In addition, you'll get dependent care reimbursement up to $1,000 per calendar year, dental coverage up to $2,000 annually, orthodontia coverage paid at 50%, up to a $2,500 lifetime maximum, and a company-paid short-term disability plan for disabilities lasting up to 26 weeks at full pay, and much more.
Check out their career page for more information.
Altria's contact: +1 866-256-4676 / +1 866-928-3510
Final Thoughts On Remote Jobs In Virginia
I hope this list of companies with remote jobs in Virginia, USA helps you land your next remote job.
Do you want access to 30,000+ more remote and flexible jobs? Click here.
I believe during remote interviews, we struggle more in answering the behavior questions properly and showcasing our soft skills. Candidates usually overlook this but preparing for behavioral rounds is very crucial.
You'll find a lot of Youtube videos on this topic. I would also recommend this course by Bob Firestone which has over 177 example answers that work for competency-based, KSA, situational, structured, and behavioral interviews.
Make sure you send a cover letter along with your resume when applying for remote jobs. Simply sending a CV and hoping to get a call back is really not a great way to show the company that you are interested in their job.
You can download the resume and cover letter templates that helped me get my first remote job by going HERE.
And never forget to use the free Chrome plugin, Grammarly, while writing your resumes, emails, and cover letters. This would highlight any silly grammatical mistakes and save you from possible embarrassment as a job seeker.
Have you joined as a remote employee for any of the listed companies? How was your experience? Do let us know in the comments.
If you find this article helpful, kindly share it with your friends. You may also Pin the above image on your Pinterest account. Thanks!
---
Did you enjoy this article?
---
Abhigyan Mahanta
Hi! I'm Abhigyan, a passionate remote web developer and writer with a love for all things digital. My journey as a remote worker has led me to explore the dynamic landscape of remote companies. Through my writing, I share insights and tips on how remote teams can thrive and stay connected, drawing from my own experiences and industry best practices. Additionally, I'm a dedicated advocate for those venturing into the world of affiliate marketing. I specialize in creating beginner-friendly guides and helping newbie affiliates navigate this exciting online realm.
---
If you're preparing for a remote UX researcher position, you'll most likely face information architecture…