These are the top remote companies offering remote jobs in Georgia, USA.
Sometimes, the companies offering remote jobs in Georgia, USA do not publicly advertise all the remote job roles that they are hiring for.
So, if you don't see your preferred role listed with the remote companies, you can email the company and ask if they are also hiring remotely in your preferred department.
[ Note: Some of these companies keep changing the links to their career page. As of now, all links are working correctly. If you encounter a 404 error, kindly let me know in the comments and I'll update them ASAP. Thanks! ]
Disclosure: Please note that some of the links below are affiliate links and at no additional cost to you, I'll earn a commission. Know that I only recommend products and services I've personally used and stand behind.
1. Calendly
Calendly's office in Georgia is located in Atlanta.
Calendly helps individuals, teams, and organizations automate the meeting lifecycle by removing the back and forth with scheduling.
The company's cloud-based platform offers a new layer of the modern digital technology stack by connecting with critical tools to automate scheduling workflows, creates a more delightful customer experience, and provides insightful, measurable data to drive better business outcomes.
Today, over 10 million users across 116 countries use Calendly to simplify meetings, collaborate more effectively and efficiently, and drive their business forward.
In 2021, Calendly won for Best Company Perks & Benefits, Best Company Work-Life Balance, Best Company Happiness, Best Leadership Teams 2021, Best CEOs for Diversity 2021, Best Product & Design Team 2021, Best Places to Work in Atlanta 2021, and Best Company Outlook 2021.
Calendly usually hires in the following roles remotely: Enterprise Data Architect, Principal UI/UX Designer, Application Architect, Procurement & Vendor Management Specialist, Recruiter – Customer Experience, Product Content Strategist, Email Operations Manager, Marketing Operations Specialist, Zendesk Administrator, Learning & Talent Development Leader, QA Manager, Product Specialist, Senior Full Stack Engineer, etc.
Calendly offers a variety of medical, dental, and vision options that are the best fit for you and your family. The company provides up to 16 weeks of paid leave for adoptive, birth, and surrogate parents.
Calendly also provides you with $1000 every year to spend on miscellaneous expenses such as student loans or gym memberships. Furthermore, you'll receive $125 every month to make sure you have the best tech you need to stay connected and do your best work.
The company offers flexible time off and an annual $1,000 vacation stipend for your holiday trips. You'll also get a quarterly bonus, team member equity, and a $1,500 stipend to set up your home office with all the essentials you need.
Calendly also claims to offer competitive pay ranges that are 65%-75% above the market rate.
Check out their career page for more information.
Calendly's contact: +1 (800) 979-9850 / support@calendly.com
2. American Cancer Society
American Cancer Society's office in Georgia is located in Atlanta.
The American Cancer Society is a nationwide, community-based voluntary health organization dedicated to eliminating cancer as a major health problem.
The organization research cancer and its causes to find more answers and better treatments. They provide everything from emotional support to the latest cancer information for those who have been touched by cancer.
American Cancer Society also operates several events, such as the American Cancer Society Relay For Life event, which over 6,000 people across the globe take place in, and the Making Strides Against Breast Cancer events that bring together 300 communities across the U.S.
American Cancer Society usually hires in the following roles remotely: Senior Counsel, Development Manager, Messaging & Collaboration Manager, Director of Medical and Scientific Communications, Senior Auditor, Director of Prospect Development, Customer Support Specialist, IT Development Manager – CRM & Integrations, Cancer Information Specialist, Grassroots Manager, Product Manager, Email Marketing Manager, etc.
American Cancer Society offers health plans that provide preventative screenings at 100% coverage in‐network. The organization provides two dental options, a PPO and a DHMO, that are designed to encourage preventative care, which is covered at 100%, as well as vision benefits which provide coverage for routine eye examinations.
The organization also provides basic life insurance, accidental death and dismemberment coverage, business travel accident insurance, short-term disability, and long-term disability coverage.
They also assist employees by offering a 403(b)/401(k) plan with matching company contributions (6% match at 8% contribution) and several tax-deferred accounts: a health savings account, health care, and dependent care spending accounts, and a commuter spending account.
In addition, you'll receive legal assistance plans, home, auto, and personal insurance discounts, and gym membership discounts. Employees can earn several days of PTO based on years of service. There are nine paid company holidays each year, and two personal paid holidays.
The Society's Employee Assistance Program (EAP) provides all staff a full range of services including monthly training, resources, and confidential counseling to help deal with personal challenges.
Check out their career page for more information.
American Cancer Society's contact: 1-800-227-2345
3. Beech Valley Solutions
Beech Valley Solutions' office in Georgia is located in Atlanta.
Beech Valley Solutions connects organizations with top-tier accounting, finance, and IT talent on demand. The organization offers the flexibility to fill roles temporarily and affordably, without the burden of retaining these individuals ' in-house' year-round.
The company's mission is to fill the talent gap by quickly connecting top-tier freelance accountants with clients through their proprietary tech-enabled staffing resources and hand-selected network of professionals.
Beech Valley Solutions' CPAs and consultants specialize in dozens of areas, such as IT assurance, technical accounting, international taxes, transfer pricing, sales, and use taxes, systems integration, cloud accounting, controllership, reconciliations, diligence, purchase accounting, SEC reporting, interim CFO services, and more.
Beech Valley Solutions usually hires in the following roles remotely: Accounting Systems Implementation Specialist, Assurance Senior, Cost Accounting Manager, External Audit Manager, Financial Reporting Manager, Insurance Accounting Manager, Talent Acquisition Manager, Private Equity Fund Accounting Director, Bookkeeper, Tax Manager, Software Engineer, Transaction Advisory Manager, Senior Cloud Accountant, etc.
Beech Valley claims that their freelancers can double their income from comparable positions at large accounting and consulting firms. The company offers its team the freedom to design their own schedule and the opportunity to work on projects that interest them.
Furthermore, Beech Valley provides a flexible PTO plan, health insurance, 401k with company matching, and help you locate opportunities to gain experiences that allow you to be a more complete professional.
Check out their career page for more information.
Beech Valley Solutions' contact: contact@beechvalley.com
4. FullStory
FullStory's office in Georgia is located in Atlanta.
FullStory's digital experience intelligence platform enables businesses to continuously improve their digital customer experience across sites and apps.
With FullStory's platform, users can optimize digital customer experiences by tracking activity, as well as targeting and fixing the source of website issues and bugs.
The platform surfaces actionable insights from billions of data points, helping thousands of companies, including Fortune 100 companies and the world's most innovative consumer brands, make evidence-based digital improvements that reduce costs and reclaim revenue.
FullStory allows for easy team collaboration and integration with apps such as Trello, BigCommerce, Shopify, and Google Analytics Universal. The company has been recognized by Deloitte as one of the most innovative, fastest-growing technology companies in North America and has ranked in the top 40% of the Deloitte 2021 Technology Fast 500 list.
FullStory usually hires in the following roles remotely: Senior User Experience Analyst, Solutions Architect, Data Engineer, IT Manager, Senior Engineering Manager, Software Test Engineer, Full Stack Software Engineer, iOS Systems Engineer, Strategy & Operations Associate, Senior Accountant, HR Operations & Technology Directory, Office Coordinator, Content Marketing Manager, Product Marketing Manager, etc.
FullStory believes that smart, driven people are their own best bosses and so they don't believe in micromanaging. Employees of FullStory enjoy autonomy and flexibility.
For US-based employees, the company offers a 401k retirement plan through Vanguard and matches employee contributions 2:1 up to $4800 USD per calendar year.
In addition to untracked paid time off, employees also receive professional development opportunities through training programs, career coaching sessions, and an annual learning subsidy.
Furthermore, FullStory offers 10 days of company holidays, parental leave, and covers 99% of employees' health, dental and vision premiums and 75% of their dependents.
Check out their career page for more information.
FullStory's contact: 1-833-385-5786
5. Altisource
Altisource's office in Georgia is located in Atlanta.
Altisource is an integrated marketplace and service provider for the mortgage and real estate industries. The company supplies professionals and firms from these industries with a suite of products and technologies that are designed to address the ever-changing demands of these markets.
Credit unions, contractors, financial services companies, government agencies, hedge funds, investors, lenders, and mortgage bankers use Altisource's services to solve the demands of the ever-changing markets.
The company has been recognized for its fast growth, services, and solutions by Fortune magazine, HousingWire, and REAL Trends, respectively. Altisource has decades of experience in servicing and debt collection spanning the mortgage lifecycle, such as asset recovery, customer relationship management, and real estate-owned (REO) asset management.
Altisource usually hires in the following roles remotely: Compliance Specialist, Mortgage Loan Underwriter, National Business Development Manager, Foreclosure Auction Services Specialist, Marketing Manager – B2B, Financial Planning and Analysis Manager, Talent Acquisition Partner, Foreclosure Asset Manager, Digital Marketing Specialist, Internal Audit Manager, Web Analytics Analyst, Lead Engineer – UI, Vendor Management Analyst, etc.
Altisource offers comprehensive medical, dental, and vision insurance plans. You'll also receive a tax-free flexible spending account, 401k plans with company matching, life insurance, short-term, and long-term disability insurance.
The company also provides paid holidays, plus 19 days of accrued PTO for a total of 28 paid days off per year, as well as opportunities for you to join community service initiatives, including Habitat for Humanity.
In addition to that, to support your remote working, Altisource will provide the required equipment for your home office.
Check out their career page for more information.
Altisource's contact: +1-770-612-7007
6. Big Nerd Ranch
Big Nerd Ranch's office in Georgia is located in Atlanta.
Big Nerd Ranch is an IT company that offers client application development and technology instruction. The company provides end-to-end product development solutions – iOS, Android, full-stack web, UI/UX design, experience research, project strategy, and QA testing – to solve a wide range of business needs.
Big Nerd Ranch has served startups as well as industry-leading companies, like Pepsi, HP, Zappos, Facebook, Dropbox, Nextdoor, Amazon, Coca-Cola, Etsy, NASA, and Airbnb. The company has been featured in Tech Crunch, Clutch, Engadget, and The Huffington Post.
The company also offers team training programs taught by development and design experts that have worked with top brands. In addition, Big Nerd Ranch offers boot camps and individual training in iOS, Swift, Android, and web development.
Big Nerd Ranch has been recognized as one of Atlanta's 2021 leading developers through Clutch's "Clutch Leaders Awards."
Big Nerd Ranch usually hires in the following roles remotely: Senior iOS Developer, QA Automation Engineer, Senior Technical Recruiter, DevOps Engineer, Project Manager, Marketing Development Representative, Web Developer- React, Ruby on Rails Engineer, Android Developer, Back End Web Developer- Golang, Web Developer- Vue.JS, Experience Designer, Senior Project Strategist, Business Development Manager, Sales Development Representative, etc.
Big Nerd Ranch offers health, dental, vision, life insurance, short- and long-term disability insurance. You'll also get a 401k plan with company matching and a Retina MacBook Pro when you join.
The company prioritizes your education and they would send you to a conference every year, or you can get trained in any subject that you like at one of the company's boot camps.
Almost all the roles are remote-friendly, however, if you would like to work from their office, you can take advantage of their on-site gym with the option of having personal training sessions, as well as their fully stocked kitchen.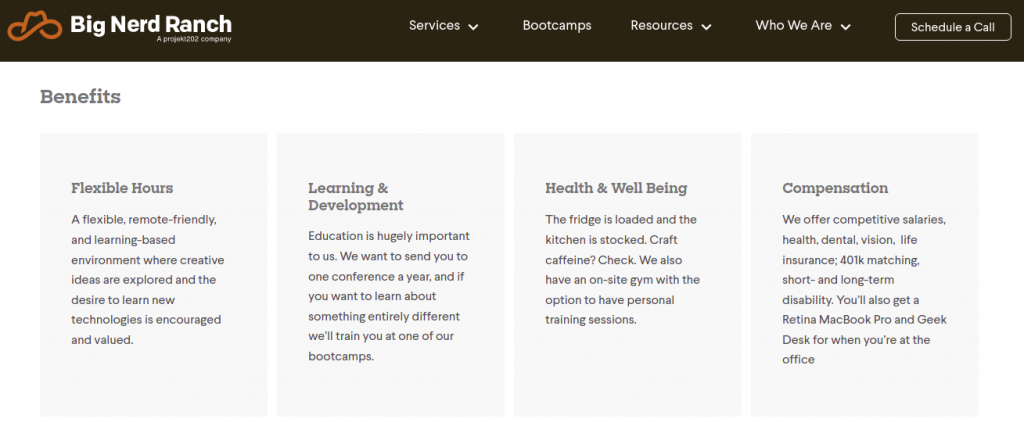 Check out their career page for more information.
Big Nerd Ranch's contact: hello@bignerdranch.com
7. MailChimp
MailChimp's office in Georgia is located in Atlanta.
Mailchimp is a leading marketing platform for small businesses. They empower millions of customers around the world to build their brands and grow their companies with a suite of marketing automation, multichannel campaign, CRM, and analytics tools.
MailChimp's features include advanced analytics, automation, A/B testing, segmentation, triggered emails, and various eCommerce services, such as customer relationship management, subscription management, loyalty programs, software integrations, and more.
The company has won 14 prestigious Stevie Awards for its exceptional service so far and was recognized as one of the "World's Most Innovative Companies" by Fast Company magazine in 2017.
MailChimp usually hires in the following roles remotely: Senior Analyst – Marketing Analytics, Director of Customer Success, Product Support Representative, Program Manager, Content Strategist, Copywriter, Director of UX, CX Tools Strategist, Product Designer, Database Engineer, Security Engineer, Penetration Tester, Site Reliability Engineer, Software Engineer, Senior People Partner, Software QA Engineer, Engineering Manager, etc.
Mailchimp pays for 100% of health, vision, and dental insurance premiums for all employees and their families. You'll also receive a 401k plan with company matching, ample parental leave, and wellness programs that prioritize your health.
MailChimp sponsors the work of dozens of local nonprofits, from arts organizations to literacy programs. In addition, every employee gets 16 volunteer hours a year to use working with the nonprofit of their choice.
The company offers up to $20,000 in tuition reimbursement. MailChimp also supports your professional growth through their conferences, internal apprenticeships, unconscious bias training, Mailchimp University courses, and weekly Coffee Hour series.
Check out their career page for more information.
MailChimp's contact: +1-678-999-0141 / customersupport@mailchimp.com
8. Waystar
Waystar's office in Georgia is located in Duluth.
Waystar offers an enterprise, cloud-based software-as-a-service that simplifies and unifies healthcare payments, processing nearly a trillion dollars in healthcare claims annually.
The Waystar platform removes friction in payment processes, streamlines workflows, and improves financials for providers in every care setting.
Waystar products have won Best in KLAS® or Category Leader every year since 2010 and earned multiple #1 rankings from Black Book™ surveys since 2012.
The Waystar platform supports more than 500,000 providers, 1,000 health systems and hospitals, 5,000 payers & health plans, and processes claims for approximately 40 percent of the U.S. population annually.
Waystar usually hires in the following roles remotely: Regional Director Sales, Solution Adoption Consultant, VP – Strategic Alliances, Product Manager, Client Success Management Director, DRG Auditor, National Client Advisor, Advisory Services Consultant, Commercialization Launch Manager, Channel Sales Executive, Data Scientist, Salesforce Developer, Technical Services Engineer, Client Success Manager, etc.
Waystar offers paid leave for maternity, paternity, and adoption and prioritizes work-life balance for all team members. The company deeply supports your professional growth. In 2018, roughly 15% of team members stepped into a new role within the company.
Waystar also encourages all of its team members to get active in their chosen communities and offers a paid volunteer year which is renewed annually.
In addition, the company provides medical, dental, and supplemental insurance options to suit your personal and family situation. You'll also receive 401k plans with company matching to build your financial futures with a range of investment options available.
Check out their career page for more information.
Waystar's contact: +1-877-635-2920
9. Steady App
Steady App's office in Georgia is located in Atlanta.
Steady App strives to help people earn more and reclaim control of their financial futures through its free app and web platform.
Through the free Steady App, users can build & track income, and increase buying power which allows them to augment retirement savings, work around childcare responsibilities, pay down debt, save for purchases, and supplement their income from primary employers.
Steady has partnered with The Workers Lab to distribute more than $4M in emergency cash grants so far. The company also provides technology and tools to help governments make informed policy changes for the evolving workforce.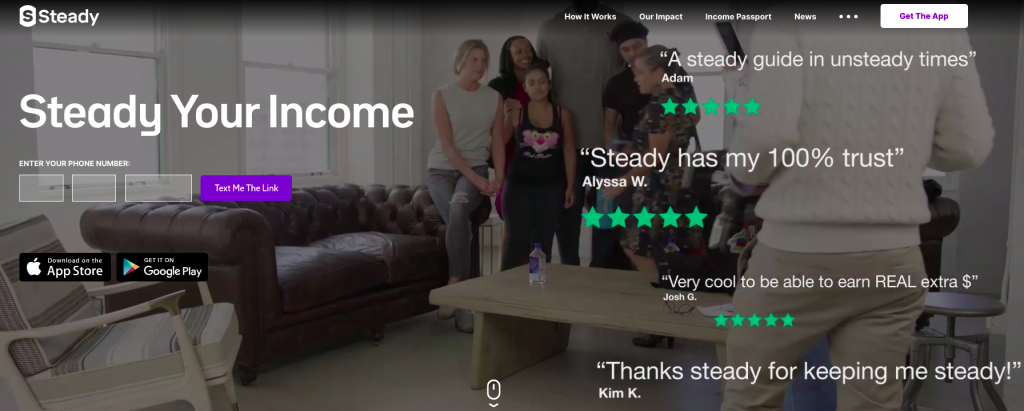 Steady App usually hires in the following roles remotely: Partnership Analytics Manager, Product Researcher, Project Manager, QA Analyst, React Software Engineer, Senior Paid Social Manager, Senior Project Manager, Director of Public Policy and Non-Profit Engagement, Senior Backend Software Engineer, Member Loyalty Representative, Senior Data Engineer, Corporate Strategy Associate, Growth Marketing Manager, Graphic Designer, etc.
Steady App offers unlimited paid time off and flexible hours. You'll also receive medical, dental, and vision coverages that are 100% paid by the company.
The company also offers Health Savings Account (HSA), disability insurance, and mental health care. During the pandemic, employees are also provided with a monthly work-from-home stipend.
In addition, employees also receive paid holidays, maternity & paternity leaves, and access to a game room if you decide to work from their office in hybrid work culture.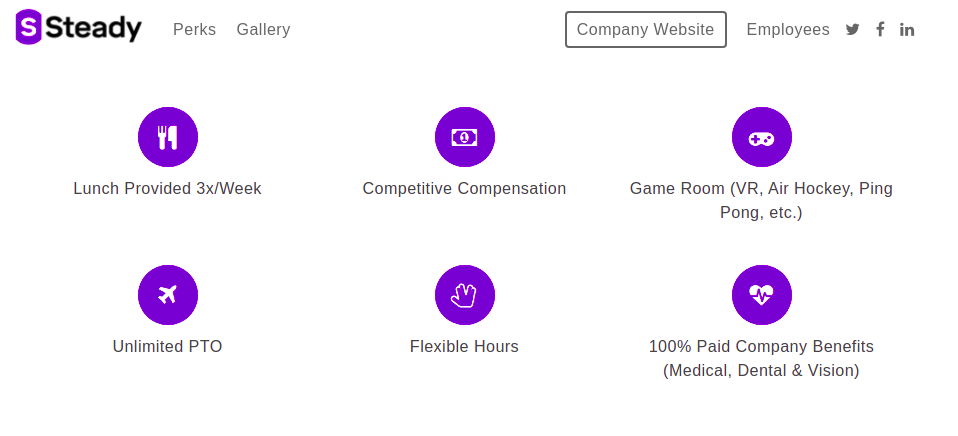 Check out their career page for more information.
Steady App's contact: help@steadyapp.com
10. Salesloft
Salesloft's office in Georgia is located in Atlanta.
Salesloft is the provider of the leading sales engagement platform that helps sellers and sales teams drive more revenue. The Modern Revenue Workspace by Salesloft is the one place for sellers to execute all of their digital selling tasks, communicate with buyers, understand what to do next, and get the coaching and insights they need to win.
Salesloft's integrations and features allow companies and organizations to tailor the platform to engage targeted accounts across multiple channels to maximize team success and target highly profitable sales communications. Thousands of the world's most successful sales teams, like those at IBM, Shopify, Square, and Cisco, drive more revenue with Salesloft.
Salesloft has won Best Product & Design Team 2021, Best Places to Work in Atlanta 2021, and Best Company Outlook 2021 awards. In 2020, Salesloft won Best Company for Diversity 2020, Best Company for Women 2020, Best Company Culture 2020, and Best Leadership Teams 2020.
Salesloft usually hires in the following roles remotely: Customer Success Manager, Advanced Technical Support Specialist, Data Architect, Data Engineer, Machine Learning Engineer, QA Engineer, Senior Software Engineer, UI Engineer, Product Marketing Manager, Manager – QA Engineering, Senior Revenue Recruiter, Manager – UX Research, Product Designer, Visual Designer, Deal Desk Director, Site Reliability Engineer, etc.
Salesloft contributes up to $200 per month to employees' Health Savings Accounts and provides access to 24/7 on-demand primary care physicians through 98point6. The company matches 25% of employees' 401K contributions up to a maximum of 2% of their annual salary.
Aside from untracked and unlimited PTO, you'll also receive 28 company-wide vacation days, including a full shut-down week and monthly "Rest Days" off. Moreover, the company will match your charitable contributions up to $200 and tuition reimbursement of up to $5,250 annually.
Salesforce also provides pet insurance as well as several mental health perks including free access to an in-house counselor & career coach, virtual access to a psychiatrist/psychologist, and a free subscription to the Headspace meditation app.
In addition, Salesforce offers access to several family planning resources and discounts as well as a $10,000 credit towards IVF, adoption, or egg freezing.
You'll also receive 16 weeks fully paid for maternity leave and 6 weeks fully paid for paternity leave. Your maternity/paternity benefits also include 12 months of free diapers, 12 weeks of meal deliveries, and home cleaning services.
To enhance your professional growth, Salesloft provides access to LinkedIn Learning, which offers over 16,000 virtual courses available 24/7. They also offer Project Management training and host regular professional development sessions including a 6-month Leadership Development Program.
Check out their career page for more information.
Salesloft's contact: 1-770-756-8022
Final Thoughts On Remote Jobs In Georgia
I hope this list of companies with remote jobs in Georgia, USA helps you land your next remote job.
Do you want access to 30,000+ more remote and flexible jobs? Click here.
I believe during remote interviews, we struggle more in answering the behavior questions properly and showcasing our soft skills. Candidates usually overlook this but preparing for behavioral rounds is very crucial.
You'll find a lot of Youtube videos on this topic. I would also recommend this course by Bob Firestone that has over 177 example answers that work for competency-based, KSA, situational, structured, and behavioral interviews.
Make sure you send a cover letter along with your resume when applying for remote jobs. Simply sending a CV and hoping to get a call back is really not a great way to show the company that you are interested in their job.
You can download the resume and cover letter templates that helped me get my first remote job by going HERE.
And never forget to use the free Chrome plugin, Grammarly, while writing your resumes, emails, and cover letters. This would highlight any silly grammatical mistakes and save you from possible embarrassment as a job seeker.
Have you joined as a remote employee for any of the listed companies? How was your experience? Do let us know in the comments.
If you find this article helpful, kindly share it with your friends. You may also Pin the above image on your Pinterest account. Thanks!
---
Did you enjoy this article?
---
Abhigyan Mahanta
Hi! I'm Abhigyan, a passionate remote web developer and writer with a love for all things digital. My journey as a remote worker has led me to explore the dynamic landscape of remote companies. Through my writing, I share insights and tips on how remote teams can thrive and stay connected, drawing from my own experiences and industry best practices. Additionally, I'm a dedicated advocate for those venturing into the world of affiliate marketing. I specialize in creating beginner-friendly guides and helping newbie affiliates navigate this exciting online realm.
---
If you're a teacher searching for remote English tutor jobs, then you would certainly benefit…